Dedication
This year's BERKELEY PRIZE is dedicated to the international Environmental Design Research Association (EDRA), whose wide-ranging activities, including their 2013 annual conference, Healthy + Healing Places, bring focus to social issues--like healthful environments--in architecture.
Berkeley Prize Calendar
Make a Connection
Connect with other undergraduate architecture students from around the world and team up for this year's competitions.

The Endowment
Architecture is a Social Art
The BERKELEY PRIZE Competition was established in 1998, made possible by a generous gift of JUDITH LEE STRONACH to the Department of Architecture in the College of Environmental Design at the University of California, Berkeley, U.S.A.
Learn More »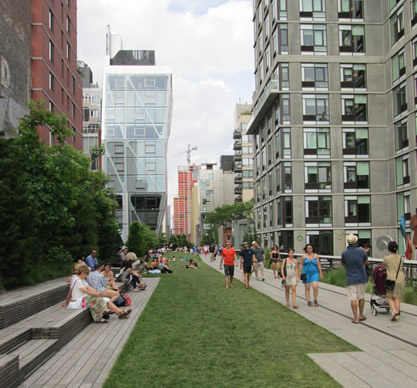 New York City's new High Line, a 1.5 mile long, elevated linear public park designed by James Corner Field Operations (Urban Design and Landscape Architecture) with diller scofidio + renfro (Architects). Photo, Benjamin Clavan.
2014 Essay Prize Competition
Each year, the PRIZE Committee selects a topic critical to the discussion of the social art of architecture and poses a Question based on that topic. Full-time undergraduate students enrolled in any architecture degree program or majoring in architecture throughout the world (or teams of two students, one of whom may be from a collateral discipline) are invited to submit a 500-word Essay proposal responding to the Question.
2014 Essay Prize Competition »
2014 Fellowship Competitions
Students: If you become a semifinalist in the Essay competition, you have the opportunity through the TRAVEL FELLOWSHIP to propose visiting a foreign locale for a hands-on research experience tied to the subject of your Essay.

Undergraduate Faculty: Compete for an academic year TEACHING FELLOWSHIP to introduce or further your goals in teaching the wide subject of the social art of architecture with a focus on this year's PRIZE topic.
2014 Fellowship Competitions »
New here?
The BERKELEY PRIZE strives to show architects-in-training that the smallest act of building has global implications: that design can and does play a major role in the social, cultural, and psychological life of both the individual and society at large.
Berkeley Prize News
03/07/2014




We are pleased to announce that eight excellent essays have been advanced to the Finals round. These have been distributed to the Jury, and winners will be announced in April. Please see the finalist list here. Thanks to all who participated and made this an exciting and challenging competition cycle!

02/15/2014




We are delighted to welcome Erick Bernabe to the BERKELEY PRIZE Committee! Erick is a social thinker and a student of architecture as activism. Read his bio on the Committee Page.

02/13/2014




Just published! An article by Acellam Benard (BERKELEY PRIZE 2011 Travel Fellow) on efforts by Acellam and other architecture students to help a struggling polytechnic in northern Uganda. The article appears in Rebuild360, an online zine, "leading the next generation of socially responsible architects and designers", published by Rebuild Global.
Illustrations
This year's website illustrations are all from the book, THE INCLUSIVE CITY: Design Solutions for Buildings, Neighborhoods and Urban Spaces (2007), edited by Susan M. Goltsman (one of this year's BERKELEY PRIZE jurors) and Daniel S. Iacofano (co-author of this year's BERKELEY PRIZE Introduction). Goltsman and Iacofano are partners in Moore, Iacafano, Goltsman, Inc. (MIG, Inc.), Berkeley, California, USA. Since it was founded in 1982, MIG has focused on planning, designing and sustaining environments that support healthful human development and has received national and international recognition for its accomplishments. See http://www.migcom.com/ for more information about the authors and the work of their firm.