Jury
CHRIS DOWNEY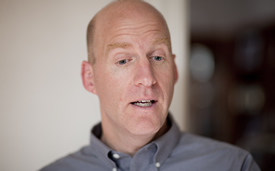 In 2008 a brain surgery left architect Chris Downey, then 45 years old, completely blind. His work now draws from his new perspective -- creating more effective and enriching environments for the blind and sighted as well. Through his San Francisco, California, USA firm, Chris Downey Architecture for the Blind, he specializes in projects for or significant to the blind and visually impaired. Chris has been featured in national and international media stories and writes and speaks about Universal Design, disability and sight loss relative to the built environment.
Chris is a Lecturer and teaches a class on accessibility and Universal Design at the University of California, Berkeley College of Environmental Design. Through his practice and teaching, Chris explores not only access to space and information, but also access to "delight" in architecture whether it is seen or un-seen. (See a complete biographical question and answer interview with Downey here.)
---
DEEPAK K.C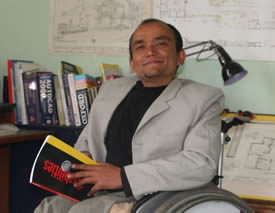 Mr. Deepak K.C (Khatri Chhetri) is widely acknowledged as the first wheelchair-using architect in Nepal. He is an active leader in the disability movement and a founding member of Independent Living Center Kathmandu, which leads Nepal's popular effort for the implementation of the United Nations Convention on the Rights of Disabled Persons in the country. Currently, he is working with the Nepal's Women, Children, and Social Welfare Ministry as leader of core technical committee for preparation of accessibility guidelines, the first of its kind in Nepal. He is a registered member of the Society of Nepalese Architects and the Nepal Engineering Council.
Deepak is closely associated with the associated with Institute for Human Centered Design (IHCD) as member of this international network of designers with disabilities. In addition, he is an active member of Kokorozashi IL Network, a group formed by Japanese disabled leaders for promotion of the Independent Living Movement in the Asian region. Deepak also volunteers as a country representative of the Global Alliance on Accessible Technologies and Environments (GAATES), a leading international organization dedicated to the promotion of accessibility of the built and virtual environments.
In 2006, Deepak K.C. was awarded a one-year Leadership Training for Persons with Disabilities fellowship in Japan by the Duskin AINOWA foundation, a Japanese corporate effort. This program, which is operated by the Japanese Society for Rehabilitation of Persons with Disabilities (JSRPD), enables participants to study Universal Design concepts from well-known Japanese leaders in the field.
---
RACHNA KHARE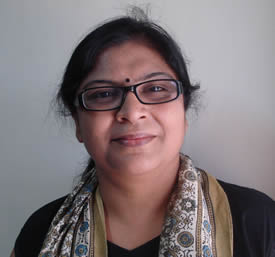 Architect and Professor, Dr. Rachna Khare has lectured and published extensively on the subject of Inclusive Design worldwide. Her book, Designing Inclusive Educational Spaces for Autism (2010), was published by the Institute of Human Centered Design, Boston, USA . In addition, she is one of the authors of Universal Design India Principles (2011). She has also edited special issues of the internationally journals, SPANDREL on "Social Sustenance" in 2012, and ABACUS on "Architecture for All" in 2007.
Aside from teaching in her current position at the School of Planning and Architecture, Bhopal, Madhya Pradesh, India, Dr. Khare also coordinates the Centre for Human Centric Research (CHCR). The Centre works to build a body of knowledge that responds to the design needs of diverse human population otherwise marginalized in past design practices. Prior to this she was a Senior Research Fellow holding the Jamsetji Tata Universal Design Research Chair at the National Institute of Design, Ahmedabad, and taught at Birla Institute of Technology, Mesra.
This year, Rachna is also coordinating the India National School Design Competition 2012, "Universal Usability in World Heritage." The competition focuses on Universal Design for Exploring World Heritage Sites in India in collaboration with Archaeological Survey of India and UNESCO. Khare is an activist and founding member of the Movement for Intervention, Training and Rehabilitation of Children with Autism' (MITRA), an NGO. She is a recipient of a Fulbright Fellowship and was affiliated with the Georgia Institute of Technology, Atlanta, USA during her Ph.D.
---
CAMILLA RYHL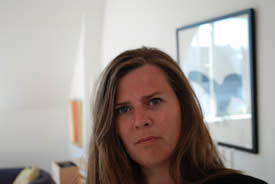 Dr. Camilla Ryhl is a Professor at the Bergen School of Architecture in Bergen, Norway and teaches inclusive design at numerous Scandinavian architecture schools. Her Ph.D. dissertation, "A House for the Senses," is a study on housing design and architectural quality for people with sensory disabilities. She has continued to specialize in sensory aspects of Universal Design as a Postdoctoral Fellow, researching and teaching at UC Berkeley (2003-2006), where she was also a Fulbright Scholar (2000-2001).
In addition to her teaching, Dr. Ryhl is Senior Researcher at the Danish Building Research Institute, Aalborg University, (Aalborg, Denmark) where she heads the Institute's research in the field of accessibility and inclusive design. Additionally, she is a founding member of the Nordic Network on Architectural Research in Design-for-All. Camilla holds a Masters and Ph.D. in Architecture degree from the Royal Danish Academy of Fine Arts in Copenhagen, Denmark (2003).
---