SHAHREEN MUKASHAFAT SEMONTEE AND RAQUIBUL HASSAN BHUIYAN:
"Thinking Water, Thinking Fluid"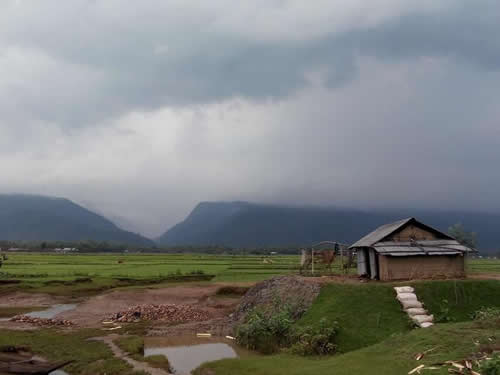 ...It started with a drop of water on his bald head. He looked upwards and smiled at the gathering of ominous clouds. The sky was clear just a moment ago. He let the raindrops cool down his body for a moment before taking shelter beneath a nearby tree. The parched land seemed just as thirsty, soaking in every drop of water. In between the rolling of thunders, children's joyful sound could be heard as they welcomed the rain with songs and dances. The feeble houses could barely resist the wind that was strong enough to dissolve the distinction between house and nature. After a while, the dry earth did quench its thirst, turning into a magical green overnight. But the rain gave no sign to stop. Water level seemed to go up and up, overflowing the river. The houses began to get submerged, what started as a blessing snatched away homes.
Gradually the water subsided, leaving behind a trail of dismantled houses. The land was softer with silt, but the willpower of the people was stronger than ever. They went back to assembling the pieces the very next day. Everyone became the builder of their own home. One by one all the neighbors joined hands. They survived the storm together and together they started to rise. Within days, all the houses got re-erected, as did their dreams.
These habitual arrangements only demonstrate the existence of an age-old relationship between the people and water. Well aware of the blessings that it brought, they were used to the seasonal floods despite its hardships. Living in the most dynamic and fluid landscape of the world, the hydrological dynamic had allowed the people to traditionally develop a particular building typology that empowered them to sustain their lifestyles adapting to this predictable change of seasons...