Introduction: Dorit Fromm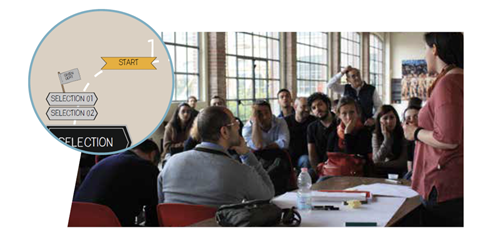 Fondazione Housing Sociale:
The Housing Foundation developed a class to help future residents form a collaborative community in their housing development.  
In the face of global catastrophes, inequities, divisions and isolation, take this year's question as an invitation towards more collaborative and experimental living. Housing that improves residents' day to day life. Housing that encourages residents to take an active role in saving resources and creating community. Housing that connects households to each other and the larger neighborhood: visually, casually, through space and over time. All require willing residents as well as good design.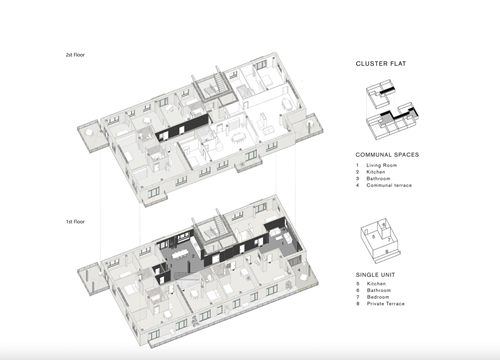 Spreefeld Housing Cooperative in Berlin, with a mix of non-traditional and traditional units (six clustered units, housing from 4 to 21 residents, and 58 independent units)..
What if the social connections of the residents came first before architectural program and built form? Households that share ideas and hopes of how they imagine their day-to-day life together, and make some agreements on their intentions, are more likely to follow through once moved in.
The Fondazione Housing Sociale, in Italy, has a course for would-be residents to decide together on the design and use of a common space in their about-to-be-built housing projects. For the first year, a part-time facilitator helps residents in coordinating activities in the space.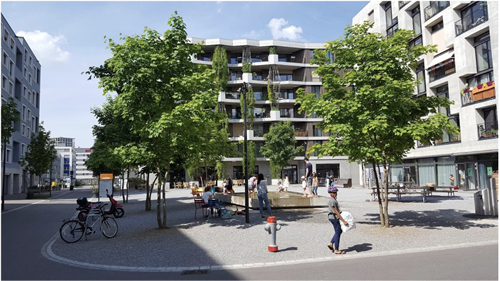 Mehr als Wohnen, Switzerland: A plaza allows neighbors to mingle and is open to the larger neighborhood.
In designing the Swiss "Mehr als Wohnen" (More Than Housing) cooperative, a group of nonprofits listened to potential residents about their needs. The development team included professionals versed in facilitating and interpreting user preferences, resulting in a wide mix of affordable and innovative housing types, participation of residents in their housing community, and neighborhood-shared amenities.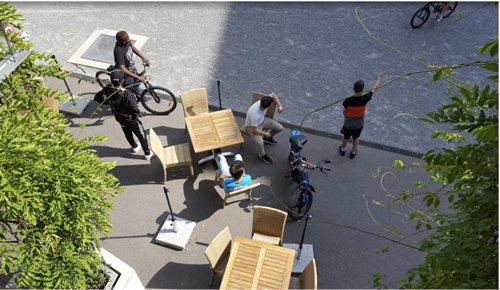 Mehr als Wohnen, Switzerland: Childcare and afterschool care are located on the ground floor level of the housing, as well as a café and other neighborhood services. 
A group of people can self-organize, pool their resources, then decide on their development team. Site layouts can encourage social interactions: pedestrian-oriented, with private units that have a view and orientation to the commons. Resident connections and ample common facilities encourage task-sharing.
Tell us about resident choice, flexibility of space, need for household privacy, management participation and ways to solve conflicts—these help to form a strong housing community. How will your success be measured in this social art? Evaluations, over time, of the housing and resident satisfaction inform future efforts, demonstrating where words and ideas have separated from reality.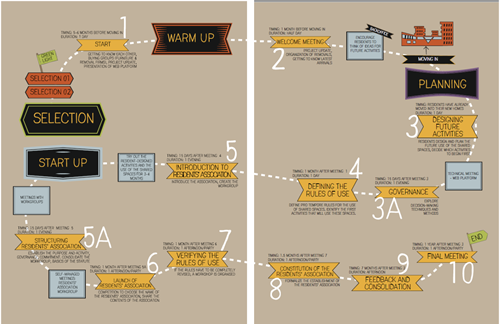 Fondazione Housing Sociale: The Housing Foundation developed a class to help future residents form a collaborative community in their housing development.  From the manual "Starting Up Communities, A Design Kit for Collaborative Housing," (Fondazione Housing Sociale).
In short, your task is to be a resident-connecting designer and a writer about that design. What if your reader's connection to your writing came first?
---