Introduction: Augustine Owusu-Ansah
Neighborhood Strategy
(Extract from 5000 for 5000 Affordable Housing Entry)
The provision of housing is architecture's primordial assignment whose parameters have changed over time and with context. Presently, the housing question provides intensified and new challenges in the shape of deepening inequality, increased urbanisation and the need to mitigate both the causes and effects of climate change. The on-going Covid-19 pandemic is a reminder to address public health issues and of the possibility of future pandemics. In all of this, the poorest in society remain the most vulnerable: the homeless, mentally-ill, people seeking refuge and the lowest income earners.
S. Tetteh + Associates' approach to social/low cost housing design has been shaped by the following:
Firstly, we hold an expanded view of who the client is. Aside the end-user and the developer commissioning the project, we consider the community (including its social fabric and economy) as a co-client with particular needs. This often includes re-vitalisation of areas and the chance of establishing and sustaining local industry through the housing project. The environment represents a sort of "pseudo-client" that invests resources and deserves conscientious use of said resources and a return of low impact during the project lifecycle. We look out for opportunities to accomplish these within each context.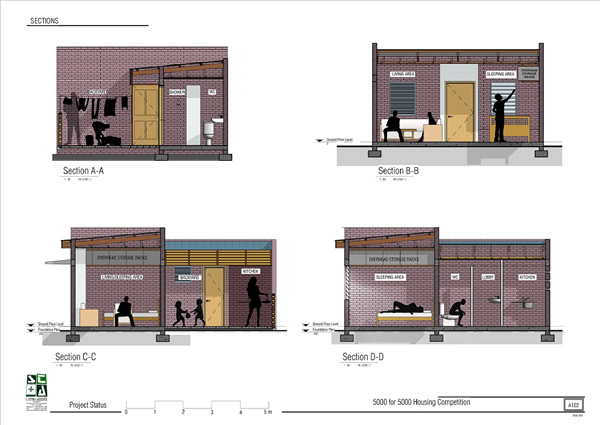 We consider housing provision as a tool for poverty alleviation. Housing studies have cited that children of homeowners enjoy the latent benefits of improved performance in school, reduced occurrence of teenage pregnancy and a higher likelihood of becoming a homeowner themselves. For our 5000 for 5000 Affordable Housing Prototype, we explored ways of actively enabling residents to earn an income through common trades such as hairdressing and tailoring by including a multipurpose outdoor space in each home and proposing the use of "leftover space" within the neighbourhood for such commercial activity.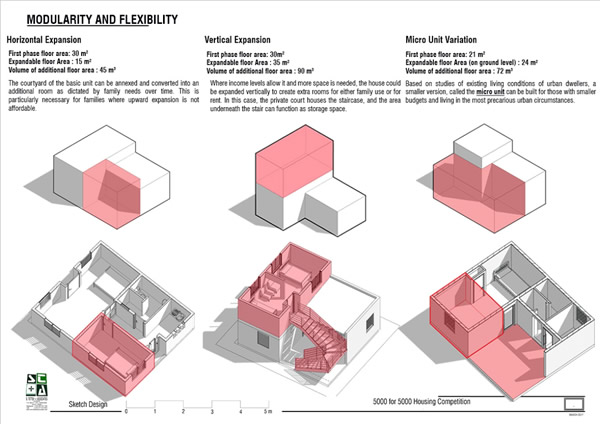 One size does not fit all. Lastly, we visualise the social housing landscape as non-uniform, requiring a catalogue of solutions for various scenarios. Schemes that lend themselves to different modes of financing, construction and occupancy are better suited to prevent exclusion. We are currently exploring housing that can be implemented through traditional means, such as mortgages, or packaged as self-build and community-build schemes; helping close-knit low income communities take advantage of the currency they possess: social currency.
---
See all the top-place winners of the Shelter Afrique's 5000 for 5000 Affordable Housing Competition here.
---