Introduction: Aleksis Bertoni
I am an architect, builder, and the co-founder of Type Five, a California-based architecture and technology company that aims to increase access to housing and improve the long-term environmental and economic outcomes of homeownership. Type Five builds low-cost, environmentally efficient homes that are designed to be customized and adapted over time.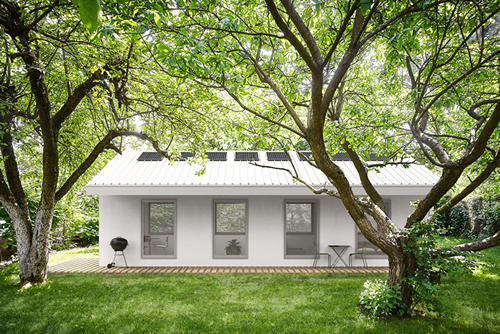 Exterior Rendering
The homes are initially built as simple, open floor plan spaces, which are designed to be reconfigured over time. We empower homeowners by providing them with a digital platform where they can design prefabricated upgrades and interior additions to their homes when and how they see fit. By starting with a simple structure that can develop over time, we can offer our homes at a lower price, while giving owners more control over their residential space.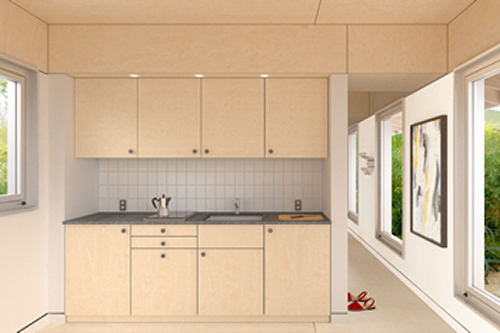 Kitchen Rendering
My business partner is a software engineer who has started multiple technology companies and has now set his sights on building tools that help solve the housing crisis in California. We work with advisors who are master carpenters, general contractors, automation experts and prefabrication specialists to bring together the digital and physical realms we operate within.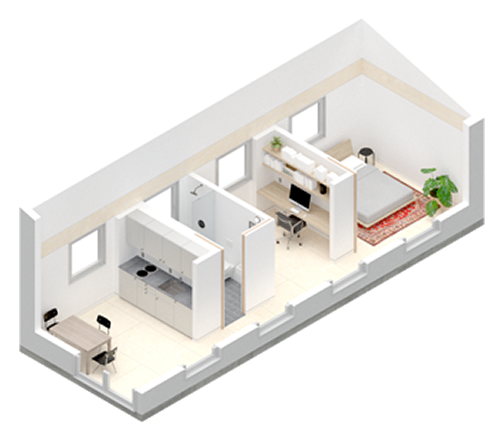 Isometric Interior Perspective
We are working to understand how many design choices our homeowners need to feel in control of their space. At what point do too many options feel cumbersome? What features have we not accounted for yet? Are there things we are building that people in fact don't need? This continuous process of real-time, post-occupancy evaluation allows us to understand the motivations of our homeowners. We can then use these insights to build new tools to improve the domestic experience of Type Five owners.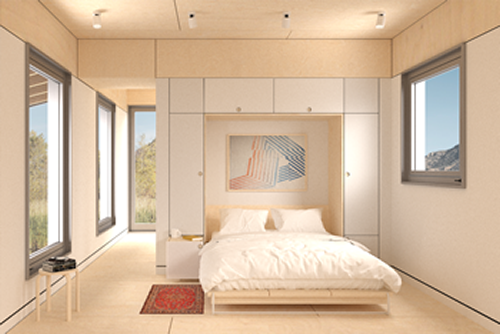 Bedroom Rendering
This year's prompt asks applicants to 'design a housing project for the disadvantaged'. I would like to argue that in increasingly unaffordable housing markets throughout the world, we need to expand the definition of the "disadvantaged" to now also include middle income would-be homeowners who have effectively been priced out of the market. We need design and policy solutions that can meet the growing unaffordability crisis that has resulted in increased rent burden, housing insecurity, and homelessness. This crisis demands new ideas, new programs, and new voices that envision how to serve each economic strata of the housing market.
As a Berkeley Prize participant, what ideas do you have for helping address the lack of housing affordability across the world?
---