Travel Fellowship Report: Acellam Benard
Global Studio Bhopal, Bhopal, India
January 7- January 18, 2012
Participatory Design and Planning With Communities in Bhopal, India
As we drove to the airport with my dad and my two younger brothers, I was engrossed in thoughts. I kept thinking about what my next few weeks would be like. I thought about the food I would eat, the people I would meet and of course the work that we would do in Bhopal. I had worked so hard and prayed for this to happen and now I was on the way to India to fulfill my travel fellowship. After about 50 minutes of flight time, I was at Jomo Kenyatta International Airport in Nairobi, Kenya. This was my very first experience outside my home country Uganda. It was extraordinary.
I boarded my next flight to Mumbai then flew from Mumbai to Bhopal.
I was surprised that nobody was there to pick me up from Raja Bhoj Airport in Bhopal. After waiting for almost an hour I decided to board a taxi to MANIT University- our home for the next three weeks. I had a tough time explaining myself to the taxi driver. He didn't seem to understand my accent at all. He kept confusing me with his currency conversion of Rupees and Dollars. All my money was in US dollars since I didn't have enough time to change it in Mumbai. Finally getting to MANIT campus was a big relief!
Friday January 7
The first day felt very short because of the many activities. The brief evening bus tour presented my first real encounter with the so called 'city of lakes' and India as a whole. I had had a chat with Andrew Amara, 2006 Berkeley Prize Travel Fellow before I left home for India. He had told me Global Studio is a unique experience; that India provided an eclectic combination of vibrant urban growth and a rich culture. He was right. I think India is simply incredible. Bhopal, originally Bhojpal offers many incredible sights and sounds. Looking at the fascinating blend of scenic beauty composed of lakes, temples, mosques, gardens, parks, museums, statues and buildings, one thinks this is the place where nature, art and architecture meet. Its built environment is further animated by the existence of buildings with both formal and informal character, traditional and modern styles. The old and the new cities are quite distinct and are separated by the Upper Lake.
I entered a Hindu Temple for the first time. Like everyone else I had to remove my shoes and ring a bell at the door post. The atmosphere was immensely reverent. I was in the godliest country in the world. I also saw goats and cows wear cloths and there were many dogs on the streets. Everywhere in the streets people would turn to look at me. This gave me mixed feelings. I felt both as a VIP and as an alien. Terrific experiences!
We ended that first day with a cultural event hosted by MANIT University at Jehan Numa Palace hotel. The event was marked by brief speeches from the conveners, cozy Indian music that floated in the cold night air. I thought Indians had great voices. When they sing perhaps angels become jealous! I also had my first Indian dinner here. The food was too spicy for me though. I eventually got quite used to it.
This event also served as an introduction to the Reimagining Inclusive Urbanization: People Building Better Cities Conference. These introductions were from the Indian and international perspectives. The international perspective was given by Ar. Paul Pholeros, Director Health Habitat Australia. He re-echoed the thoughts of former South African President Nelson Mandela that, 'Poverty is not a natural phenomenon; it is manmade and can be eradicated by the actions of human beings.'
Meeting so many people helped me orient. I met another 2011 Travel Fellowship recipient Christina Monzer from California. It was such a special moment. Everything felt so real; away from the virtual world of facebook, emails and web links. I also met 2004 Travel Fellow Adriano Puppili from Sydney and 2007 Essay Prize reviewer Prof Rodney Harber from Durban, South Africa. Together with Assoc Prof Anna Rubbo who was a reviewer in 2006, it all felt like a Berkeley Prize reunion.
Berkeley Prize Alumni: Berkeley Prize Travel Fellowship Winners in Bhopal, Madhya Pradesh, Sunday January 8.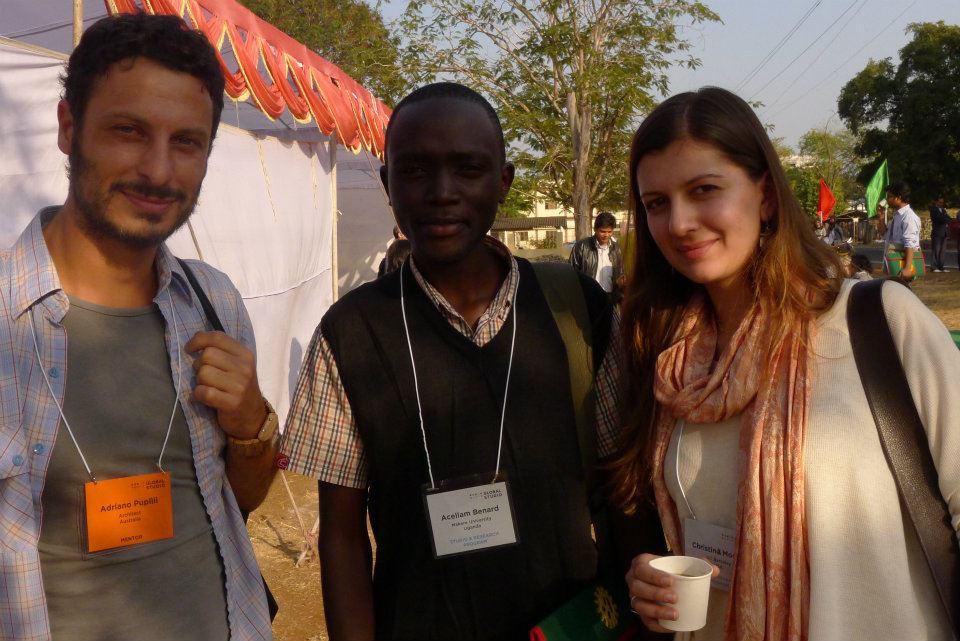 Berkeley Prize Alumni: Berkeley Prize Travel Fellowship Winners in Bhopal, Madhya Pradesh, India...Adriano Pupilli(2004), Australia/ Acellam Benard(2011), Uganda/ Christina Monzer(2011), USA
This was the first day of the international conference. The conference aimed at promoting a critical engagement with international developmental issues like climate change, environmental justice, participatory urban practices and the role of urban and design professionals, researchers and communities in promoting sustainable and inclusive urbanization. As mentioned in the conference brochure, 'the conference is animated by the widespread concerns over persistent policy failures in making urbanization inclusive; leaving billions of people in dire poverty.'
India is one of the world's fastest growing economies. It is projected to be the world's most populous country by 2050 surpassing China with a population exceeding 1.6 Billion People. While it only represents 2.4% of the world's landmass, its home to an overwhelming 17.4% of the world's population. Out of the 100 fastest growing cities in the world 25 are in India with only 8 in China. With such overwhelming statistics, India becomes a hotspot. Global studio Bhopal is therefore in many ways important and timely.
Conference Objectives:
Advance the important agenda of promoting inclusive urbanization in the context of environmental change and sustainable development.
Prepare new ground to articulate inclusive urbanization through multiple domains of knowledge and practice
Showcase the South Asian experience in a global context and to show how inclusion can be achieved in an urbanizing world
Contribute to the Millennium Development Goals, particularly goal 7: Environmental sustainability and the target which, states by 2020 to have achieved a significant improvement in the lives of at least 100 million slum dwellers
Provide an orientation for the hands- on component of Global Studio
Efforts were made to try and deconstruct the challenge and the starting questions were;
What is the process of urbanization?
What is the outcome of urbanization?
What are the current policies?
What can we learn from the urban poor?
On this first day themes discussed were;
Rethinking Participation for Inclusive Urbanization
Urban Governance Policies and the Local Communities
Poverty Alleviation Programs and the Community Wellbeing
Monday January 9: Day 2 of the Conference
On this second day of the conference the following themes were tackled:-
Climate Change Adaptation and Cities
Pro-Poor Urban Design and Planning Practice
Re-thinking Professional and Education Practice
Every presentation was followed by a discussion session where the audience shared their thoughts about what had been presented. It was an atmosphere of intense intellectual debate. I found some of the ideas relate very strongly to some of the issues I had highlighted in my Travel Fellowship Proposal.
After the conference, there was a round table session were the studio and research projects were unveiled in detail.
The Studio Projects
Studio 1: Housing: Inclusive planning for and with the urban poor
Studio 2: Inclusive City Center: ' knitting' together the old and new Bhopal
Studio 3: School Plus, inclusivity (and education) through community engagement
The Research Projects
Environmental justice and the Union Carbide disaster
Climate Change and the Inclusive city
Urban Poverty and the Slum Free City
Global Studio received a lot of media attention. My photo appeared in one of the local dailies. This got my dad so excited that he asked an Indian friend of his back home to translate for him the Hindi text that accompanied it.
Day 3 Tuesday January 10
On this day there were two major events; the writer's workshop for only the conference speakers, and the city tour. The city tour gave us a breath of fresh air after the intense two day conference. Everything was informal, free and fun. The first part of the tour was in the new city were we visited the New Market- one of the hottest spots in Bhopal, Art Gallery and the Parliamentary Center. We then had lunch at the Museum of Man Park.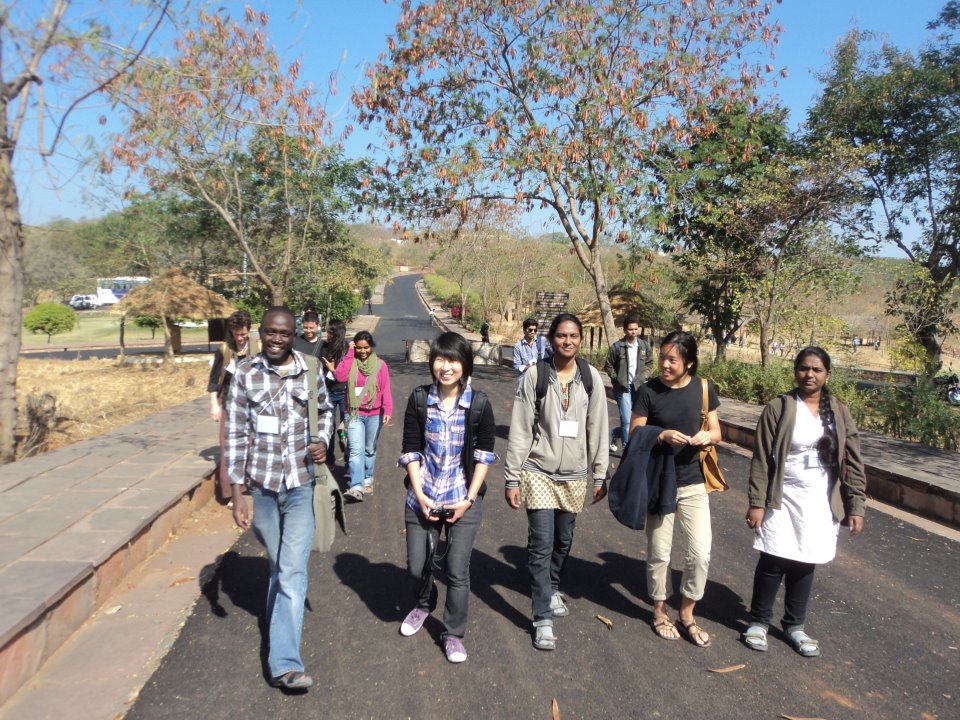 Benard with other Global Studio students at Museum of Man, Bhopal
After lunch we proceeded for the old city heritage walk and the tour of the Union Carbide Factory. It was interesting to see how people here have tackled the issue of heritage conservation and urban connectivity. How sacred spaces have been preserved and revitalized, how community resources have been used to insure their preservation? The old city has a rich layering of heritage buildings, lively bazaars and other social spaces. Some of the heritage buildings here bear strong sacred characteristics and have been fairly well preserved but there was also evidence that a good number of them are being threatened.
Unlike in the new city the streets in the old city are very difficult to cross as there is a lot of informal happening. There are many beggars, street children and idlers and road side markets. The tuktuk (three wheeled taxis) drivers are quite careless while driving and I thought they sometimes hoot just



A 'Living Courtyard' Building in Bhopal
for fun. This didn't surprise me though because similar or even worse scenes occur in the streets of Kampala (the capital of Uganda); taxi drivers can stop right in the middle of the road to pick a passenger and traffic lights are obeyed mainly during day time.
I also noted that there were as many old people as there were young people in Bhopal. This is a big contrast with the situation back home where young people are overwhelmingly more than the old. I think it has something to do with the life expectancy.
We also went to the Sambhavna Clinic which was built to care for the long term health needs of the victims of the 1984 Union Carbide disaster; the world's worst industrial disaster comparable in magnitude only to the Fukushima or the BP oil leak in the Gulf of Mexico.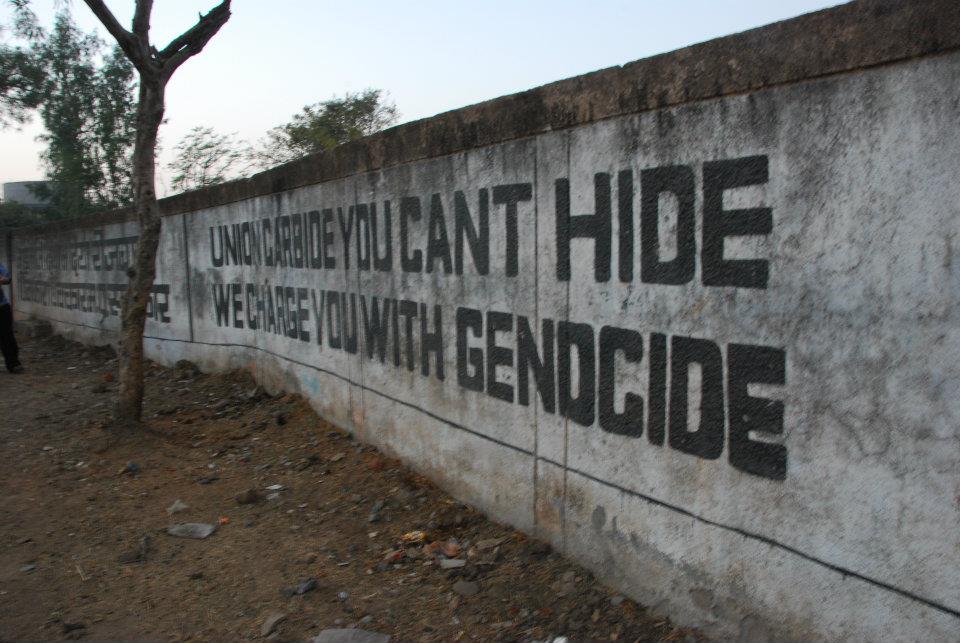 A wall fence around the Union Carbide factory in Bhopal, Photo by Christina Monzer.
'It took us 10 years to realize that we needed to separate the health care needs of the community from the larger political struggle of the movement.' the Sambhavna Trust.This clinic was built after the realization that political activism needed to be separated from the healing process.
Our last stop was at the Union Carbide Plant itself.
Wednesday January 11- Monday January 17
After all these events, we were now well oriented in Bhopal and Global Studio. We headed on with the hands-on component of Global Studio Bhopal. All groups worked independently until at the interim presentation. I was part of the Housing Studio where we worked with about 13 other students in a slum area called Kabadkhana in the old city. It's about 30 minutes by taxi from our hostel at MANIT Campus.
Our problem was to research, consult and propose designs for Kabadkhana with an inclusive and participatory approach. In addition we had to evaluate another slum area called the Madrasi Colony which has recently been redeveloped under the Jawarhalal Nehru National Urban Renewal Mission before we can arrive at inclusive and participatory suggestions for the Kabadkhana neighborhood. JNNURM is a new flagship program under the Indian Government's RAY (Slum Free City) policy. Our client was the Bhopal Municipal Corporation.
Despite the fact that the Kabadkhana site is classified as a notified slum, our group encountered a multifaceted community with a rich layering of social and spatial evidence. The first impressions were overwhelming impressions for most members of the team. At first it was quite tense walking down the streets because people would stop whatever they were doing just to look at me. I feared for my personal safety and always stack around the Indian students in our group.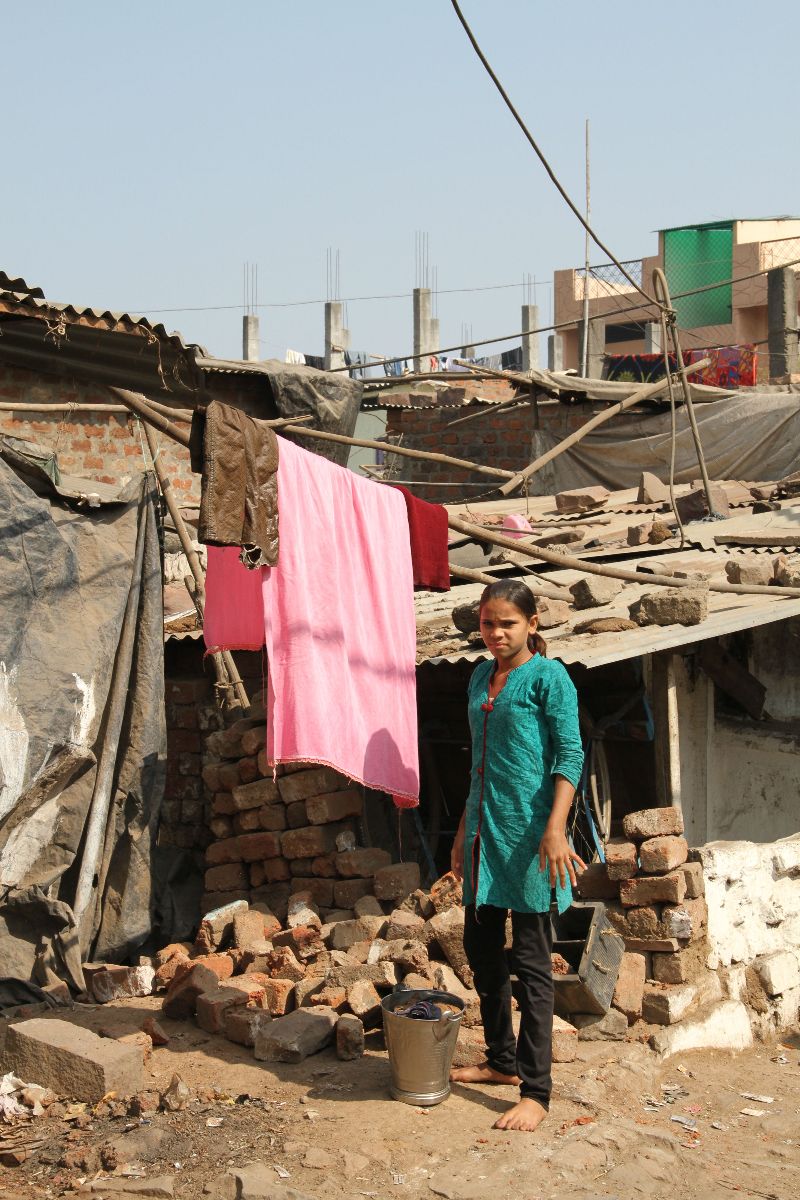 An example of a Kaccha house in Kabadkhana,Bhopal
From a personal stance Kabadkhana had a much better level of basics services provision compared to some of the slums I had been to back home in Uganda. The streets are paved and majority of the people live in Puccha (permanent) and Semi-puccha (semi-permanent) dwelling units. Only a few houses were of the Kaccha type (temporary, improvised and makeshift). Back home most slum areas comprise majorly of make shift corrugated iron sheet buildings, grass thatched houses and buildings made from a combination of different nontraditional building materials. Hardly any has paved streets and in case of a down pour hell breaks loose. The biggest issues in Kabadkhana were water shortage and solid waste management. The municipal water network does not penetrate deep into the slum forcing most residents to resort to the Kolar dams for water. There were also unconfirmed reports that the ground water became contaminated after the Union Carbide gas tragedy. The other issues were education and housing.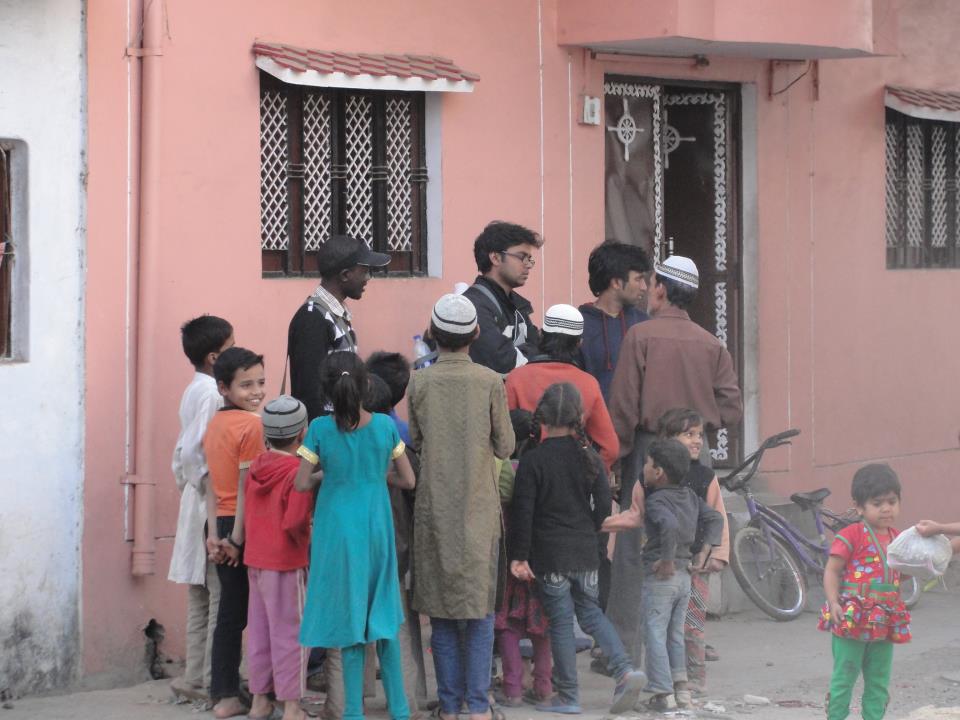 The team and locals in Kabadkhana
Community Engagement: Looking at People as Part of the Solution and not the Problem
Our team investigated these issues and provided a case study approach to finding solutions for the people in Kabadkhana. We developed a range of proposals within our three case studies of open spaces, streetscape and the Nullah on the northern border of our study site. In addition we developed a schematic design as a hypothetical alternative to the Madrasi Colony on the same site and with the same density parameters that were realized in the new development to test the feasibility of our approach.
I had great time with the kids. They looked innocent, very young, beautiful and so full of life. I felt so glad being part of a work that would make their world a better place for them to grow up in. They used to call me Africa because I had told them that I come from Africa. Unfortunately I couldn't communicate effectively with them because of language differences- majority of them didn't speak English. I think they just enjoyed looking at me.
Wednesday 18 January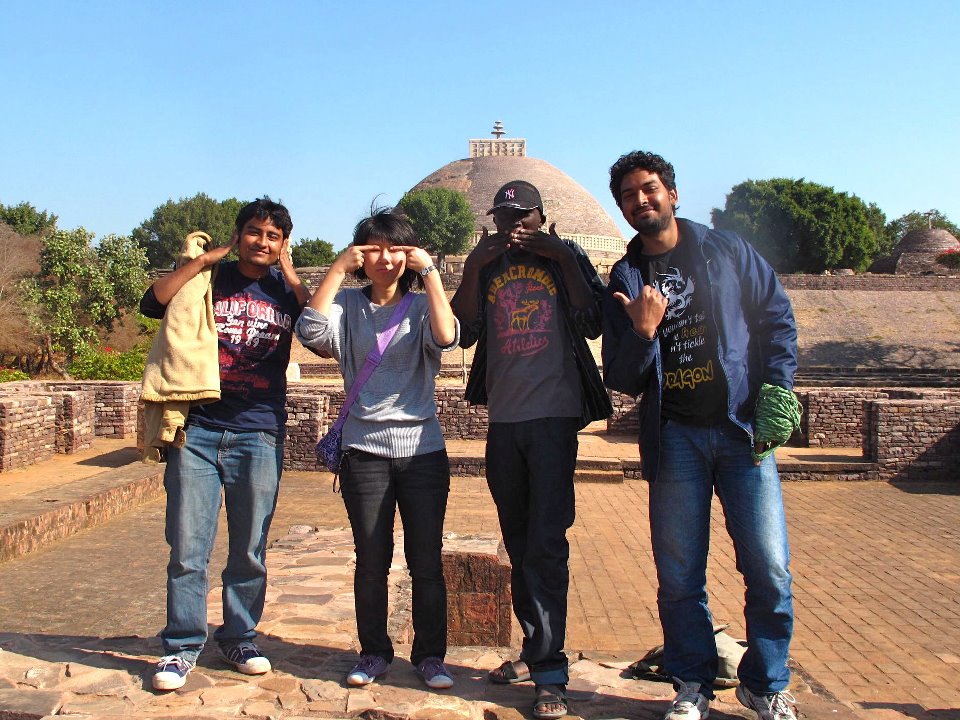 Incredible India: the Stupa at Sanchi
This was another day out. We went to Sanchi, one of the many UNESCO World Heritage Sites in India and the Udaygiri caves. Sanchi is about 2 hrs away by bus from Bhopal. It is home to the stupas and many other awe-inspiring monuments. These Buddhist monuments were built by King Ashoka in the 3rd Century and still stand today in utter magnificence. I had studied about them in History of Architecture and here I was walking around it and just enjoying and marveling at the dovetailing detail.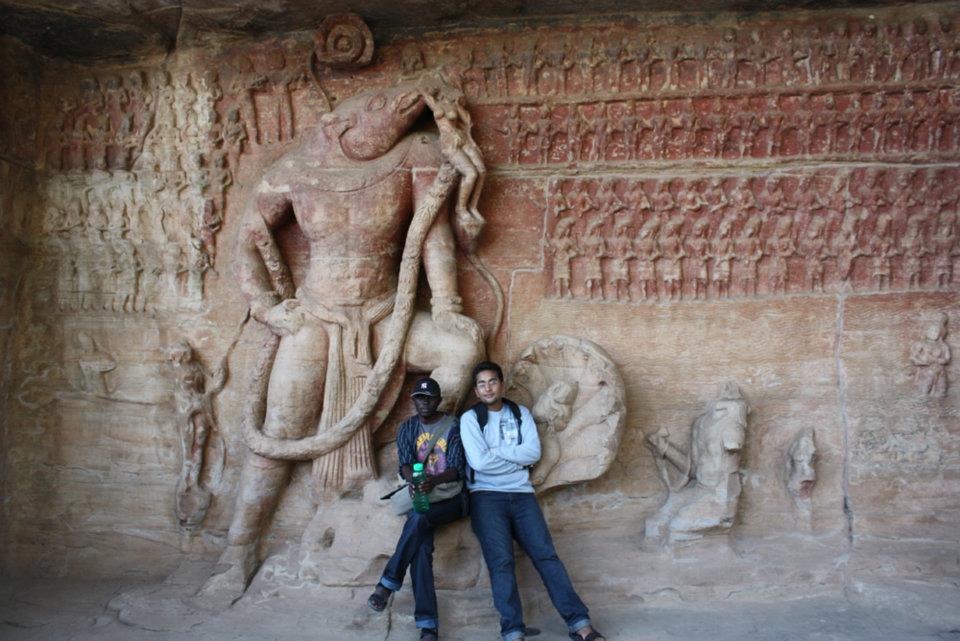 Benard with a friend at Udaygiri Caves in Madhya Pradesh, India
Conclusion
The time I spent working in Kabadkhana opened my eyes to the opportunities and challenges that designers and architects encounter in the field. I experienced firsthand the challenges of working in a foreign locale. The socio-economic and cultural fabrics of society often accentuate these challenges and India provided such a powerful case study. Working with a multidisciplinary team of students and professionals also gave me great design lessons that I hope to explore in my architectural education and later professional practice for the betterment of communities back in my country. I still have three more years of undergraduate studies and during this time I want to build on the knowledge that I gained during my time in Bhopal, and hopefully win another travel fellowship and explore other cities like Singapore, Paris, or Sydney. I have been inspired, pushed and ultimately bettered.
I am tremendously grateful to the Berkeley Prize and to Global Studio for giving me this opportunity. If winning the travel fellowship in my first year at Architecture School was special then attending Global Studio in my second year was something even more special. As I mentioned in my travel fellowship proposal, I believe I'm a part of something much bigger than just my course and this is a great step forward in the journey to my dream of being a socially-responsible architect. I thank my family for all the love and support they gave me in all my endeavors. I also thank my lecturer Dr. Allan Kenneth Birabi for being there for me each time I needed assistance or advice and for teaching me to believe in the beauty of my dreams.
I will always remember the flight, the food, the fun and the friends.
---
References Larry Collins and Dominique Lapierre, 1976, Freedom at Midnight, New Dehli
Government of India, Ministry of Housing and Urban Poverty Alleviation, Rajiv Awas Yojana: Guidelines for Slum-free City Planning
Conference Papers Steve Zavestoski, 2012, the Role of Community Health in Promoting Inclusive Urbanization: Learning From the Bhopal Disaster
Phil McManus, 2012, Participatory Planning in India's Low Elevation Coastal Megacities: Climate Change Mitigation and Adaptation towards Equitable and Sustainable cities
Websites http//:www.theglobalstudio.com http//:www.berkeleyprize.org
---