[ID:2035] Redeemed
India
The black and white Sociology book had faded with corners bent. It didn't lie flat as many bookmarks marked out highlights and solutions to all my rigorous research. Almost every page had something scribbled with revised or interpreted notes. Flipping through them thin, I smiled approving myself of the precisely worded checklist of everything I needed to put in action the next day.
Before my travels, I had bulleted some of the changes that needed to be implemented. These included interior zoning, distribution and franchising for a community center, provision of water supply lines, individual drainage, roof-top rainwater harvesting, electric power lines and storm water pipelines, as well as improving the creditworthiness of dwellers and tenures. This was to combat the prevailing scenario of unaffordable land and housing, where environmental paradigms overlooked ecology in design and planning with a distinct lack of energy efficiency and cost effectiveness. It was a crisp and well written answer for an examination where the elements were boundless and it was more than a formation of self.
I had been pondering a lot over Lutz Konermann, a director whose adroit storytelling ability compelled me watch DHARAVI-SLUM FOR SALE, a movie which worked towards a drive to convert the slum into a vibrant piece of real estate all through informal spacing. Whether it is Rias Khan, a tailor with two children forced to sleep on the street cart or justifiable points of a female social activist, realities and setbacks; it was all about rebuilding for a perfectly integrated city. The clip conveys a capital-driven planning agenda with new rhetorical roads and hospitals as India undergoes a transition from rural to semi-urban society and mismatches between demand and supply, high land costs with low income while the construction sector provides workforce to just sixteen per cent in shanty, squalid houses.
I was reciting how these men from SRA (slum rehabilitation authority), PUKAR and SPARC hoped to eradicate vertical slums by dealing with the turnover of concrete and steel using container sized modules. Scrapped shipping container was being redeveloped into multi-story homes. Architecture students were asked to 'think inside the box' to create employment, education and recreational centres. While some wanted to ignite from tabula rasa, others from MAHILA MILAN made roofs out of tetra packs and measurements for chawl houses were instrumented using duppattas and saris and roofs were built using bamboo and wood.
"It is easy to build the buildings but it is not easy to build trust."
The experience of standing in a slum where the sky faded to blue and black with a wind harmony moving sideways had a pregnant silence while I investigated the arena in subjectivity. There was not just one substance of observation and even the environment was embracing embodiment. The smell of faecal particles was atrociously unyielding. A miserable and overcrowded thieves and robbers' nest due to urbanisation and industrialisation, push and pull factors of migration all engulfing me...
A "Get some sleep" interrupts in the audience. I see flashes of luminescence in arpeggios dimming out in singled circles. The night closed in.
The buzz of an alarm followed ticking off the clock and I walked up to the other side of the cream coated door where light gauze of steam distilled with the temperature knob turned as far as it could go. The rhythm of water dancing on my floor created a blanket of soothing sounds that enveloped me muffing the chaotic noises of our thin walled house. The ceramics that lined my bathroom had the perfect coefficient of absorption to create wonderful thoughts in my mind that reviewed dead poets' society for the millionth time, revised answers before tests (oh, if only they let me take tests in the bathroom!), cried when Sirius Black died in Harry Potter and also sabotaged karma from meeting frantic deadlines and countless places to be and countless things to do. This was no ordinary hot water on my head, it had mystical abilities to activate my neurons, a daily ritual of letting my mind free to reflect and catch any thoughts before they are on a synaesthesia. The water flows spiraling down through the drain cleansing my body, mind and soul leaving the bare essence of me. I thought about how many had this "thinking place" that they could go to and if not, wasn't architecture all about that, Giving synergy of space to psychology? Weren't creation necessary even in the filthiest of places like slums to reverb with spatial entices and the will of the brain for every human?
I was heading out to Srinivasapura, Bangalore just to do that.
I emerged into Dora the explorer with my bag pack and a keen thirst of quest to work on slum upgradation, now every other day. I was guided day in and day out by the officials of the KARNATAKA SLUM CLEARANCE BOARD. Interacting with them preliminarily taught me that architecture wasn't about glamour. It wasn't about beautiful chic glass facades that one could see mirages or reflections; it wasn't about wooden cabinets or metal epoxy paints, or creating a Frank Lloyd Wright-esque building. However, it was about selflessly rendering the basic needs of housing - a permanent roof and a toilet. I was perturbed to know that twenty per cent of the people urinated in the urban sprawls amidst the roads since a personal toilet wasn't their provision. While ancient India had never seen a poor homeless man and with both the Harappan and Mohenjo-Daro civilizations providing extra public baths and toilets, Youngistan has a different vision regarding planning and sanitation.
Any slum upgrading project consists of physical, social, economic, organizational and environmental improvements to slums undertaken. Alleviating the poor living standards of slum dweller accompanied with the provision of safe drinking water, sanitation, waste water removal and solid waste management is the main goal. A strategy for the improvement of a slum's infrastructure is one that has evolved out of a period of unprecedented urban growth since the mid-twentieth century. Alternatives to slum upgrading include the construction of alternative tenements for slum dwellers (rather than fixing the infrastructure itself) or the forced eviction.
I kept in mind what a man named Norman Foster talked about how he would welcome an opportunity to address the mass housing issues of slums. "Six years ago, we began a project in Mumbai which aimed to raise the quality of housing, sanitation, and public space in Dharavi, one of the world's largest slums. Current standards of sanitation are low, with just one toilet per one thousand four hundred people, and the lack of open space means that the only places for children to play are in cemeteries and on the railway tracks. Our team spent time studying the way that the space was used and engaged with the local community – the residents of Dharavi recycle eighty percent of Mumbai's waste. We developed a comprehensive plan to improve the quality of life for all living there, which was based around the existing balance between spaces for living and working, yet introduced new public facilities and infrastructure. While we sadly have not had the opportunity to implement our master plan, this work has been a valuable reference for potential future projects. Significantly, it pointed the way to solutions in which the community would be respected and the quality of amenities transformed. This is a radical alternative to the traditional approach of bulldozing, uprooting the social structure, and starting afresh – a policy, which has so far failed."
This is considered by the proponents a necessary and important component of urban development in the developing countries. Indeed, their slum growth rates had fallen markedly in the various countries. However, these numbers are still positive, which highlights that the slums are nowhere close to shrinking or completely disappearing. Many do not believe that slum upgrading is successful. They point out the difficulties in providing the necessary resources either in a way that is beneficial to the slum-dwellers or in a way that has long-term effectiveness. According to Habitat for Humanity International, some common barriers to slum upgrades are insufficient legal and regulatory systems, excessive land regulation, gender discrimination, disintegration of customary traditional protections and lack of political will around the issue.
An example of Sunder Nagari, Delhi saw residents of one slum block who are predominantly low-caste Hindus engaged in repairing and refurbishing footwear, whereas the other block is a Muslim community, which engaged in a variety of home-based businesses, such as jewellery making, embroidery, stitching, metal work, and dairy. Their interaction showed a household survey, focused group discussions, and conversation with individual households, including children.
The majority of the community's residents involve in traditional occupations, and sixty per cent worked within two kilometres of their home. Pursuing a certain lifestyle and maintaining traditional livelihoods emerged as the focal points of this community of cobblers, cattle rearers and artisans. Others residents worked as domestic help in neighbouring middle-class homes. For the residents, housing is not only about access to shelter but also about habitat. The debate was not whether twenty five square meters is sufficient for the survival of a family of five, but on the quality of life and economic opportunities the new neighbourhood would offer.
Kibera in Nairobi and Kunlandei Francis's work with NGO's in Tamil Nadu served as sans inspiration to continue working on similar lines at Srinivasapura.
Once the design team embodied the life and livelihood interlinkages in this community, arriving at the conceptual design was relatively easy from the feedback of the community. The Street offered connectivity as well as the neighbourhood interaction space that the community considers essential to the way they live and work. Moreover, the community particularly accepted it because they could easily transport material to their homes and carry finished goods out via strategically located staircases. Residents were aware that low-income high-rise developments have been unsuccessful in maintaining essential amenities such as elevators.
The modular design done on a 4m-by-4m grid yielded flexibility and multiple options for unit sizes (18, 32, and 48 square meters) based on family size, capacity to pay and livelihood requirements. The detailed schematic design was guided by frequent community visits that were intense and lively. These repeated interactions were key to building the good will and trust amongst the residents who were anxious about the redevelopment. Furthermore, there were visuals that created considerable excitement during the community meetings.
Providing a street-based scheme that allows them to continue home-based work in their front verandas, while interacting with neighbours and supervising playing children. The street width ensured not access by cars, and limited only to three wheelers. Provision of ramps and stairs at frequent points enabled residents to carry raw materials and finished goods into and out of their homes easily, which were paramount for the community social interaction spaces. These intangibles link to the way livelihoods and lifestyles are manifested in their lives. Women work in front of an open front door where the light trickles in; therefore, providing a semi-private, well-lit work area enabling interaction with the neighbors is their idea of a comfortable working environment.
Immersed in the depths of planning, while I was attaining the zoning of the interiors, I matriculated that these simple people who ran their families at a meagre wage of five thousand Rupees, found their happiness in being together in small arenas. They did not need luxurious three bedrooms with a furnished kitchen but expressed how the living area could be multipurpose and that every man does get enough for his need. I was told the mind dictates the atmosphere and therein lay several families with simplicity, conveying: Gardens of perpetual residence; they will enter them with whoever righteous among their fathers, their spouses and their descendents and the angels will enter upon them from every gate.
Even though my contribution was miniscule, providing suggestions, communicating with the society, going over plans and zoning and landscape ideas, were still mighty interactions, which no job would teach. A licence to practice architecture was calling my aspirations while I understood that the knowledge I had was still very little and I learnt I had so much more to learn. I travelled in with expectations on changing technical faces of the Earth and putting in hygienic homes however they changed my emotional face where I experienced love and belongingness aside home. I found connectivity with people, be it eight year old Ahmed yapping about school and laws of gravity and inviting me over for some delicious Sheer Khorma or be it Lakshmi, a teenager who aspires to become a scientist and dancer with a thousand people gazing at her with hope as bright as the twinkle of her eye. We could sit in silence for long hours and still talk about all the world issues.
Walking through the lanes, helping, being helped, looking across the trees and the stars popping off a background called darkness, my heart pounded with gratitude. The sky blazed and then the embers burned out leaving Prussian blue. There were songs of joy to which children and old danced. Progression had been tasted with hard work trying to ornament the community of Srinivasapura. Cherishment was found in the facts where people understood what was being done for betterment of their houses and had an educational awareness of global economics and survival tricks.
As every day ended and I got back to my cave, singular emotions dawned on me each day that no words can describe. It began as a beautifully aching tenderness from the pit of my stomach, gradually bubbling into my chest filling me with warmth and radiance. Melting away tension, it slowly effervescenced into my mouth and words of silky texture poured with unparalleled candour and cadence. It was richer, deeper and stronger than I ever produced with experience as I severed from reality rekindling every experience. I had gained people I loved and treasured. A warm front had moved in; and a framed picture slowly leaves my hand as it fixes on a foundation base on a side table. While it rests, it brings a memory in motion; every other night closes in with the seizure of smiles travelling from across the photograph to my lips.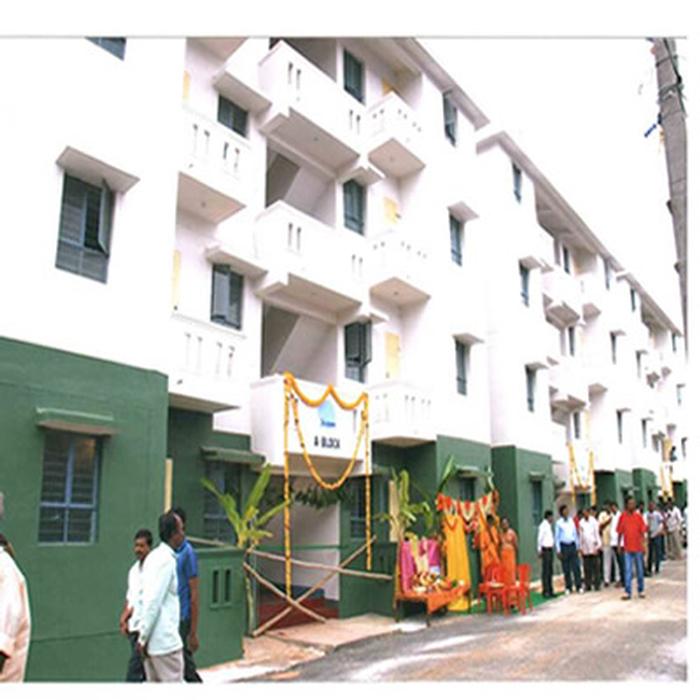 The rehoused facility at Srinivasapura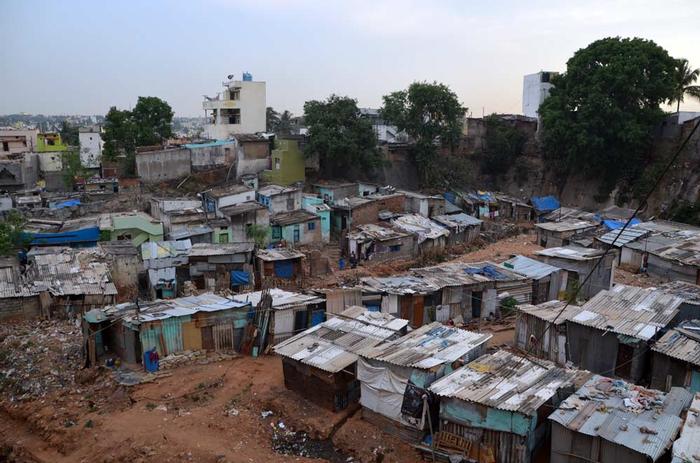 The arena before redevelopment of Srinivasapura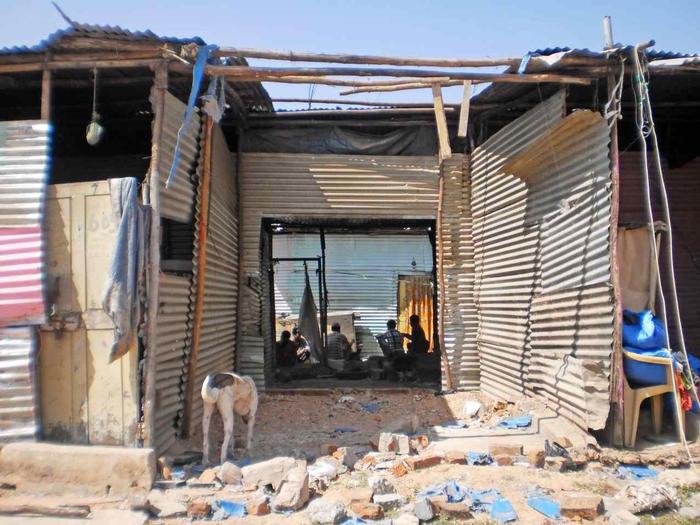 Temporary workshop where progressive planning and community meetings were held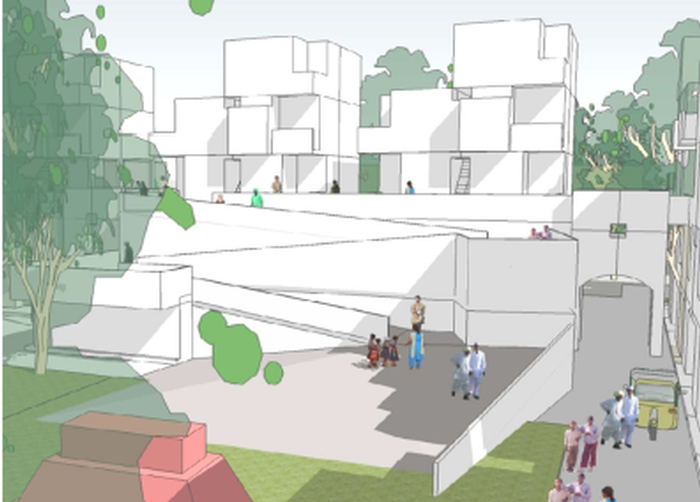 Visual aid of green town view in Delhi serving as an example to Srinivasapura
If you would like to contact this author, please send a request to info@berkeleyprize.org.
---