[ID:1364] Apathy or Adulation- What can an architect do about slums?
India
"This is the third generation of my family living in the slums. I always wished I had a home that I could pass on proudly to my grandchildren" (Draupadi Gaikwad)
Draupadi's story is not just her own, but one which helps us unravel the story of the homes of more than 17% of India's urban populace- slums. Slums serve as entry points for migrants, attempting to escape their impoverished settings, standing as a testament to the survival instincts of the poor within cities. Major cities in India are experiencing a rapid rate of urbanization, owing to new waves of rural exodus, most unable to keep up with the momentum required to absorb them into planning processes. Resultant, make shift homes standing on bamboo, tarpaulin and hope, that were once parsimoniously dotted, gradually proliferating across the urban fabric. However, the inhabitants of these settlements are constantly under the threat of eviction due to their illegality.
To this vulnerable populace, these informal settlements are a pit stop before establishing themselves in the urban set up,which does not rely on the government's compliance but rather on mutual support; a slum is a 'village in the city'. To the government, however, slums are a living entity, breathing in the city's resources and emitting proof of systemic failure. More seldom than rare, these squatters perch themselves on vacant land without any authorization. This fact aided with the abject living conditions in these settlements, propels policies towards only one direction - to rid the country of poverty, we must raze these squatters to the ground and relocate its inhabitants to towers developed under various schemes. This seems to serve a two pronged purpose- valuable land would be emptied and citizens would be housed. However, what seems like a sensible decision at first glance, is but a facade covering a crumbling structure and to understand why this scheme fails, we must know the prelude.
The Maharashtra rent control act, was an initiative meant to aid the influx of tenants into cities by putting a cap on the rent that could be collected from them, in order to create an impetus to build more such low-cost housing. However, the subsequent chain of events took a dramatic turn. Owners and builders of these buildings, were now burdened under the weight of stagnant returns in an ever accelerating monetary scenario. Coupled with the responsibility to carry out regular repairs, builders began to ignore the up-keep of these seemingly loss-making devices and thus, the fabric of urban India saw a veritable plummet in the number of low-cost housing. With a shortage in the controlled sector, excess demand spilled into the new upper-bracket units. However, with the low demand for this type of housing, the growth in this market was slow back then, causing this commodity to become scare and subsequently causing rents in this sector to grow exponentially. For Draupadi and her children, she must make a Hobson's choice between a dilapidated and crumbling low-cost unit or the excessively high-priced flats she cannot afford; conclusion, she chooses a third option, the slum.
The government recognized the role incentive plays in the real-estate stage, while acknowledging the existence of many, who cannot afford houses in the mainstream market. Thus, the SRA (slum rehabilitative authority) was born. The SRA then proposed a rather simple answer- a host of buildings were to be made under the slum-rehabilitation scheme, where slum-dwellers would be shifted and their former homes would be demolished. Builders who opted to construct under this scheme, received incentive in the form of FSI (Floor space index) which they could then use for profit. But soon, we realize that no answer is that simple.
These buildings are often riddled with architectural problems, light and ventilation, open spaces and inadequate setbacks to name a few. Architecturally sterile, these towers have little consideration for the people who are to reside in them, leaving little or no room for community based activities like festivals, birth and death rituals etc. and considering that these people are inherently villagers who have left their society behind, these communal gatherings become their only link to their former lives, which most of them, refuse to give up. Upon further study, it becomes lucid that these towers then become catalysts to an inevitable functional failure as these slum dwellers then return to the sidewalks, abandoning the towers or even using them as a secondary income source. Architects and researchers criticize the government's top-down approach, laced with the inability to view slum inhabitants in a more nuanced fashion, which would then bring to light the local wisdom hidden within their tryst to survive.
But does this imply that we should allow people to continue to live in slums as they exist today? The answer is unanimous, no.
The danger that lies in the lens of the bottom-up planner, is the rose-tint, that makes him romanticize the functioning and the efficacy of slums; confusing necessity with creativity, makeshift with resourceful, forgetting that slums are ultimately, no fit place to live in and definitely no museum to exhibit the bounds of human ingenuity. Architects are often guilty of regarding slums, fawning over measures made in an attempt to survive, treating them like artifacts or objects to learn from.
Just when one begins to question if design can tackle poverty at all, a settlement tucked into the outskirts of Pune, puts forth a powerful and probable answer.
As I entered the settlement of Yerwada, labeled as a 'slum-area', I expected to find a lot more chaos than order. I was instead greeted with spacious inner-lanes, a cluster of one-storied brick and mortar houses and children playing cricket. In recent history, this area too was a host of asbestos sheets and trembling bamboos, until the JNNURM (Jawaharlal Nehru National urban renewal mission) happened. This initiative promotes the up gradation of slums, with a long-term goal of envisaging a 'sustainable and slum-free city' and architect Prasanna Desai, in collaboration with SPARC (Society for the promotion of area resource centers) and most importantly, unions from the slum-dwellers' communities themselves, imagined right.
What sets this project apart from the majority of projects pertaining to slum-rehabilitation, is the usage of community participation and people's collaboration as a design tool, to arrive upon assets instead of houses. The architect's team began with a mapping of seven slums across Yerwada, mapping the existing layout, marking existing footprints, streets and openings, in an effort to let neighbors be neighbors and locals be locals. The permanent houses were retained, while the owners of the temporary houses were made beneficiaries of this scheme. Meetings with the women's organization were arranged in order to identify skilled laborers present in the community who could be useful in the construction process, like carpenters, masons etc, which would not only reduce the overall cost of the project but also increase community participation. Thus, a broad framework, establishing key features like- parameters to create a master plan, labor resources and communication channels, was formed.
The actual participation started when the architect's team held community meetings, where aided with models and plans, the architect's master plan was explained to the people with the aim of incorporating their suggestions into the design. This back and forth process of making proposals and then incorporating design changes was mediated by the Mahila mandal until a consensus was reached upon. The architect's team also made makeshift spatial models with cloth and bamboo on a 1:1 scale, so that the slum dwellers could experience the spaces of the housing typologies and voice their opinions and grievances more specifically. The basis of each master plan was provision of better sanitation facilities, adequate light and ventilation, sustainable solutions and a hierarchy of public and private spaces, to encourage communal and social behavior. By stacking some temporary houses over one and another, creating clusters of others and asking people with larger plots to surrender some area to the community, streets and squares were opened out to the public, with scope for semi private spaces like verandas, patios and backyards. As 9-year-old inhabitant Aashna Sheikh points out "Now there's place for the houses and us to play!"
In the beginning, SPARC was dubious if monumental success was possible with minimal funding. Luckily, the scheme provided Rs.300,000 per house which accounted for 90% of the cost. The remaining 10% was put forth by the beneficiaries, who developed a sense of pride because their money and effort went into making structures that they would nourish and cherish with time. In this 'tailor-made' scheme, the slum dwellers become key sources of design solutions, thereby leaving behind 'happy clients'. "For a salesman with an average income, to get a house with good facilities like this, would have been impossible" says Habib Sheikh. The children have room to play games in the evening, women have places to dry their clothes, congregate and even gossip perhaps! Sohail, a teenage boy, is happy that he has room to call his friends over during festivals. Kailash More, an entrepreneur, says he now considers this house a home. Draupadi is finally happy to have an 'otla' (yard) behind her kitchen to dry chilies. If contentment was a viable unit of success, then the architect seems to have succeeded on that front.
To appreciate a triumph better, we must know the hardships endured during the process. "We had to go to each house and explain how the design would work. It was a very tedious process. Each beneficiary had to then submit papers to prove residency and then they have to provide money to the government. But what it allowed us to do was create specific designs. Some homes had handicapped members or some had older citizens, so we would then shift the bathroom to the ground floor instead of the first" says Vedang, an architect at Prasanna Desai architects. Yerwada was an inorganic slum, born nearly 50 years ago, with its largest cluster nestling almost 450 houses per 125,000 sq.mt. The slum was a maze of narrow alleys, connecting its irregularly shaped temporary houses, some sharing multiple walls with its neighbors, saturated with a host of bright-colored exteriors, accented with a flutter of tinted sarees, filled with banter and quarrels to the brim as water spilled out on the streets from every nook; to an outsider, it was an impenetrable but lively labyrinth. Today the noise, the banter and colors, all remain, but there's a space for everything and everything is in its space.
With the project receiving nationwide attention and praise by garnering the national award for the best slum development project, 2011, Pune gloats at achieving what most other cities in India, are still struggling with. The project was hurled into the limelight yet again on receiving international renown from distinguished organizations like the Smithsonian and the United nations, showcased in exhibitions as an exemplar attempt from an architect at alleviating poverty. However, a sharp critique of the viability of the scheme came from one of the inhabitants at the Pratiknagar slum in Yerwada herself. "Earlier, even we were like Dharavi in Mumbai, all ramshackle and chaotic. Now no one can say this is a slum. But we have place here. In Mumbai, you can only stack one above the other. Our slum is not like the ones over there. And Mumbai, they want everything for free. Here, we pay for our homes"
Her critique about ownership does get resolved within the premise of the scheme, but it is her former comment on space that began to turn the cogwheels in my head into motion- does this sprawling methodology also apply in places where land is a scarce and almost sacred commodity? Where every square inch is valued in terms of revenue? Can this ideology generate requisite amount of housing for the throngs of migrants moving into metropolises like Mumbai every day? To answer these questions, one must look into a similar process of evaluation being done on Asia's largest slum, Dharavi, by Kamla Raheja Institute of Architecture, Mumbai.
The institution, in its publication called "re-Dharavi", addresses the issue of redevelopment proposals of Dharavi, under the same participatory module, as the one applied at Yerwada. The research findings show that even in a slum as populous as Dharavi, just by looking into the population density of the existing tenements and planning a master-plan which incorporates a mesh of low-rise high density and very few high-density high rises while retaining the existing street patterns and spaces, the in-situ rehabilitation scheme can be adopted. The study also points out how the slum can retain its enterprising nature of fostering small businesses and yet accommodate all its inhabitants, by abandoning the incentive-based, top-down approach. In order words, Pune's Yerwada could be the first prototype of the successful execution of the participatory model, which can soon be implemented in major slums across India. And despite the fact that an architect has played a protagonist's role, one cannot dismiss the fact that the success of this story lies in the ensemble cast and not in one hero.
In combating an enemy like poverty, architects are often faced with questions of relevance, their impact and effect, many of the answers to which, lead to dead ends. Alleviating poverty is an agenda that breaches many boundaries, as it trespasses into the social, economic, humanitarian and infrastructure development sectors. Within this web of factors, woven by many players who are invested into the betterment of the lives of the urban poor, architects tend to find themselves struggling to define their roles. In the process of writing this essay, I tried to assess what role is it that the architect, Prasanna Desai has played and by doing so I realized this questions my ideals as an aspiring architect as well.
So why an architect? Architects have an obvious limitation of being able to proffer up only technical solutions, solutions to only those questions that can be answered with design, right? Then why an architect? Because architecture is less of a profession and more of a discipline and that too, a truly interdisciplinary one. The Yerwada model tells us that architecture's response to poverty is through its intrinsic link to human beings, their hopes and their lifestyle. As I walked out of the Yerwada settlement, I could hear soft whispers, feeling proud that their homes were being documented as a victory, the streets singing songs of the transformative ability of architecture, not just tangibly but also in the minds of people, making them realize that building is not just the act of erecting a structure.
"Quite often when you're in an area that's been hit by natural disaster or is amidst a blight of systemic poverty, people see despair, but when architects go there, they see an opportunity to change, an opportunity to resurrect a community. This is the value that we have that can truly transform a nation." (Cameron Sinclair)¬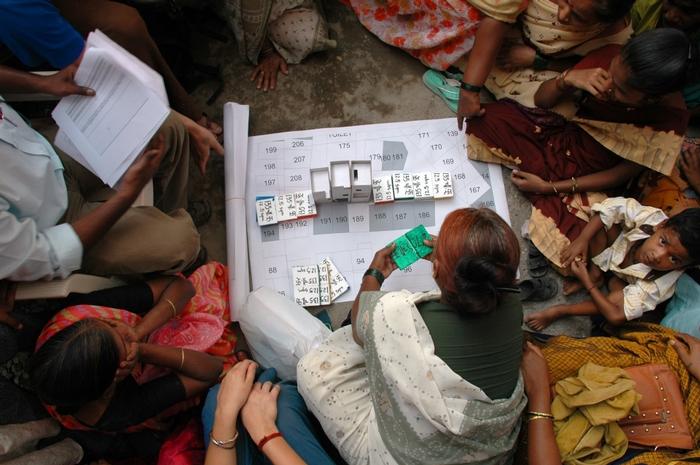 The architect's team discussing the master plan with the slum inhabitants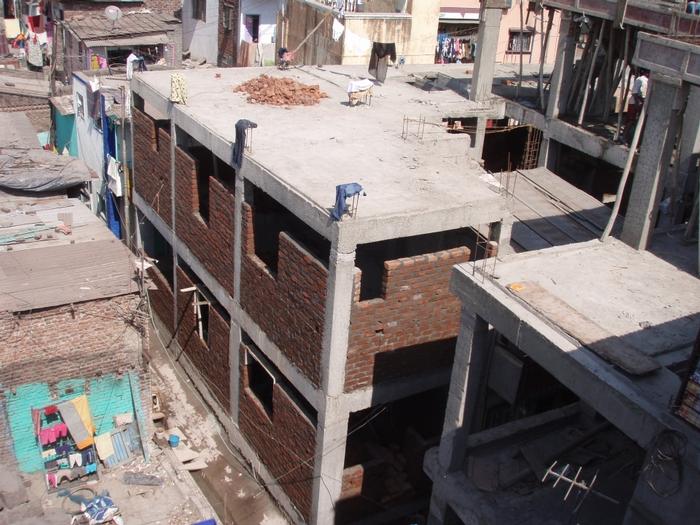 construction begins within the existing slum fabric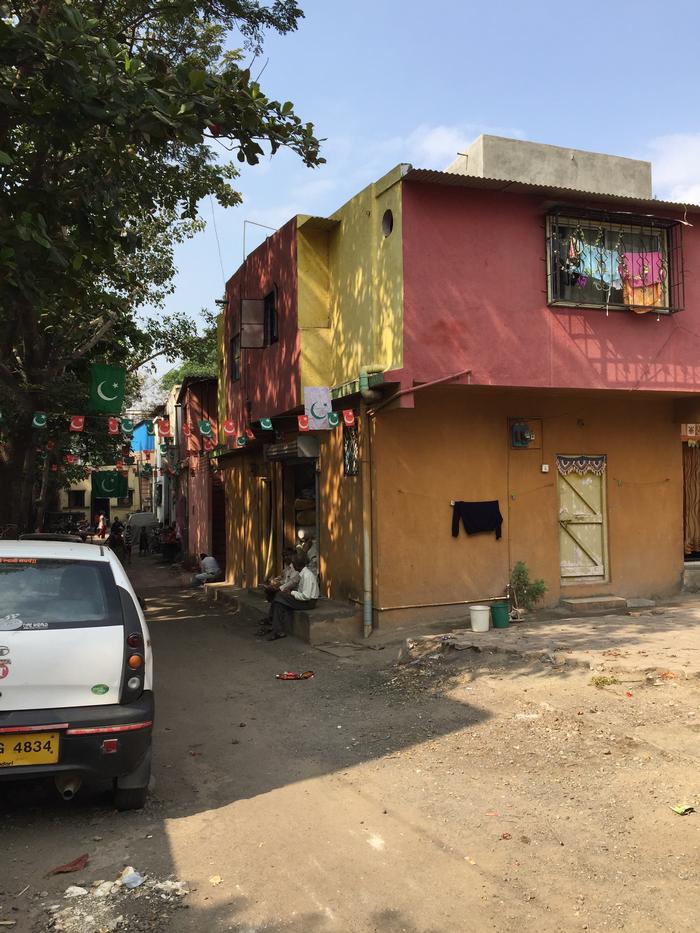 A lane of finished, redeveloped houses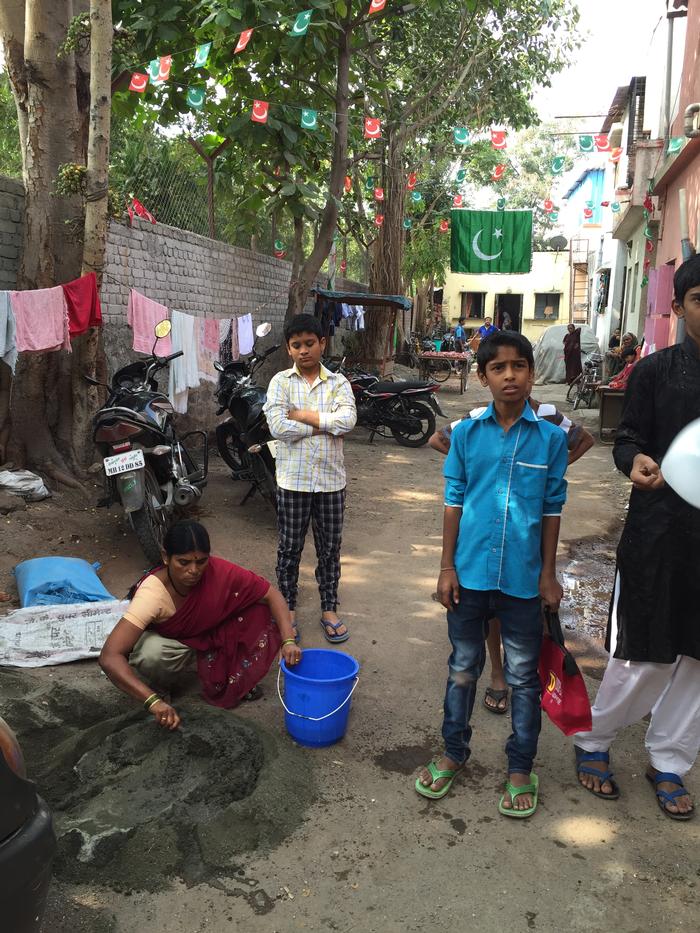 Children gathering around from their play to question the purpose of my visit
If you would like to contact this author, please send a request to info@berkeleyprize.org.
---