Holly Simon
2011 Essay Prize Winner - First Place
Country of Origin: Canada
Country of Study: Canada
Current Country: United States
Degrees: Master of Architecture (2013); Bachelor of Environmental Design (2011)
Statement:

Since graduating from my Master of Architecture degree at Dalhousie n 2013, I have been working towards earning my architectural licence. In my free time, I founded a collective with some fellow architecture grads and we collaborate on projects with a social focus. We believe that, fundamentally, inclusivity is a powerful force of design. Here is a summary of two collaborations we built together in the spirit of the Social Art of Architecture.
- The Public Speaker is a vessel for dialogue. It was created for the 2015 Royal Architecture Institute of Canada Festival of Architecture. Live audio from the lectures was conveyed into the speaker with a transmitter, allowing people to learn about architecture without having to purchase admission. Between lectures, the piece was analogue as people spoke and listened to each other through the reverberant body. The piece was created from 28 sheets of plywood shaped on a CNC and laminated together into its curvilinear form.
- Orange Crush, composed of 1000 orange pool noodles and 6000 zip ties, was orchestrated by a team of designers and engineers along with a group of 7-14 year old boy and girl scouts. As part of the Beakerhead Festival of Art and Science, (Calgary, Canada) our team conceived of a building material and method (pool noodles and zip ties) and a vault-like form which had in mind a variety of ages and abilities that would construct it. Working together with the kids to build this public installation was deeply rewarding in the process.

Collaborators: Holly Simon, Justin Loucks, Phil Wilson, Kevin Lo. Photo: Stenhouse Photography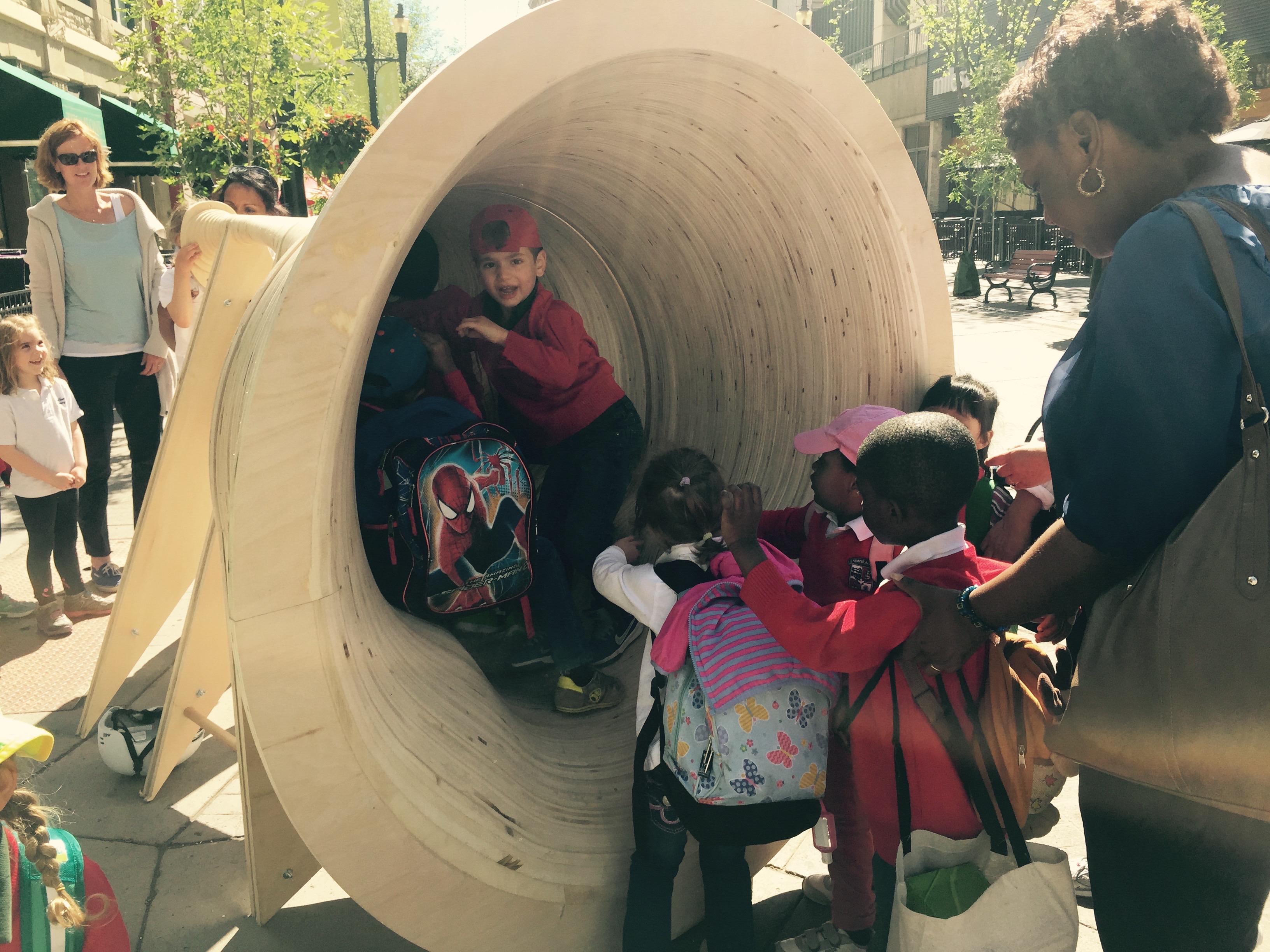 The Public Speaker by Holly Simon, Justin Loucks, Phil Wilson, & Kevin Lo
---
« Previous Winner
Next Winner »