Edward Couper Travel Fellowship Report
Bali, June 2019
Thanks to the Berkeley Prize Travel Grant, I had the opportunity to travel to Bali to study Bamboo design and engineering at the 11 day intensive Bamboo U course in June 2019. Throughout the course I made many notes, but the lectures were so rich with important information it would be impossible to share more than a rough day to day breakdown here. This day to day description of my main experiences is coupled with reflections on some ideas that I explored along the way.
As the majority of what follows focuses mostly on my learnings of bamboo generally, it is worth noting here why bamboo in Bali specifically is so important and what drew me to undertake this course. Bamboo U is the latest enterprise by the ambitious and innovative Hardy family who have been in Bali for decades firstly understanding bamboo and then pushing it to its creative limits through their different integrated businesses.
The primary course activities of Bamboo U are centred on the wider Green School campus with its associated developments of the Kul Kul Farm (a permaculture farm producing organic food products), Green Village (a private residential development of high end designer bamboo houses), Green Camp (a campsite with yurts and facilities to teach foreign school groups about sustainability and where I stayed during the course) and the Bamboo U campus across the river (currently under construction with the assistance of visiting Bamboo U students). Further afield we visited the Ibuku architectural design office and Bambu Indah, a luxury hotel built primarily of bamboo. This network infrastructure represents an integrated system of businesses founded by jewellery designer John Hardy and his family tying research, fabrication, real estate development and ecotourism all centred around this magic material: bamboo.
Before taking this course I had a general appreciation for bamboo as a sustainable and fast growing material. I knew that it has a tensile strength comparable to steel and a compressive strength comparable to concrete. I hypothesised in my proposal for this grant that there is great potential for its use as widely adopted building material across the equatorial regions of the world through the setting up of locally managed plantations. All these things have been validated and reinforced by this course, but the technical details and creativity and tenacity of those involved is both humbling and inspiring.
Day 0 - Orientation
In Bali, anticipated travel times are at best guess an estimate as the roads are windy and the traffic inconsistent. After arriving at Denpasar airport, it was the better part of an hour before I reached what would be the hub of our learning, lectures and - perhaps most importantly - food. Standing in for the slowly developing Bamboo U campus across the river, was the Kul Kul Farm. A "kul kul" is a traditional Balinese drum and one was used voraciously by our enthusiastic hosts to ensure we kept good time on a tight agenda. Being a permaculture farm (that is one that endeavours to use agricultural methods that mimic natural ecosystems), our hosts took great pride in providing us with food that was for the most part grown locally or sourced from the Farm every day.
Accomodation for the participants was split-up, but all within walking distance of the Kul Kul Farm. I slept in a shared yurt with three others. My fellow participants were a diverse group of individuals of different ages and different backgrounds. Some were artists, some architects, a few students still in university and all from different corners of the globe who had come to Bali to learn more about the potential of bamboo. It was clear that understanding how to work with bamboo and achieve such beauty as can be seen in the buildings of the Green School and the work of IBUKU had been the main driver for most.
We were blessed by local Balinese who help run the farm and then oriented to the course, before being split into groups for a bamboo tower building competition. The group I was in worked together to build the tallest tower by creating a simplified but effective structural base.
This was followed by dinner which was in turn followed by introductory session to Bamboo U led by Orin, setting the agenda for the following day. The course was split into two parts: 5 days of lectures and workshops followed by 5 days of carpentry and construction. A free day between these two parts allowed for exploration outside of the campus. The first five days were especially information rich. A typical day would include being woken up by loud music from a temple across the river at 5am or kids in the Green Camp having breakfast at 6am. Our day offically started with breakfast at 8am followed by Morning Circle where we would come together as a group and share what we had learned so far. A typical day would have 5 different sessions interspersed with morning tea, lunch, afternoon tea and dinner with final sessions finishing around 830-9pm each night. A team of local Balinese provided a delicious and healthy spread of food and drink wherever we might be on campus, they would bring it to us.
Day 1 - Forestry, Harvesting & Preservation
Before breakfast we had the opportunity of taking a tour of the Kul Kul Farm and learning more about permaculture….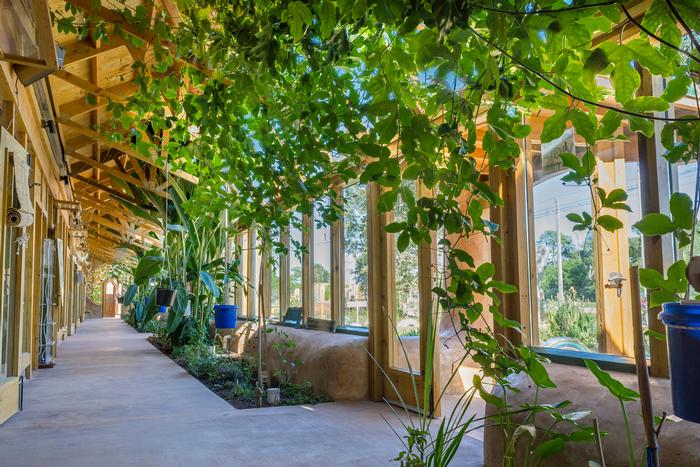 The first day began with an opening guest lecture with Gunther Pauli. He is known for his work on the Blue Economy and for funding the development of the German Pavilion for the 2003 World Expo in Berlin?. He gave an inspiring lecture about the change of mindset required in order to create out of the box solutions to tackle waste and promote sustainable enterprise. In the Western world we are in a "consumption model": exploiting the resources of the fisherman, farmer and miner and defend existing systems such as how human waste is processed - no separation between pee and poo for effective reuse and recycling and instead flushing both away with water. He spoke of the work he is doing to use bamboo cellulose for a variety of applications, including in the production of diapers. Incredibly absorbent (able to absorb 10x its own bodyweight), these diapers are given out for free and collected after use to produce black earth. 1 ton of this black earth supplies a fruit tree for a year. One baby produces enough black earth per year to make 50 tonnes of fruit. In the end it is not about whether individual products are good or bad, sustainable, bio-degradable or not, his point was that we need to identify and evaluate the whole system with all its actors.
Orin Hardy, Director of BambooU, then gave a lecture on bamboo forestry and ecosystems. He was filling in for Arief, who has been involved in bamboo his whole life, with his mother being a famous interior designer who used bamboo heavily in her work and introduced Orin's father, John, to the material originally.
To start with he asked the question: what makes bamboo sustainable? It sequesters carbon at 50 tonnes per hectare - about a quarter of what a forest would hold. For comparison. an average person produces 5 tonnes of carbon per year.
More to come soon...
---