Aman Sinha Travel Fellowship Report
United States, June-July 2017
ARCOSANTI

"The Arcosanti Workshop program appeals for a frugal commitment, so as to induce a more equitable and sustainable development of the human experience." — Paolo Soleri
ACKNOWLEDGEMENTS
Before delving into an exploration of the World's first 'Arcology', Arcosanti, I would first like to thank the Berkeley Prize committee. The travel fellowship would not have happened at all without the vision of the Berkeley Undergraduate Prize for Architectural Design Excellence chaired by Professor Raymond Lifchez. I remain eternally grateful to the Berkeley Prize committee for providing me this opportunity.
My deepest gratitude goes to the whole Arcosanti family, which welcomed me and treated me as one of their own from day one.
I would also like to thank my parents for all of their efforts in me, Ar. Abhishek Koduvayur Venkitaraman for mentoring me, and every other individual who helped me successfully concluding the Berkeley Prize Travel Fellowship 2017. Thank you.
The words in the write up comprise of memories, images and thoughts which I gathered throughout my 5 weeks journey to the opposite part of the globe.
My itinerary took me to about a dozen of cities across the United States. I encountered diverse and interesting people, places and ideas. These 5 exhilarating weeks of travel are hard to sum up in a report! Below I revisit some highlights of my travel.
INCEPTION
When choosing Arcosanti for my travel fellowship opportunity, I was eager to visit a place 12,000 miles away, and witness the very first Arcology in the world and contribute my bit for five weeks to expand it further.
On June 25, I landed at the Phoenix Sky Harbor International Airport, and was welcomed with a blazing 49 degree celsius, one of the highest temperatures ever recorded in the city. Even after enduring the harsh Indian summer, the heat waves like the ones in Arizona were something I had never experienced before. But, it was no later that the heat sores were ousted by the mesmerizing desertscape which graced my 100 miles drive to Arcosanti.
Upon reaching Arcosanti, I realised why is it called a 'Utopian Town'. It was magical! It was in no way even close to what I perceived it to be from the pictures and articles on the internet. It was much more than that. So pure and honest. So much in contrast with the other cities. It was the first of many imminent instances when I realised how fortunate I am to be a part of something as special as Arcosanti.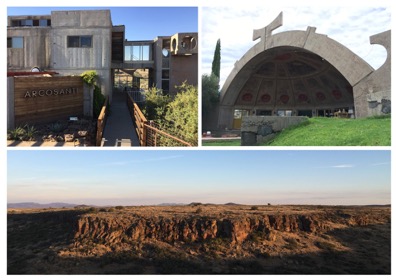 Figure 1: Clockwise. The entrance. Ceramics Apse.  Mesa opposite to Arcosanti.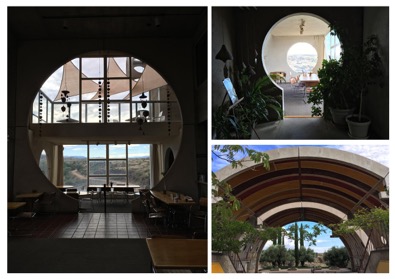 Figure 2: The Utopian Design.

Clockwise. The Cafe. Entrance to Cafe. The iconic Arcosanti Vaults
THE PROGRAM
The workshop program comprised of five weeks. The initial two weeks dealt with the philosophies and principles of Arcosanti, which were talked about mainly by the four Co-Presidents of Arcosanti. After understanding the gist of the project and getting acclimatized to the environment at Arcosanti in the first two weeks, the remaining three weeks were meant for the hands-on construction. During my tenure of five weeks, there were majorly two projects going on. The first one being the ADA (The American Disability Act) compliant parking lot and the other being the ADA compliant guest house construction for the forthcoming interns.
WORKSHOP TIMELINE
First Week
The first few days were full of interactions amongst the workshoppers and the residents. As most of the workshoppers flew from different parts of the world, the conversations were full of diversity, hence making them exceedingly interesting. The first night was called the "Conviviality night", wherein all the residents and the workshoppers came together for dinner and interacted further. The first week was full of lectures by the Co-Presidents, Tomiaki Tamura, Jeff Stein, Roger Tomalty and Mary Hoadley.
One of the most interesting part of the first week was the nature walk with Roger. The walk was brimming with interesting and funny stories about plants and animals there, about the Indians and cowboys, about the nature and about weather. He told us how people lived there long-long time ago. We hiked one of the mesas near Arcosanti and saw the ruins of Indian dwellings.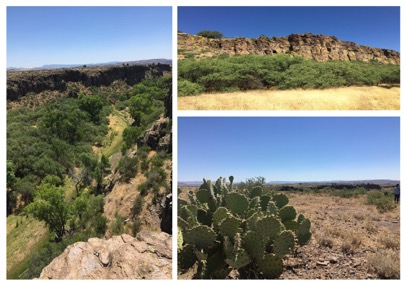 Figure 3: Nature Walk with Roger Tomalty  | Beauty of the Arizonian deserts
Each department here in Arcosanti made a presentation about their work. We saw the Archives,which was led by Sue Kirsch. The Ceramics Apse, the Foundry, the Maintenance, the Metal shop, the recycling site and many other departments. Our workshop coordinator, Melanie Husband gave us a nice tour of some of resident's houses there.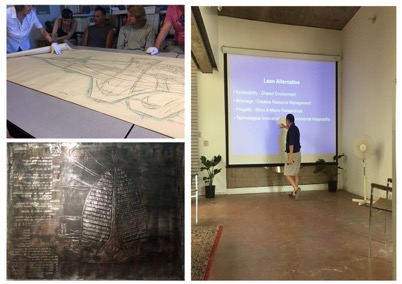 Figure 4: Clockwise. Sue Kirsch showcasing the Soleri's archival drawings. Tomiaki Tamura giving lecture about Arcology. Soleri's drawings on Aluminium sheet.
Second Week
The second week began with an amazing four-day field trip to Cosanti at Paradise valley, Arizona. Cosanti is the gallery and studio of Paolo Soleri; it was his residence until his death in 2013. This place was much different than Arcosanti. All the curved structures seemed to be more private and detailed; all the spaces were situated closer to each other and had very intricate design. Just like Arcosanti, Cosanti also houses a foundry for bronze bells, called the "Soleri windbells". It was at Cosanti, where we did the hands-on construction for the first time, that too under the blazing Phoenix sun. Here, we worked majorly on the renovation projects.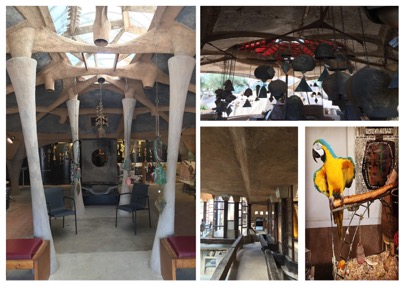 Figure 5: Cosanti | Clockwise. Gallery. Stained Glass Dome with Soleri Wind Bells. Macaw at the 'Earth House'. 'Cat Cast' At Cosanti.
On the third day we visited some works of Paolo Soleri in Phoenix, which included, Pedestrian bridge in Scottsdale, bronze bells in the Phoenix Public library and in the world famous Biltmore hotel. We were also lucky to visit Frank Lloyd Wright's Taliesin West.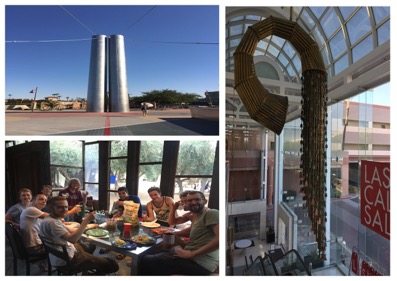 Figure 6: Clockwise. Soleri Designed Pedestrian Bridge in Scottsdale. Soleri designed installation in a mall in Scottsdale. Our group of workshoppers at Cosanti.

Figure 7: Frank Lloyd Wright's Taliesin West.
The most fascinating Soleri's work to me was the Dome House in Cave Creek. It was designed by him in 1950, but to me it seemed as if it still belonged to the future. The house was made like a unified interconnected space with passive heating (in winter) and cooling (in summer). In 1950's it was just a naked desert and nobody wanted to live there, but now the area was much inhabited. Nevertheless, it was still easy to see this house from a long way off because of its notable dome roof.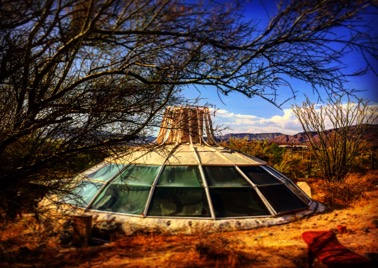 Figure 8: The Dome House. Paolo Soleri, 1950.
This marked the end for our field trip to Phoenix, and we headed back for Arcosanti, where we had the annual 'Italian night' lined up for us. This is a traditional event at Arcosanti, wherein hundreds of people gather and savour the traditional Italian dinner, followed by an Opera Singing performance.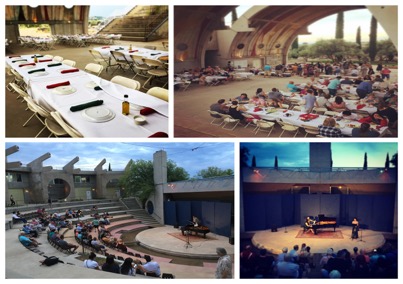 Figure 9: Annual Italian Night at Arcosanti.
Third To Fifth Week
The Construction Experience.
Since the inception of the Arcosanti project in 1970, it is this hands-on construction phase of each workshop, in which the workshoppers and volunteers from across the globe come together and carry the project forward. Each and every element which exists in the site today is a result of continuous efforts and hard work of thousands of workshoppers and volunteers since then.
The third week marked the beginning of the much anticipated hands-on construction phase of our workshop. There were two concurrent projects during our tenure.
The first project was the ADA accessible parking lot. Even though it had to be started from scratch, the whole project did not take more than a week to complete. For me it was the first experience of real life construction, where I got to use all sorts of tools like the Jack hammers, shovels, pincers, rakes, and so many more. Construction proceeded in usual steps. First, the Earth was dug till about 50 centimeters. This was followed by leveling of the surface and formation of shuttering along the edges of the trench. After this, the reinforcement cage was laid down. To me this was the most interesting part. How the reinforcement steel bars were cut into small pieces and tied together by thin metal wires. Here in India, I had just seen laborers working with it at construction sites, but after doing it by my own I realised, even the works that look easy to do aren't that easy to execute in real life. After this, the last step was the concrete pour for floor slab of the parking lot. With Proper finishing and creating expansion joints on the surface of the floor, the whole process of the Parking lot ended. Prior to this construction experience, I never imagined that even a concrete floor slab requires so much of time and efforts for being constructed.
The second project was the Guest house construction for the forthcoming interns from some Scottish University. Most of the structural construction was already completed, hence We worked on the interior finishes. This included installation of dry walls, sanding and mudding, water proofing treatments, floor finishings, wall painting etc. I also learned about the Grey water system, which was used extensively at Arcosanti. Knowing the levels of water scarcity at Arizona, reusing grey water for purposes like gardening is an excellent concept. Most of the gardens at Arcosanti were watered by this grey water itself. Apart from this I even got to know the functioning of solar panels through a set of solar panels installed at the site.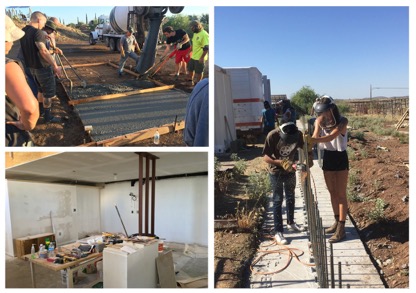 Figure 10: Construction Phase | Clockwise. Concrete Pour for Parking Lot.  Cutting Steel Rebars to required size. The Guesthouse being worked on the interiors. 
All in all, the last three weeks were very productive as I gathered a versatile knowledge about construction techniques and potentially sustainable systems, and how they can be put to use for the betterment of this planet and its inhabitants.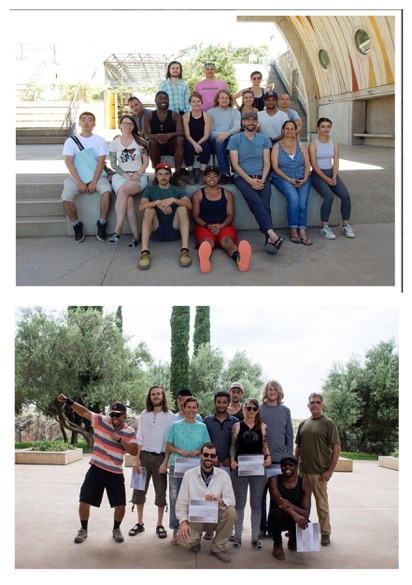 Figure 11: Top to Bottom. All seventeen workshoppers at the commencement of the workshop. All the Workshoppers with Graduation Certificate, at the end of the five- weeks.
CONCLUSIONS
1. ARCOLOGY
Paolo Soleri is best known for his unbuilt projects; his pioneering conceptual designs of maximally sustainable 'megapopulation' cities, for which he has coined the term 'Arcology', signifying the fusion of architecture and ecology.
The gist of arcology is the reversal and inversion of urban sprawl towards the inner limits of compact logistical efficiency. Arcological thinking halts the movements of dispersal that is the essence of sprawl and throws it into reverse - into implosion - retaining but radically shortening all the vital interconnections between people, places and things. This urban logic shrinks massive cities into intensely interconnected, densely populated, three-dimensional forms on a tightly zoned footprint. Suburbia is curtailed to be more like a tutu than a bridal train or a milky way.
In the book, "Arcology: City in the Image of Man", Soleri, re-commissions certain words to serve his own purposes, and miniaturization is one of the most important and difficult of them. He uses this word to describe the implosive "shrinking" of organic and inorganic processes at any scale. That is, the term does not refer to reducing absolute scale, simply "making things smaller", but rather to maintaining the interactivity, complexity, and circuitry of a system while reducing the amount of space and time required for them to function. According to Soleri's thinking, every event is spatial and needs space to occur, but how much space an event needs can often be radically reformulated. The shrinking magnitudes of supercomputers demonstrates this superbly. But just as miniaturization is not a matter of simply making things smaller, neither is Soleri's self-proclaimed minimalism a matter of making things simpler, but rather of making complexity more streamlined and effective, more frugal, thus enabling it to become even more complex.
In response to Mies VAn Der Rohe's modernist credo, "Less is more", an arcological minimalism would reply, "Often less is just less", when less causes a loss of opportunity or potency. Instead, Soleri's lean credo counsels, "Do more with less", which is the only way to ensure that less is truly more.
2. DESIGN PRINCIPLES OF ARCOSANTI
Arcosanti seeks to embody a "Lean Alternative" to hyper consumption through a smartly efficient and elegant city design. Leanness is inherent to the sustainable health of any living system. The city needs to be such a system. The following principles foster miniaturization resulting in complexity. Together they manifest an urban system that can act as a hyper organism.
Proximity - Arcosanti's design provides an efficient and lively urban environment by physically connecting a mix of activities such as living, working, learning, and leisure. In this way efficient and equitable access to most of the city's are available within minutes. Although life in such a setting will be intense and exciting, at times it could be taxing on individuals. For this reason, Arcosanti also features immediate access to open space and nature, to provide opportunities to decompress.
"Richness in life may be measured not by possessing 'more' materials as individuals, but rather by requiring 'less' materials through a more fully shared and higher quality environment." - Tomiaki Tamura.
Urban Scale - Human scale is generally recognized as physical proportion we can personally relate to. Urban scale results from having a densely organized human environment. However, when dense and efficient urban spatial arrangements are adopted for pedestrian mobility, such robust three-dimensional living can become human scale once again.
Anti-Sprawl - A major tenet of Arcology requires that in order to sustain the health of the city. Opposed to sprawling development, the Arcosanti project means to "interiorize" itself by designing an urban condition with strict boundaries.
Less Consumption - By applying appropriate technologies such as passive climate control systems, innovative water/sewage treatment systems, and using proper green building materials and recycling technology, we can certainly increase the 'lean' factors in our project, as long as the efforts results in less material and energy consumption within the community.
Elegant Frugality - "Doing more with less" is certainly the goal of the project; much of it is achieved through the process of bricolage (put together using whatever materials happen to be available).
Educational Opportunities (Environment as a learning asset) - Prototypes, constantly fine- tuned, are laboratories that remain exempt from perfection. At Arcosanti, time and space are given to research and development in pursuit of 'leanness'. Arcological fragments, found in the current (micro) Arcosanti reflect sustainable elements that will also be learning assets in a more complete (macro) Arcosanti.
"Arcosanti attempts to encourage an environmentally coherent context through a more holistic approach to issue of sustainable. The design of Arcosanti's surroundings is meant to translate into educational opportunities." - Tomiaki Tamura, Co-President, Arcosanti.
Being a BERKELEY PRIZE Travel Fellow was an extraordinary experience as it gave me the opportunity to experience and observe the social dimensions of architecture in a variety of settings.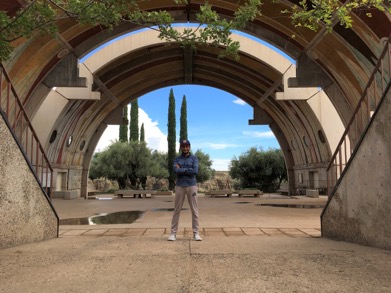 Figure 12: The Vaults, Arcosanti | Cliche Pose
REFERENCES
Soleri: Architecture as Evolutionary Quest - Lissa McCullough
Arcosanti Design Principles - Tomiaki Tamura
Arcology: The City in the Image of Man - Paolo Soleri
www.arcosanti.org/workshops
---