Jury
MARCO CASAGRANDE, HELSINKI, FINLAND was born in Turku, Finland, and graduated from Helsinki University of Technology. He has been a principal with Casagrande & Rintala (1998-2003) and currently directs Casagrande Laboratory, Helsinki (2003-present). He has taught in various universities in Finland and abroad. His work has been widely exhibited, including the Venice Biennale 2000, Havana Biennale 2000, New Trends of Architecture in Europe and Japan 2001, Yokohama Triennale 2001, Urban Flashes 2002, Demeter 2002, Montreal Biennale 2002, PR02 En Ruta 2002, Alaska Design Forum 2003, Echigo Tsumari Triennale 2003, Taipei European Forum 2003, Danish Harbour Workshop 2003. Previously he has worked as a journalist, naval architect and construction worker. His works move freely between architecture, urban planning, environmental planning, environmental art, circuses and other disciplines of art in close co-operation with artists, humanists and scientists of all kinds commenting on sociological and ecological questions. In search for subconscious architecture, real reality and connection between the modern man and nature. He belives that one shall not be blindfolded by stress, the surroundings of economics, the online access to entertainment or information. What is real is valuable. Architecture and urban planning must find a way to be connected into real things, not artificial things or design as entertainment. What is not real is not valuable. Economic expectations, speculations are fictive. The responsibility of environmental design is lost to fictive economical speculations. Design has replaced reality. The hacking rhythm of urban life has no space to see the horizon, no values supporting looking for the horizon. We consume without questioning and destroy nature which cannot be seen around and so it makes all this easier. Human nature is a loser in economic speculations.
---
BETH GALI, BARCELONA, SPAIN is known for her imaginative design of public spaces and buildings. A member of the generation of designers who attended the ETSAB in the post Franco years (late 1970s and early 1980s) when the region of Catalunya and Barcelona in particular began a period of intense cultural regeneration, Gali began her architectural career working for Barcelona City Council's "Urban Projects Workshop." This talented group of designers transformed hundreds of public spaces and kilometers of streets in Barcelona in the decade before the Olympic Games were held in Barcelona. That event brought this work to international acclaim, and in doing so called into question the very idea of "master planning" as a strategy for improving the city. In the place of master planning, Gali and her colleagues advocated tactical design interventions called "urban projects" which were scattered, decentralized, site-specific and outgrowths of local neighborhood agendas. Two of her most distinguished designs are for Barcelona: the Fossar de la Pedrera, a memorial landscape built into an abandoned quarry on the south side of Montjuic mountain, and Parc Joan Miro (Parc de l'Escorxador) a city park built on four blocks on the outskirts of the Cerda grid. Both these projects are characterized by the way that traces of the past structure sequences of the present, and site structure is amplified by contemporary design. Since the completion of these projects which were realized in the 1980s and early 1990s, Gali has continued to practice architecture through her own firm. She is currently working on a project in the historic center of Cork, Ireland, a shopping center in Salamanca, Spain, an Audiovisual Campus in Poble Nou, Barcelona, and a Bathing Area for Forum 2004, an area on the eastern edge of the city where the Poble Nou River meets the Mediterranean. In addition to her design practice, Beth Gali has been a Professor at the Escola Superior de Arquitectura de Barcelona since 1994 where she teaches courses in both Landscape Architecture as well as Urbanism. She also has been a visiting professor at the Harvard Graduate School of Design and in several European universities, including Lausanne, Delft and Rotterdam.
---
PETER PRANGNELL, TORONTO, CANADA has worked in architecture schools for forty odd years. He writes on design and contributes to De Carlo's Spazio e Societ
---
MINJA YANG, PARIS, FRANCE is Director for Special Projects, Culture Sector, UNESCO. After ten years at the UN High Commissioner for Refugees (UNHCR), she joined UNESCO in 1989 to join the cabinet of the Director-General to develop the Organization's involvement in UN inter-agency operations. Launching UNESCO's special program in Cambodia in 1990, she was appointed Head of the UNESCO Task Force on Cambodia and Chief of Angkor Unit in 1992. Appointed Chief of the Asia-Pacific Unit of the World Heritage Centre in 1994, and simultaneously responsible for Information and Documentation Unit, she served as the Deputy-Director of the Centre from 2000-2003. During her ten-year service at the World Heritage Centre, she developed numerous operational activities to demonstrate the application of the World Heritage Convention for sustainable development, notably in urban conservation for poverty alleviation in Asia and Africa. From September 2003, she will be directing special multi-disciplinary projects for the protection and enhancement of cultural diversity, particularly to support democratic local governance in the protection and development of culture. Ms. Yang has a BA in Sociology of Development from Georgetown University and MA in Anthropology and Politics and post-graduate diploma in Political Theory from the School of Oriental and African Studies (SOAS), University of London. She is a co-founder and serves on the Board of Directors of the Virtual Heritage Network.
---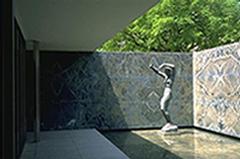 Barcelona, German Pavilion 1929 1983 Reconstruction Ludwig Mies Van Der Rohe