[ID:734] ACCESSIBILITY AND BEYOND (Minimizing disability in New Delhi )
India
FACT: According to the Census of India (2011) there are 21 million people who suffer from some disability or the other.
We live in a fast paced world where money and power seek to overthrow the importance of a free and accessible society. Accessibility of any kind, be it food, shelter or clothing, plays a crucial role in the lives of citizens today. Freedom to move about and interact with the surrounding spaces is a fundamental right of all human beings and should not be restricted to a select few.
In India, we have faced a very sensitive issue of not being able to provide a free and fair environment for all. Disability, since time immemorial has been branded as an impediment and has been looked down upon. But as the years passed and India started to come into her own, laws were created and amended to safeguard the rights of all her citizens.
In 1995, the parliament of India enacted THE PERSONS WITH DISABILITIES (Equal opportunities, protection of Rights and full Participation) ACT, which sought to enforce laws to ensure a barrier free and a normal working environment for all. Almost 20 years later, we look back and ask ourselves "Are we there yet?". As we exit the Metro Station and walk into the very heart of the city of New Delhi, we try to analyse and answer that very question.
After 65 years of independence, Indian cities have come a long way and strive to match world class metropolises, not only on the basis of commercial success but also in terms of quality of living. New Delhi, the capital of the country, is a bustling commercial hub with a staggering population of approximately 20.5 million. But, according to the latest census report, at least 1 % of the total population of the capital comprises physically challenged or handicapped people.
Although the city lacks proper accessibility, in some areas, steps are being taken by the government and various independent organizations to improve the current situation. But, a lot of work needs to be done before the city can call itself "universally accessible".
SAMARTHYAM, a national assistance and research organization, has been promoting the concept of universal design to create a barrier free environment. The organization has been working closely with the government and has paved the way for enhanced accessibility and mobility within the capital. Various projects, ranging from awareness programs to redesigning public spaces for all, have been undertaken, many of which have been completed or are in varying stages of completion.
In a city like Delhi, transportation plays a crucial role, and SAMARTHYAM has an equal hand in making public transportation smooth and easy to use. The BRTS (Bus Rapid Transit System), in New Delhi seeks to alleviate any discomfort felt by the physically challenged by the introduction of low floor buses and bus shelters with ramps and hand rails. Another transportation hub which has become more user- friendly is the New Delhi railway station. A separate parking space has been created and a passenger ferry vehicle for people with reduced mobility has been introduced.
The incorporation of universal design ideas started with the onset of the 21st century and can be fully appreciated in newer projects rather than in the older slew of constructions.
The New Delhi Metro, hailed as the crown jewel of transportation in the city, has tried to embrace the challenge of becoming the most accessible mode of transportation. Although it has its shortcomings, we couldn't help but admire the remarkable feat achieved in the given time frame. Each station can be accessed by a T-junction like ensemble, with two flights of stairs and escalators, located on opposite sides, acting as arms. An elevator is placed at the bottom of the "T" and is connected by a ramp above the ground. The entire underground network has been meticulously planned and lies beneath the large round- about cum garden of elegance; that is Lutyens' Delhi.
Our little excursion started on a cold winter morning, and our first stop brought us to Connaught Place which plays host to the busiest Metro Station in New Delhi: Rajiv Chowk. Sadly, due to the continuous construction work being carried out, not much has been done to propagate the concept of accessibility for all. While access to the underground Metro station could easily be achieved, the discontinuity of tactile strips and "invisible" signages hampered movement and caused confusion. But, we believe that these kinks can be ironed out in due course of time.
As we changed lines and boarded the next train, we decided to visit a popular market plaza. After all, accessibility shouldn't only be scrutinized at train stations and bus stops. Dilli Haat (Haat: a traditional weekly village market), a well-known handicrafts market in the capital, underwent a stringent access audit (conducted by SAMARTHYAM) in 2002 and plans for its redesign were implemented in 2003-05. The bazaar was revamped with the inclusion of a level floor, various ramps and demarcated pathways. The 6 acre site also boasts of being the first tourist destination, in the capital, to have a unisex accessible toilet. While it does not seem to be much, it is a step in the right direction.
The sights and sounds held us transfixed and the lingering aroma of food wafted around and played havoc with our senses. While the sun refused to budge from behind the clouds, a cold wind picked up and forced us to seek refuge in the metro station below.
Moving on from the hustle and bustle of Dilli Haat, solace was found in the gardens of the Qutb Complex. In addition to the majestic Qutb Minar and the emerald green lawns, we were pleased to find that the site lived up to its claims of being one of the most accessible UNESCO World Heritage Sites in the capital. The ease with which people could enter and explore the complex was accentuated by strategically locating low and high level access points and converting steps into slopes. Audio and visual aid further solidified its stand on a universal design strategy.
While people have welcomed freedom of mobility, they still feel that their grievances have not been fully addressed.
By interacting with the people and asking them about their experiences we tried to figure out what more could be done.
Pankaj Sharma, a student of a reputed private school, suffers from a rare degeneration syndrome that has rendered him partially immobile, below the waist. Our conversation with Pankaj made us realise that before we take on larger projects, rules and laws need to be laid down to make neighbourhood schools, parks and shopping centres disabled friendly.
The park in front of his house has a cattle rush which restricts his wheelchair from entering and the main gate is ironically kept locked to keep out stray animals! The local market is out of bounds as the road is not aligned with the pavement, hand rails and ramps are non-existent. His story also brought forth numerous accounts that involved overhauling his school to make it more accessible. After months of deliberations with the school authorities, easy access toilets and ramps were installed. Such an outcome will encourage countless others to strive to make educational institutions and public recreational facilities easy to access.
India needs to start at the grass root level where children are taught in homes and schools to help, without any hesitation, those who are physically challenged. Academics, sports and extracurricular activities should be fair game for all. This will in turn give the disabled the self - confidence to look around and view a world being created that is sensitive to their needs as well, and enjoy "equality in accessibility" in the true sense of the word.
It is no secret that Indian cities face infrastructure challenges. Such problems arise due to lack of proper coordination between various government organizations. Lack of coordination between public bodies has meant that pavements in the city are continuously dug up to lay a pipe or change a cable, making them very dangerous to walk on. The 'public space' contradicts its very meaning if it restricts movement by, well the public itself!
Thus a multi - pronged approach needs to be adopted so that awareness is built in the mind-set of the society, that those less fortunate than them are not a hindrance but be given the opportunity to blend in seamlessly.
The city government has been a keen and active participant in transforming New Delhi into a "universally accessible" city, devoid of restrictions and barriers. Sheila Dikshit, the Chief Minister of New Delhi, aspires to create a hindrance free environment by improving public transportation and spaces. With the introduction of new building bye laws, architects, planners and builders are being forced to implement universal design solutions in their projects, something that held little meaning a couple of years ago.
In order to boost this conscious effort, measures can be taken to increase the spread of universal design. Enclosed walk way paths can be designed on either side of the road and underground subway systems or overhead corridors, with gradual slopes and escalators can be designed and built. Moreover, buildings can be made more accessible with the inclusion of easy – access elevators and travelators. Furthermore, upcoming projects like the New Delhi Monorail need to incorporate universal design solutions and not repeat the mistakes of yesteryear.
Over the last decade or so, the national capital has undergone a radical change, but various speed bumps still exist. As we travelled around the city, our little journey brought us closer to the issue at hand and opened our eyes to the vast number of hurdles that people face on a day to day basis.
The lack of awareness and sensitivity further impede the rate at which "accessibility for all" can be achieved. Also, the setting up of new facilities to promote and enhance mobility, without properly informing the public of its use can also hamper the pace at which future projects are carried out. A general environment of social indifference or being overawed by the magnitude of the challenge threatens to disrupt and thwart the efforts of like-minded people who actually care.
A plethora of possibilities exist to tackle the problem of accessibility for all. However, an equal number, try to eclipse and slow down the momentum of change. For example, efforts to make Connaught Place accessible are devoid of purpose and meaning because tactile strips placed on the pavements break off and lead onto the road without warning. Access to the BRTS is cut off at places due to the absence of proper pavements or connecting corridors.
We try to find the answers to all our problems, but sometimes we need to stop and think whether we're asking the right questions.
Accomplishing something on this scale cannot be done by simply placing a couple of wheelchair ramps here and there. A comprehensive plan needs to formulated that can go on to evolve into something much more than just a scrawl on a piece of paper.
In a developing country like ours, employment opportunities need to skyrocket and ensure a stable economy. An economy that can help shed the title of a "Third World Nation", a term that is derogatory in itself; but we digress. Equal and fair employment opportunities can enhance the participation of the physically challenged at a whole new level. Such reforms do exist, but are ignored and squashed when brought forward.
The free flow of ideas and opinions rarely occur in superficial conferences and meetings. The public should also have a say in the matter. Not only will this make the projects more transparent, but will also speed up the decision making process.
The crux of the so called "issue" lies not only with physical barriers but with mental inhibitions as well. We as a people need to be accessible to each other before we go around changing the space we call "home".
In conclusion, the common man should be able to experience a feeling of freedom and oneness in and with his surroundings. With time, the evolving human race will soon recognize accessibility as a necessity, one, that must be implemented with great care and responsibility. In the words of Jacque Fresco, American Inventor and Futurist, "Whatever happens in the world is real, what one thinks should have happened is projection. We suffer more from our fictitious illusion and expectations of reality."
Pankaj aspires to become a computer engineer. A ray of hope shines behind his eyes. For a bright young student brimming with confidence and optimism, we can only wish him all the success in the future, where the world is a more accessible place.
Now as we enter the metro station and head on home, we are flanked by people from all sides, and we have our answer. We aren't "there" yet, but we are heading in the right direction.

Ramps provide safe access, Metro Station, Rajiv Chowk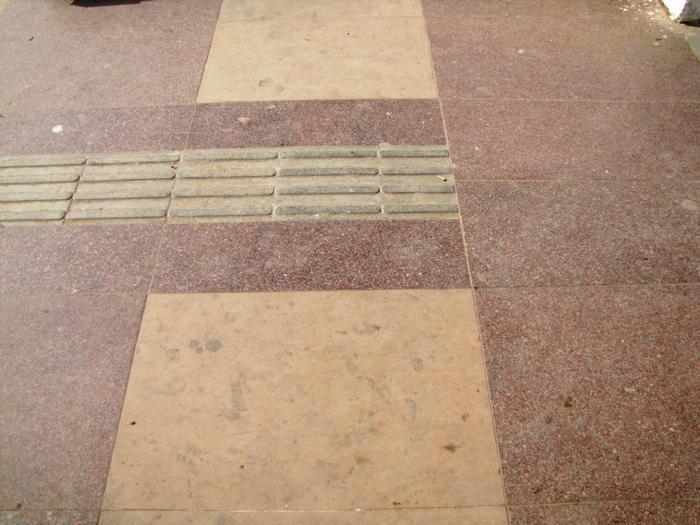 Abrupt endings of tactile guide ways, Connaught Place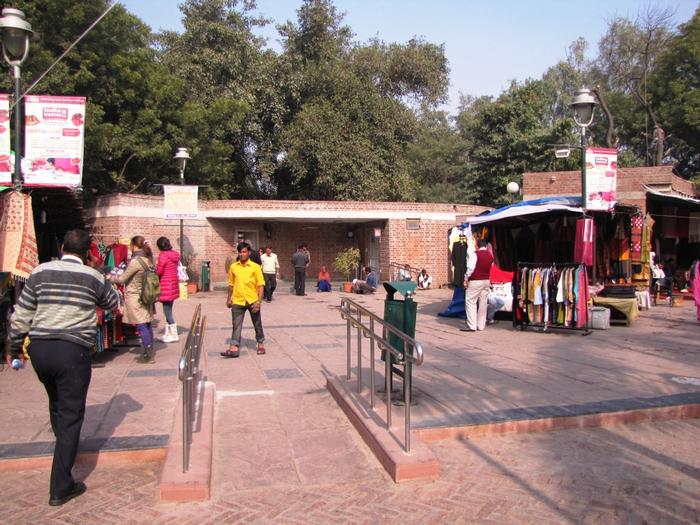 Dilli Haat is a barrier-free tourist spot in Delhi. Ramps and mergers bordered with railings,present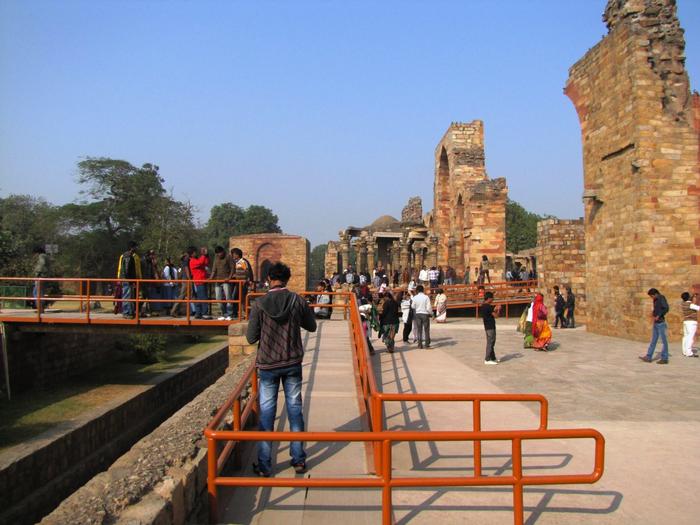 Qutb Complex, New Delhi
If you would like to contact this author, please send a request to info@berkeleyprize.org.
---