[ID:696] Accessibility in Proximity
India
On a typical weekend in Delhi, you will find yourself packing a picnic basket to make your way to the Lodhi Gardens. These gardens are dotted with tombs from the Lodhi period of the Delhi Sultanate which form the backdrop to many a leisurely winter afternoon and summer evening. Be certain to find yourself walking by people from all walks of life- politicians and men of business out for their morning walks, yoga groups deep in meditation before the challenges of the day and couples in search of a private spot. Come holiday time and the gardens are packed to the rafters with picnic goers and families making merry.
Spread over 90 acres, the Lodhi Gardens are one of the few areas in a big city like New Delhi where people from all walks of life are free to converge and enjoy the pleasures of nature. It is quite fitting that a monumental park, with centuries of history and dynastic clashes, provides for and includes those sections of society that often find themselves on the frays of our socio-economic set up. Especially since the neighborhood boasts of some of the most expensive real estate in the country.
In India, disability still attracts social exclusion. Perhaps this attitude arises from its association with poverty. Roadside beggars are a very common sight in our cities. What proves to be a big cultural shock for tourists visiting India, the brutal reality of beggars draws a near nonchalant response from locals. Many of these beggars display their disability as a vehicle for charity. Some real, many hoaxes- the sensitization towards disability definitely suffers as a consequence of this association. Truth is, disability is both a cause and consequence of poverty. With this year's essay question, we really tried to argue the cause and effect of this attitude towards the disabled. Society needs to be conditioned into understanding that the disabled are not a homogenous group. Disability is simply a state that renders people unable to perform certain bodily functions better than or equal to others. However, it does not imply their inability to perform at all. Sensitization towards this fact is an important step in ensuring equal participation for people with disabilities.
The Lodhi Gardens prove to be an exciting starting point in this exploration because of the ease with which everybody is included. On any given day, the aged and the disabled form an equal part of the merriment in the park. Gentle slopes and ramps along the walkways ensure that the old and disabled walk side by side with agile bodied individuals. The gardens are also a breath of fresh air for economically handicapped people. The notion of belonging fostered by a park, upheld by the act of democratizing high urban value land to people from all walks of life, goes to show how the best remedy to accessibility comes with public space.
Three kilometers south of Lodhi Gardens is a very special cultural hub familiar to every visitor to New Delhi. Dilli Haat was established jointly by the Delhi Tourism and Travel Development Corporation (DTTDC), the Delhi Government, New Delhi Municipal Corporation (NDMC), District Commissioner (Handicrafts) and District Commissioner (Handlooms) along with the ministries of textiles and tourism under the Government of India. The site had been reclaimed after the construction of a slab over a large drain when the DTTDC proposed to develop it for tourism, as an initiative to promote the heritage of traditional Indian arts and handicrafts.
The Dilli Haat is a simple complex of stalls and exhibition halls built in red brick. One enters the market from the street level via a raised public plaza accessed by low stairs and ramps. This plaza is a congregational space known to attract hawkers and the odd balloon seller, even theater groups conducting street plays. A small entrance fee of twenty rupees ($ 0.40) is levied at the entrance. We make our way across the entrance plaza to find ourselves at one end of a deep rectangular plot populated on either side by single-storeyed shops. These shops are allocated on a 15 day rotational basis to shopkeepers from different states at a nominal fee of one hundred rupees per day. The Haat is known to host nature bazaars and regional festivals that attract a bevy of local and international tourists.
The architecture of Dilli Haat is a testimony to the local arts and crafts of our country. It celebrates the quintessential Indian village in the use of brick adapted to mediate light and wind. The aesthetic is brought up to date with the deployment of slender beams, columns reinterpreted in brick and brick pavers. The landscape is populated by a diverse flora. At the rear end of the Haat, stalls selling food from different states of the country represent and celebrate the diversity of Indian cuisine.
In this regalia of all things India, it is reassuring to witness provisions for the differently abled. The premises underwent a crucial revision in 2003 with the inclusion of ramps and disabled friendly toilets. No corner of the complex is unaccessible to the physically challenged. One plaza flows into the other successively from one end of the complex to another with slight variations in level difference. This difference in level is sensitively accounted for at every point within Dilli Haat with provisions of ramps built seamlessly in tow with planters and flower beds. Low plinths, barely a few millimeters, between shopping colonnade and plaza allow clear access. This simplicity in design goes a far way- Dilli Haat is the one place in Delhi where social equity manifests itself. It is a visually soothing complex harking back to the memories of pre-industrial era traditions for which India has been historically renowned.
From the business front, Dilli Haat runs on a simple model of sustainability and vernacular identity. This model has been so successful and popularized that a third Dilli Haat complex is currently under construction in New Delhi, all complexes commissioned from the architectural firm Pradeep Sachdeva Design Associates.
Bidding adieu to the Dilli Haat, metro stations and bus stops in the vicinity meet accessibility checklists. Elevators to underground metro platforms and low pavements with ramps and railing integrated into bus stops by JC Decaux ensure a smooth transition out of the neighborhood.
Joseph Allen Stein's 970,000 square meters monumental India Habitat Center (1993) is located south across the Lodhi Gardens. It is perhaps the best celebration of Delhi's composite climate. An elevated plaza connects large courtyards of different office blocks, with a heavy use of landscaping and public art to numb the crescendo that rises above in brick and stone. India Habitat Center (IHC) plays host to a number of area programs. It is a cultural hub at one hand and an business park at the other. Citizens of Delhi flock to here to attend concerts and gallery openings. Food courts and restaurants invite families and event goers from the vicinity, whereas big names in agencies and businesses populate the office suites above. The beauty of India Habitat Center lies in its ability to subsume all these various functions onto one active level made rich by lush vegetation and slopes. These slopes cascade across the entirety of the building to engage street activity from its users. A plaza is effectively created, packing the likes of an amphitheater and an art gallery. All areas within this crucial landmark are accessible and designed with much consideration. This fact is made evident by proper signage and layout displays marking paths- one feature we found missing in other areas of our study.
For a disabled person, traversing spaces within these buildings is not a daunting task. Over the past few years, these buildings have shown great sensitivity in providing infrastructure for the disabled. The problem lies in proper signage and the connectivity between these buildings and their surrounding contexts. However, they serve as important case studies because they draw in and engage street activity.
We believe service and serviceability, instead or physical "infrastructure", need to be the first call of action. A smart mapping of our transport networks with emphasis on assisting those with physical disabilities needs to be undertaken and made available to the public. Linkages between different parts of the city with suggestions of disabled friendly buildings and businesses need to be highlighted in a collaborative spirit. More streets need to be made pedestrian friendly. With proper planning at every stage, the same streets can also be made disabled friendly.
Along with those efforts, development must be engaged with at a local level. Initiatives have to be supported and solicited from local residents and active Resident Welfare Associations (RWAs) in collaboration with municipal authorities. We strongly believe that accessibility is a cause and effect of proximity. If we treat our immediate surroundings as modules for social change, the ripple effect created by this micro-centric approach yields macroscopic results.
The area of Lodhi Colony serves as a good module of this activism because it has had the fortune of initiative. These individual buildings and areas can be treated as modules and located in nearly every neighborhood. Making a park universally accessible paves the way for a democratic congregational and pleasure place. A market designed sensitively supports better commerce, beneficial for the development and economic stability of a neighborhood. Cities in developing countries, especially cities afflicted by population crisis and influx migration, are known to prioritize infrastructure support and undertakings in those communities first that have buying power. If communities are able to enhance their public infrastructure, it increases competition in the market. Our third example can be alluded to a corporate sector. Neighborhoods that concentrate on providing for industry immediately attract more commerce. The whole community is catalyzed as a result, ensuring long term sustenance and development of the neighborhood. It brings in opportunity and employment. People from neighboring communities may also want to be included in such a favorable climate.
Architecturally, our bus stops and metro stations have seen major facelifts in agreement with accessibility. Every metro station provides platform access from the road level via elevators. The introduction of low floor buses and bus stops designed with ramps and railings in mind has also been a positive step. The area of our study has been lucky to receive special attention during the 2010 Commonwealth Games hosted by Delhi (Jawahar Lal Nehru Stadium, an important venue during the event, lies to the east of our neighborhood). Road infrastructure all over Delhi was majorly overhauled to include gentler slopes and proper pavements. This change is very evident. Pavements are now wide and laid out neatly, with passing zones provided for at small intervals wherever the path narrows.
New Delhi is different in the sense that it is not your typical capital city. The city center in inverted- government, rather than market, occupies high urban value land. As a result, our city center is fragmented. Lutyens' design for the city had at its very core the automobile car. The scale of central Delhi, as a result, is not suited to human proportions. Our fragment of the city center lies at the edge of this colonial era planning. It forms an interface between a designed city and one that grew rather organically under the influences of the Partition and re-settlers.
If fragments of our city can start connecting within themselves to better serve residents, change can be brought in. The best resort for this change is to go local. Markets and cultural hubs within neighborhoods need to champion the cause for inclusive and accessible infrastructure. Simple measures like ensuring uniformity and smooth transitioning between levels go a long way. Signage and clearly demarcated routes ease day to day activity. While the Delhi metro successfully provides for the deaf and blind too, bus stops and public information kiosks (wherever present) need to offer timely announcements of running services along with signage in braille. Neighborhoods and communities must make use of every initiative and opportunity that comes their way. Opportunities should not be squandered by city politics and economic gaps. Being a city with ample construction activity and infrastructure undertakings, it is crucial to appeal for universal accessibility at a local level. Procedural planning and public investment go together to ensure and maintain the safety of the streets and the freedom of the city. Accessibility is an undertaking that supports the natural proprietors and variables of public demographic- the tourist, the suburban resident, the street vendor and pedestrians. Our study of Lodhi Colony and its surroundings aims to underscore this activism.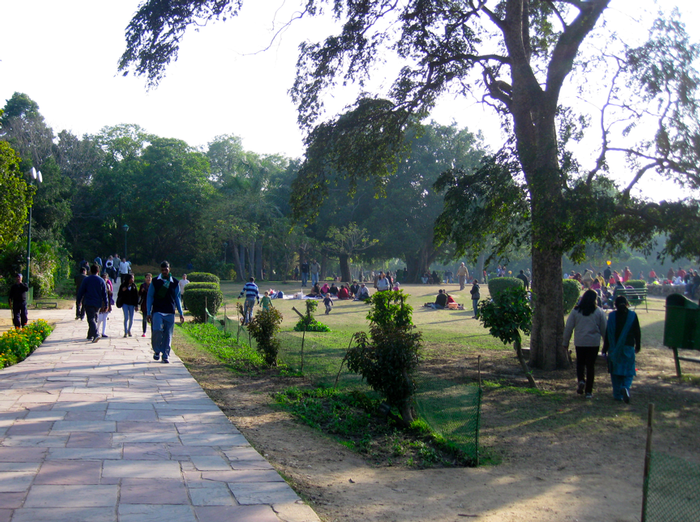 Lodhi Gardens: A place in the shade for all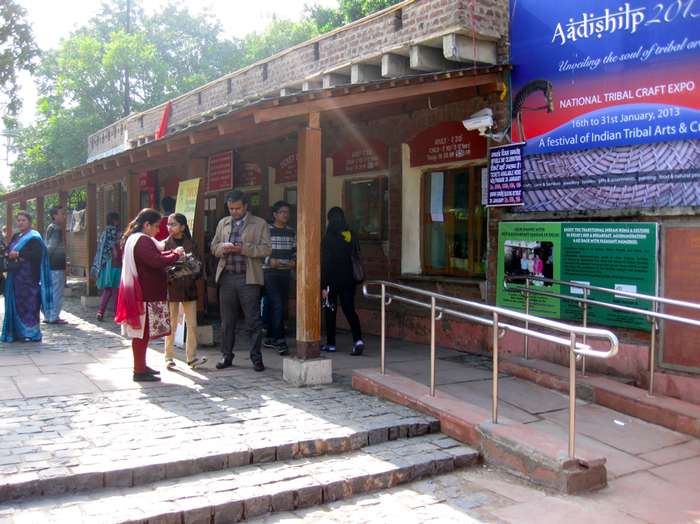 Dilli Haat: Promoting heritage, empowerment and accessibility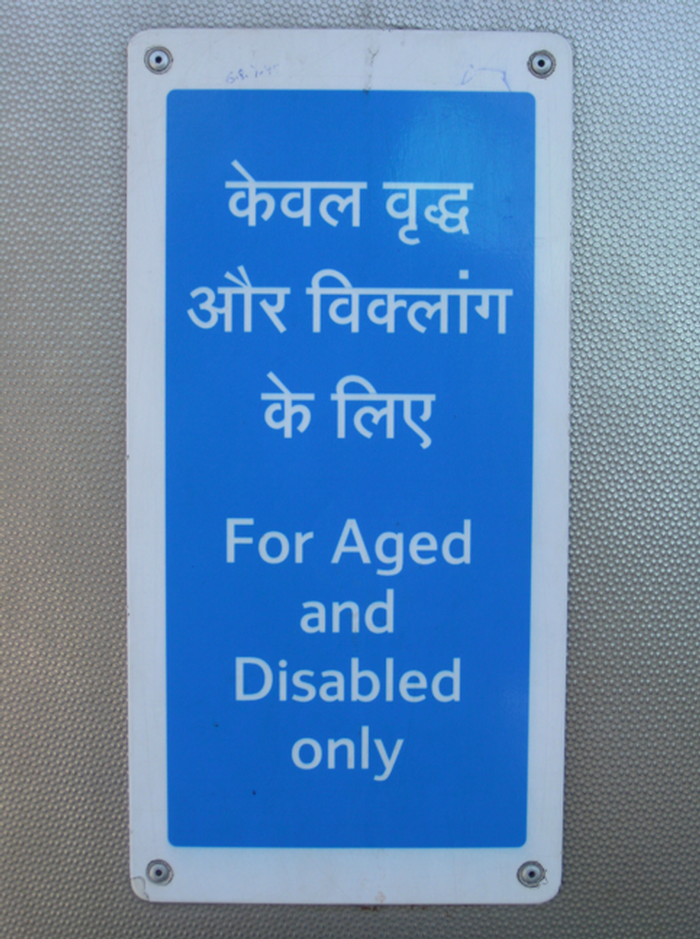 Metro signage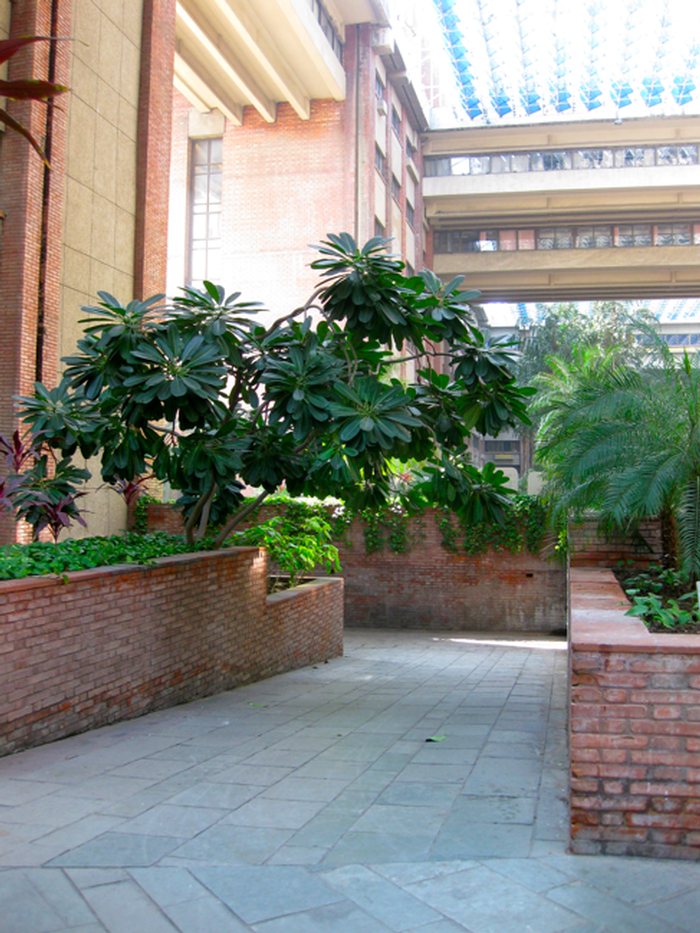 India Habitat Center: Pedestrian Landscapes
If you would like to contact this author, please send a request to info@berkeleyprize.org.
---