[ID:562] 'Integrated- Inclusiveness'- The Requiste for Accessibility
India
In fast urbanizing India, there has been an evident shift in the role of the state in mediating national development. From being an apex executing body (through its PWD- Public works department) pre-1990's, it has evolved as an agency to facilitate development post 1990's. The substantial improvement in socio-economic indicators (like growth rate) has become the driving force for urban development. This scheme of urban development has encouraged two major trends. Firstly , the Government has started to involve itself in infrastructure development projects like routes of approach (National Highways, Flyovers and Network of road projects) and telecommunication networks.(1) Secondly, the power of newly liberalized private capital (post 1990's economic reforms)has been developing new models of built environment. Thus, the emerging trend of public-private partnership can be seen as a potential player in improving accessibility, mobility and equity of the Indian cities.
Gurgaon's story of rapid urbanization is an emblematic outcome of economic reforms of 1990s (Liberalization, Privatization and Globalization). Conceptualized as National Capital's satellite city in late 1980s, Gurgaon has developed quickly from being a sleepy village with rocky terrain and pitiable agriculture to be ''the millennium city'' of the country. In Delhi and NCR (National Capital Region- including Gurgaon, Noida and Ghaziabad) the Delhi metro (DMRC- Delhi Metro Rail Corporation) has been able in integrating various areas by providing an affordable and hassle-free mode of transport . It was instrumental in achieving a well-planned infrastructure with public private partnership. The BRTS (Bus Rapid Transit System) on other hand has intended to develop road network based mass-transit in Delhi. DMRC along with BRTS has made public transport fast, convenient & sustainable. It has tried to improve the accessibility of the city. The Delhi metro has been ranked as the most successful and convenient mass transit in State of Delhi.(2) . This scheme of Delhi metro and BRTS (along major arterial roads) has been able to cater the macro needs for connectivity in the city, however the concerns for first and last-mile connectivity, accessibility and safety still remains unaddressed.
The resultant gap for seamless connectivity, accessibility and safety is an outcome of several interrelated factors. Firstly, there is a lack of a macro-level integrated multi-modal transit infrastructure to facilitate seamless first-and-last-mile-connectivity. This inefficient co-ordination to attain seamless connectivity is also the consequence of the fact that urban transport in India is managed and distributed between multiple agencies like Transport Department, Municipal Corporation, Revenue Department, Police and Public Works Department. This multiplicity of responsibility with numerous agencies results into lack of sense of ownership. And this further results into negligence over-riddled by blame game between the concerned agencies. The resultant infrastructural stagnation is an outcome of administrative lethargy and decline in the role of government to provide basic amenities. Secondly, there is an absence of micro-scale detail inclusivity(universal design features) like tactile trails, ramps (photo 1), coherent floor finish, strategic placement of lift cores and lack of wheelchair space in metro coaches etc. This has been the result of negligence, poor-coordination and perhaps technical non-competency of the concerned authorities. Thus, until the macro- scale integration and micro scale-detail inclusiveness play together, it is almost impossible to accomplish the idea of an accessible city for all.
I think that 'integrated- inclusiveness' is the scheme for making city accessible to all rather than starting specialized schemes, which has been the design philosophy of administrative authorities in India till date. Firstly, in Indian context, executing specialized scheme becomes tough due to diverse demography, poor top-down governance and un-coordinated levels of execution. Secondly, in the spirit of equity and right to equality, integrated-inclusiveness will bring in a sense of pride and not exclusion for the disabled and elderly. The conventional Indian society backed by its power of myth segregates these two ideas of equity and dignity. For its belief of dignity as a function of exclusivity. Quite converse Integrated-Inclusiveness in its paradigm integrates equity and dignity, for I think that equity without dignity is depressing, dignity without equity makes up for the status but when equity and dignity play together, it can be hugely empowering. And Integrated- inclusive is empowering in its very nature.
When the private developers were chalking the framework of built environment of the Gurgaon, the infrastructural amenities weren't attended to. The haphazard planning operations paired with administrative lethargy and monopoly of newly liberalized impatient capital has resulted into a chaotic infrastructural skeleton of Gurgaon. The result is absence of footpaths, broken pavements, absence of surface drainage which floods the pedestrian sidewalks rendering them unusable for considerable part of the year. Although, there is an upsurge of the empowered civil society to retaliate this administrative lethargy and a demand for an impartial framework to promote accessibility. There is an urgent need for an effective & seamless modal integration in Gurgaon, which can be potentially attained through public-private partnership. This shall assure coherent integration, sustained quality and efficient service. This will also ensure an effective maintenance of pavements, ramps and lifts. Currently, due to haphazard routing of public and para-transit, the accessibility of Gurgaon metro stations by people with disability and elderly is poor. Thus, re-organizing the usage of service lanes, location of public para-transit parking & universal pavements design will enable public transit to move smoothly through the metro corridors and make it chaos-free and more accessible. This can be facilitated by private capital's vision and efficiency supported by a liberal but strong framework by State.
Gurgaon's growth has been mediated by ever escalating real estate and vulnerable land politics. Gurgaon Rapid metro (3) (an initiative by DLF & ILFS) is the first private metro initiative in India, proposed to improve the transportation infrastructure in the city. The impatient capital is surely investing in the state of art solutions which has long terms benefits and addresses micro-scale connectivity (involving cutting edge building services technology) in a very pragmatic manner to ensure enhanced accessibility. However, in Gurgaon where the urban form resembles sprawl-mode, the potential of public mass and para transit needs to be rethought to ensure first-and-last-mile connectivity and accessibility. What is interesting to observe is that Gurgaon's inclusive state of art equipped buildings (with lifts, ramps and escalators) have made the internal built environment more accessible and efficient. It might be rewarding if we can integrate the micro-accessibility of building environment today with all-over walk-able city model of yester-years. This plurality and diversity of the tool palette to facilitate the idea of- a city accessible to all can be exponentially rewarding.
In Gurgaon, accessibility needs to be targeted at three levels. First level being major routes of approach i.e. metros, highways and arterial road. This network seems fairly accessible at a macro-scale with buses and metro's connectivity (but not yet detail inclusive). Over the next few years with projected density of urban pockets in Gurgaon, BRTS stands as a viable option along the major arterial corridors. Second level being the sector roads connecting various sectors and gated communities in the city and third level being inside residential sectors or gated townships. The third tier is fairly walk-able, complete with footpaths, shaded trees and lighting. These have a definite sense of ownership by the residents and thus are quite active and well-kept. Where the problem lies is with the sector roads (photo 2). This problem is evident because urban transport in India is managed by multiple agencies resulting into a loss of sense of ownership.
India is urbanizing at a fast rate, growing number of people are flocking towards the cities for economic opportunities. Indian society is making two transitions at a time -one out of being a myth based Agrarian one and the other into the rational capitalism mediated by consumerism. Many people in rural India believe that disability is an outcome of one's bad Karma (ill deeds) in the previous birth. And social acceptability for the disabled is to be refrained (4). This mis-interpretation of tradition as a myth paired with low literacy rate and ignorance has yielded a social intolerance. Luckily remedial transition has been offered by rapid urbanization, education and social awareness programmes which have been able to tie the loose ends of this frightening myth & challenge this notion of social intolerance towards disability and empower us to become a just society.
Having understood the cause and context of accessibility for all in urban India, I believe, we need an integrated, pluralistic & trans-disciplinary approach to achieve the idea of integrated-inclusiveness. The architectural solution needs to enable a socio-behavioral change. Interestingly, India throughout its course of history has been a weak State and a strong Society (6) at the same time. Unless we try to re-work the scheme with a bottom-up framework to enable an equitable and a just society with a fundamental change in its perspective, we would not be able to cultivate an accessible and equitable environment.
Firstly, INDIA as we see today is a ticking urban time - bomb. With rapid urbanization and population growth, in a span of next 20 years, India shall produce 392 new cities. And these shall dwell massively on private capital. The trend is suggestive that these new cities shall be rendered in competent technological infrastructure. And the technological infrastructure is capable of the cutting-edge detail-inclusivity. There is a need for a strong policy framework by the state to mandate the universal design features. And also, the state needs to be the apex coordinating body between multiple agencies to ensure a macro-level integration.
Secondly, there is an evident lack of ownership regarding the pedestrian sidewalks of the sector roads. As architects and urban designers, we need to modulate and transform this lack of belonging-ness. We as architects need to create a context-sensitive typology model where masses start to regard the pedestrian walkways and sector roads as a social and economic asset. The idea of sidewalks as an opportunity to create employment and regenerate economy might keep it well-maintained and thus accessible. There have been examples where Indian cities like Pune and Bangalore have been able to start a NMT (Non Motorized Transport) cell to initiate the up-keep of the pedestrian sidewalks in the cities through its interactive awareness programmes and cultivate a strong sense of ownership regarding the city roads and side-walks. Gurgaon is also seeing a similar movement on accessibility through institutions like I am Gurgaon.
Thirdly, being the millennium city of the nation, Gurgaon has developed a new set of trends and typologies of built environment. There has been an evident shift from spatial to trans-spatial. This growing trans-spatial nature or the virtual interface with the world through tools of networking and internet might validate itself in Indian conditions where resources are frugal and administrative lethargy is abysmal. I think, we as designers also need to explore this dimension of the technology to create a virtually accessible city. The Information Technology was a prime sector which announced the economic boom in India. It might be helpful to explore a system where the accessibility of our built environment (even the virtual one!) might to be tied with digital technology. This shall enable better accessibility backed by economic regeneration.
Fourthly, there is a need to reform the Indian society in regards to the stigma it attaches to sensitive issues like empowering the persons with disablility . And this can only be accomplished by inclusive education for all. It is the school where social acceptability needs to be cultured among all. Education remains our sole hope to create an inclusive, rational and just society. Barrier-free learning is the need of the time. To embrace the idea of inclusivity to fullest, we do not need special schools for disabled children but to make schools fit for disabled children. We as architects need to re-think and produce the typology of barrier-free learning spaces. The idea is to encourage the children with physical disabilities to live a barrier free life. And in spirit in equality, the need is to empower them with- the opportunity to adapt to the real-life conditions. Delhi state government envisions that all educational institutions in Delhi, under the aegis of Sarva Shiksha Abhiyaan(5) (education for all act), shall become inclusive institutions by 2020. Amar Jyoti school was the first of its kind among inclusive-schools in Delhi and has been a pioneer in propagating this change. Similar provisions need to be made across the nation because schools are the primary institutions which cultivates socio-cultural ideologies among the young. The idea is- To catch them young.
This model of inclusive institutions makes children, our future citizens more sensitive towards the children with disability and promotes a sense of mutual respect and acceptability. This also enables the disabled children to live independently and be self-reliant. Until and unless we are able to empower our coming generations with primary tools of education and social acceptability, we will continue to see unclaimed reservations 'for the people with disability' in buses, metros and workplaces.
We as architects are the sculptors of the built environment. The culture initiates a complex dialogue between built and values systems. There is a need to sculpt public space as an embodiment of ownership of multiple user-groups (and a singular administrative agency). It is only then we might be able to create a sense of responsibility for the built environment of city and its users to embrace accessibility. Being a quasi-transition society, what also will remain crucial in this pluralistic emergent landscape is how people interact with new systems of productions and consumption. The otherwise impatient capital is improving the infrastructure incredibly. The example of Gurgaon Rapid metro is instrumental in making this shift. Believing that the art of architecture is a social one and there remains a need to address the social flux that we are part of. We need to soften the socio-cultural thresholds to ensure a smooth transition.
The cycle of change needs to be approached with the idea of integrated inclusiveness. The initiation of transition is meant to be fuzzy and therefore the approach needs to be plural and multi-disciplinary, unlike the previous ones which were rigid and singular. The flexibility of integrated inclusiveness and its adaptation to achieve universal-barrier free environment on Indian grounds needs to be explored. We as Architects and Urban Designers have a crucial and sensitive role to play. The wide spectrum ranging from urban transportation to typology of inclusive learning spaces needs to be reviewed with a melange of ideas which encompasses the emerging values, modes of consumption and reactions. Social changes are tough to go through for they being progressive, adaptable and testing beds of culture. The idea of accessible-inclusive-environments and its architecture in contemporary Indian context will be able to present itself strongly if only it addresses the social needs and be practiced as a "social responsibility".
References
1- Sunil Khilnani,2007, The India project, AD 190 - Made in India
2-article Delhi metro's success story, Times Of India, 2007
4- Satyamev Jayate (TV show)- programme on persons with disability- http://www.youtube.com/watch?v=xv80kfLURlc
6- Gurcharan Das, 2012, India grows at night
Notes
3- Gurgaon rapid metro- http://www.rapidmetrogurgaon.com/
5- Right to education Act- http://ssa.nic.in/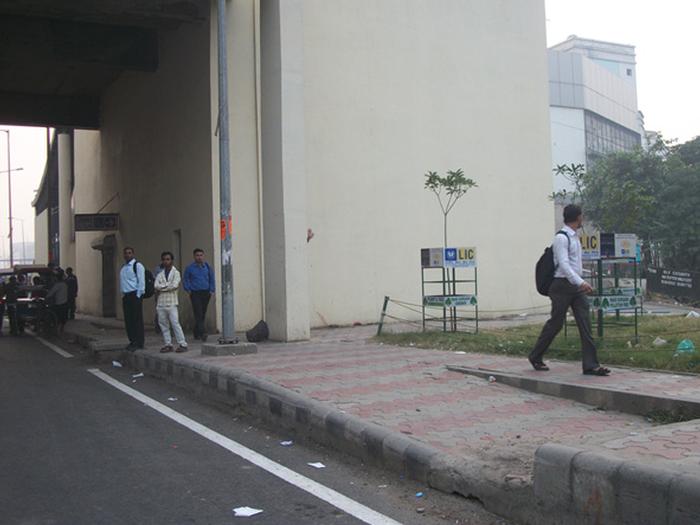 The non accessible ramp at metro station Gurgaon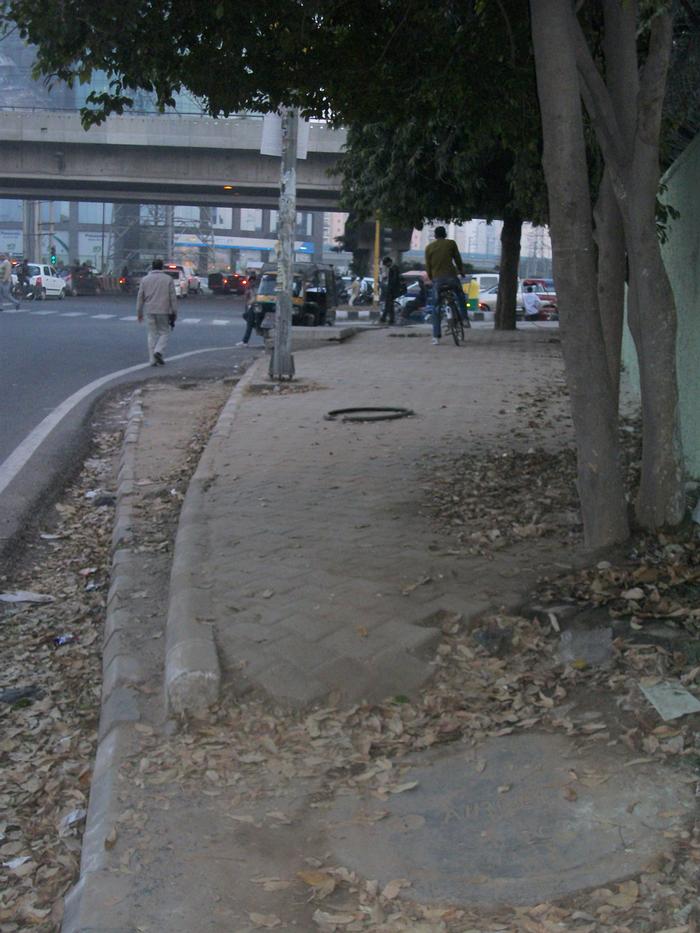 The non accessible sidewalk of sector roads in Gurgaon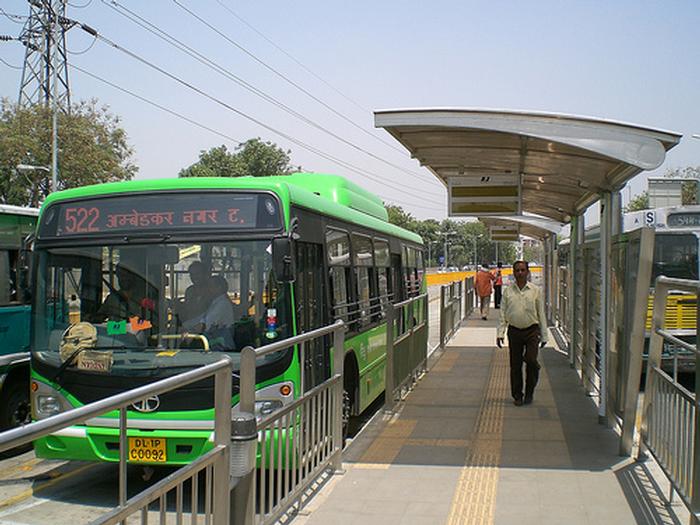 The inclusive bus transit system- BRTS Delhi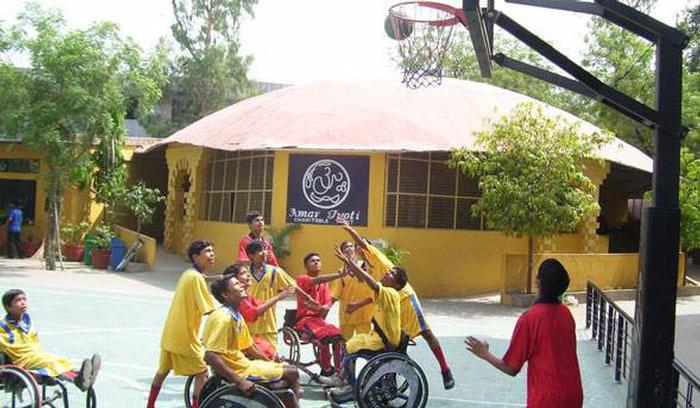 Catching them young- towards an inclusive school with barrier free learning
If you would like to contact this author, please send a request to info@berkeleyprize.org.
---