[ID:4864] Aging and the city
Kenya
Every second that goes by we are aging.
We are slowly becoming part of the pioneers of life. In Nairobi, the aged are a minuscule percentage of the population hence their needs often slip through the cracks.
What was and what is
The de facto living arrangement for the aged in Kenya has been co-living in intergenerational households with family. However, aging is occuring in tandem with social and economic shifts so the dynamics of living for the aged are reshaping. Historically, the traditional family unit has been the bedrock for economic and social support for the aged but with capitalism, shifting attitudes within communities and rural-urban migration this is being eroded. The movement of younger people to urban areas has particularly led to breakdown of extended family support to older persons leaving them without the traditional social protection systems. Rural-urban migration has also created a group of older persons in urban areas unable to move back to their rural areas for various reasons primarily economic and social.
In Nairobi, the living dynamics for the elderly differ based on their economic capacity and culture. They either live independently or with family or in assisted living facilities. The building typologies range from bungalows to apartments to shanties in slums.
On the outskirts
For the financially endowed,who desire to live independently, a project particularly designed for the aged is Fadhili Care, the first purpose retirement village in Kenya. It is located along Mombasa Road on the outskirts of Nairobi City as part of a larger development known as Green park which is a gated community with villas, bungalows and maisonettes. Fadhili is at the centre and only accommodates residents who are 55 years and above unlike the rest of the development which has no age restriction. It is intended to have 41 self-contained bungalows but presently 9 units are complete which are arranged in a radial configuration with the centre having a water feature. They consist of a mix of one and two-bedroom bungalows and adjacent to them are amenities which include a small medical centre, a club house with a communal kitchen and dining area, library, entertainment room and gardens. Also within Green Park there are amenities intended for all residents which include restaurants, bars, gyms, football pitch, retail mall, schools, medical facility, a hotel with conference facilities and a swimming pool.
The floor layout is an open-plan kitchen, dining and living room area then either 1 or 2 bedrooms, a bathroom, an outdoor laundry space and gardens.The building materials are a reinforced concrete frame, masonry walls, reinforced concrete ceiling and floor with wood and stone finishes and a terracotta pitched roof.The features that have been installed to cater for the elderly are a fairly level site with no steps for ease of movement, wide doors that allow for wheelchair movement, large circulation spaces, anti-slip floors, large easy to reach built-in wardrobes, sliding doors with ease of operation, large walk-in shower and toilet areas with seating and mobility aid through support bars, low counters compared to standard height and large spacious low shelves in the kitchens.
The advantages of this development are availability of companionship from other elderly people,varied amenities, ability to keep working for elderly by renting out retail spaces in Green Park, attracting visitors with the multiple amenities, security, support, services and free transportation for the residents if they need to shop or go for medical check-ups. However, there are various shortcomings. First, Fadhili although being within Green Park is only for the aged which creates a segregated environment. A better alternative would have been locating these houses with the others in Green Park. Second, the simplicity and replication of the design of the houses on site makes the design monotonous, lacking identity. Third, lack of variety since similar building typology, form, building context and aesthetics are replicated on the site hence the residents do not really have choice on where and how they want to live, the floor layouts are rigid and can only be adjusted in the open plan living and dining space hence there is a lack of flexibility. Fourth, the hierarchical floor layouts in the 2 bedroom bungalows (master bedroom then smaller rooms) are restrictive for people who for example want to live with friends as housemates. Lastly, the location of the development is quite remote and it being a gated community focuses mostly on residential houses hence there is no provision for a diverse urban context for residents, the landscape is not interesting and engaging.
What may be
For future independent housing developments akin to this various considerations should be put in place. First, lifestyle based living where the residents are given freedom on where they want to live based on the life they want to live so multifaceted designs with different building typologies in diverse urban contexts. The diverse contexts should have an emphasis on a wide range of outdoor spaces, these can even be integrated in the housing architecture to allow for interesting landscapes which can also be used as an informal work out area. Second, intergenerational design with ability and flexibility to cater for people of all ages allowing for generational intersection and interaction. Design environment should include everyone. The old should be able to live with and interact with people of all ages, they should live like everyone else but with considerations for physical and social deficits. Third, amenities to attract the world and visitors, this has been done at Fadhili but with the remote location they may not fully meet their purpose and there are strict boundaries and access restrictions making it hard for residents and visitors to mingle. This needs to be broken down by integrating social activities into the residential areas. A harmonious balance where there is individual private space so one can be alone but also having a community space for residents to interact with each other then having public spaces for residents to interact with and attract the world should be achieved through design. An example is through transparency in design where one can be alone but still able to interact with the world through outdoor views reducing loneliness. Fourth, for the design of the buildings to give place, identity and excellence in design critical regionalism should be employed so as to create culturally relevant meaningful architecture that fits into the context. The houses at Fadhili could be anywhere in the world, one can not deduce anything about the context or culture they are located in hence there is need for better conceptualization. Also different building typologies should be employed to give residents a choice of where they want to live in based on their individuality. Excellence, place and identity in design will help in fighting age discrimination and create an interesting landscape. Fifth, floor layouts should be dynamic with moveable fixtures and features such as walls to allow for flexibility and agency over the spaces, this is particularly important to turn spaces into health care environments for stealth care and for elderly people living with friends or acquaintances as housemates since hierarchical floor layouts may not work for them. Modular construction, with prefabricated recyclable and reusable materials, for expansion or reduction of spaces based on needs can be employed.
Blood is thicker
On the other hand, there are the financially endowed who reside in intergenerational households with their families. This is prevalent with the Asian and Somali muslim communities within Nairobi. The Asian community is predominantly found in Parklands and Pangani areas of Nairobi and they live in estates consisting of large bungalows with over five bedrooms to accommodate their families. Within the estates there are amenities for the community and these estates are in urban areas hence they have close proximity to public amenities.The communities also run family businesses in Eastleigh, Pangani, Nairobi downtown and many other areas thus their aged rarely retire since they are involved in the family business. They are very close knit communities that support their aged.
Developers have noted this and are coming up with developments to cater for this within Nairobi. An example is Rayan Suites in Hurlingham area of Nairobi. Rayan suites is an ongoing apartment complex with 3 blocks that has 6 bedroom duplex apartments meant to cater for Muslim extended families. The blocks have a range of amenities on the ground and top floor such as a swimming pool. The downside of such developments is breaking of social ties, loss of familiarity with neighbours that estates offer, lack of sense of community with neighbours and green spaces for walking and interaction are reduced. All these downsides minimize social capital for the aged which may make them feel lonely and less valued in the community.
A not so pretty picture
In contrast to the financially endowed about 60% of Nairobi's population reside in informal settlements which have mushroomed due to population increase resulting from rapid rural-urban migration and low wages. Slums are characterized by inadequate sanitation, overcrowding, dilapidated housing, and lack of access to basic amenities therefore the slum environment is detrimental especially to the aged. However, due to the need to still provide for themselves and their dependents in old age and lack of a pension, most elderly are unable to return to their rural homes. Slums are thus becoming a place where residents grow older either independently or cohabiting in intergenerational households.
Research carried out on Korogocho and Viwandani slums highlighted aspects of the life of the elderly in these areas. It was noted that there is extensive co-residence of older adults with younger generation in skip-generation households with older persons often being caregivers especially for orphaned grandchildren. Most households reside in a one-room house that serves multiple functions. Among the elderly there is prominence of musculoskeletal disease leading to limited mobility curtailing opportunities for work and social engagement, also stress and anxiety due to the insecure slum environment and uncertainty of the future. In terms of economic activities, the majority of the elderly are engaged in business mainly hawking, petty trading and employed in the informal sector with low income hence they are left out of the contributory pension program which is accessible only to those formally employed who can make the monthly contributions. The built environment is poor, characterized by severely limited access to public spaces such as vehicle stops, poor neighborhood walkability, poor infrastructure and lack of access to basic amenities. The elderly are also locked out in participating in social or communal activities, beyond religious services, due to weak social networks and neglect.
Pick up the pace ('Kaza mwendo')
There have been various slum upgrading attempts in Kenya but most do not address the needs of the elderly. A successful one is Kambi Moto in Huruma which is an in situ incremental housing self-build project. Residents worked with organizations to secure land tenure from Nairobi city council then they were allocated 20m2 of land each. They worked with an architect to develop the housing layouts and due to the small size of the plots they settled for a vertical incremental model. This layout of the units however is not favourable for the elderly due to the limited circulation spaces and need to use stairs to access bedroom and ablution spaces on the first level which can be hard for elderly with mobility challenges.
Kaza Mwendo is a similar project but with a twist that favours the elderly. A low cost housing project where residents of Kibera slums, mainly traders in Toi market, formed a housing co-operative, saved up, bought land away from the city since it was difficult to secure land tenure in the slums then they have been collaborating in workshops with organizations and faculties from the two universities involved in the project to come up with low cost incrementally built housing typologies with a self-build approach. The members of the co-operative range from 30-40 years but some of them live with elderly parents or relatives who are over 50 years therefore in developing the housing layouts considerations were made for this.The proposed floor layouts place spaces for the elderly on the ground floor and allocate separate spaces for the elderly from other family members with access to outdoor spaces which in this case is a courtyard and outdoor kitchen.
For future slum upgrading projects various considerations should be put in place to cater for the elderly. First improvement of infrastructure to allow for walkability. Second provision of community spaces, for example presently in Kibera there is a day care for the aged where they go to do income earning activities like weaving and to avoid loneliness. This can be improved by situating the day care within a community centre so the aged can interact with other generations. Third, apartment typologies should be flexible, for example in Kambi Moto the ground level which has the sitting room and kitchen could have been made flexible so it can become a bedroom reducing space needs and movement for the elderly and residents when they age. Also shared spaces such as kitchens and dining spaces are advantageous by allowing more free space which can be added to the circulation spaces in units to allow handicap access. Lastly, an aspect both Kambi Moto and Kaza Mwendo have been successful in is giving residents an ability to generate income by providing an additional room for rent. This is particularly helpful for the elderly who need passive income as opposed to the casual labour or petty trading jobs presently available for them.
Stored away?
Assisted living facilities are a new phenomenon in Kenya therefore most are not regulated by the state to ensure they are old people friendly, especially those that cater for needy and abandoned elders. The buildings that house this function are normally buildings that served other purposes so most do not meet the regulations in terms of access, building materials, sound considerations, light considerations and fire safety, also they are not regularly maintained.
Rose wood, in the affluent neighbourhood of Karen however has some features that can be emulated which include a home-like environment with cottages and villas for residents. The facility accommodates a limited number of residents with features such as outdoor spaces concealed by tall fences and a calm controlled environment with monitoring from support staff which are optimal for memory care. The patient rooms are single occupancy and ensuite with private bathrooms and the rooms have a bed, dresser, nightstand and sofa. The rooms have features suitable for the aged such as large circulation spaces, support bars, non-slip floors and sliding doors. They are also well-lit with large windows for natural light and views of the gardens in the facility. Dining activities are communal. The facility also has daily recreational activities such as fitness exercises and visits in the neighbouring areas. These facilities are only unfortunately only available to the financially endowed, hence those of less economic stature are left feeling stored away, living in poor conditions in other facilities.
A revolution…
There is a huge disparity of the lives of the elderly in Nairobi especially as a result of economic standing, also a lack of consideration and planning for the elderly in the built environment. Society is changing and the built environment needs to be revolutionized to reflect this and accommodate everyone.
References
https://www.superiorhomes.co.ke/fadhili
https://www.ncbi.nlm.nih.gov/pmc/articles/PMC5664760/
https://www.ncbi.nlm.nih.gov/books/NBK20309/#:~:text=Compared%20with%20estimates%20for%20Nairobi,much%20higher%20levels%20of%20isolation.
https://architectureindevelopment.org/project/225
https://www.kazamwendo.com/


Multi generational compound in California where an inclusive design for all residents was created.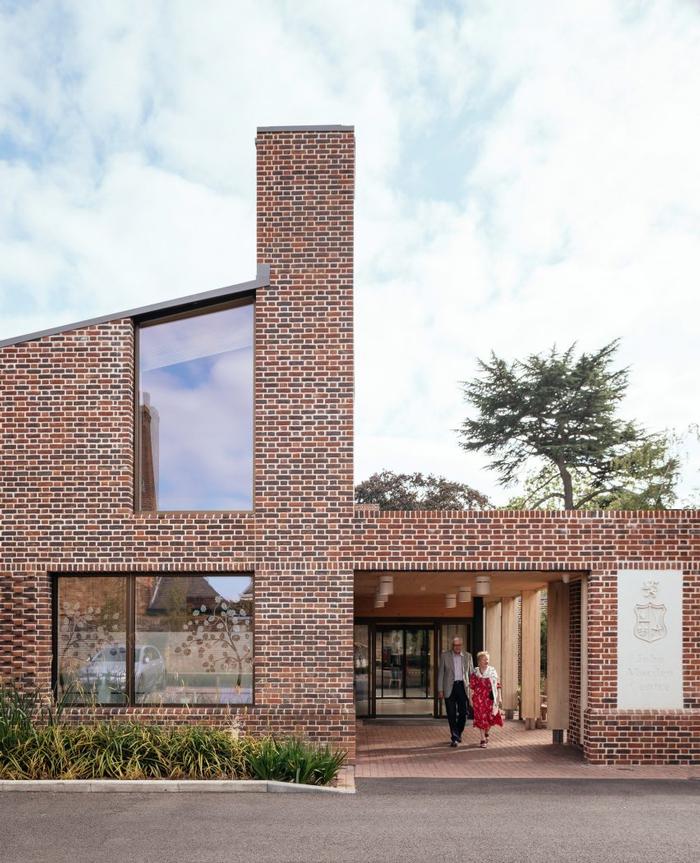 Senior day care in London. In slums this integrated in community centres can help elderly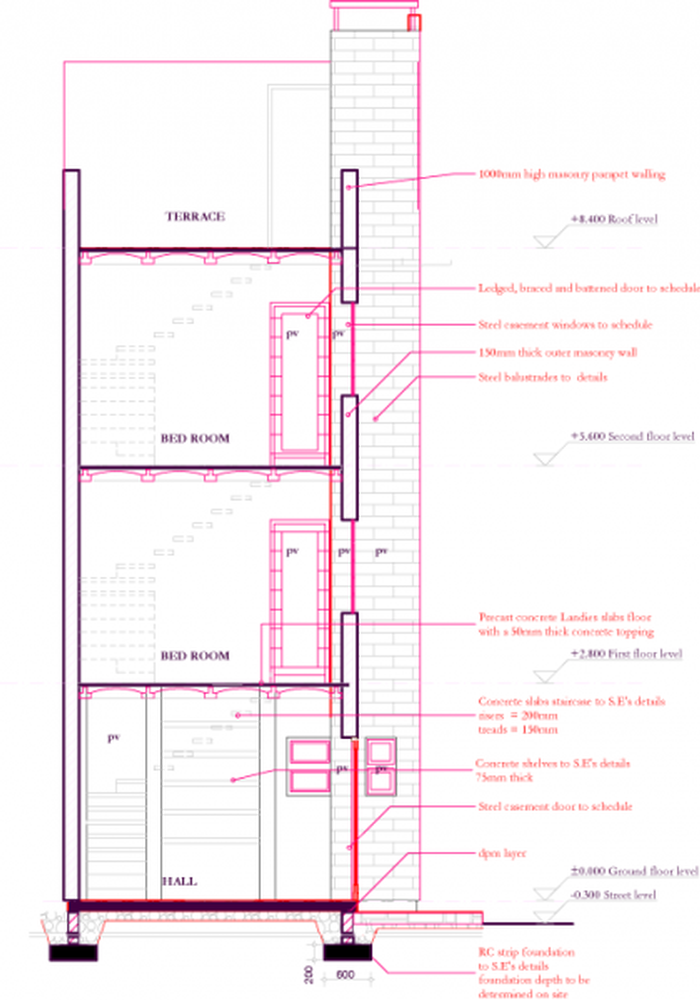 Vertical incremental housing at Kambi Moto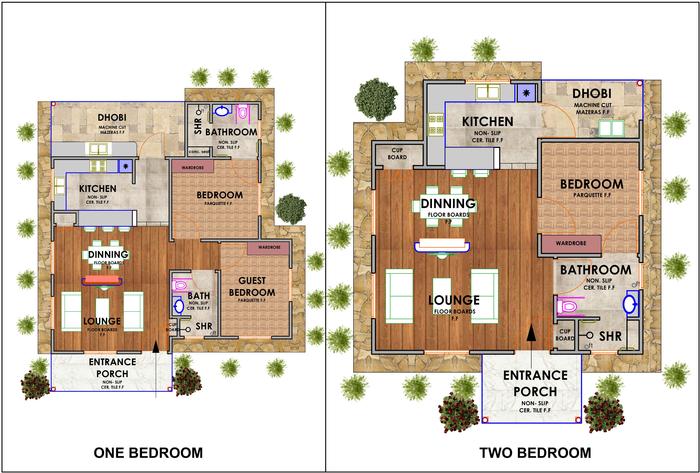 Floor layouts of housing units at Fadhili care retirement village in Kenya
If you would like to contact this author, please send a request to info@berkeleyprize.org.
---