[ID:4828] Providing Home From Home: Senior Citizens' Lives Matter
Nigeria
Senior citizens' lives matter
Their voices also matter
Over the past decades, there has been push for the voice of the minorities to be heard and their needs to be considered legitimate. Architecture for one witnessed a rise in designs that cater for the needs of the disadvantaged. However within this demographic, there are yet other minorities whose voices are drowned by louder voices. The senior citizens.
An old lady, an old community
The same old story
Her name was Abike. She was a native of Kemta, a small community within the enclave of Abeokuta. The ancient community is a walking distance from Olumo Rock, a famous landform in Ogun State. Kemta is the home of Adire, a popular local fabric in South Western part of Nigeria. [1] The people of Kemta are renowned for their textile tie and dye skill which is passed down through lineage. [2] Abike was one of few who had learnt the skill from the older generation. With the proceeds of the Adire textile trade, she like other parents in the community had sent her children to the city for formal education. And like her, none of their educated children had returned leaving the community full of dependent seniors whose many challenges are neglected.
The reports of continuous exodus of younger demographics from local communities to urban areas in Nigeria are not uncommon but for the senior citizens of Kemta, this poses three major problems among many others.
Loss of source of livelihood
Low standard of living
Adire textile trade is the major driver of Kemta's economy. The mass emigration of young people from the community to the city in search of white collar job led to reduction in labor force for textile production. Unable to compensate for the exodus, the seniors left behind could only produce little output which result in gradual decline in patronage, source of livelihood and their overall standard of living.
Lack of care
Loss of human dignity
Older persons are often victims of ageism. To the government, they are liability. To the independent demographics, they are burden. To yet few others, they deserve their sorry state. Misconstrued as 'senile hags' due to their frail state, they are often marginalized and stigmatized. The media further reinforced the misconception by portraying seniors as cane brandishing witches who should not be touched even with a six-foot pole let alone be cared for.
This especially hold true for Kemta senior citizens. The loss of source of livelihood for the seniors means total reliance on their children in the city for financial support. Faced with high cost of living due to high inflation rate in the country in recent history, their children in the city struggled to live up to their financial obligations. The seniors, hit by the ripple effect of the stifled economy, had no other choice than to fend for themselves doing menial jobs or worse still, beg daily to survive. Disregarded as dregs of the society and stripped off dignity, they are left in inhumane condition.
Loss of sense of self
Lost in space
Abike, a septuagenarian, experienced difficulty performing her daily tasks. Navigation around her house became a nightmare. Her memory failed from time to time. Her world slipped away from her day after day. She had dementia.
Dementia is a syndrome in which there is deterioration in cognitive function beyond what might be expected from the usual consequences of biological ageing. [3] To put it simply, it is the loss of cognitive functioning - thinking, remembering and reasoning - to such an extent that it interferes with and affects a person's life and activities. [4] Dementia is often associated with senior citizens, hence the colloquial, 'older people's disease'. Globally, about 55 million people are living with dementia with over two-thirds residing in Low-Middle Income Countries (LMICs) including Africa, where there is very limited access to social protection and relevant care, services and support. [3][5] While the population of Nigerians aged 60 years and above nearly doubled from approximately 5 million in 1955 to 9.5 million in 2015, it is estimated that the number of dementia cases among the same demographics reached over 400% increase from 63512 to 318011 in the same time frame. Its prevalence consistently increases from 3.9% among person aged 60-69 years to 11% among persons aged 90% and more with Southwest having the highest prevalence in the southern part of Nigeria. [5]
Abike's cognitive, physical and emotional state was negatively impacted by dementia. She was one of many senior citizens of Kemta who often wonder "Who am I? Where am I?" as they gradually lost their sense of space.
A long way from home
"They cage the animals at night" [6]
Before the mass migratory trend of younger demographics from local communities to cities which necessitated older adults to drift away from younger families, senior citizens in Nigeria were usually part of larger compound families where they were cared and catered for. Therefore, the concept of care homes for seniors is relatively new and the only few established so far are mostly found within the urban areas.
In the absent of professional care homes in local communities, many establishments originally intended for the mentally impaired were expanded to accommodate older persons with dementia. Misdiagnosed, the seniors in these unregistered and unregulated homes are often lumped together with other 'senile' patients and subjected to emotional, physical, sexual and verbal abuse by malicious care givers. Given their inhumane treatment of seniors, these establishments bear more semblance to asylum than homes as Jennings' dehumanizing experience at foster care homes vividly mirrors. [6]
Abike debilitating condition worsened. She was shoved into one of these abusive institutions by her children. Can one blame them? Misinformed, they only thought that taking their mother from a community of neglected senior citizens was the best decision.
The longing
"Bring back our freedom" [7]
Senior citizens are generally stereotyped as 'has-beens' whose rights and voices matter little. Oftentimes, their rights are trampled upon and when they register their displeasure, their voices are dismissed. For older persons, the right to freedom among others is the most stifled. Sadly, the abuse of this basic right is often perpetrated by care givers of which the victims' children rank high among abusers. [8] The account of selected seniors in Nigeria interviewed in a research study on older persons' opinions about their right conducted by HelpAge International in conjunction with World Health Organization allows a glimpse into the mind of seniors which corroborates with the assertion. "My children want to control my life." says a 78-years-old man. A 68-years-old woman says "Since my son has brought me to live in their apartment in the city I do not have a say anymore. Sometimes I am locked in a room." "My daughters vow they will never allow me to marry another wife." says another man. [9]
Irrespective of where seniors are – villages, towns or cities - the daily yearning for freedom can be heard. For Abike, it was freedom from the confinement of abusive institution. For the senior citizens of Kemta, it is freedom from marginalization. With voices that resonate with those of the long forgotten Chibok girls, they say "Bring back our freedom". [7]
Timely intervention
Help is here
The senior citizens of Kemta community are humans. Their plights are real. Abike longed for Kemta. Kemta's senior citizens longed for their once thriving Adire textile community. To address their major challenges as discussed, design solutions in compliance with international consensus on design for senior citizens should compensate for impairments, maximize independence, enhance self-esteem and confidence, demonstrate care for staff, reinforce personal identity, welcome relatives and the local community, allow the control of stimuli and be orientating and understandable. [10]
Although, the Ogun State Government had previously undertaken initiative to house older persons in the state, the project failed to meet the aforementioned conditions. [11] This is where the expertise of Victoria Onu comes to play in this proposed project. Victoria Onu is a seasoned architect who specializes in designs that cater for the needs of senior citizens in Nigeria. More so, she is a passionate advocate who has severally spoken out against the denial of older people's basic rights like care home and nursing home. In her words, "Homes like these are so essential that any government that cares for its people ought to ensure their availability. They are not luxury but necessity." [12] Acting on her words, she founded and designed Grace Nursing Care Centre (GNCC), a pioneer professional nursing home for seniors in Nigeria which will serve as case study and template for the proposed project. [13] More than that, Victoria Onu's position and capacity as the secretary general of Coalition of Societies for the Rights of Older Persons in Nigeria (COSROPIN) ensures easier and faster public awareness creation, volunteer mobilization and fund generation thus increasing the chance of actualizing the project. [14]
In line with the laid down guidelines, the project will be approach on two fronts. The first phase involves construction of care home to support assisted living for senior citizens with severe impairment like Abike while for the other phase, existing buildings will be remodeled to support independent living for senior citizens with mild or no impairment. [15] This person-centered design approach ensures everyone's cognitive, physical and social wellbeing is taken cognizant of and catered for.
The design methodology for the project will be tailored towards augmenting the traditional tie-dye skill and source of livelihood of Kemta's senior citizens. This will be achieved by integrating disability-friendly work space into the care home and creating extension for workshops in the remodeled buildings. In order to ensure easy navigation within and around the building space and also enhance users' experience, the construction methodology which Kemta seniors are accustomed to will be adopted.
To arrive at a responsive design, it is necessary to put certain requirements into design considerations. This includes the population and age range of senior residents to be housed, the number of existing buildings to be remodeled, the location and land size of the site for the proposed care home, suitable construction materials etc. Special needs of seniors such as disabilities and impairment will also be taken into account to ensure every individual is captured in the proposed purposed-fit design project.
The need to design buildings that reflect and project the Adire textile identity of Kemta community cannot be overemphasized. Therefore, active participation of Kemta people (especially the seniors) will be required throughout the project's entire design and construction process. Consultation with the locals ensures that a satisfactory design which they will embrace is achieved.
The project will be executed in collaboration with architects, psychologists, geriatric doctors and other professionals whose expertise are needed in the design and construction process to realize the desired result. Their combined contributions together with the pivotal roles of targeted governmental bodies, non-governmental organizations (NGOs) and stakeholders in funding the project will go a long way in making it a reality.
Lasting solution
Renewed hope
Homelessness for many people may mean lack of shelter but for the senior citizens of Kemta, its meaning goes deeper. It is the loss of their Adire textile identity. Simply designing a care home is not enough neither is remodeling existing homes 'uhuru' yet. [16]
In addition to the pivotal roles of governmental bodies, NGOs and other stakeholders in the implementation and operation of the project, they can also sustain the livelihood of the senior citizens in both assisted care homes and independent homes by providing capital to kick start or manage their business and also by patronizing their Adire fabrics.
Younger demographics make up large part of independent population. They are integral to the care of senior citizens and economic development of local communities. Therefore, to mitigate the exodus of young people of Kemta, the identified sponsors can empower this age group by recruiting them into the care homes as service providers (they know their senior citizens better) and making provision for soft loans to facilitate fabrics related startups.
Aside reducing the rate of emigration, the initiatives will also strengthen the relationship between Kemta's senior citizens and their younger populace, sustain their livelihood, improve their standard of living and revive their declining economy.
Home from home
"A place of shelter, a space for freedom" [17]
The proposed design solution promises to enhance the physical, mental and emotional state of Kemta's senior citizens. It promises to be a place of shelter and a space of freedom for them. It promises to be a physical expression of Kemta's people way of life through form and space. It promises to revive the dying Adire textile identity of Kemta community. It promises a home from home. Abike died longing for it. The senior citizens of Kemta community dream of it. They desire it. They demand it.
References
1. Saheed, Z. S. (2013). Adire Textile: A Cultural Heritage and Entrepreneurial Craft in Egbaland, Nigeria. International Journal of Small Business and Entrepreneurship Research, 11-18.
2. The Guardian Nigeria News (2016). A Short History of Adire. https://guardian.ng/life/culture-lifestyle/a-short-history-of-adire/
3. World Health Organization (2022). Dementia Factsheets. https://who.int/news-room/fact-sheets/detail/dementia/
4. National Institute on Ageing (2022). What is Dementia? Symptoms, Types and Diagnosis. http://www.nia.nih.gov/health/what-is-dementia/
5. Davies Adeloye et al (2019). Prevalence of Dementia in Nigeria: A Systematic Review of the Evidence. J Glob Health Rep. doi: 10.293292/joghr.3.e2019014
6. Jennings M. B. (1984). They Caged the Animals at Night: The True Story of an Abandoned Child's Struggle for Emotional Survival. Berkeley Publisher.
7. Joe Parkinson and Drew Hinshaw (2021). Bring Back Our Girls: The Untold Stories of the Global Search for Nigeria's Missing School Girls. Harper Publisher.
8. Eniola O. C. et al (2015). Older Persons' Views and Experience of Elder Abuse in South Western Nigeria: A Community-Based Qualitative Survey. PubMEd.
9. Bridget Sleap and Ellie Parravani (2018). Freedom to Decide for Ourselves: What Older People Say about their Rights to Autonomy and Dependence, Long-term Care and Palliative Care. HelpAge International.
10. Utton, D. (2005). Designing Homes for People with Dementia. Hawker Publications, London.
11. Vanguard News (2016). Governor Amosun Set to Commission N600m Old People's Home. https://www.vanguardngr.com/2016/11/amosun-set-commission-n600m-old-people-home/
12. The Guardian Nigerian News (2020). Victoria Onu: There are so Many Rights that is Denied Older Persons in Our Society. https://guardian.ng/guardian-woman/there-are-so-many-rights-that-is-denied older-persons-in-our-society/
13. Grace Nursing Care Center (2023). GNCC Website. https://www.mygncc.com/
14. Coalition of Societies for the Right of Older Persons in Nigeria (2023). COSROPIN-Coalition on Ageing in Nigeria. https://www.cosropin.org/
15. Julia. P. (2018). Age-friendly Homes. RIBA Publishing, London.
16. Ajuma O. O. (1967). Not Yet Uhuru: The Autobiography of Oginga Odinga . East African Educational Publisher.
17. Inger James et al (2014). A Meaningful Daily Life in Nursing Homes - A Place of Shelter and a Place for Freedom: A Participatory Appreciative Action Reflection Study. BioMed Central.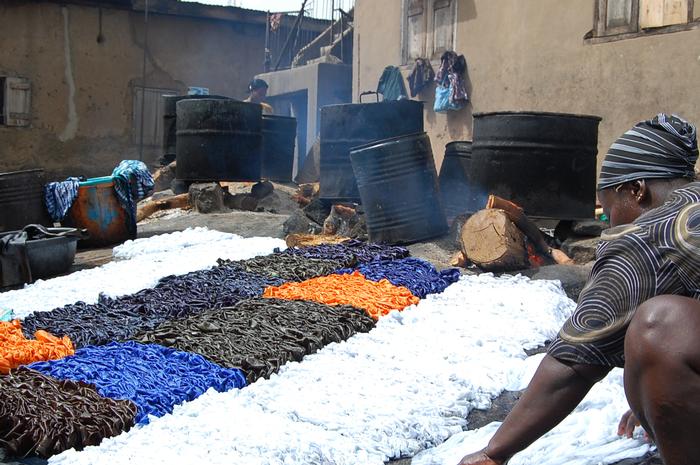 A Kemta senior citizen processing Adire textile. Credit: Guardian Nigerian News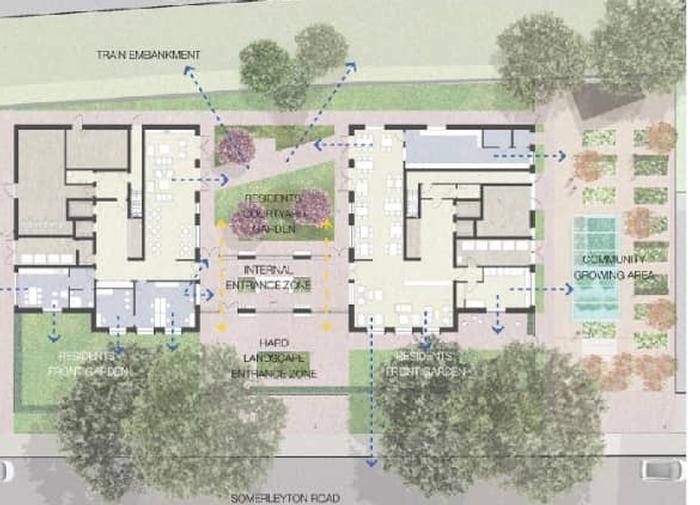 Template for floor plan of proposed assisted living care home. Credit: Fitch Court Homes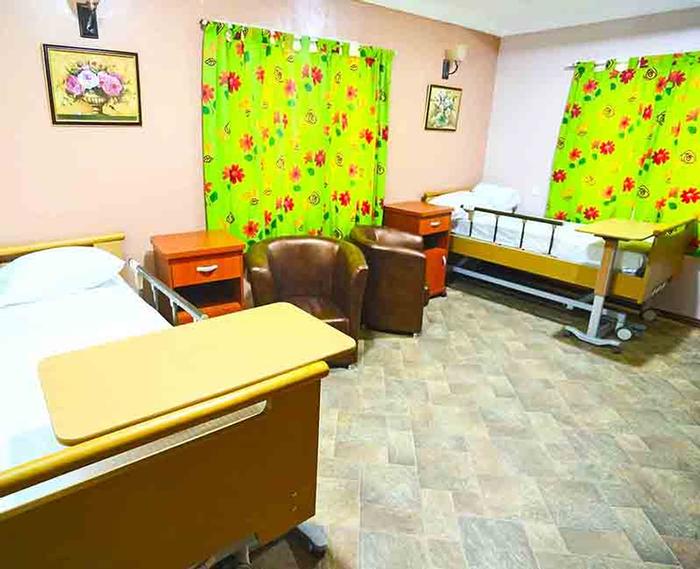 Template for bedroom space of proposed care home. Credit: Grace Nursing Care Center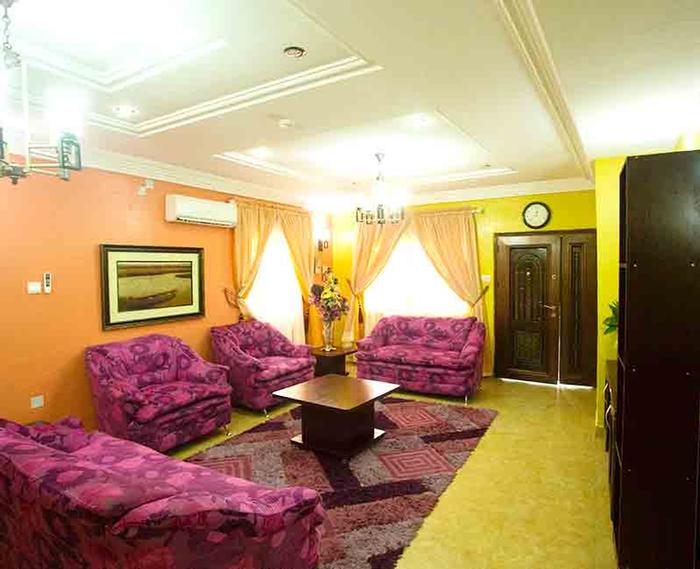 Template for living room space of proposed care home. Credit: Grace Nursing Care Center
If you would like to contact this author, please send a request to info@berkeleyprize.org.
---