[ID:4777] The Young Nation's Old.
India
Is it independence that we seek or just a helping hand?
ACT I
As the sun seeped through the dense fog amongst the lush green forests, we arrived at Vrindavan on a cold winter morning. The slight humming of the morning hymns provided warmth to the empty streets, as piles of devotees patiently waited to catch one glimpse of Lord Krishna. Located in Mathura, in the northern part of India, is a temple town dedicated to Lord Krishna and Radha. Scattered around the five thousand temples, is a population of sixty thousand odd devotees who live in the city.
While the ornate temples, the fragrance of 'mogras' and roses and the mouth watering sweets captures one's attention, the rows of widows on the temple steps singing Lord Krishna's praises don't go unheard. For them, the world we are so enchanted by is seemingly unreachable. Vrindavan is a unique city with two distinct population groups. One being the pilgrims and pandits of the temples and the other, the widows of Vrindavan.
With a population of over 8000 widows, Vrindavan is considered the last resort for many who have been alienated by various sections of the society. They are forced to live a life of solace, wear somber clothing and be cast away in the fringes of their own community. The widows are stripped of their sense of identity and often are victims of financial and emotional exploitation. Walking through the temples, we began to wonder as to why they chose Vrindavan as their safe haven. Was it the presence of temples that they aren't allowed to perform rituals in, or the hope that god himself would be their last resort.
Our search for answers led us to Maitri Ghar, a widow-home run by Maitri, an NGO that has been working since 2008 to provide these women essential amenities like shelter and healthcare. In a small room of six by four, with walls adorned by the pictures of Lord Krishna and Bachchan Sahab ( a famous Indian film actor) sat Sakhti Dassi, an eighty nine year old woman alongside eleven other ladies her age . Her smile had a sense of calmness amongst the chaos that surrounded her. As we introduced ourselves, she stopped her busy-work of peeling 'matar' (peas) from their shells to talk to us. She, like any of our elders, loves telling stories from her time, often looking for an ear to hear them.
Her day begins at the crack of dawn as she, alongside other widows, goes to nearby temples to sing 'bhajans'(hymns). They look for alms from the devotees coming for the morning prayers. After which breakfast is served as they sit on the floor prepared by younger widows of the shelter. Following this while some ladies gossip or watch the box set, others like Shakti prep for the next meal.
As she opens up about her life before Maitri, a faint smile creeped on her face and her eyes clouded with pain. Reminiscing about her childhood, Shaki Dassi says, "I never had one! I was born in a family of eight as the eldest sister. Having to take care of us all was my responsibility while our parents worked." With very few resources available her education was stopped to support that of her brothers. "In a society where we are seen as home cleaners and cooks,my parents quickly got me married to a man much older than me" she told us, as she presented the bangles on her arms her parents gave her before they sent her away. "We are either in the hands of our fathers, then husbands and later on our sons". Due to their extreme age gap, her husband passed away while she was barely forty. She was then forced to earn a living for the sake of her teenage children. .
"Never in my life could I imagine that the son for whom I toiled day and night, would beat me with a wooden stick while his wife refused to give me food.". As she recalled the horrors done to her, another lady exclaimed," Back in our day, we wouldn't dare open our mouths in front of elders, The 'gaddi' (seat) of authority they held was unparalleled. We come from the lineage of Shravan Kumar. (a hindu mythological figure who carried his parents on his shoulders to complete the pilgrimage) Here, her own son took her room to make it for him and his wife while she slept on the living room floor. Not knowing what to do, Shakti ended up in Vrindavan on the doorsteps of Maitri. Since 2010, Maitri has built two old-age widow homes operational in Vrindavan and Radha Kund. Coming to Maitri with nothing, they are given a new life and identity through financial aid and legal documentation as well as healthcare and skill development.
Rushing to come back from the temple streets after selling her handmade earrings, she gave us a tour of the center. There are few stay rooms with mattresses on the floor for resting, washrooms, one on-station nurse and a central courtyard used for multiple activities and festivities."After the age of thirty I never thought I would get to play Holi, dance and sing again. Whether it be bhajans or the Bollywood songs of Bachchan , here I get to smile. Life is not easy here, but at least it is not degrading"
With hesitation we asked her if she would ever consider going back to meet her son or brothers. "I'd rather beg on a thousand doors than beg my own children to feed me"."I miss them, I miss them dearly and hope each day I was there to spend my remaining days with them, but if they don't want me, what can I do?"
ACT II
Pune, a sprawling metropolis in the state of Maharashtra became our second destination to look for solutions in the urban context. Whilst the city has seen tremendous growth in the field of technology, production and commerce it has also gained a reputation as 'the retirement hub'.The city aims to provide a life of independence by making more pedestrian and elderly friendly infrastructure. One such place is Athashri, a housing complex for the elderly.
Meeting Subash ji, a long time resident of Athashri for the first time, the smile felt familiar even though the setting was vastly different. Intrigued and eager to ask questions, his busy schedule took us by surprise.Starting his day off early in the morning with a guided yoga session followed by meditation, the morning crescendoed with a breakfast at the mess. There he recalled his early days at Athashri. "My children have made sure I'm financially taken care of before they move away to the UK to work. But as my wife fell sick more and more , hospital visits became frequent and I would get anxious to leave her all alone in our big house". "What use is that big house, when it's just the two of us with no one to call?" With a growing population of India educating and migrating to different parts of the country or the world, more and more parents are finding themselves aging and living alone.
Athashri identified the gaps in the market regarding assistive care for the elderly and came up with solutions on various levels based on the intensity of care required by the residents. Mr Subash tells us how even till the last moment they stayed at the constant medical home facility with round the clock doctors and nurses for his wife. " After the passing of my wife, I thought I would surely move away, but I ended up staying for the friendships I formed here." In an attempt to not make the moment extremely emotional, we quickly shifted focus to the next activity. A music class. Meeting more residents of Athashri at the class, the bond and energy they shared was palpable.
"I still vividly recall the horrors of crossing the border during Independence as a kid and living in Delhi as a refugee. My dad started a new life for us here and so did we. Joining everything we could make and saving each bit. We have done nothing but work for more than thirty years now. After retirement, we suddenly feel empty with nothing to pass my time with."
Subhash ji was very excited to give us a tour of his apartment. A cozy 2-bhk with apt and inclusive spaces for the elderly. We noted the speciality alarms installed in the washrooms and kitchens, railings provided for support in the essential places and comfortable tiling and wall materials used with a deck. The floors of the building themselves were connected to different towers in the complex for each movement without crossing multiple levels or thresholds. Yet he was most excited to show us the pictures of his family splashed all across the walls of the house. " See, nobody wants to stay away from their children. But at the age of eighty-five, I don't want the hassle of moving to a new country and adjusting to their ways. I want to spend the rest of my days in my country. Even if it is not my own house I made, I will make do with the people that I hold dear to my heart here."
As his day progressed it became busier. With constant activity and interaction, we could see him come alive slowly in each of them. Most of the days residents at Athashri enjoy spending their time together, they have amenities like swimming pool, gym, landscaped garden all of which is fully accessible by wheelchair. Each block also has a terrace garden which is accessible by lift. Another resident Mr. Achyut Gokhale says, " We know we are too old to walk all through the garden, but these small seats give us an excuse to gather around and retell our stories once again. You see, after working most of my life it is really hard to prop my legs up and relax all day." Our hearts filled with hope, we understood life here might not be perfect as well, but the attempt to care seemed to be a common thread pulling it all together.
Worlds Apart yet Close-by
India is a country of vast disparity where the top 10% of the Indian population holds 77% of the total national wealth. While aging is an universal experience, the financial and social standing of an individual can play a huge role in the process. As we explored a cross section of experiences throughout the country, some of the conditions truly were gut-wrenching such as the case of Mumukshu Bhavan in Varanasi, another temple town in the northern part where dying is considered auspicious.
'We pray every day she dies but she lives for yet another day' explains Kalawati Devi's son, as she awaits Moksha (salvation) on the Ghats of Varanasi. She is a resident of Mumukshu Bhawan, destination to a little over 20,000 devotees who visit Varanasi every year to die. But to secure a place in such a hospice, the likelihood of death becomes the deciding factor. Priority given to the terminally ill. At first what might seem bizarre, the sheer existence of such establishments and a section of the society opting to live in such spaces, indicates otherwise.Varanasi represents the darkest truth for a section of the Indian elderly, and Athashri brings out an optimistic solution for those who can afford. While Maitri to be at the cross-roads of the two working towards making lives better for some of the most neglected elderly in India.
While the backdrops of work at Maitri and Athashri vary vastly, they reflect a crack in our culture. An Indian society which once reveled in its cohesion and interdependence is now struggling to strike a balance between what it means to be independent individuals, whilst holding on to a strong sense of family. While independence is strongly aspired, it is the roots of interdependence that make us feel whole. Living in disintegrated nuclear families, the elderly are left feeling isolated and neglected. At the crux of their work, both initiatives attempt to resolve these layers of issues while providing a life of dignity for our elders.
This generation has never truly recovered from the trauma of the Independence Struggle and the Partition that followed after. They spent all their lives setting their roots in the new India only to secure a bright future for their children. As such it is only natural to want to breathe their last in a place that they have built with years of blood, sweat and tears. In Spite of the contrasting circumstances of their residents both Maitri and Athashri work towards creating a new home, and a family to call their own.
The concept of aging in place has existed in India since time immemorial but now seems to be more needful than ever. While we as architects should design with the mindset of inclusivity, to include a varied user base, it is the memories attached to those spaces that add value. Those memories and social structure once formed in one place are often cumbersome to replicate at another, especially at an older age. with loss of cognitive and physical strength and increased medical dependence, their need for assistance only increases. This results in homes and people's needs being retrofitted and compromised.
Sometimes as architects, we often get caught up in the built space of it all. While the importance of a physical inclusive built space is unmatched, it is the people within them that bring it alive. Interdependency whilst having its demerits, exhibits a society that supports each other and lends a helping hand. May it be the widows of Maitri or the elderly of Athashri, their courage, enthusiasm, and their willingness to make the most of a situation is commendable.
Bibliography:
"Reports." Maitri India, https://www.maitriindia.org/reports/. Accessed 1 Jan. 2023.
"Infocus." Maitri India, https://www.maitriindia.org/infocus/. Accessed 2 Jan. 2023.
Senior Citizen Housing Projects in Pune and Vadodara | Paranjape. https://www.pscl.in/athashri/. Accessed 2 Jan. 2023.
"Varanasi: Gateway to Salvation to Make Final Wait Easier." The New Indian Express, https://www.newindianexpress.com/thesundaystandard/2022/sep/11/varanasi-gateway-to-salvation-to-make-final-wait-easier-2496937.html. Accessed 21 Dec. 2022.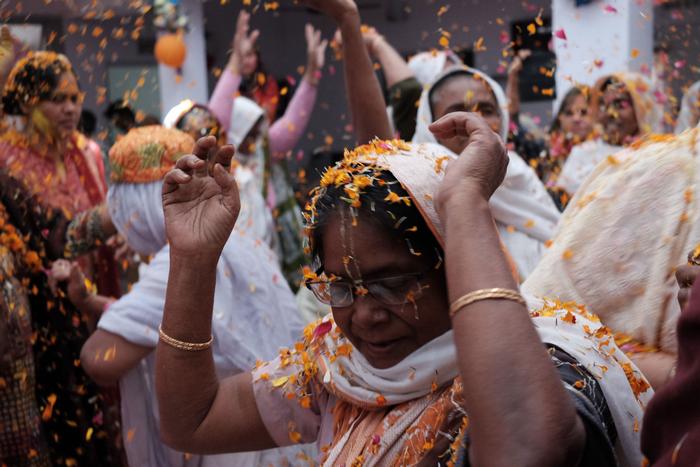 At Miatree, we see widows celebrating the festival of holi with flowers.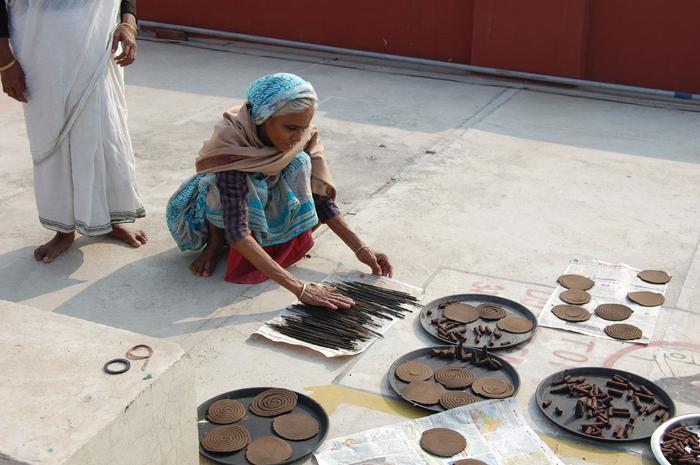 Here, they are making 'agarbatti' incense sticks. They are a popular item sold outside temples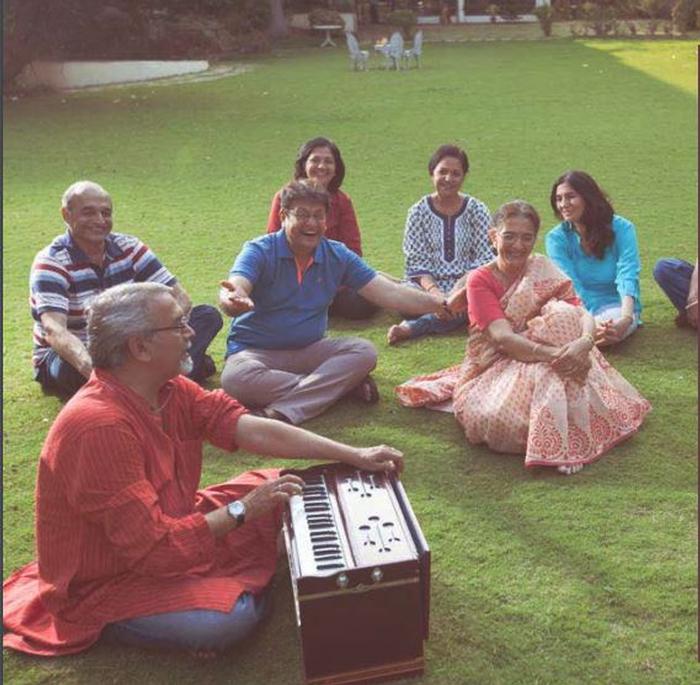 Spaces designed by Athashri to gardens, walkways, clubhouse and dining space, foster interaction.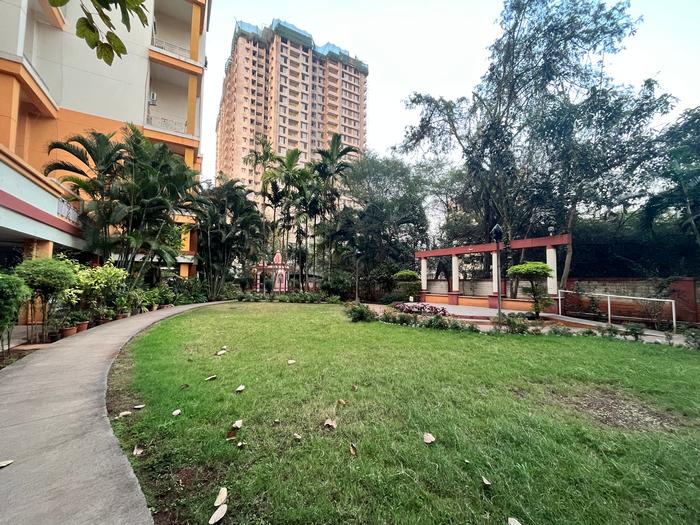 Ramped walkways, seating spaces and green pockets designed to cater to every need of the elderly.
If you would like to contact this author, please send a request to info@berkeleyprize.org.
---