[ID:4760] Independent elderly of India
India
Once an adult reaches old age, they feel as if their phase of second childhood has begun.
Ageing makes a person dependent because of losing senses that control all bodily functions. The person's health slowly starts declining, and the fear of loneliness caves the person in. This is where the person starts looking for assistance in their daily activities.
Where do I live? Who will take care of me?
Although ageing is a natural part of life, it causes many problems for those who have reached old age. Loneliness, elder abuse, and the fear of having their property taken away are all serious issues. The threat of being evicted from their homes due to the transfer of their property to their children, on the other hand, is one of the issues seniors are currently facing.
The concept of nursing homes/assisted living or retirement homes is one of the design responses that help the needs of senior citizens.
Mrs Seema Mehta, Age 86, is a resident of the Golden Estate who has been living there for almost three years. Her husband, who she had spent most of her life with, died four years ago, and she didn't know what to do with her life next. She slowly started slipping into depression due to loneliness and lack of socialisation. She had heard about the retirement community in Delhi NCR from one of her acquaintances and decided to try it. Talking to her made me realise there are so many issues that senior citizens of our community face. She told me about the social stigma that is around retirement community homes. Most people in India see retirement homes or assisted living homes as an option for those senior citizens who are like a burden to them. The community of the Golden estate makes the residents feel they belong with each other even if they haven't met before.
The design of the nursing home concentrates on comfort and a user-friendly experience. From staircases to bathrooms, all are well equipped with wide entrances, ramps and handrails which make accessibility with wheelchairs easy.
The building follows an architectural design that connects the residents to nature. Every building has a front and a back courtyard. One of the most common activities older people do is a stroll through a garden or a park. This also helps them to keep active and fit. Compound movement exercises also help increase the well-being of their physical and mental health, and doing them along with fellow residents would add fun to the activities. If properly used by architects, nature can become a part of the healing process for people with health issues and part of the psyche, healing of depression, and feeling of belonging and ownership.
Older people tend to become vulnerable and susceptible to danger. Without supervision, they tend to get lost easily. Due to irresponsible design and infrastructure, they often tend to trip or slip, which could be a minor issue for young people but could be more dangerous for older people who take longer to recover.
So, the architects have designed spaces with a transparent viewing range so that it becomes easy to spot people from across the room or halls. Blind spots and negative spaces were voided to reduce confusion. Clear signage is also provided at everyday places like gardens and gathering areas in case senior citizens are unable to find their way.
Medical support becomes essential for the elderly. Sudden and severe health issues require immediate care and treatment. Suppose not a hospital; at least the nursing home must be equipped with basic treatment facilities and equipment. Easy access and sufficient beds are provided for care. Equipment and medicines are available to be transferred to the house of the patient in case of emergencies. Vast lobbies and interconnected blocks are given, and spaces provide ease of movement which is crucial for the design of healthcare facilities in nursing homes.
Similarly, the Panchvati assisted living home, located in Tughlakabad, New Delhi, aims to meet the unique needs of our elderly by providing loving and caring daycare and stay facilities for a day, a week, a month, or a lifetime.
The residency follows traditional designs, such as the skylit courtyard, which allows sunlight to filter in and disinfect the building. The sunlight inside homes ensures that fresh air is constantly circulated. Nature has the power to manipulate humans. If architects use it correctly, it can become a part of the healing process for people with health issues and part of the psyche, depression healing, and a sense of belonging and ownership. Its beauty and unique qualities calm, relax and reduce stress, as well as many other negative aspects of health.
Do I still have something to look forward to?
Loneliness in senior citizens is a significant issue in our community; unfortunately nursing homes are not affordable for every senior citizen and sometimes they don't feel comfortable staying at a new place
Most senior citizens, after retirement, don't have any earnings other than their pension, which covers only their basic needs. The department of social welfare under the government of India has constructed recreational centres for senior citizens in New Delhi. These recreational centres serve as a safe space for senior citizens to engage in activities that distract them from their everyday life and help them keep themselves busy with something that gives a sense of purpose to their life.
These centres have many activities that are just more than occupying time. Their programmes include gardening, yoga, book clubs, dancing, and sports. One of the main activities that I found interesting is their programme of daycare for children. This activity gives a chance for senior citizens to engage with children of younger age groups and take care of them. Most children here have parents who are busy during the daytime and have no one to look after them.
This is perfect for senior citizens because when they interact with younger generations, they learn an entirely new skill set while overcoming the isolation that is common in them. Both generations assist each other in remaining connected and comprehending the past or the future. Volunteering with children allows them to be active and social within a community, giving them a sense of value and service in the community.
Can I cross the street by myself ?
In many ways, urban settings are beneficial to age populations. Denser development means shorter distances to travel, which is especially important for seniors who are no longer able to drive. Cities typically have better transit networks, allowing for more independent travel and easy access to co-located social, health, and other services. Overall, people are concentrated in urban areas, providing more potential social connections to combat loneliness and social isolation, which are becoming more common as seniors age.
If seniors continue to move to cities in large numbers, we must work to ensure that the environment in which they find themselves meets their needs, particularly in terms of safety. The advantages of urban settings include a more dense network of streets and street users. At street level, the unique needs of seniors mean that dangers surrounding vehicle-pedestrian intersections are frequently amplified.
For older pedestrians, crossing a street can take a lot of work. With increasing age and potentially cognitive decline, older people make decisions to cross a road based on vehicle distance rather than speed. Furthermore, older pedestrians tend to overestimate their own walking speed and are unable to adjust it to traffic conditions.
There were many cases in our community where senior citizens met with accidents because of a lack of design considerations. One of the design responses that the government of India came up with was to construct foot-over-bridges with escalators and elevators that are accessible and help the senior citizens safely cross the roads.
When it comes to crosswalks in our community, traffic measures are only sometimes followed, and therefore, elders are always at risk. Therefore for street safety design, several considerations were made mainly by alerting the senses at key boundaries and at key moments in time. To differentiate between pedestrian and vehicular space on the street, curbs offer a tactile difference. Cars honk to warn other drivers that a person is in their path. Fences and street signs serve as visual cues to indicate where public space changes into private space and where pedestrians can cross in front of passing vehicles.
After analysing streets for senior citizens at my community, one of the more significant considerations with regard to these treatments is that seniors tend to have weakened senses. To address weakened senses, we tend to increase the redundancy of a single alert across multiple senses. For instance, the designers have made a provision to add audio beeps that change based on where the pedestrian is in the crossing, guiding them across the street. Crosswalks also may have raised bumps at the boundary between the sidewalk and the pavement to add a tactile component on top of the visual and audio cues. Other street design elements aim to give pedestrians an upper hand over vehicular traffic and thereby maintain user safety. The elderly, who may move more slowly than they used to, can benefit from these features. Curb extensions and refuge islands make shorter crossing distances possible, allowing pedestrians to feel secure stopping if they can't cross the street in one motion.
By limiting a driver's field of vision and encouraging them to drive more cautiously, trees have been placed along a route that can even aid in lowering the speed of moving vehicles. Lower speeds result in better reactions and less severe injuries when collisions happen.
Another crucial aspect frequently ignored in vehicle-pedestrian safety discussions is improving seniors' comfort. Many senior citizens need more energy than younger people, requiring more frequent stops along the way. Long commutes can be made more bearable by public seating. Therefore, street furniture with trees planted around them helps seniors as they are more prone to health problems associated with exposure to the sun and extreme temperatures. Hence, it offers significant advantages in hot climates and during certain seasons.
Is my local park a safe space for me?
Most of the time, senior citizens feel like they are confined up in their houses. For them, primary threats were "disrespect by the younger generation, robbery, drugs, and crime. Therefore introducing landscape design in parks was a critical factor that changed the environment for the elderly. All age groups visit these parks, whether elders come for a stroll, meet for their evening chit-chat, or kids come to play. Almost every neighbourhood park was made age-friendly by introducing spaces that made it safe for elderly users to visit them. The main concern of senior citizens is safety in parks due to robbery, drugs, crime and disrespect by the younger generation.
There have been many instances where the children unintentionally harmed the elders during playing, which further left them traumatised and instilled fear in them.
Keeping this in mind, private semi-open spaces were designed for elders that served both the purpose of safety and maintaining their social life. There are also environmental threats to the elderly that include: "uneven ground surfaces, trash caused by the homeless, a lack of visibility with walking paths, a lack of shade, and excess heat or cold." Those with canes, walkers, and wheelchairs feel even more vulnerable outdoors.
These parks allow "eyes on the street," with just enough shade to prevent a feeling of enclosure. Isolated places require regular maintenance. Sidewalks for walking are constructed in such a way that they are broad and levelled. Designers ensured that there were no areas where a wheelchair or cane could get caught, for instance, in spaces between paved and unpaved surfaces. The design of the park facilitates interaction. These local parks have outdoor spaces that can be used flexibly in the morning for meditation or yoga for the elderly. To keep the elders engaged in physical activity to maintain their health, there are low-impact, high-benefit exercise machines under shaded areas.
How will I go downstairs?; I'm too tired.
There are many old low-rise apartments in Delhi constructed by DDA and CGHS that didn't have provisions for lifts earlier. These are prominently G+2 structures that have wide staircases.
Most of the elderly citizens residing there don't go out of their homes frequently because of the exertion caused by climbing stairs.Therefore the designers have now proposed a space at the corner of landing of the staircase which provides a seating space to the elderly user which serves as a break for the elderly while they climb down the stairs.
Since the staircase covers an ample amount of space design, provision for dumbwaiters that will help the elderly to receive daily items like groceries or medicines in emergency has been given.
Of Course it is always encouraged that the senior citizens use the stairs and don't stay confined to their homes, but sometimes their body doesn't allow them to travel for their basic needs and that's where these provisions help them.
Creating an elderly-friendly community
Lack of empathy and acceptance, low self-esteem, lack of socialisation, and loneliness are all critical needs that must be met. This kind of need can frequently lead to physical decline and health problems. From cases of abandonment to abuse, there have been horrific tales that I came across while talking to the senior citizens of my community. These are tales from citizens from middle class or well to do families. It is deeply saddening to see parents who once took care of their children selflessly in this state.
There are many design provisions for the senior citizens for the betterment of our community and as technology advances, I'm sure there would be new provisions that would create a better community for the elderly. But the most help an elderly can get is from the person living in your community.A simple conversation during a walk or your love for flowers and an interaction during a board game is enough for the elderly to provide a purpose and sense of value to their life.
These design provisions can both create a negative and a positive response from the senior citizens. Many of the elders see these design responses as a help,so that they grow further in life and find a new purpose. But unfortunately there are many citizens who are unable to comprehend this new chapter of life and see themselves as a liability to others. We should make them understand by providing them the required care and help them engage in activities that invoke a feeling of being needed so that see themselves as an asset to the community.
As an individual we should also understand that due to their age they would require some time extra than they needed before to perform activities, therefore we should always deal with them with patience and understand that they have more expertise than us.
The ultimate goal of senior empowerment in the social context is to offer facilities and programmes that encourage an older person's ability to develop an independent, positive, and satisfying lifestyle seamlessly blending with our community.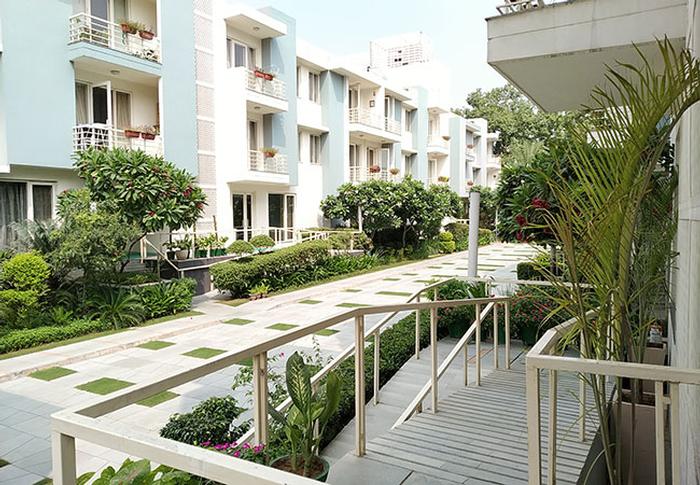 Bringing nature closer to the elderly with courtyards and front gardens at nursing home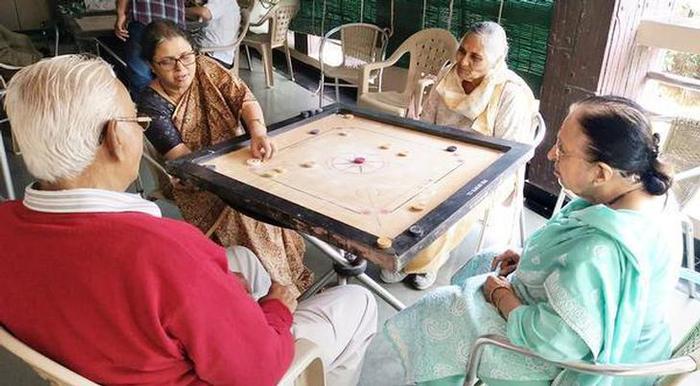 Senior citizens enjoying a game of carom at a local recreational centre.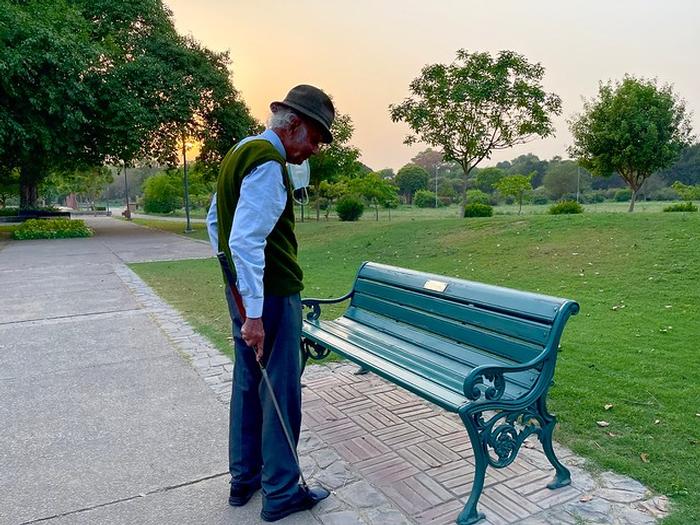 Bench in Qutab Minar old monument complex, New Delhi for resting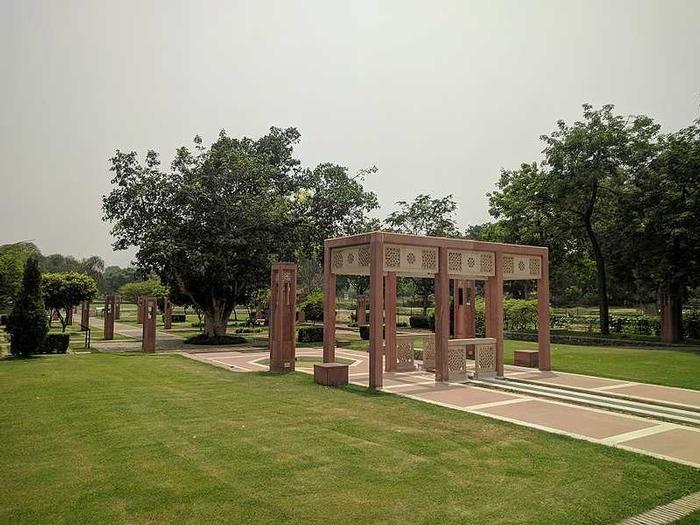 Pergola made from indigenous material for shade and seating space at park for the senior citizens
If you would like to contact this author, please send a request to info@berkeleyprize.org.
---