[ID:4136] Architecture for Equity: Inclusion in the Age of Diversity
Bangladesh
With eyes full of dreams and hands full of luggage, Rasel (20) got down from the 12:30 p.m. train at the Kamalapur Railway Station and hailed a rickshaw for his new home in Arambagh. The map said his destination was only a seven-minute ride away, but the gridlock in front suggested otherwise. The arrangement was a godsend for him. After a relentless, month-long search, he had found a cheap and "student-friendly" flat in an area that was reasonably close to his College. He knew that the neighborhood was a popular choice among migrant students and workers for proximity to the city center.
As his rickshaw weaved through the Tuesday rush-hour traffic, his mind wandered back to his father's parting advice. "Always remember why you're leaving home, son," the retired school teacher had said while tucking in a few hundred-taka bills in Rasel's pocket.
The rickshaw rang its bell as it sharply skewed past other vehicles and pedestrians through the meandering alleyways. The road kept getting narrower and narrower until only a slit of the sky was visible through a tangled mess of electric cables and ramshackle buildings. Finally, when the rickshaw pulled-over by 132/3, it seemed to Rasel as if he had got the address wrong. It had to be! What had been described in the ad as a student-friendly accommodation in a quiet setting turned out to be a prison-like establishment on top of a noisy printing press. As he started climbing up the narrow staircase, he soon bumped into a group of children playing on the landing. The building's tenants were clearly not limited to bachelors. After a few more exhausting flights of stairs, he reached his new home to find that the tiny two-bedroom apartment was home to nine more boarders.
Rasel's roommates came from a wide range of backgrounds. During their late-night chats, he learned about their struggles upon moving to the "Jadur Shohor" or "City of Magic." Nahian (42), a taxi driver from Comilla, had chosen to stay in a small room in his garage for the first few months, having found no suitable accommodation. Although his situation had improved since then, he was far from settled. He wished he had something other than empty promises for his wife and children, who wanted to move to the city with him. Life had not been easy for Pakhi (25) as well. A climate-refugee hailing from erosion-prone Faridpur, he had moved to the capital looking for a secured future for his family. However, he still could not afford a decent apartment with his modest salesman salary.
As time progressed, different challenges kept surfacing for the apartment dwellers on a daily basis. The mornings started with a long queue of the tenants' rushing to use the only bathroom available. In the evenings, the lack of personal space in the crowded apartment made it difficult for Rasel to concentrate on his studies. And at night, the persistent clanking of heavy machinery from the press below took away their good night's sleep. All they wished for was a breath of fresh air after a hard day's work. But the few windows available opened up only a couple of feet away from the nearby buildings. The summers were unbearable in the apartment. And during the heavy rains of Srabon, water leaked through the decaying walls.
Rasel lets out a heavy sigh as he recalls these memories of disillusionment. He is now a third-year student at the Dhaka Medical College. During his three years in Dhaka, he has learned that many of his fellow citizens share the same story of struggle upon moving to the city. The city currently houses a little above 21 million people, and two thousand more are moving in every day. Due to the nation's central administrative structure, Dhaka has always been the only primate city with the highest resource allocation. As a result, the city allures many people from other districts with promises of better jobs and educational opportunities. When asked, most Dhakaites would blame the demographic pressure behind Dhaka's long list of problems. But it is worth remembering that the city's lifeline has always been its broad spectrum of individuals, who invest all their energy for the city's development in exchange for the bare minimum.
Unfortunately, 30% of Dhaka's population occupies around 80% of its area, leaving the rest of the people scrambling to find shelter in the residual land. While it is undeniable that the lower-income groups face the worst consequences of the housing crisis, many recent discussions and initiatives have been focused on serving their cause. Examples have already been set where the urban poor's challenging living conditions have been improved through sensitive design. In contrast, the middle-income group, comprising of the most diverse and the vast majority of the population, is still out of the radar regarding housing provision. The inadequate number of government-funded projects is targeted to resettle the lower-income groups or serve the upper-tier, leaving only private sector options for the middle-income groups. In 53% of cases, these houses are built informally and seldom comply with the building codes and regulations. The rest of the private sector housing for middle-income people results from the real estate companies' growing interest over the last decade. While some of these developers have been committed to serving this key demographic by creating smaller apartments, their "one-size-fits-all" solutions fail to address these people's varying needs and aspirations. Not only are these houses rigid in space arrangements, but their costs are also rarely approachable for the target group. Consequently, a large part of the population finds themselves having to choose from standard houses with exorbitant rents or cheaper houses with unhealthy living environments—a bargain between livability and affordability.
In a conversation about architecture's boundary, the nation's pioneering architect Muzharul Islam once said, "Now, when we say architecture, it does not mean 'one building'–the design of its parts, the elements, and details… It means, by extension, considering the whole city, the whole village, the whole region, the whole country." Regrettably, Dhaka's mainstream architecture practice is yet to follow the vision of its torchbearer. While the profession serves a segment of the population with utmost sincerity, a far larger part is still left unaddressed. The reason behind this disparity may be minimal government interest and lack of private sector incentive.
Nevertheless, all hope is not lost. A growing wave of passionate professionals has taken up the duty to expand the bracket of architecture beyond lofty apartments and oversized residences. Leaving their comfort zones behind, they are delving into unheard communities to reinvent traditional means of dwelling. By closely listening to the people of these communities, these architects are trying to work towards a sustainable social framework. Though most of these initiatives are not rooted in Dhaka's context, valuable insights can be extracted from their experiences of working hand-in-hand with diverse people. A story of such inclusiveness in practice can be found in the Berkeley Prize archive.
The story begins in the familiar setting of Dhaka. In search of an organic lifestyle in the tightly-wound city, a landscape architecture tutor from a local university decides to live in a slum near his workplace. The slum was conveniently separated from the rich part of town by a lake. By the edge of the lake, the teacher and his host family started a garden with many native plants. The lush garden soon attracted all the children from the slum, who wished for a play area nearby. But was it really feasible? The architect sat down with the community to find ways to work around the scarcity of land. Finally, together they came up with the idea of building a bamboo platform over the lake. They named it "Ashar Macha" or "Platform of Hope." Once constructed, the platform started functioning as a multipurpose gathering space for the community. This small victory generated hope among the people to make changes in their bleak surroundings with collective efforts.
This is the story of Architect Khondaker Hasibul Kabir. His work in the Korail slum encouraged him to explore this co-designing process further. Perhaps, its most remarkable example can be seen in his Jhenaidah projects. To remodel his suburban hometown, he created a citywide network of architects, local people, NGOs, and policymakers.
The first step of the project was to upgrade the living condition of the poor. The community nominated some households in the under-developed side of Jhenaidah for initial intervention. These families were encouraged to form co-operatives and save money to finance their houses. Architects then trained the local women and children to map the area elaborately and understand the site's challenges. They made drawings and models of their desired houses using colorful papers and foam-boards. From these models, the architects devised two prototypes that were personalized and detailed by the users. Eventually, the whole community lent their hands in constructing the designed buildings. With people's involvement and architects' expertise, the projects were finished well within the users' affordability range, costing around $1200 each. These houses boosted the community's confidence to take charge of their situation. The local people, who had always been the most reliable on-site informants, were now proficient in communicating their ideas. So, when it came to upgrading the next community, these local experts were called forward to transfer their knowledge.
Driven by their newfound courage, the team concentrated on a much bigger project—developing an inclusive design framework to reconnect the entire Jhenaidah city. In this instance, the community participation process was reinterpreted to address the larger spectrum of users. They were categorized by age, gender and ability. Separate workshops were conducted for each group where they voiced their opinions through writings and drawings. They discussed their visions for the city while reflecting upon its former glory and identifying its current limitations. All these ideas were accumulated to generate a citywide network of ponds and open spaces, emphasizing accessibility and functionality for everyone.
These efforts in Jhenaidah have attracted students across borders and inspired an emerging trend in the country's architecture education. Traditionally, our academic design research methods were mostly confined within the studio walls. But, today, our learnings rely heavily on community engagement strategies. In our architecture training, we have often been tasked to explore design approaches for vulnerable localities. Our travels to these parts have enabled us to connect with people and generate practical solutions. In many cases, constraints of physical proximity have been overcome using digital tools. At the end of the studio, these collaborations' outcomes have been documented to be shared with the community.
When asked about the process's relevance in solving Dhaka's housing crisis, Architect Kabir says, "If a community's women can design their community, why can't the city people, all of us, design the whole city?" According to him, "If someone wants to scale-up the product, it won't help. Someone needs to scale-up the process." In a virtual conversation with the architect, we found that the course of this transferability is already in progress. Based on the Jhenaidah experiences, his firm is working with other architects, developers, and users on an ongoing housing project in Dhaka. This time, the task is further complicated because the users belong to the city's lower-middle-income bracket. However, the team has derived a housing typology tailor-made for this specific group through intensive workshops and discussions.
When we consider Dhaka's housing deficit, it is clear that the solution demands vital contributions from many professionals. Architects, in particular, can contribute from these three positions—as a designer, as a builder, or as a social facilitator. Though the first two roles are common, the third one is yet to be widely practiced in our country. As social facilitators, architects can mediate between communities and decision-makers. By organizing community engagement initiatives, they can curate solutions that keep people at the heart of the process.
As future professionals, we need to highlight our society's neglected middle-income segment and extend our professional boundaries to include them. Before formulating design proposals for their housing, we should first choose the participation procedure appropriate for all stakeholders. The capacity, literacy, availability, and communication modes of different groups should be considered to minimize obstructions in the engagement process. Through extensive profiling of our adjacent communities, we can define different user categories and their characteristics. This value-based consensus can help our community's needs assessment in the pre-design phase and serve as a document throughout the process. These needs can then be relayed through media outlets like radio, television, newspaper, and the internet for mass awareness. Once this awareness fosters a greater sense of commonality, we, as architects, can lead our community in advocating their cause to investors. The combination of collective interest and the housing market's potential growth can be powerful leverage in drawing investments from developers and land-owners.
The next phase of community participation will take place at the outset of design development. The user groups should be encouraged to come forward and actively participate in the design process. However, their degree of involvement will differ from that of the Jhenaidah people. The sheer size of this population may amplify the challenge to sustain the co-designing approach over a long time. Besides, a large portion of this target group reshuffles periodically due to their dependency on rental houses. So, their contribution to this design process can be developing a human-centric data-bank updated in real-time. This data-bank will provide us with valuable guidelines to design prototypes for each group. Throughout all design stages, the users will evaluate these options and suggest modifications according to their preferences.
To engage this challenging demographic, the means of participation should range beyond physical workshops and hands-on sessions. Social media forums, community engagement toolkits, and electronic voting machines can play vital roles in reaching a broader audience. We must also incorporate phone calls and text messages as means of input to include non-tech-savvy people.
As the community's desires aggregate into tangible design concepts, we can finally generate a set of feasible prototypes. These prototypes can be launched as pilot-projects in our neighborhood with the help of enthusiastic professionals and users. The successful performance of these projects can catalyze government-led initiatives of housing middle-income citizens. Thus, by mobilizing both public and private sectors, we, as future architects, can create a significant difference in serving our community's disenfranchised.
Architect Kabir's example shows how the steps to design a simple platform are scaled up to envision the design of an entire city. Similarly, the solution to Dhaka's complex housing crisis may come from small but meaningful changes in our community. This transformation will not be easy. Nor will it happen overnight. But as future practitioners, we dream of working towards a society of inclusiveness and equity—a society where architecture will shelter people regardless of their social status.
Bibliography:
The "Reserve": Archive of Top-Scoring Essays of Berkeley Prize, ID: 2061, (2016) and ID: 1417, (2015)
Islam, I. and Zahur, M. (2016), Housing for Middle-Income Group of Dhaka: Role of Public and Private Sector, BRAC University Journal
Co.Creation.Architects: Creating with nature and people, https://cocreationarchitects.wordpress.com/
BIGD, (2017), The State of Cities 2017: Housing in Dhaka. BRAC Institute of Governance and Development, BRAC University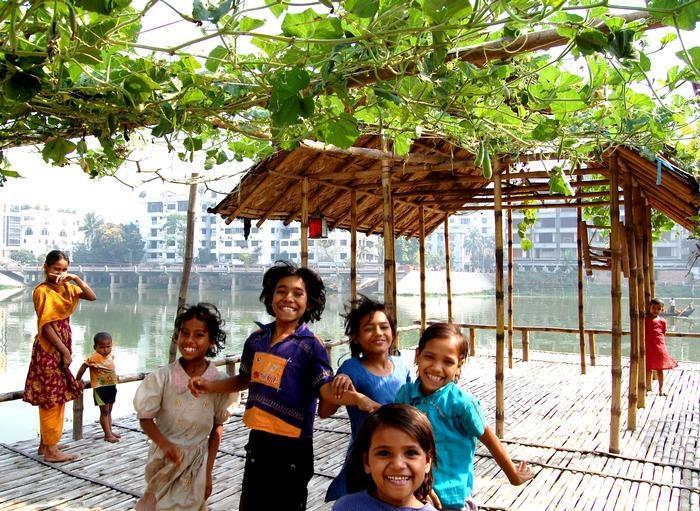 Image 01: Source: [ID:1417] Children of Korail slum playing on the "Ashar Macha" or "Platform of Hop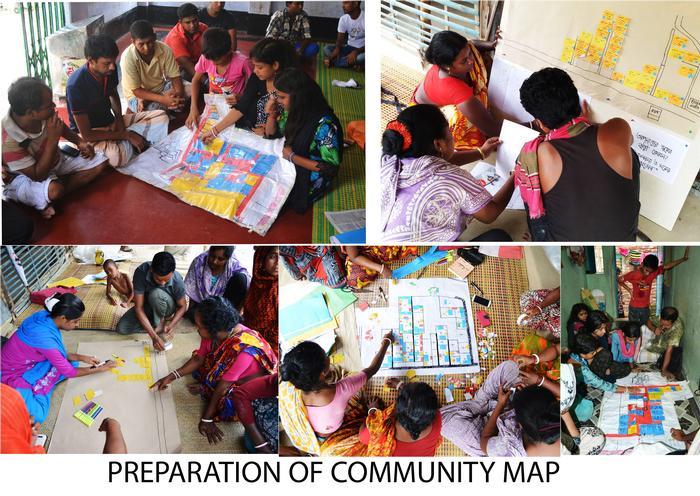 Image 02: Source: [ID:2061] Community members mapping the site using colorful papers and discussing


Image 03: Source: [ID:2061] Locals sharing unique ideas for their dream houses, through physical mod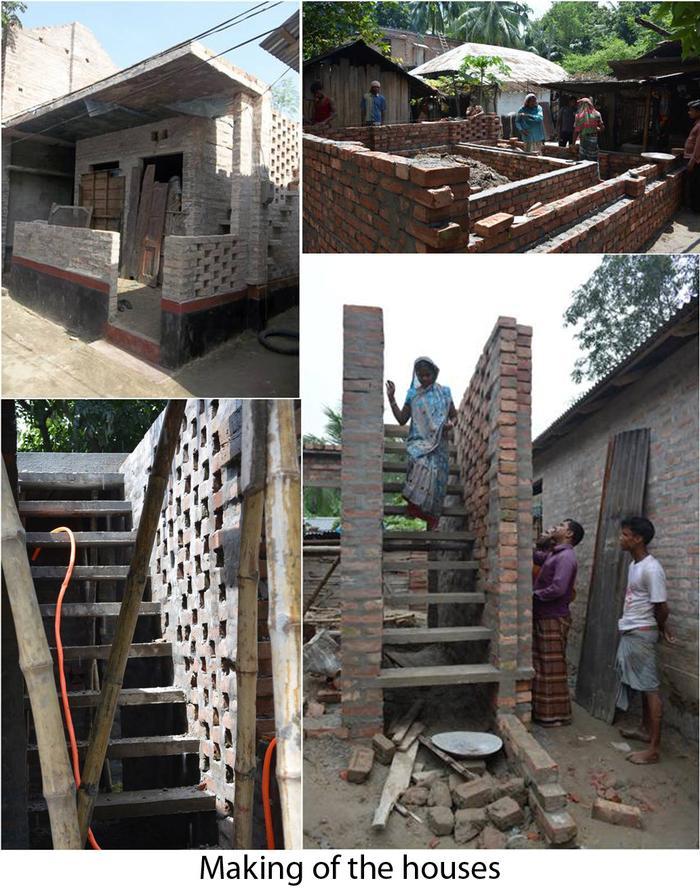 Image 04: Source: [ID:2061] Members of the community actively participating in building their houses
If you would like to contact this author, please send a request to info@berkeleyprize.org.
---