[ID:403] Creating a New Dialogue with an Old City
Canada
I am stopped on Maria-Theresien Strasse, central pedestrian street of Innsbruck. This historic town, in the heart of the Austrian Alps, is the place I have called my home for the past four months. It is now December, and from the Old Town I can see both locals and tourists rushing past me, some on a break from their work day and others clad in ski gear heading to the snow-laden mountains that surround the town, mountains so close to the city center that I could hardly describe them as sitting in the distance. Street performers line the sides of the street, some still as statues with faces painted silver, and others wearing green Lederhosen, playing traditional Austrian music for the crowds. From where I am standing I can see the Golden Roof at the end of the road, a balcony made centuries ago for Maximilian I the Holy Roman Emperor, its fire-gilded copper tiles reflecting the midday sun. The street is lined with traditional Austrian rowhouses, most converted into small shops, restaurants or bars, some still used as residences, but all clad in colourful stucco, pale pinks, blues and greens just as they were when they were first erected. Snow starts to fall. I stand in awe.
Innsbruck is a town where the love of a traditional Austria pervades the city throughout, and is regularly and religiously celebrated by locals and tourists alike. It is a city made for a thousand pictures, as around every corner you find something you will try to remember for the rest of your life. It is nothing if not a vision. Imagine, then, the challenges that faced Dominique Perrault Architects, commissioned to build a town hall, shopping gallery, hotel, and modern-art venue right in this historical city centre.
The city of Innsbruck is located in the state of Tyrol in western Austria. The city has a population of just greater than 120,000, yet still holds the feeling of a quaint village. Its history dates back to the Stone Age, though it did not become an important political center until the fifteenth century, when Maximilian I declared it as his permanent residence. This was its greatest period of growth until the mid-twentieth century, when the mountainous terrain and geographical situation created unique conditions for new construction.
From 1960 onwards the state of Tyrol began to attract mass tourism. As such, building activity spiked. But it was an odd period of development, as new construction imitated old designs. In Austria West, Lisbeth Waechter-Böhm discusses the bizarre growth that happened in Innsbruck during this time, when there was a constant desire to "preserve the authenticity of a cultural landscape" where "every departure was branded ideologically as sacrilege" (Waechter-Böhm, 22). Preservation of old buildings and simulation in new ones became a priority. Subsequently, the state experienced a sudden flourish to wealth and was unable to deal with the resulting city expansion. Along with this new wealth and the Winter Olympics, held in Innsbruck both in 1964 and in 1972, there was a dangerous rise in building activity, resulting in high-rise and urban planning clichés of an "undigested provincial modernism" (Waechter-Böhm, 22).
Fortunately, this disorganization was recognized in time, and a new period of conscious urban and architectural planning followed. From 1985 to 1995, twenty-three architecture competitions were held in Innsbruck , three quarters of which were to be realized in built form. Projects resulting from this period of development include Zaha Hadid's Berg Isel Ski Jump, Riegler Riewe's railway station building, and of course Dominique Perrault's Town Hall shopping arcade and hotel, the Rathaus Galerien.
"I want to change the relation between architecture as an autonomous system and its environment" says Dominique Perrault, in an interview about the Innsbruck town hall project. "I am interested in the relationship between a building and its context".
Placing different types of buildings such as a town hall, offices, a hotel and shopping area in the midst of a historic town centre is a risky endeavor. As admitted by Perrault, it was a dangerous approach that could have ended in a catastrophe. But what made the Rathaus Gallerien a success, both to the city of Innsbruck and the people who live there, is its willingness to create a dialogue with what surrounds it while maintaining its ambition as a completely new and dynamic entity.
The Rathaus Galerien is what Perrault describes as a landscape, a continuous fabric in which exists a series of buildings, both new and old, having different qualities from each side. From Maria-Theresien Strasse, the central pedestrian street, the complex is embedded in the larger urban fabric, hidden within the existing line of rowhouses. Its exterior does not attempt to mimic its surroundings, but instead modestly compliments them, while employing architectural details relating to the traditional buildings around it. Only the modern glass and metal sign, declaring "Rathaus Galerien" in large lettering, indicates the scale of what lies beyond the entrance.
From the opposite side, on the much less public Stainerstrasse, the chosen set of architectural tools is quite different. Unlike the other two-dimensional stucco exterior that blends as a façade, the composition of multiple buildings and its landscape qualities are unapologetically apparent. Its materiality is unique, a composition of white and black mirrored panels, reflecting the surrounding historical facades in a continuously changing way. The proportional scale is carefully calibrated, as one of Perrault's favourite tools in creating an architectural dialogue is to understand the fundamental geometry of a building's skin. On courtyard facades, a chessboard arrangement of these black and white mirrors conveys the proportions and texture of the surrounding buildings rather than imitating them.
This dialogue between the Rathaus Galerien and the city of Innsbruck is what allows the complex to have a strong yet unimposing presence. It accommodates what exists without trying to recreate it. This may be one of the most important distinctions that we should make. What is the difference between preserving a city and keeping the existing city alive?
In his 'CRONOCAOS preservation tour' this past summer, Rem Koolhaas discussed the harm that a focus on traditional preservation can do to the development of a city. Koolhaas says:
"There are a number of phenomena these days that are intersections of intensity and decreasing intensity, and that maybe preservation ?is one of those. You can look at this as an incredible increase in nostalgia and decrease in memory, and that is for me the field in ?which preservation currently takes place."
We do no good to a city by attempting to freeze it in time. Doing so leads architects to build 'artificial spaces', buildings and plazas that are simply an image of our past, with little concern paid to the experience of the people inhabiting them. It leads governments to maintain buildings simply for the sake of their own existence, even if they can no longer serve the purpose for which they were designed. In attempting to sustain a traditional urban fabric, we only destroy the dynamic and livable qualities of the cities we cherish.
This concept of forward momentum is of course a controversial one, especially in a city like Innsbruck, where not only do locals cherish their tradition and history, but it is also where tourists come to experience this narrow vision of Austria's past. There have been many recent projects in the city that have had a less than positive response from the public for exactly this reason. One such example is the Eduard-Wallnöfer-Platz, a large public square just a few minutes walk from the Rathaus Galerien. While the square uses undulating topographic qualities to induce an area of public gathering, and in some respects is used quite well by certain demographics of the population, there are many people in Innsbruck who feel uncomfortable by the severe opposition the concrete square makes with the surrounding buildings, some mothers even calling it the "concrete desert", refusing to bring their children to the square to play. It is not that the square functions poorly, but that the public expects it to.
A community needs to be able to recognize itself in public construction. This is the key to architectural and urban permanence: if people do not feel comfortable in a space, it will not be used. In a city like Innsbruck, the existing conditions obligate the architect engage rigorously in mediation between new and old.
Despite having little to do with the formal language of the town, from the exterior the Rathaus Gallerien still seems to become a part of the city substance. It is unique while remaining inoffensive. Thus as I look down Maria-Theresien Strasse, the Rathaus Gallerien becomes apparent to my eye as I work my way towards the entrance. It belongs to the city texture, but feels different. As I move closer to the entrance, I can see through the glass doors to the gallery space inside, the signs of shops lit up along the corridor and people rushing in and out. I walk into what seems from the outside to be a building of dense interior spaces, only to find that it is in fact a great spatial void, an atrium soaring four stories high where a colourful glass canopy allows light to filter down into the space. Patterns of pink, yellow and green light falls into the interior, conditioning the space in a playful manner. On the walls surrounding the gallery I see windows, office spaces hidden behind, looking down on the busy interior corridor. The shopping gallery acts as a street embedded in the architecture, leading me from one entrance to another and in a way, the complex becomes like a city within a city.
From the interior, the composition of different structures within Perrault's total landscape is still apparent. In the corridor I am aware I am in the shopping gallery, but the forms visibly intersect, so I see the glass block of the town hall imposing into the volumetric space, and I see the intersecting tower of the hotel set into the overall composition. It is like a symphony of interconnected forms, creating a condensed space in some nodes and recessing into massive voids in others.
Everything functions, as it should. Each form has a purpose, an identity that is easily understood by and accessible to the public. The interior system is integrated into the city of Innsbruck through its simple circulation corridors, connecting entrances off irregular streets through two perpendicular pathways, intersecting at the central point in a T-formation. It is a reflection of the modern urban design strategy of grid design, usually found in the more contemporary cities of North America, where roads run perpendicular to each other. Yet this does not seem to take away from the European character of the surrounding city, as it is hidden within the mass of the complex. Because of the way the interior is embedded in the exterior landscape, it becomes liberated from its usual confinements.
Eugène Viollet-le-Duc, famous architect and interpretive restoration artist of medieval buildings, said "To restore a building is not to preserve it, or repair, or to rebuild it; it is to reinstate it in a condition of completeness that could never have existed at any time" (Viollet-le-Duc, 9). The same can be said for an entire city.
Innsbruck is a vision of old Austria. This essential character at the heart of the city is something no architect should attempt to alter. Building developments in the mid-twentieth century nearly destroyed this unique urban fabric, but luckily the city came to its senses before the damage was irrevocable. This should not, however, lead the architect to try and hold onto what is no longer appropriate to how we live, for no reason other than it is what has existed before us. In doing so we no longer design for the good of the public.
What the public needs are spaces that promote growth in the living organism we call a city. We need buildings that continually mediate between new and old, but never try and recreate something that is impossible to rebuild. Designers of the future need to recognize the value in what exists already, but also understand that just because something is old does not make it 'valuable'. Most importantly, we must remember that the spaces we build exist to better the lives of the people that inhabit them, and the success of a building lies in how it serves the daily lives of a community.
Works Cited
Books
1. Viollet-le-Duc, Eugène E. On Restoration. N.p.: Chiswick Press, 1875. 9. Print.
2. Waechter-Böhm, Liesbeth. Austria West Tirol Vorarlberg: New Architecture. Berlin: Birkhauser, n.d. 22-24.
Interviews/Lectures
1. Boeckl, Matthias, Heinz Gappmayr, Edelbert Kob, and Silvia Eiblmayr. "Rathaus Innsbruck". Art as Geographic Process – Innsbruck as Example. By Matthias Boeckl, Edelbert Kob and Thomas Posch. N.p.: Stadt Innsbruck, 2004. N. pag. Print.
2. Koolhaas, Rem. "CRONOCAOS preservation tour". Festarch 2011. Perugia, Italy. 4 June 2011. Lecture.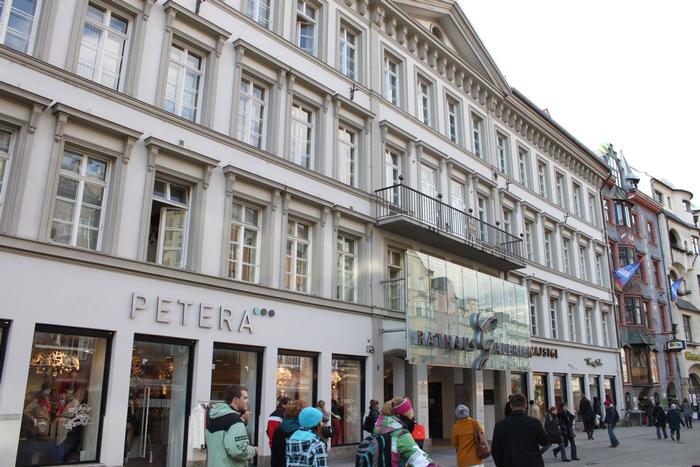 View of Rathaus Galerien from Maria-Theresien Strasse, central pedestrian street.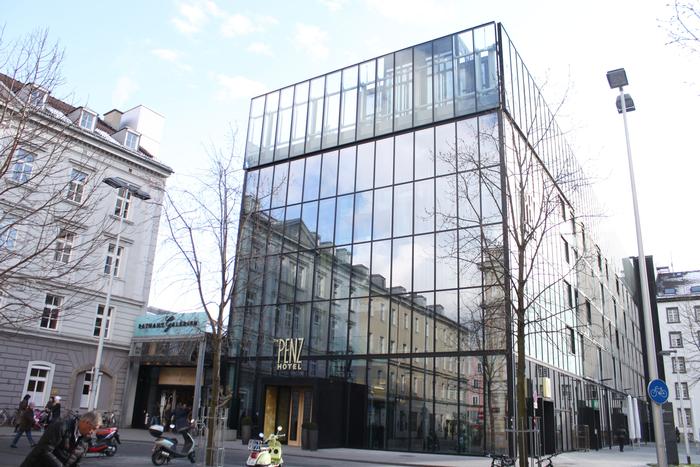 View of Penz Hotel from Steinerstrasse, part of the Rathaus Galerein complex.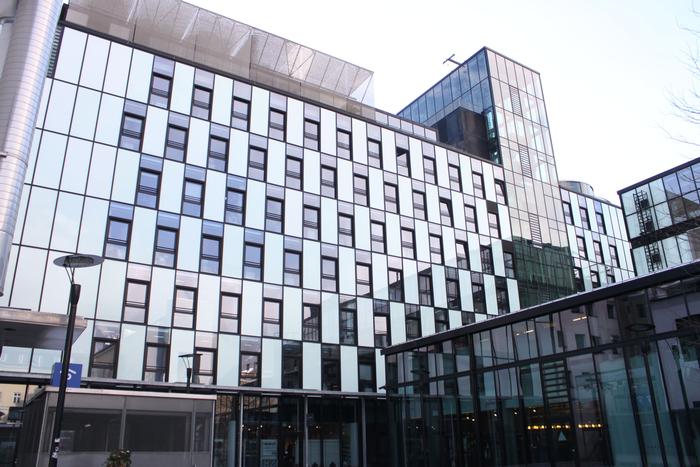 Mirrored surfaces of courtyard achieving similar facade proportions to surrounding buildings.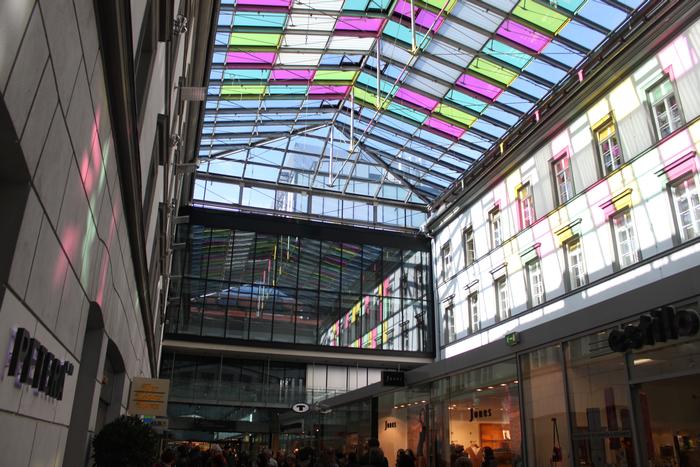 View of central gallery with colourful glass canopy.
If you would like to contact this author, please send a request to info@berkeleyprize.org.
---