[ID:3761] Elder-Friendly Community Building: Civic Space Creation under the Renovation of the Hutong Area
China
Introduction to the Team
One team member does investigations on the sustainable development of Hutong buildings while the other one does research into issues regarding old age social care.The old Hutong area in downtown Beijing is such a place tangled by issues of urban renewal and provision for senior people.
Abstract
This paper discusses the resolutions of the conflict between declining living conditions in the Hutong area in downtown Beijing and increasing demands of high-quality life of its elderly residents. This is done through a series of paper research and field investigations in several Hutong communities in two districts of central Beijing --- Xicheng and Dongcheng. A new model of elderly care is concluded from the analyses of the old town renovation, which aims to create a dynamic community with more social connections and a better environment. It is hoped that the consideration of elderly care in the context of the old town renovation could raise more concern about building an elder-friendly society in which older adults (hereafter refers to citizens over 60 years old) can effectively deal with life's changes and challenges, by sustaining positive relationships and living in better environment. This is of critical importance as China's population is aging and the ongoing old town renovation has influenced elder people's life to a large extent.
Background
Many people who have been to Dashilar in Beijing's Xicheng district would say, this area is different from other places in Beijing. Here hides the original flavor of Beijing, where rows of Hutongs that formed by narrow alleys and one-story Siheyuan (traditional courtyard residences) tell the story of old Beijing. What is inescapable to notice behind this "Beijing flavor", however, is the decay of run-down streets where waters can be up to the calves on rainy days, the embarrassment of sharing one toilet with a whole Hutong alley, and the lonely faces worn by many staggering older adults. Because of those, most of the young people choose to move out of the old town. Once bustling, Hutong alleys now are less busy with fewer talks in neighborhoods.
What raises more concern is the older adults who still live here. Xicheng and Dongcheng districts are densely populated area with over 2 million residents in less than 1,000, 000 square kilometers of city lands. By the end of 2018, there have been 40,6000 registered elder people over 60 in Xicheng district and 28,5000 in Dongcheng district, accounting for 27.7% and 29.3% of their total population respectively. This indicates that, older adults take a relatively larger part of the local population, most of which are over 60 years old but less than 70 years old. How will they live out their twilight years in such a dilapidated area? What do they worry about, other than ratty streets and houses?
People who just retired (the average retirement age in China is 55) faces many changes, both physically and mentally: an aging body, a slower life pace, and a much-narrowed social circle. Except for common physical illnesses, many older adults may also suffer from anxiety, depression and loneliness caused by widowhood and retirement. One survey conducted by a Chinese mental health institution mentioned that, the mental health rate of urban senior citizens is only 30.3%, and people between 60-70 years old are the highest demand group for health education, health management and spiritual comfort. What could the local government do to re-create physical and social environments which support the needs of them?
Community-Based Elderly Care Model
Being cared for by younger generations of family members has always been a tradition in China. No need of elderly care facilities or nursing staffs, home is the most desirable place to spend one's rest of life. In Beijing, the current situation of elderly care presents a "9064" pattern, in which 90% of older adults choose to stay in homes, 6% use government-led care service, and the rest of 4% live in nursing homes. However, with the leaving of younger generations in Dongcheng and Xicheng districts, many older adults are left behind with no one taking care of them. Once, Chinese children were their parents' safety net; while nowadays, busy young people are not able to spend much time with their parents. Then here rises another power to call on --- the community.
The community-based model is supposed to improve the living conditions and create new social networks for older adults, so that they can lead full and productive lives in community. Instead of pouring money to simply build new elderly care facilities overnight, the process of mobilizing current communities engages diverse stakeholders, including residents, professionals, and the neighborhood committees--- one of China's most common grass-root organizations. And they are working together for as long as it takes to achieve the goal, whether one year, three years or a decade. Though this is a lengthy process, it is economic and highly replicable; and the older adults can enjoy the fruits during the renovation, instead of the whole work being completed.
In the renewal of the old town, there are two projects are exemplary for their unique architectural design and humanistic concern, locating in the two wings of the central axis of Beijing city. One is Sanli River Park, sitting in the east wing, Dongcheng district; the other one is "People's Parlor", sitting in the west wing, Xicheng district.
A Greening Linear Park for Social Opportunities
Walking through the crowded Qianmen street and several grey Hutong alleys, one can see trails of green plants begin filling the view. Few steps away, a meandering stream trippingly winds through the verdant lawn. Along the stream stand willows and low commercial stores in a retro style, striking an air of Southern China --- the famous Jiangnan landscape. Looking around, one can find that there are many benches and stone bridges set in the small park.
It is rare to have such a waterscape park in downtown Beijing without enough public land and greenery. This is Sanli River Park. On weekdays, many older adults are very like to do exercise, chat and meet their friends here. Though it is petite, Sanli River Park does not look flat and monotonous with a linear space. Secluded paths and plants paint variable views and lead to different activity spots for broader ages like children and young people. Sometimes, when weather permits, the neighborhood committees will organize various outdoor activities.
Sanli River Park is exemplary of reconstruction in the old town with insufficient land and the communal ties produced by a shared environmental experience. In Hutong alleys, limited by its inner space, it would be impossible to effectively apply large area of greening landscape. After re-excavating the historic underground channel, it is able to reduce some useless building space and increase green space. And by renovation, residents are inextricably linked to their natural surroundings, since the linear waterscape running through the whole park is associated with small squares, benches, fitness facilities and other things that older adults can often make use of. Park infrastructures in the park are aged-friendly with few curb cuts, ramps and sidewalk surfaces. By virtue of the characteristic linear shape, the radiation range of Sanli River Park is expanded to several communities nearby. Having buses, walking paths and sidewalks to approach, this park emerges to be a "social hub"where the neighborhood committees often hold events for older adults.
The Limitation of Traditional Renovation Plans
In addition to linear space, dot space is also endemic to the Hutong area. "Micro Yuan'er", a library and art center, is built by a well-known Chinese architect Zhang Ke, aiming at keeping the architectural texture of Siheyuan while decluttering the public space to provide residents with a cleaner and more comfortable living environment.
Before, "Micro Yuan'er" is a typical Siheyuan, once occupied by a dozen families. Over the past five decades each family built a small add-on kitchen in the courtyard. Under a big ash tree, one of the former kitchens was redesigned into a mini art space made from traditional bluish grey brick. On the other side of the yard, a nine-square-meter children's library was inserted underneath the pitched roof of an existing building. Unfortunately, this delicate renovation has not been properly used. Five years after the building was implemented, except for a few children and counseling agencies who initially used the space, most of the time it was left unused.
Gold ideas become naught and one reason is the unreasonable analysis of its target audience. "Micro Yuan'er" was originally designed to serve children, but most of the residents in Xicheng district are elder people; besides, unlike linear space such as Sanli River Park, a Siheyuan is a dot space which is quite limited in its radiation range. For a relatively isolated building, unless the density of such buildings is high in this surrounding area, it is difficult to reach as much as target audience in its service radius. What is worse, "Micro Yuan'er" lacks follow-up operations. It only has a gatekeeper for reception of visitors, without any form of community activities or promotion among residents. As time passes, it has been gradually fading out of the public.
The Active Participation of the Neighborhood Committees
Not far from "Micro Yuan'er", there is another Siheyuan called "People's Parlor". It is of humble construction, which only facades are painted and sundries piling up are cleaned in the yard. There are four houses embedded in it playing different roles: repair center, public canteen, meeting room and office room. A green roof climbed by plants is set above, casting a shadow on the ground.
Here the neighborhood committee is in charge, offering over 100 personalized service items in order to meet the daily needs of older adults. Elder residents can buy fresh vegetables at a sound price, enjoy affordable and tasty meals when they are not able to cook by themselves, and find cheap laundry service. Besides, considering the difficulty of finding repairing workers by residents themselves in the Hutong alleys, the committee also provides on-site repair service with residents. It receives about 50 orders every month, of which 30 orders are free.
In the past, there was no public space in Hutong communities to hold parties or meetings. When people wanted to do so, they could only ask for some companies whether a meeting room could be rent. "Actually, they don't have much to ask for. Like young people, older people also want to find a place to do their social life, chatting and drinking with their friends", said by one of the committee staff, "some of them want to learn to use smartphones, and now we are preparing some tutorial courses for them. Once we have the place, we will hold more activities here."
Although "People's Parlor" is also a dot space, it is actually connected to a huge "net" in the community. Uniformly managed by the neighborhood committees, it has a link with other elderly care stations, like public baths where eligible elders and disabled people can have two times a month of free bath service; community schools for older adults, where elderly people could take part in reading discussions and calligraphy exhibitions; public meeting rooms in which regular salons and art shows, etc. Through the organization of the neighborhood committees, these "dots" make up a "net" with an even wider audience, successfully breaking its "isolation". This could be concluded that, the capacities for uniform management and group actions count a lot along the journey of building an elder-friendly community.
The New Operational Mode of Public Space
To create more public space in the old town, the removal of old buildings and the assignment of property rights is necessary, while the intransigence of residents can be a daunting problem. Some residents are not satisfied with their compensation for demolition; while some of them are dying to change the old town, but also worry that whether the renovation is going to be disruptive.
In response, Beijing Dashilar Investment Co., Ltd collaborates with the local government to negotiate with residents to rent out their houses to creative companies or move with compensation, and residents can also choose to stay. In the past, there used to be many conflicts between the government and residents who were forced to leave their homes; and it could cost the government a huge amount of money in moving expenses and renovation fees. By doing so, the government simply plays the role of middleman, while the companies which rent the houses are going to renew the buildings and the operational contents. What's more, Dashilar Investment Co., Ltd also helps older adults to accept new changes in their communities when new businesses inject fresh blood to the decaying town. Many people who have questions about the plan which is somehow alien to them, can gradually understand the purpose of the renovation.
On top of that, Dashilar Investment Co., Ltd often collects residents' opinions about the renovation of the houses and streets. For example, during the 10-months construction of "People's Parlor", the company has always been discussing the plan with residents, from the proposal to the construction scheme. Without the communication of the constructor and residents, this cannot be a peaceful transition.
Conclusion
In summary, the two projects successfully balance the necessities of elderly residents and a sensitivity for the Hutong environment through effective community management and critical architectural design: elder-friendly design that makes intentional use of regional geographic features, utilization of existing local resources, and an elderly care model that is both adaptable and replicable, relying on community engagement.
In today's Beijing, the population is aging rapidly; meanwhile, in the center of Beijing, a new community is growing, which can play the duty as many old age homes do for its residents.The ongoing renovation plans in Beijing's old town maximizes the public elderly care resources, by renovating existing private house-settings to create more public space and green space in the city center. And through the organization of the neighborhood committees, older adults are able to be active and engaged in their communities.
In China's other cities, there are many populated old towns that share the same characteristics in population development and current problems with Beijing's Xicheng and Dongcheng districts. For them, the renovation experience of the Hutong area could be one example, which is going to be low-cost without extensive renovation and be fit into the Chinese elderly care tradition to stay at home. This is a long journey to go whereas it will have a far-reaching influence on China's elderly care model and renovation in the city old towns.
Works Consulted
[1] Cuyahoga County Planning Commission. (2004). Guide to Elder-Friendly Community Building. Ohio: Cuyahoga County Planning Commission.
[2] Cheng Xiaoqing. (2015). "The Retirement Homes in Hutongs: Studies in the Construction of Livable Elderly Facilities in China's Old Urban Districts." World Architecture 11: 22-29.
[3] Luo Sheng, Li Wei, Zhang Jin, et al. (2016). "Research on the Demands of Elderly Care Services in Urban Communities Based on the Correspondence Analysis." Chinese Journal of Health Statistics 33(5): 880-882.
[4] Luo Li, Luo Sheng, Zhang Jin, et al. (2018). "Research of the Mental Status on Different Types Elderly in Urban Communities Based on the Correspondence Analysis." Chinese Journal of Health Statistics 35(2): 209-211.
[5] Zhang Wanfeng. (2011). "Investigation of Outdoor Residential Environment of the Elderly in Beijing Hutong Area" (Unpublished master's thesis). Tianjing University, Tianjing, China.
[6] Zhang Huaxi. (2016). "Research on the Creation Strategy of Dashilar's Service Center for the Elderly and Handicapped" (Unpublished master's thesis). Tsinghua University, Beijing, China.
[7] "The Elderly Care Services in Dashilar" 24 December 2019 http://www.bjwmb.gov.cn/zxgc/wmsj/t20191225_960262.htm.
[8] " The Joint-Efforts of Elderly Care Stations in Dashilar" 24 December 2019 https://www.bianchengq.com/news/a/0H0_362515435_114988.html.
[9] "The Inauguration of the 'People's Parlor'" 10 October 2019 http://www.dashilar.org.cn/ing/iFresh/t2369.html.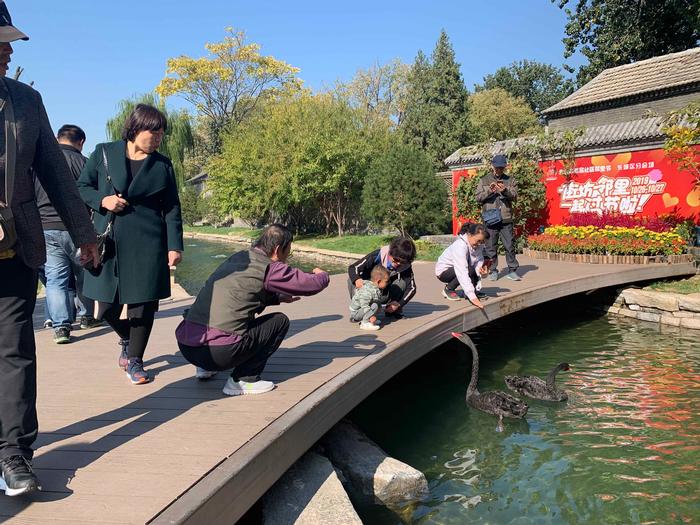 Senior people and children are feeding the red fish. Red posters behind introduce the events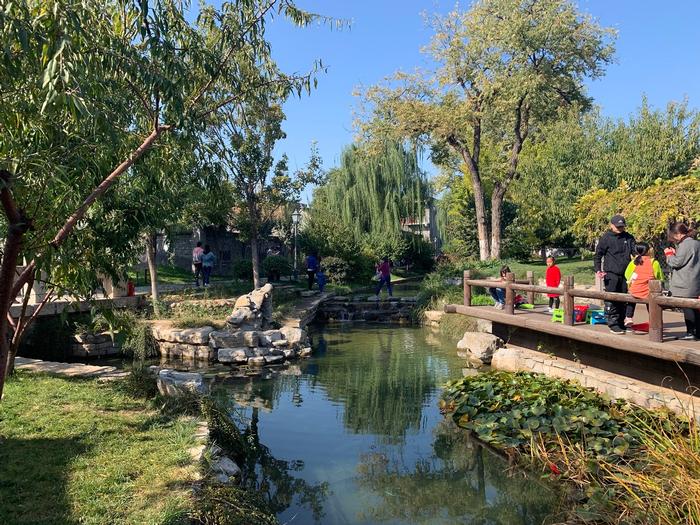 The stream connects different activity platforms in the park, running through the whole neighborhood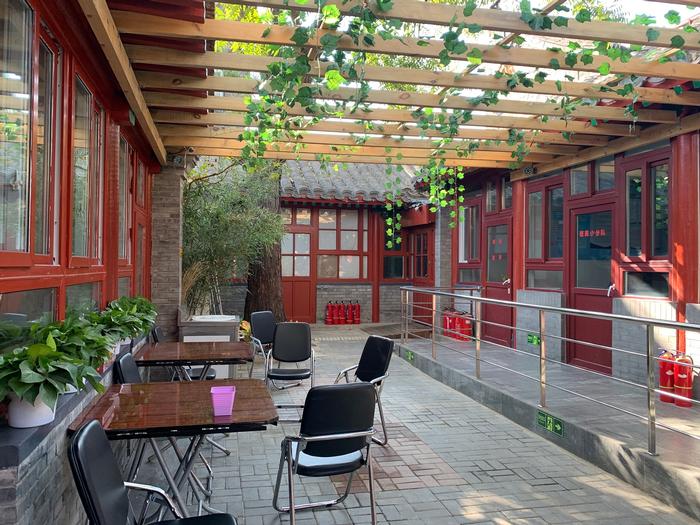 Rooms with diverse functions are set in "People's Parlor". Above, there is a roof with green plants.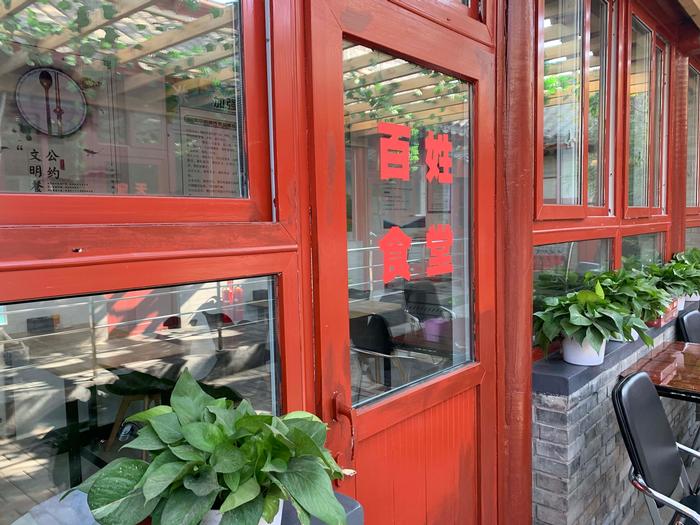 The public canteen: neat settings, and the community convention is marked on the wall.
If you would like to contact this author, please send a request to info@berkeleyprize.org.
---