[ID:3160] Bahay Kubo Reimagined: A Way of Future-Proofing a Disaster-Prone Country
Philippines
"Climate change is the single biggest thing that humans have ever done on this planet. The one thing that needs to be bigger is our movement to stop it." - Bill McKibben
Time seems to pass rather swiftly right beneath our noses. Several decades ago, observable effects of climate change on the environment, like irregular weather patterns, rising sea levels, catastrophic storms, raging wildfires, extreme drought, and retreating glaciers, are few and far between. At this point, what were once projections, are now actually taking place and the magnitude of these repercussions are exacerbating across the world. (1) Our planet is getting warmer and warmer that seventeen of the eighteen warmest years on record have occurred since 2001. As Greenland and Antarctic ice sheets melt, sea level rises rapidly. Extreme heat has left millions of people in need of food assistance, not just in Ethiopia and India, but across the globe. In California, extended summer dry season caused plants and trees to dry out more each day; thus, increasing their vulnerability to destructive wildfires. (2) The Enterprise Bridge, that used to pass over a full Lake Oroville, now passes over a nearly dry lake as water levels reach historic lows in the State. Now, who's to blame? When we started to produce electricity and power our cars by cutting down vast number of trees and burning up coal, oil and gas supplies, and when buildings became exclusively powered by mechanical systems, we began making a drastic change in the chemistry of the atmosphere that continuously disrupts the delicate balance our ecosystem once had.
One moment, severe drought and water shortage tops the headlines, and then suddenly, a deluge of flooding wipes out livelihoods and communities. Overwhelming disruption of typical weather patterns seem to be the norm now. Super typhoons that used to make landfalls every 10 years now break windows, down power lines, trigger landslides and leaves the most vulnerable communities devastated yearly. This is the grim reality the Philippines is facing as climate change takes its toll. Due to its archipelagic geography, and environmental and socioeconomic situation, the Philippines ranks 3rd in the most vulnerable countries to climate change globally. (3) It is not only more exposed to extreme weathers like abundant, flood-causing cloudbursts and intense droughts, but it is also less capable to cope with the extreme weather events and natural calamities brought about by climate change primarily due to its rapidly increasing population and urban migration. (4) As cities in the Philippines become more populated, problems in waste and housing, pollution, and encroachment of upland forests intensify climate risks. Not only that but poverty, the lack of knowledge and means to protect itself, and its inability to cope and manage its surroundings make the country's vulnerability to climate change even worse.
Years of following a do-nothing scenario must break off. On the brink of pronounced climate change and rapid urbanization, the need for resilient and climate-responsive designs has never been so acute. In this paper, principles of sustainable design will be used to dissect and understand how Filipino ancestors developed the bahay kubo, an indigenous structure in the Philippines, to adapt to differing climatic conditions and why the recently proclaimed National Artist Francisco Mañosa and his firm adapted its design strategies in defining what is now the contemporary climate-responsive Filipino architecture.
Long before the first foreign invaders landed their feet on the soils of the Philippines, there exist several variations of bahay kubo based on varying locations and climatic conditions it lies on. Over the waters of Basilan and Sulu, a bahay kubo is raised on stilts as protection against flooding while adapting to their coastal lifestyle. In lowland Pampanga and Quezon, bahay kubo is elevated one to two meters from the ground to safeguard the shelter from flood and wild animals. When you trek up the mountains of Baguio and Mountain Province, stone flooring acts as a radiator to make the structure warm during the night since the temperature is colder in higher altitude. What made these alterations of bahay kubo similar to one another is that they were all a one-bedroom cubic raised house with no interior partition and capped with steeply-pitched roofs. They all have small door openings on one side and big awning windows on the other side. Another recognizable feature is a 'silong' or basement that serves as a storage area or a space where you could house your animals like chicken, dogs or cats. In some cases, a 'silong' is also used as a workspace. They were all also made of low-cost, lightweight and vernacular materials that are readily available in their areas. Until now, bahay kubo is still prevalent along the countryside. But what makes the bahay kubo stand the test of time?
According to Architect Angelo Mañosa, son of Francisco Mañosa, traditional bahay kubo has always been green. From his point of view, the bahay kubo may be an architecture without an architect, but it provides a surprisingly practical template for designing climate-conscious and energy-efficient architecture. It primarily functions as a moderator of the environment by controlling the heat flow, air flow and solar radiation to create a conducive and favorable internal environment. Its large, high-pitched, thatched roof allows stack effect to happen, permitting hot air to escape during summer, and acts as a deflector of rain during the peak of monsoon seasons. Large overhangs shade the walls, as well as its surroundings, and keep direct solar gain out of the building. Landscaping plays a vital role in pre-cooling the ventilation air before coming in the bahay kubo. Using appropriate plants increase shading on windows and the structure's envelope. Fenestrations held open by a simple sturdy rod or 'tukod' and doors are strategically situated to make full use of natural sunlight to minimize the dependence in artificial lighting and also to take advantage of the prevailing winds from the southwest for passive cooling. Its building envelope, usually made of nipa leaves or bamboo mats, intrinsically create natural cooling effects inside as these materials do not hold heat unlike concrete, a material used predominantly in the Philippines today. The basement or 'silong' acts as buffer to prevent flood and pests from getting inside the structure while allowing cool air to naturally flow into the living quarters through the bamboo slat floors. Bahay kubo is made of low-cost, vernacular materials, thus reducing carbon footprint in construction. And yet it is strong enough to outlive typhoons and it even withstood the ash fall from the eruption of Mt. Pinatubo, when most of the contemporary houses failed to survive.
In terms of comfortability of a bahay kubo, I interviewed someone who chose to reside in a bahay kubo in the middle of the city full of structures enclosed with concrete and large glass windows. According to her, she adapted easily and often feelt more relaxed due to a more refreshing environment a bahay kubo brings. The morning breeze the bahay kubo offers gives her the serenity she needs when doing something important. She has also been more productive ever since she resided in a bahay kubo because of the warmth and mood it gives. Although, the biggest challenge she has faced living in a bahay kubo would be the frequent typhoon visit because the rain can be very disturbing when she wishes to watch television shows, sleep or study thus limiting her productivity. In connection to health and wellness, she also believes that it's not ideal to live in a bahay kubo if it's situated in a city due to severe air pollution compared to living in a province with lesser population.
Better than a lot of people think, a bahay kubo can withstand torrential storm surges and unpredictable earthquakes. It may seem small and unsteady, but when in it comes to its ability to endure and maintain operations in extreme climatic events, it has remarkable performance. It operates beyond the idea of just surviving as it is also adaptive and transformable. Its simple, compact and symmetrical shape resists high winds by allowing them to just go around the structure. This configuration also helps resist lateral forces brought about by strong shaking of the ground. The use of hip roof lessens wind pressure and decreases the risk of structural failure compared to a flat or gable roof. By elevating the whole structure, flood waters cannot enter the house. Traditional wood joinery also helps keep the structure robust. Since it is made up of easily sourced materials like bamboo, wood and nipa leaves, it allows for ease of construction and maintenance. It's no wonder the Bahay Kubo's fundamental principles are used by modern Filipino designers such as Mañosa to address the climatic challenges of today.
To respond to modern societal complexities, Francisco Mañosa and his design company kept the design principles and fundamental elements of a bahay kubo that work, and interpret these to design contemporary structures for today's needs and lifestyles. Architect Mañosa, pioneer of Philippine neo-vernacular architecture, is remarkably known for expressing Filipino identity in architecture while integrating sustainability in his works. He based his designs in what he called "Philippinism" against the trend toward burgeoning foreign architectural styles, like Scandinavian, Miami-like or classical, that were impractical and unsuited to our local climate and culture (Mañosa). How he combined traditional forms and indigenous materials with modern building technology to create sustainable structures while creating as little carbon footprint as possible is consistently reflected in his works such as the Coconut Palace in Manila, San Miguel building in Pasig, Amanpulo Resort in Palawan and more sustainable homes scattered around the metro.
One of the more recent climate-responsive structures he designed is the Ateneo Professional Schools. Despite being a 20-year-old building, it stood amidst the high-energy consuming glass skyscrapers infiltrating Makati's urban fabric. Just like La Roche, Mañosa believes that energy consumption should be kept to a minimum by using natural ventilation while mechanical system should be utilized only when it is necessary. Ateneo may seem like a massive, monolithic building from the outside, but when I first entered this structure, I instantly got carried away by the abundance of natural light illuminating the internal environment. Upon entering the stone structure he designed, natural ventilation also welcomes you through the generous, open atrium that provides fresh air microclimate in the area. This U-shaped campus building has high ceiling and vents to make the interiors cooler and more comfortable by employing the concept of stack effect. One of the students I conversed with asserted that by doing so, it stimulates a good environment conducive for learning. This feature alone makes them feel relaxed despite the heavy workload law and business students have. Pocket gardens also aid them to avoid the feeling of claustrophobia and deprivation inside. Making the design more Filipino, multiple roof decks were built for social interaction that we call locally as 'azotea'.
Ateneo Professional Schools' location was intensively studied to orient the structure to take full advantage of prevailing winds deflected by its neighboring buildings. Sun's natural patterns and the concept of passive ventilation were used to modify the building's temperature through the intelligent placement of doors and windows. Sloped windows inspired from bahay kubo keep the occupants from direct sunlight and rain. Plant boxes visible in its exterior also act as sunshades. To dissipate heat coming into the building, landscaping dominated the structure's exterior and interior. The use of stone to insulate against heat is also one of the preventive design measures Mañosa and his team considered for the hottest parts of the building. Although this may not be enough to adapt to our changing climate, what's important is the direction towards incorporating energy-efficient systems, sustainable materials and earth-friendly construction practices in designing structures has been paved. It is now the question of who will join him in the quest of building more resilient and sustainable edifices in the Philippines and how will technology be used to provide a positive impact to the users and its environment.
Architecture is not always about designing to please the eyes of the clients or copying what's popular in a certain time. With the tempestuous weather events we might face in the future, architects must design structures that promote sustainability without compromising the design performance. Architects should act as the fulcrum of sustainability to solve the ever-changing needs of our society and see these through adaptation, mitigation, and resilience lenses. In addressing the issues of climate and climate change through architecture, factors like functionality, comfortability and resilience to extreme weather events must be the top priority. We have learned from the bahay kubo and Architect Mañosa that sustainable design approaches can not only solve today's climatic challenges, but also express one's cultural identity. As the American Institute of Architects (AIA) suggests, architecture in this era of climate change is about designing for the community, ecology, water, economy, energy, wellness, resources, change and discovery to combat the harsh forces brought by wind, sun and water. It is about applying architectural techniques to create a favorable spatial environment by understanding the different climatic regions and design methods (Olgyay). In designing, we have to consider the impact of architecture to its surrounding community and its ecosystem to reduce the impact of our structures to the environment. If done properly, utilizing energy-efficient systems, sustainable materials and earth-friendly technology in construction often results to cost-effective and high performing design. More importantly, functionality must not be compromised and the comfort and health of the users must not be disregarded. After all, they will be the ones who will write the narrative of the structures architects design.
In the last century, our efforts to modernize and make our lives easier using automobiles and extensively energy consuming systems had separated us from the once beautiful natural environment we took for granted. The future may seem Armageddon-like, if we still have a future. But we always have two options. As Rachel Carson writes, "We stand now where two roads diverge. But unlike the roads in Robert Frost's familiar poem, they are not equally fair. The road we have long been traveling is deceptively easy, a smooth superhighway on which we progress with great speed, but at its end lies disaster. The other fork of the road – the one less traveled by – offers our last, our only chance to reach a destination that assures the preservation of the earth." This essay would end by asking this question, are you a sensible architect who designs for the people and the environment, or an architect for himself?
References:
(1) Global Climate Change: Evidence. (2008, June 15). Retrieved January 14, 2015, from http://climate.nasa.gov/evidence/
(2) Borunda, A. (2018, November 5). See how a warmer world primed California for large fires. Retrieved from https://www.nationalgeographic.com/environment/2018/11/climate-change-california-wildfire/
(3) Paun, A; Acton, L.; et.al. (2018, March). Fragile Planet: Scoring climate risks around the world. Retrieved from https://www.sustainablefinance.hsbc.com/our-reports/fragile-planet
(4) Second National Communication to the United Nations Framework Convention on Climate Change. Retrieved from https://unfccc.int/resource/docs/natc/phlnc2.pdf
Woodall, J. (2016, July 14). Climate Resilient Design: Setting the Standard. Retrieved from https://hcma.ca/climate-resilient-design/
Wetsman, N. (2018, July 3). No Air Conditioner Needed: These Building Cool Themselves. Retrieved from https://www.thedailybeast.com/no-air-conditioner-needed-these-buildings-cool-themselves?source=email&via=mobile
Olgyay, V. (1963). Design with climate: Bioclimatic approach to architectural regionalism (4th Printing ed.). Princeton: Princeton University Press.
Caruncho, E. S. (2012). Beyond the bahay kubo: 16 climate-conscious tropical homes by Man?osa. Manila: Tukod Foundation.
Interview with a bahay kubo user on January 11, 2019.
Interview with students of Ateneo Professional Schools on January 11, 2019.
Interview with Architect Angelo Mañosa on January 23, 2019.

entrance to a Bahay Kubo, a stilt house made of vernacular materials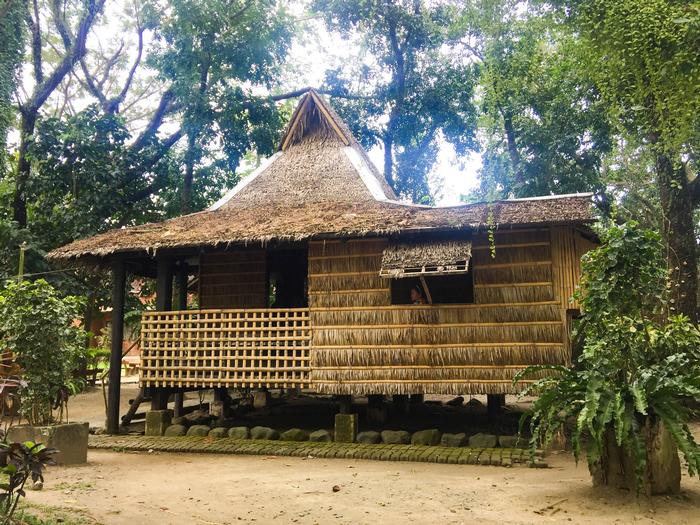 side view of a Bahay Kubo showing its stone flooring in the 'silong', pitched roof & awning window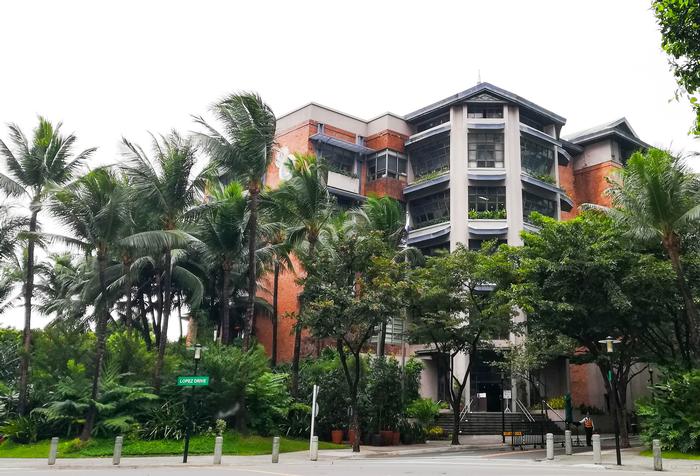 a photo of Ateneo Professionals Schools' front facade captured during a typhoon signal no. 1.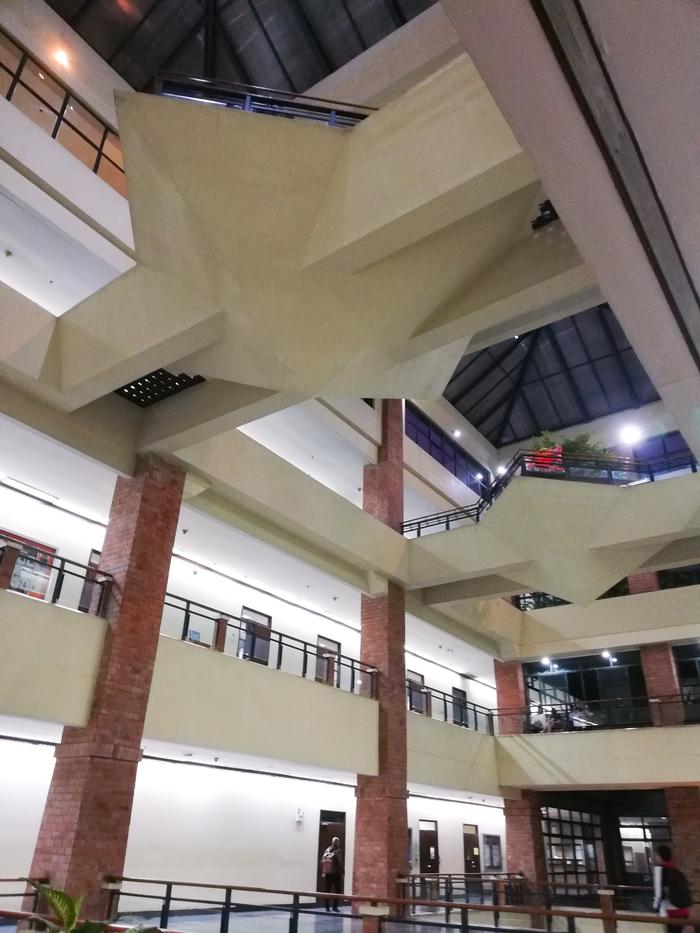 interior of Ateneo Professional Schools at 6 o'clock in the evening
If you would like to contact this author, please send a request to info@berkeleyprize.org.
---