[ID:2607] Communicating with the society through the social art of architecture
Pakistan
I didn't know who 'Jamshed Nausserwanji' was until I joined Indus Valley School of Art and Architecture. Before joining Indus, whenever I used to pass by its building I always used to wonder what is this historical building doing here in an area that is entirely new because the typology of the building was completely different compared to its neighborhood. It always fascinated me, made me think and question because it was the only heritage building in the entire neighborhood. After I joined Indus valley school, I got to know that this hundred year old building i-e Nusserwanji building was relocated from an old neighborhood of Kharadar, brick by brick and was transplanted here to our school campus in 1991. It made me very curious and I later found at an event of our school that this building was named after 'Jamshed Nusserwanji Mehta' who used to be a superhero for my city Karachi just like batman is for Gotham. But I had many questions in mind that if he used to be such a significant being for the Karachi city then why haven't I ever heard of him? I have been taking history courses all my life but then how come I have never read up on him. Why is he not there in our history books?
To understand all of that first of all we need to know who Jamshed Nusserwanji was and why he is so important to be a part of this discussion.
To conduct my research, I interviewed one of my neighbors, Shafiq Sahab who is my grandfather's age. He used to meet Jamshed Nusserwanji at the Karachi's theosophical society before the partition of sub-continent in 1947. He gave me one of the books from his collection which was about Jamshed Nusserwanji. The book begins with a quote,
"The true aim of social work is to give opportunities, amenities and right direction to those who lack these, to enable them to take a step forward in the right direction.
I pray daily to God;
• God, make me useful,
• God, keep me harmless,
• God, Keep me pure,
• God, make me your channel.
This is all I Pray".
-Jamshed Nusserwanji
Half of the essay question gets answered in the above mentioned words of Jamshed Nusserwanji, if you analyze them deeply. Indeed the practice becomes a social art when it gives, 'opportunities, amenities and right direction to those who lack these'. And by practicing social art of architecture as an architect we can communicate with the society and provide it with an architecture that is utterly socially responsive.
Now coming back to Jamshed Nusserwanji,
The architect of modern Karachi, Jamshed Nusserwanjee was born in 1886 in a well-off Parsi (Zoroastrian) family. He gave his entire life doing social projects and displayed a profound civic sense and concern for the welfare of the people of Karachi. He developed the city Karachi by setting up hospitals, schools and parks. His projects benefited communities not just belonging to his own Zoroastrian or Parsi community but also the Christians, Hindus and Muslims living in Karachi. He served the city without any inequity. As the first mayor of Karachi, he also proposed a cultural center for all the communities in Karachi, Where people of different creeds could celebrate their holy days and attend ritual sessions. It was his dream to bring all the communities and religions together.
During his presidency and mayor-ship Karachi turned from a fishing village to a well-planned city and developed economically as well as socially.
After going through a brief biography of Jamshed Nusserwanji, it can be concluded that his entire life was an epitome of practicing social art. He did so much for my city yet no one remembers him today.
Jamshed Nusserwanji's idea of bringing the communities together ended with the tragic partition of sub-continent in 1947. He was forced to migrate from Karachi because sub-continent got divided into two separate independent countries i-e India and Pakistan. The Parsi community became a minority in Karachi. A person who literally was the superhero of Karachi got forgotten just because he was a Parsi and his beloved city was now a part of Islamic republic of Pakistan. We as the citizens of a Muslim country didn't feel the need to remember a Parsi superhero who became a religious minority in the city he once owned. The old building which commemorates the Parsi father of our city i-e Nusserwanji building was neglected for 50 years and was later put for demolition despite having attached a great historical significance to it.
When we think about the identity of Karachi and its history we can't ignore recalling Jamshed Nusserwanji. We need to understand and acknowledge his contributions in making Karachi what it is today.
Right after the tragic partition of 1947, marginalization of communities and religions took place. As a consequence to that, Karachi faced major identity crisis and it was majorly because we didn't want to accept the history of our city. But the history can't be changed nor can it be ignored. It is always important to know the history of a city or a place in order to shape its identity and create an architecture that speaks to the people and creates a sense of place and belonging in them, an architecture to which the city and its people can relate to. And doing that is what makes the practice a social art.
We forget that a wise man once said, "No future without a past". Karachi has a very bright past; we've forgotten it and it needs its revival.
In our case, it is important to remember Jamshed Nusserwanji who gave all of his life in shaping Karachi. And, that is what the campus of my school does, it commemorates him. An old building standing in a new neighborhood narrates an entire forgotten history. And not only has it reminded us of our forgotten past, it also plays a huge role in supporting a community of open minded individuals by narrating its own history. It also acts as a model for its students and for the future architects by making them understand their social responsibility and by teaching them how to save the heritage when it's almost impossible.
To understand it further we need to know all of the phases the building has been through.
Back in 1990, Indus Valley School of Art and Architecture was in search of a suitable design for its new campus in the posh locality of Karachi near the well-known seaside and beach at Clifton. At that time one of the founder of our school Shahid Abdullah discovered the Nusserwanjee Building in an old neighborhood of Kharadar, which was to be demolished as the owners were planning a commercial high-rise building on its land.
This dressed sandstone Ashlar masonry building offered a rare opportunity to attempt a new manner of preserving the old. The architects of the city tried everything to save the building but when there was no other option left to save it from demolition. A group of about 12 architects dared to fulfill their social responsibility by relocating the entire old building from its original home, brick by brick to the campus of an art and architecture institution which was under construction at that time.
The relocation of Nusserwanji building was the first and biggest building relocation project in south Asia, undertaken by the students and institution of the Indus Valley School of Art and Architecture.
The aims and objectives of the founders of Indus valley school were
"The building would be able to
(1) Save it from the inevitable demolition and destruction,
(2) Introduce a novel method, an alternative way to save our architectural heritage,
(3) Provide a hands-on, once in a lifetime experience to both the students and faculty in the area of conservation and finally
(4) Through the process of giving fresh lease of life to the building, pay homage to and perpetuate the memory of the Nusserwanjee family, particularly of Jamshed Nusserwanjee Mehta, the philanthropist, theosophist, the first mayor of the city, the architect and father of modern Karachi and without doubt its most outstanding citizen".
However, the building faced a lot of criticism when the original concept was being discussed for relocating a hundred year old building, brick by brick from the congested central business district to the spread-out sea-side campus premises, of Indus valley school, some 10 km away from the actual site.
The criticism from various quarters started due to
(1) rationale of saving a colonial (British Raj era) style structure and of a non-compatible nature to the educational institution,
(2) the high costs involved due to specialized conservation work required in taking down the building piece by piece and then its reconstruction at the new location, and
(3) Pure aesthetics and design related consideration of merging two very opposing styles of architectural vocabulary.
But Indus Valley School managed to override the criticism and succeeded in conducting an entirely new type of experiment in this part of the world.
After over 50 years of the founding of Pakistan, Twelve architects managed to save the colonial legacy by saving the Nusserwanji building from demolition and carved its due niche in the cultural psyche of the nation.
This experiment of honoring old along with the new, can become an example for other projects across the world.
I want to end the first example of my essay with a quotation,
"Whatever good things we build end up building us." -Jim Rohn
Up till now the essay has been about Karachi but now it's diverting towards a different perspective of communicating with the society through the social art of architecture in a different city.
I grew up in Karachi but I was born in Lahore, A city known for its rich culture, heritage and food. I visit Lahore once a year because my grandparents live there. While Karachi has lost most of its heritage and Nusserwanji building is just one of the examples of how the heritage in Karachi has been neglected. Lahore on the other hand has a lot of culture and heritage to offer. I have always been fascinated by the Mughal architecture of Lahore.
In my childhood, I remember going to Lahore fort and Badshahi Mosque. The two most famous tourist attractions of Lahore built by the great Mughal emperor Akbar. From one of the windows of Lahore Fort, I saw these colorful houses with Jharokas (traditional overhanging enclosed balconies) and while I was getting fascinated by the sight of those colorful houses, our tour guide pointed at those houses and said this is 'Shahi Mohalla' (The royal neighborhood) commonly known as 'Heera Mandi'. I asked my parents about Heera Mandi while we were at the Lahore fort and they deviated my mind by saying something else so that I don't ask about it again. But I was a child and I was very curious. So, I went home and asked my Grandmother 'What is Heera Mandi?' She got so offended that she asked me to never use this word again. She said, 'It is a bad word and people from good families do not use such bad words'. And now in the present day, Heera Mandi has become the identity of Lahore and a famous tourist attraction. If one visits Lahore he doesn't leave without going to Heera Mandi. People now come to Heera Mandi with their families. The only difference is that, it is now known as the 'New food street of Lahore'.
When the new food street was inaugurated on the fort road in 2012 I was shocked because the street was a part of the renowned red-light area of Lahore i-e Heera Mandi. Cafes and restaurants of the food street were built in the brothel houses. Those colorful houses with jharokas that fascinated me in my childhood were actually the brothel houses which are now turned into café spaces and restaurants.
The new food street of Lahore celebrates the food culture of Lahore, generates a sense of companionship among people and breaks away all the stereotypes and taboos of the society. It all started after Cukoos café the oldest heritage building on the street gained popularity. The Cukoos café is not just about food but also a manifestation of the life of an illegitimate painter, Iqbal Hussain.
Iqbal Hussain was a son of a prostitute. He had a very disturbed childhood because the society teased him for his shallow family background. He would spend his day babysitting his sister's illegitimate daughter as both his sister and mother entertained clients in their home. He was brought up in a house where the stains of chewed beetle leaf marked the walls, the paint peeled off the walls, other than tattered floor cushions no other furniture was in his house. Despite such surroundings, Iqbal Hussain called this house his home, the most comfortable place he knew cursed by the society. He turned that house into a piece of social art through his Individual artistic creativity and it later became the most famous tourist attraction.
Iqbal Hussain believed that he should give back to his community and help the people of the red-light district area through his knowledge and creativity. He supported the entire community of Heera Mandi in which he grew up and was teased for all his life, by turning his own brothel house into a café known as Cukoos cafe and molded it into a piece of art by incorporating his own artwork in the architectural details and created an architecture which narrates his own story and conveys his message to the society and breaks all the stereotypes and taboos of the society.
The entire café has an amazing pass through and pass by experience. The journey from the entrance to the dining area at the roof top has many stages. You can't ignore looking at the paintings of Iqbal Hussain that narrate the stories of prostitutes and their lives while passing by the gallery space of the cafe. Heading up through the confined staircase of teak wood is a whole new experience, the faint sound of bangles and ghungro (dancing bells) can be heard tinkling to the beat of the tabla and the strum of the sitar.
The Cukoos cafe has a view of the famous Badshahi Mosque which is the most iconic landmark of Lahore from the Mughal times. Iqbal Hussain used that historical aspect of his house very creatively to communicate with the society by celebrating the food culture of Lahore. He brought the people from good families to the notorious street of Heera Mandi which was once a taboo.
Coming to the conclusion, I believe the two buildings discussed above both best typify the social art of architecture in my local community. They both communicate with the society through the social art of architecture by the commemoration of place and artistic creativity. The Nusserwanji building saves Karachi from losing its heritage. Whereas, Cukoos café on the other hand uses the rich heritage of Lahore to communicate with the society.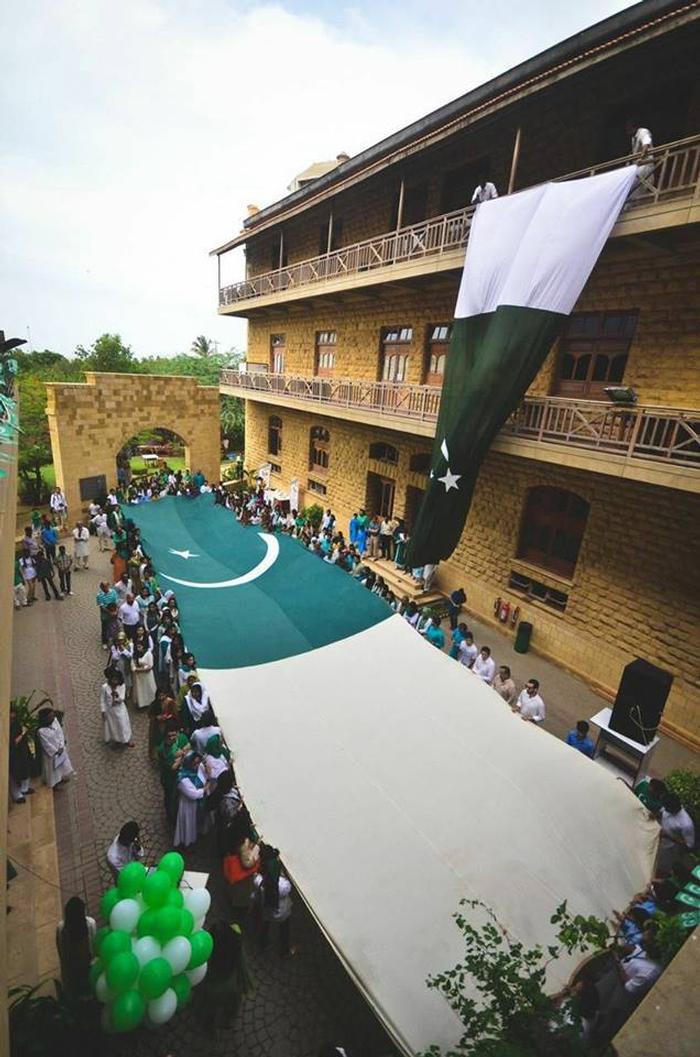 Independence Day celebration at my school campus, Pakistani flag on the Nusserwanji building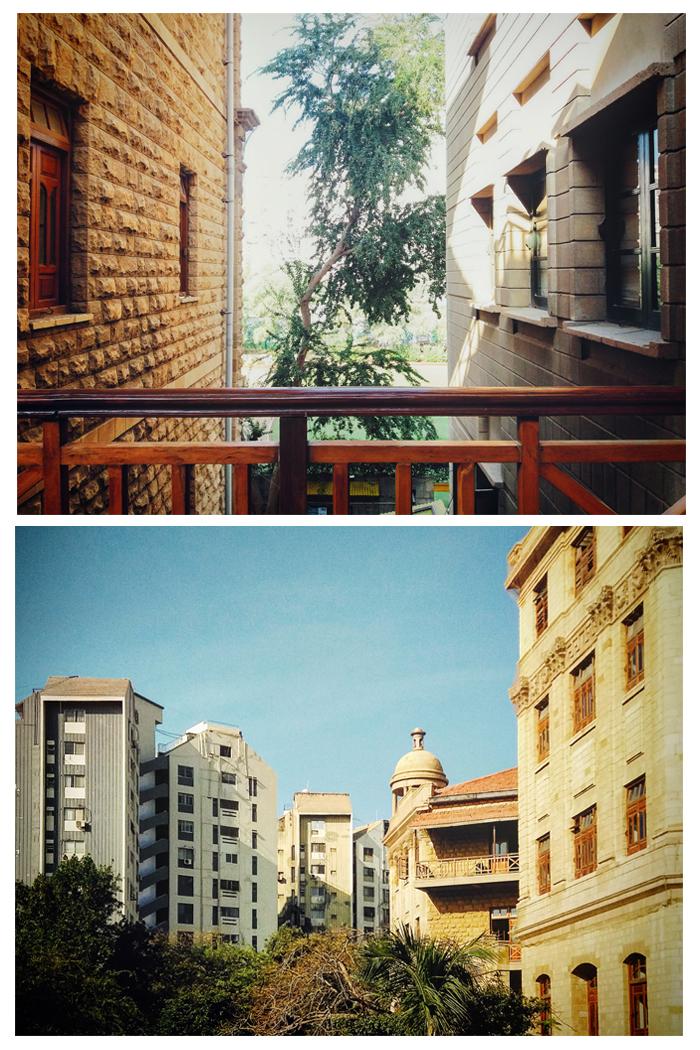 Nusserwanji Building: The juxtaposition of Old and New.

The New Food Street of Lahore (Cukoos cafe is the second last building)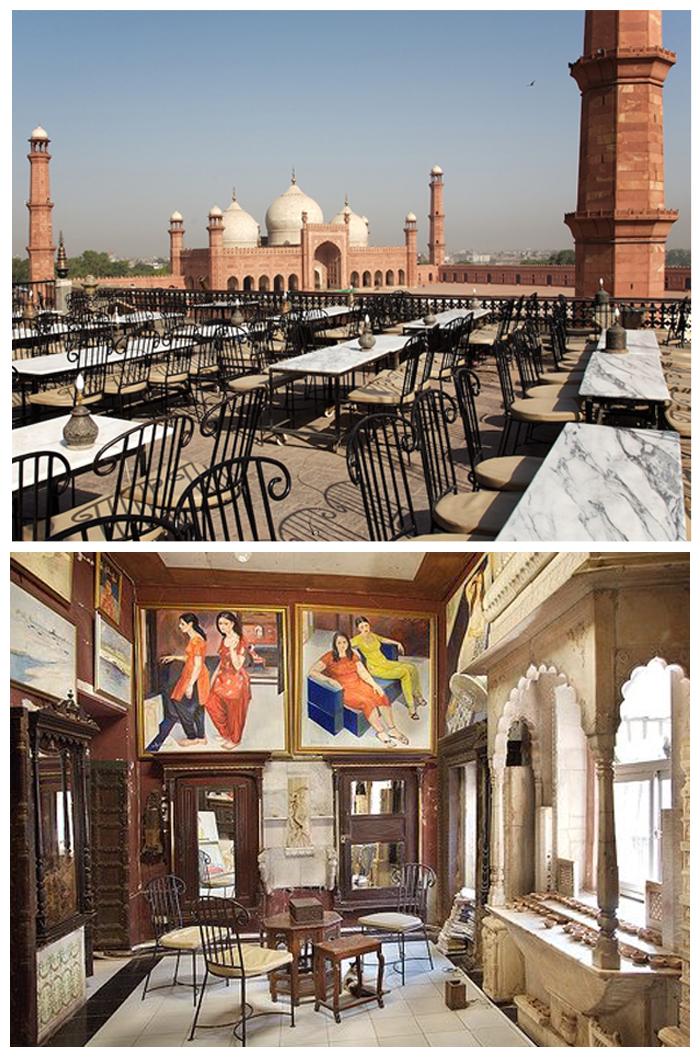 (1). The view of Badshahi Mosque from the Cukoos cafe. (2). Paintings of prostitutes in the cafe
If you would like to contact this author, please send a request to info@berkeleyprize.org.
---