[ID:1999] The story of my childhood friend Mahika (the original identity is kept hidden):SOS BHOPAL
India
After The Bhopal Gas Tragedy, Souls of the dead and the homeless:
The night was nothing more than a nightmare. More than a million lungs diseased, suffocated, and shrunk; Thousands and lakhs of hearts stopped forever and forever…
Even today, sometimes when I sleep, I get up with terror, I choke my breath just in case my mind reflects those deadly flashes…flashes of the dead heads and scary eyes, the howling and slowly the seized sobbing. I tend to remember all that and with no idea of nothing. I go senseless. (Silence)
-unknown
The ambitions you threw to my land in the fake confidence of prosperity and so the called high standards of living. The influence you caused on my father to home a good life for me.
I ran away with my loving mother directionless. Nowhere,
You left me with no options.
You left me with no mother.
You left me with great pain and suffering.
The crowd was so merciless that it didn't bother me in my mother's arms. She cried and slowly she stopped seeing me. What sin did she commit?
Why anybody didn't save me?
Why I had to die?
Why my mother could do nothing?
Why did I fell down?
I was so small I was just so small, and what mistake did I make.
I the only ripple of my family's happiness. What wrong did I do to you?
I couldn't breathe, I couldn't see my mother.
Neither could I feel the warmth of my mother's breast.
I am nowhere.
I fell down.
I got stampede.
My little bones cracked just like nothing. Am I nothing to anyone? Don't I have the right of equality for those AMERICAN RESPONSIBLE CITIZENS?
The so called dream and the so called ambitious dreamers.
Are you a human?
I am sure my mother is.
And, the American dreamers I never saw you but I don't feel for you.
Because I am no more. Not the body my own people stampede, I lay in gutter, rottening.
And this is what I am.
I can't find my mother now, she might be alive somewhere.
Mother I will come to you someday somewhere.
I will take birth again to get your love.
I will come again to feel the warmth of your breast.
I will come to you in any form.
I will find you mother; I will find your love.
I will serve you for all your love and care. I will come back.
I will find you.
Please take care till I find you.
Till then I will strangulate for your love and presence.
And please I request you to please don't hate anybody for it will burn you.
The American dreamers will too realize someday.
That their ambitious dreams, causes trouble to other humans on the planet.
But I will come back to you in midnight, the same time we separated.
Please wait for me.
My love,
My Mother.
Bhopal Gas Tragedy:
36 years ago, in the heart of India, the Union carbide, an American multinational company sets up a lucrative market for a new product SEVIN for which MIC was the raw material. The methyl isocynate gas was volatile, unpredictable and fatal if inhaled, it was one of the most toxic and poisonous gas, lethal substances known to man. There were thousands of homes in the shanty settlements around the factory, thousands more lived by the near city. This was a perfect setting for a disaster. People believed that UCIL make medicine for plants.
2 Dec 1984, 12:40am, Bhopal
A massive gas leak was recorded in MIC storage area of Union Carbide Plant.The gas due to winters couldn't rise up and got dissolved in the atmosphere, it was a mere irritant and when inhaled led to thousands of deaths leaving around 500,000 people injured, suffering for their entire life, and generations after them. This was the world's worst industrial disaster, a huge man made tragedy after which thousands of children were dead, some orphaned and homeless. It lead to massive destruction of mankind and suffering for the society.
SOS BHOPAL:
SOS is an international non-governmental organization which serves in 134 countries around the globe. In India, it started in 1964 with its first village as Greenfields in Faridabad, Haryana. It started in Bhopal, as an initiative taken in 1986 to come up with a SOS village for children who lost their parents and guardians in the Bhopal Gas Tragedy. It took three years to complete the formalities and the construction of SOS Bhopal, however the proper functioning of the SOS village was started in 1989 with 10-20 family houses each dwelling 8-10 children on an average along with a SOS Mother.
Rashi's Childhood Friend Mahika: (The original identity is kept hidden)
The first day of a girl child is so special in any family, some people thinks goddess Lakshmi (the goddess of wealth) has come to their home and some goddess Durga (The fierce goddess). The other siblings also celebrates there new little sister just the princess of their home. But my friend Mahika is a true angel born with true wings of self-confidence and determination to do something in her life. She came to SOS Bhopal when she was just one day old, she was found on the road without any identity crying and in a bad situation. After coming to the village she got all, a mother, brothers and sisters, whole family to share and live with. Her mother has brought her up like any other mother on the planet spending days and nights for her care. Her SOS mother Kanti Devi Singh has brought up 22 children till date in which 14 are girls and 8 are boys. Mahika says that her mother is one of the wonderful lady on this planet who loves every child the same and is very attached to them. She says that her mother can't see any of her child unhappy, she gives them a lot of love, care and has a very pure soul, she has always taught good deeds to every child and has never treated anyone badly or done any discrimination between them. According to the capabilities of the child, development opportunities are given, Mahika was my classmate in convent school till 3 years, and we have spent a lot of time together doing studies and mischief's. Presently she is doing MBA from National Institute of Technology Bhopal, after completing her Bachelors in commerce where she was the university topper and my other friend Swara was also my classmate, and is pursuing engineering from IPS Academy Indore. On my yearly visits to SOS on my grandmother's death anniversary I used to visit their houses to meet their whole family. I could see the love, care and sense of protection they had for each other. And also they treat me very well.
The SOS Mother:
The SOS mother is also a homeless lady of age 25-35 years who have no other responsibilities, and preferably having schooling till 10th grade so that she can help the children with their primary education but with heart full compassion and a considerable temper. After selecting her she is given a training of 2 years, structured as six month of theory in which child development, child psychology, housekeeping, tailoring, food nutrition, first aid, music, languages are taught and for the next 18 months she is sent at different places for exposure and are kept under observation to see if she is appropriate of doing this job.
The most difficult job in the organization is of this lady, who has to take care of around 8 to 10 children together and 20-25 children for her entire life, giving them love, attention, care, nurturing their life as a mother. Not even a single child in the organization come under normal conditions they are been suffering with any trauma or the other, they all come from different backgrounds and are of different age groups. When both the organization and the mother ensures to take this job, a family home is given to her, every family is a unit with their separate bank accounts in which money according to number of children is transferred prior to the starting of month for their education. The mother makes the budget of the year in the month of March stating the expenses of the grocery, milk, vegetables, small repairs etc. for which direct discussion with the mother takes place and the money is transferred in their respective bank account. Any elder child or the mother operates the bank account. This is the system of a family unit. Then it works like a normal family from what is to be made in the dinner to shopping for all the festivals.
The child who has lost both of the parents or is abandoned and has no identity is the first priority of the organization and in some cases single parent child are also taken where there are life threatening conditions to the child. Before taking the innocent, proper investigation is done and all the government formalities are completed. Once the child is a part of the organization it takes whole responsibility of the upbringing, until he or she starts earning.
Blossoming and responsibilities:
After 8th grade, the teen is tested over multiple natures and intelligence, on this basis a development plan is made and activities are organized to decide which stream the child will choose for higher studies. Until 14 years of age, the boys live in the village after that they are send to SOS youth hostels where they have a cook and a councilor living along with them. The youth hostel has three stages:
1.Arunodaya: It is basically for teenagers of 11th and 12th grade.
2.Sopan: It is for the one who are doing their professional studies, they can live in their university hostels too, and they come to the hostel during their holidays.
3.Gharonda : In the third stage when a youngster starts working they are kept under three years support system. In the first year they are given a sum of Rupees 2000 every month, in second year Rupees 1500 are given and in third year Rupees 1000 are given monthly. This support is given beside their salaries to ensure help from this saving at the time of emergency after this support system ends.
Mahika's two sisters Shruti and Divya are a part of this, Shruti is working in Sony and Divya is working in courtyard by Marriot. After this stage on average the child is 24- 25 years old and can support their living. For their marriage blogs are given in the matrimonial, and when applications come, social investigation is done by the organization itself, by investigating on the workplace and over the family of the applicant, then if it is a genuine case they recommend accordingly the youngster from the SOS family, after the meeting of both the partners, safety of the SOS child is ensured and then the marriage takes place. Likewise Mahika's two other elder sisters Meenu and Neeru have got married and are happily settled in their new lives.
SOS is always their permanent homes and they visit their families on festivals like Diwali, Rakshabandhan and the ones who are settled outside call their family in functions and holidays specially their mother and younger siblings to spend time during summer vacations. During vacations SOS organize workshops, sports competitions for healthy learning environment. Daily tuition's are a part of their schedule in the evening throughout the year for assistance in their studies. The whole village has very welcoming atmosphere with proper maintenance and decoration, paintings along the courtyard walls, rangoli on the floor with houses having borders of different colors along with a garden sitting outside every unit. Proper sports field and courts for different sports are also been provided along with medical aid center and Hermann Gmeiner school is also situated in the village which is affiliated to M.P Board of Education.
At present in Bhopal village there are 253 children, including 57 youth staying in youth facility and 196 children in village out of which 124 are in different schools, 4 are attending professional/vocational courses, 31 are attending university, 11 are in jobs and 4 are apprenticing. 17 new members joined the village this year and the mothers are working hard to ensure they adjust promptly to their new family.
It also runs various family strengthening programme (FSP) under which 525 children from 126 families are currently aided which provides strengthening to motherhood, providing needs for their children who are affected due to economic circumstances hence taking care of them and preventing them of getting abandoned and homeless.
One can visit SOS anytime for donation and cherishing the environment!
Achievements of SOS children:
Payal scored 91 % marks in class 10 board examination and emerged as the top scorer in her village. She has taken up commerce with computer Science for HSC board examination. Besides being a good student, she has also cleared the first level of a typewriting course and has acquired basic computer skills during her summer vacation.
Prakash has scored 95% (10 CGPA) in class 10 CBSE,2015. He dreams to become a successful Civil Services officer in future by clearing the Union Public Service Commission examination. They are several such achievements of SOS children who are determined and hardworking towards their goal of life.
As Martin Luther King, Jr. rightly said, "The function of education is to teach one to think intensively and to think critically. Intelligence plus character – that is the goal of true education."
What are we doing as an individual?
The Unknown Place:
Last year we gathered a group of students and started doing something for the poor children and the laborers in our university and we decided to develop a disused public space into a wonderful place where one can sit, relax and learn from each other. After a couple of month we changed the place from the jungle to something where the poor children from nearby communities come and interact with us to share knowledge and possibilities for their better future. It took months by the students to transform the place which is near to the campus boundary and is shared by the university students and the community people, especially children living just adjacent to college boundary. The space being frugal serves different activities by the user. A series of platforms and a water body along with modal of cosmos attracts one and gives peace of mind by observing the elements of the "Unknown Place". Such initiatives not only help us to learn but at the same time it provides opportunities and platform to shrink the gap between the levels of our society and helping poor children to become a better individual. The students of university take tuition's organize musical workshop, awareness campaigns for those children and their mothers for their better living. The children not only share their way of living but also get inspire to become potential youth of developing India.
Thousand of candles can be lighted from a single candle, and the life of the candle will not be shortened. Happiness never decreases by being shared.
-Buddha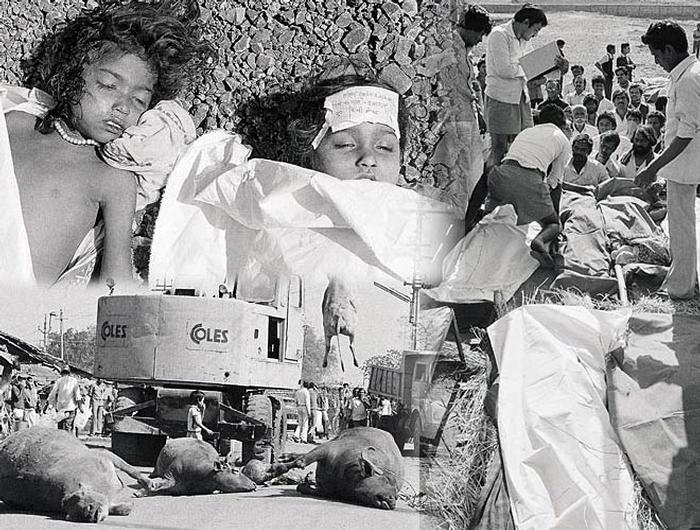 After Bhopal Gas Tragedy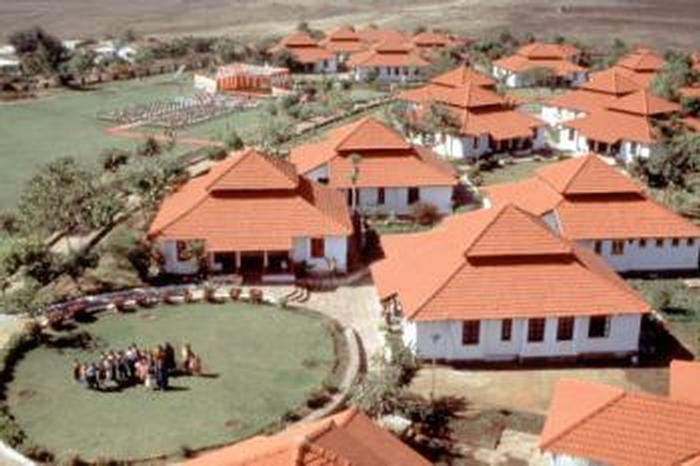 Arial view of SOS children Village Bhopal

A small initiative bringing a thousand smiles on SOS children faces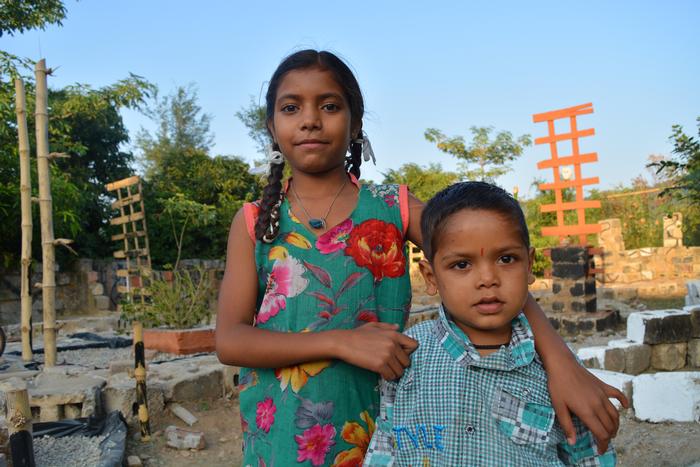 The Unknown Place : A place to relax, inspire and learn.
If you would like to contact this author, please send a request to info@berkeleyprize.org.
---