[ID:1682] The Beauty of architecture without aesthetics: dignifying the marginalized
India
We architects have our own aesthetic sensibilities because of which we often disregard those beyond our set standards. The slums and shanties that we perceive as dirty patches to our cities have a beauty of their own, the beauty of struggle, survival and spirit.
"For three years, that used to be my bedroom and this was the kitchen, we had five toilets and our shop was on the street," says Meena, one of the 120,000 victims of Yamuna Pushta slums demolition in 2004. The bedroom she pointed at was a parking lot where cars were being replaced by unkempt jute sacks, the kitchen was a dingy pavement where a woman in a rugged saree was cooking and the toilet was a clogged public one. Her shop was the traffic light where she ran barefoot on the burning tar, selling newspapers.
This has been the plight of about 150,000 Meenas for the past decade in Delhi. Winning the bid in the year 2003 for the Common Wealth Games (CWG)-2010, exacerbated the situation of homelessness in Delhi. This large-scale sports event, improved investments, boosted tourism and strengthened the infrastructure, but it also scarred the city with negative social legacies. These ranged from the loss of livelihoods to the loss of life savings invested in small businesses and in building shanties, making the most marginalized population even more vulnerable, and amounting to human rights violation. While large-scale financial irregularities in the games were given considerable attention, the human and social impact was largely ignored.
Delhi being the national capital offers the best medical and infrastructural amenities and economic opportunities, which attract migrants to the city. After 2003, thousands were rendered homeless for city beautification, construction of sports venues and widening of roads. Additionally, rapid construction for the games kept attracting more workers. This hard-working population toiled day and night to build/clean/run the city and was rewarded with joblessness and homelessness after the event ended. "We will have about three lakh (300,000) homeless in the city after the games. Housing for them will be a priority after the Games" said the Chief Minister of Delhi.
The sinusoidal curve of social justice had reached its absolute bottom and so, restitution was inevitable. In January 2010, Delhi High Court Chief Justice AP Shah initiated a suo moto case against the Municipal Corporation of Delhi (MCD) for demolishing a homeless shelter on Pusa Roundabout and leaving 250 homeless out on the streets. He ordered them to rebuild the shelter and to not evict homeless on humanitarian grounds. This led to the formation of Delhi Urban Shelter Improvement Board (DUSIB) with the objective to construct and finance homeless shelters.
During our study for writing the essay, we found out about this social calamity. Being accustomed to such scenarios, we never perceived it as such a huge problem, even though one of us interned in the city for last six months and the other was born and brought up in the city. Is this just an exaggeration or the reality? The question kept haunting us until we, with our new found insight, went back and explored the city again, and to our surprise, this time, we could locate not only a lot of homeless but a lot of shelters too.
The cluster of shelters located in Dandi Park, managed by an NGO "Prayas", caught our attention. Amidst the chaotic jungle of concrete, it was an oasis of serenity. The cool colors of blue shelters, green trees, and brownish paving tiles gave it a scenic beauty. Open planning was adapted by clustering five portable shelters around a central court. One of the shelters was for women and children, one for elderly and the disabled and three for single men, sheltering about 950 people. At the entrance, we met Hari Prasad, a rickshaw puller who was parking his rickshaw. "For the security of my rickshaw, I used to curl up in the three feet long and one feet wide seat at night," he said, "this is the only shelter which provides space and security for my rickshaw". Ram Shankar, a cobbler while putting his blankets in the locker and hanging his toolset on his back, said, "We have got guards now when even some of the colonies don't have one". It was here that we met Meena who was kind enough to offer us drinking water from the earthen pots kept inside the shelters. She was a house helper in the neighboring houses. Her husband and son lived in the shelter for men. "We are saving money to rent a home so we can live together. Life here has been good, at least, my son will not have the same destiny as mine" said she. "Hope" seemed to be returning to her voice. Though the purpose of the shelter was providing mere roofing, its location facilitated employment too. The place might not have had tiled floors, carved doors, high ceilings or any other physical ornamentation but its beauty could be felt in the transformation it brought in these lives.
Despite the heat outside, when we entered the cabin, we felt a sudden relief, the air cavities in the PVC sheets and the shade from surrounding trees ensured a comfortable temperature inside. Few aspects facilitated the people to adapt and personalize the built and the unbuilt, enabling a sense of community. The entrance had an interesting temple-like formation evolved from a rural setting, with photographs of Hindu goddesses in a hollow tree trunk. Platforms around the trees resembled and were used as Chaupals [traditional gathering spaces]. An apt blend of built and unbuilt was present as the existing trees were respected while installing the shelters. Bio-toilets dignified the inhabitants. The facilities were provided at a nominal charge of Rs. 10 ($ 0.17) from which the elderly and differently abled were exempted. The fee gives the motive to earn, the sense of entitlement, the power to ask questions, the right to demand rather than beg, and most importantly, the realization that being sheltered is their right and not somebody's pittance.
In addition to shelters, "Prayas" facilitates counseling, relocation, health care and de-addiction facilities as most of the homeless slave to alcoholism and drug addictions and suffer from depression. The caretakers, cleaners, guards and even volunteers, working with "Prayas", are people who themselves have been through the agonizing voyage of vagabondage. "I have seen those days, madam, felt those demeaning stares. Helping them helps me repay the kindness which I received" said Dinesh, a security guard in the shelter. They offer support rather than an empty pittance and are role models for the ones who want to escape their affliction.
Prayas, literal meaning "endeavor", was founded by Mr. Amod Kanth in 1988 as a Juvenile Aid Society. When asked about his journey from being the Director General of Police to establishing the NGO, he recalled his first effort to house about 20 children orphaned in a fire. After this, other officers joined him in an effort to help more and more people. They became a registered organization working with the most deprived. Currently, the organization manages 30 shelters housing about 4,000 people.
The homeless have no address in the city, which deprives them of access to even the most basic urban services. Having an address is the most important factor in giving a citizen an identity and legitimate rights. "I think nothing is done for us because we aren't a vote bank," said Ram Prasad, standing in a queue to deposit his weekly savings in the Mobile Banking Van. "Prayas" issues identity cards which help the homeless in opening bank accounts, which in turn help them in registering for getting ration cards and voter IDs. Being able to exercise their right to vote makes them important to elected city councilors.
Every day we meet individuals who are either homeless or on the verge of becoming one. Being better informed now, has transformed the way we look at them. "We are the rag pickers, rickshaw pullers, workers, we run the city, we ease their life," said Poonam, the street hawker, "they think of us as criminals." Spreading awareness and understanding that it is the disgust, apathy and loneliness that develops the psyche of homelessness can help in curbing the prejudices. Working and volunteering at the local level can dilute this stigma. Doctors conducting free check-ups; lawyers getting justice to poor; teachers educating them, in fact, any person with any special talent, providing them vocational training to make them self-sufficient can change another human's life. Desmond Tutu puts it in correct words "My humanity is bound up in yours, for we can only be human together".
There are many instances where families who have been given apartments by the government have moved back to the streets. This is because many are entrepreneurs with occupations which they operate from their homes, like rag pickers. "We cannot carry our wares to the 4th storey of these buildings every night," said Poonam. This shows that we architects and authorities are clueless about their needs. We as architects need to stick to the basic approaches to designing, the first being user study. "We don't really like being here, this seems like a railway platform," said Shankar a resident of the shelter in Yamuna Pushta talking about the pre-fabricated shelter. Understanding the many points of view of homeless individuals regarding shelter, safety and use of built space are imperative. And here the second step, "participatory approach" can be brought in. "These men, you architects disregard as illiterate fools, have been surviving in the city for years, they know how to build with whatever is available," says Vishwajeet Ghoshal, a member of team "Prayas". Involving them in designing and construction can increase their emotional attachment with the shelters and also provide them with some money and skills. And, here the third step, use of locally available resources, comes in. In addition, to the local materials and technologies, the knowledge of these people is also a locally available resource which needs to be used.
Having a better understanding of built spaces, we as architects can locate hidden niches woven into the urban fabric and use them judiciously. "Construction work is very tiring. All I need at the end of the day is an uninterrupted sleep" said Ramesh, a construction worker who sleeps on the footpath, where we found him. A Spatio-temporal approach towards the use of buildings can be a way of providing shelter at night by using existing infrastructures like schools, offices, underpasses etc. Also, night shelters can themselves be designed in such a way that they can be used for social purposes such as centers for health care, training and adult education, during the day. As architects, we have a say in the design program of buildings. While designing any public institution, innovative approaches to serve the most marginalized can be applied. For instance, all public hospitals can be designed with shelters to house families of poor resident patients. In places lacking the facility, the current model currently in practice in Delhi of using discarded buses as shelters to serve the floating population.
Learnings from our case study of "Dandi Park" should be incorporated while designing new shelters. Instead of making isolated shelters, clusters should be made. These clusters inhabiting different social groups create inclusion and also a gender-sensitive environment. Services can be provided together makes it cost effective and the transitional spaces can be used for training, teaching or gathering. Integration of biophilic design to use the restorative and healing effects of nature should be done too.
In a situation where the homeless lack the basics of Maslow's hierarchy of needs i.e. food, water and sleep, providing basic services becomes first priority. We can, at least, make their days less tedious. They may not have a stake in the decision-making for public spaces, but they are its primary users. Spatial allocation like benches to sleep on, more public restrooms and at the very least, not designing anti-homeless features in public places, can create an inclusive society. Principles of "Crime Prevention through Environmental Design" should be applied not against the homeless, but for them, as it is they who are most vulnerable to theft, harassment and violence. It is possible that once the basics have been met, many may be able to rise above their present condition to meet the second level in Maslow's hierarchy of needs.
These ideas can be a quick fix and may end up saving lives in the extremities of Delhi's climate. But living is much beyond existence, a person living in a shelter is still homeless. Bringing people back in the community and improving long-term prospects need concrete solutions, literally. Cities like Utah and Vancouver have mitigated their problems of chronic homelessness by providing permanent homes. But in these cities, the homeless population was much lesser than Delhi's. A shelter is only the first point of intervention and cannot replace the basic right to housing for all. In Delhi, the sheer magnitude of the population in need of houses makes the idea of the government building housing for all, a preposterous one. Additionally, being the second most populated and twelfth most dense city, Delhi has an acute shortage of land. Delhi should facilitate these people to build their own homes in a better way.
The lessons from the whole experience is, first the physical attributes: location respecting the employment and population density, flexibility in use, safety and services, biophilic design, inclusiveness and second the environmental attributes: healthfulness, scope of personalization, sense of belongingness and community, incorporation of native lifestyle and respect and dignity, can define the success and failure of a design. We also learned that providing them housing without inviting them to play a role in building, rips them of their dignity and is not effective in a long run. Homelessness can be mitigated only by sensible design ideologies that "equip" them to contribute to and give back to the society. Only then, will they truly be accepted and included in the society. "Teach him how to fish, and he will eat forever" goes the proverb.
What we understood was that CWG-2010 might have aggravated the issue of homelessness, but even before this event, the problem was visibly present but ignored. The games drew people's attention to it and forced the authorities to act. Post games, Delhi has seen large budget allocations for building shelters, a tremendous rise in the number of shelters and NGOs and even apps for the public to report the position of homeless to be sheltered. You can still easily locate this population but what has changed is that you can also locate shelters. The solutions might not be very pleasing to your eyes but there is an aesthetic quality to them beyond what mere eyes can see.
To conclude, we would like to add that in an era where the distance between two continents is just a matter of hours, the distance from pavements to homes should not take generations.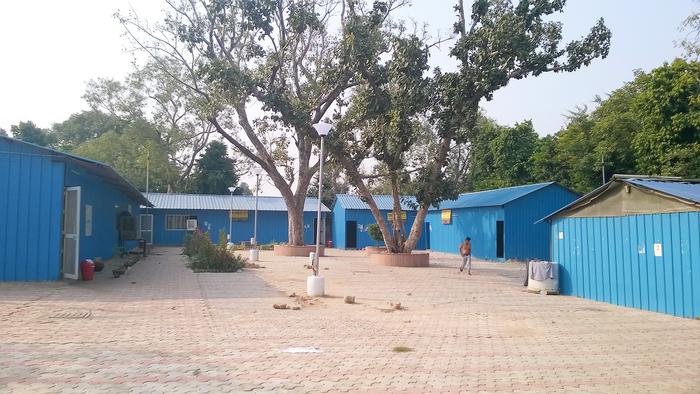 Shelter at Dandi Park amidst the greenery in the most "polluted city of the world", Delhi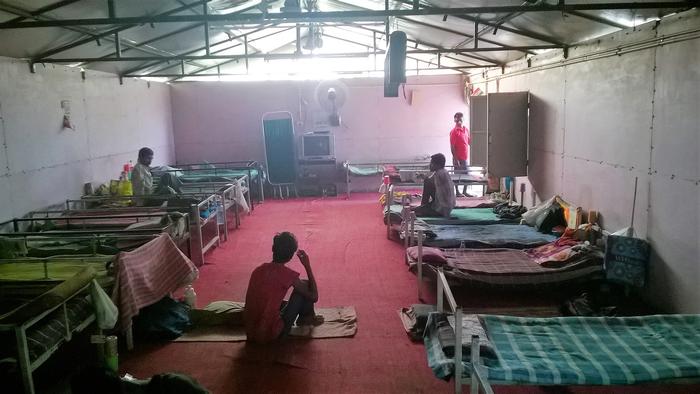 Internal view of the Sanitarium at Yamuna Pusta, Delhi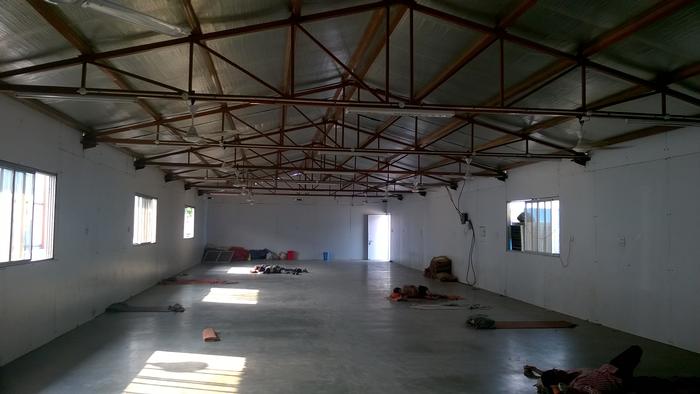 Inside of the cabin: Well lit and ventilated interiors of dormitory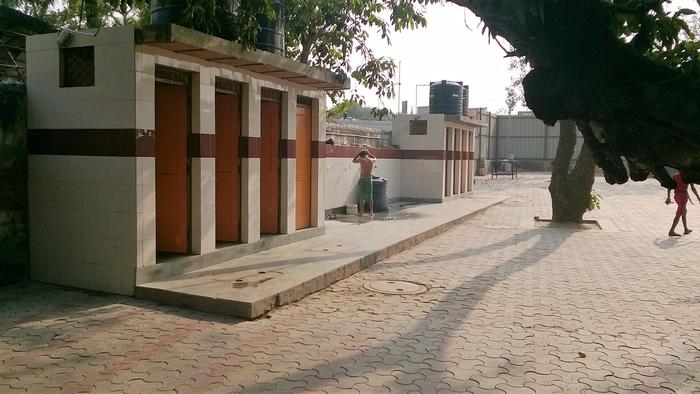 People accustomed to bathing in open adapted the space between the toilets according to their needs
If you would like to contact this author, please send a request to info@berkeleyprize.org.
---