[ID:1623] Intercepting Architecture
United States
The email reads:
"A staff member encountered a vagrant sleeping in a vestibule in Watt Hall over the past weekend. The only way this person could have entered the building was through a propped open door. Propping the doors open after hours poses a serious security risk as it jeopardizes the safety and security of all building occupants. Again, please be diligent and impress upon your fellow students, staff and faculty members that we are all in some way responsible for each others' safety and each need to do our part in helping to create a more safe and secure environment here at the School of Architecture."
The fact of the matter is, those of us who have been fortunate enough to have homes our whole lives view the homeless not as people with emotions and needs but solely as threats to our safety. The writer has carefully replaced the word "homeless" with a more politically correct label, separating us from the less fortunate nomadic members of our society, pegging him or her as one of the "others," not to be let in through a propped door. The school is responsible for keeping its students safe, but the email reflects a common stigmatic mindset not conducive to a healthier society. The high concentration of homeless in Los Angeles suggests an issue worth examining from multiple perspectives; a conversation the entire community should participate in. The person found sleeping in Watt Hall is indeed a trespasser, but more notably a neglected member of our society who resorted to sleeping in our school out of necessity. As the writer has mentioned, "we are all in some way responsible for each others' safety," so why has the least safe person in this situation been excluded?
Skid Row
On any given day in 2016, more than 25,600 people reside homeless in the city of Los Angeles. For the 17,600 of those who sleep without any tent or sleeping bag coverage, our year-round summer proves more relenting than other climates. Los Angeles is known for its horizontality, making it easier to traverse for those who have no other means of transportation besides their feet and perhaps the metro if they can afford the fare. Aside from our climate and topographic disposition, a long history of inequitable policies and negligence in Los Angeles have resulted in the high number of people living in the streets.
Many of the people living on our city's streets have beginnings not much different from yours or mine. Former electricians, division one college athletes, and lawyers populate the streets of skid row. However, many of us view them as criminals and junkies — incorrigible members of society who suffer their predicament because of personal doing. While mental illness and drug dependencies seem more prevalent, various other factors can cause a person to be unable to pay mortgage or rent. One missed payment could spiral into three or four, and eventually eviction. Domestic violence could force a single parent to choose the streets rather than subject their child to an abusive home. Ultimately, each individual experiences a unique hardship that cannot be generalized or dismissed. After all, a misunderstanding of mental illness resulted in the abolishment of the Mental Health Systems Act in the 80s, discharging tens of thousands of patients still in need of treatment from their respective institutions (i).
While foot traffic on Skid Row comes primarily from its residents and police patrolling the streets, mobile traffic comes from all across the city and passes through the strip towards "safer" destinations. Located east of the Financial district, the fifty-block area of Skid Row has gained
notoriety since the late 19th century as the city's gathering place for the homeless and a to-be-avoided-after-dark obstacle for the rest of Los Angeles. While its general boundaries are defined by major avenues (Main Street to the west and Alameda Street to the east, and Third Street to the North and Seventh Street to the South), its enclosure is in reality defined by its surrounding built environment and continuously shift each day. The city's architecture, including the streets and buildings immediately surrounding and intersecting Skid Row, has become the tangible mediating force between the invisible social and political agents and the homeless themselves. Perhaps then, interception and reform at an architectural level can begin to resolve the issue of homelessness from within.
Originally located between the business and industrial district of downtown Los Angeles where
the railroad tracks created a transient landscape—where people as well as goods moved with
equal impermanence, the area has more recently found itself now surrounded by some of the
newest and most expensive buildings in the city. While the downtown revitalization brings more money to the city, its growth encroaches on Skid Row territory. It is now potential grounds for new restaurants, cafes, and boutique shops; its grittiness becoming almost desirable for entrepreneurs and developers. Though the area detracts from the downtown real estate value and is considered an eye sore by many, it is critical that Los Angeles preserves the area for it offers assistance to those who don't have the means to seek healthcare or shelter elsewhere. As neighborhoods around the city modify to accommodate those with higher incomes, the marginalized members of our society who cannot afford the high cost of living have fewer and fewer options.
Architect as Leader and Partner
Founded in 1995, Michael Maltzan Architecture creates progressive architecture addressing the social-spatial conditions unique to the Los Angeles urban context. Whether or not a practicing professional feels responsible towards helping the homeless, public service projects require more paper work and compromises from multiple sides of interests. In the end, the architect would make the same amount of money if he or she were to have accepted a simpler job. However, Michael Maltzan Architecture takes on these projects despite adversity. The firm has a wide breadth of work, including heavily funded private jobs in addition to low income housing and community projects.Three particular projects exemplify the transformative power of architectural solutions that connect to their context and invent new ways programming can truly change the way we think about improving the lives of formally homeless or struggling members of the Skid Row district: Star Apartments (2014), New Carver Apartments (2009) and Inner-City Arts (2008).
Funded by the Skid Row Housing Trust, Star Apartments is a $19.3 million six story complex tailored to the chronically sick and mentally ill and charges a third of each resident's income for rent (ii). Addressing the health issues that may inhibit residents from finding work, the first two levels have been reserved for community and wellness programs and a health center. The third to sixth levels include 102 prefabricated units craned to rest on a deck built upon an existing concrete superstructure. Each unit is 305 square feet and finished with toilets, appliances, and cabinetry. Maltzan employs prefabrication technology and architecture's capacity for modular repetition to reduce costs and speed up construction time.
The New Carver Apartments sits south of downtown Los Angeles adjacent to the I-10 freeway. Also funded by the Skid Row Housing Trust, the project tailors itself to "formerly homeless elderly and disabled residents, a place for solace, support, and individual growth in the face of the city's chronic homeless problem" (iii). The building addresses shading, noise from the freeway, and attempts to bring the most comfort to the city's underserved. From our architecture curriculum, we learn to address all these issues for any project. We consider window direction in relation to the sun and wind patterns. We try to improve natural ventilation to maximize the inhabitants' comfort while minimizing our carbon footprint. However, these methods of design rarely apply to low income and homeless housing due to lack of funding. Maltzan's attention to detail and nuances of the particular site (in all his projects) makes a statement. The inhabitants deserve the same amount of care given to more affluent housing projects. In a sense, Maltzan has fully propped open the door and welcomed in those who have been excluded.
In just Los Angeles alone, an estimate of 6,000 to 10,000 youth and young adults are homeless (iv). Inner City Arts is located in the heart of skid row and functions as an educational art center supplementing public school curriculums across the city. The campus resembles a small village, with open plan studios and classroom spaces revolving around a central core and garden. When schools lose funding, art programs are the first to go. ICA offers classes to elementary, middle, and high school students "to build bridges between the arts and academic subjects, improving student literacy and overall academic achievement, and raising teacher retention rates" (v). Many of these students come from low income backgrounds and often lack the proper nutrition and sleep necessary to focus in class. Inner City Arts functions as a welcoming space for these students who may not have healthy homes to return to after school.
Lesson Learned
The city has thus far used Skid Row as a dumping grounds for the homeless, inadvertently creating a community of Los Angeles residents with the least. Just this month, Sun Valley Hospital was accused of discharging a mentally ill patient on the streets of Skid Row. The hospital faces $500,000 in charges to be made to homeless service providers (vi). This is merely the most recent and televised incident of "homeless dumping." On a daily basis, police officers are seen transporting homeless individuals from various Los Angeles neighborhood to Skid Row. The term "dumping" seems apt for this act of negligence which dehumanizes these individuals and dismisses their need for health care and shelter. Rather than further marginalizing and grouping the homeless together in attempt to "cleanse" more affluent neighborhoods, we should continue to create pockets of welcoming spaces across the city. Using Inner City Arts's village-like configuration as precedent, we can build multi-use complexes that address both healthcare and counseling for the homeless. Drug use presents an inescapable issue on Skid Row. These village models would serve as rehabilitation spaces as well as housing. A homeless woman living under the 101 freeway in the Silverlake neighborhood (four miles northwest of Downtown Los Angeles) who would like to remain anonymous said she recently lost her job because she could not find a place to shower. While most of us take for granted the convenience of the showers in our homes, the lack of such an amenity is of great concern for those without. Even if a homeless individual would like to find a job, potential employers cannot hire someone who does not have access to a shower. These micro-communities would include shower houses available to anyone who needs it, not just the residents. A standalone shower house faces the issue of funding for maintenance in addition to its construction. However, these large complexes would ideally be funded by the city or a homeless housing trust. The budget would go towards maintenance staff, on-site counselors and clinicians.
In the upcoming months, El Nino will bring abundant rainfall to Southern California. Though this begins to help the state's drought problem, the rain will undoubtedly make the lives of homeless more difficult. Susceptible to flood after just minutes of rain, the streets of Los Angeles are not the place to be during wet weather. While the rest of us flee indoors for cover, where can those without shelter go? Maltzan's belief in architecture as an active agent in social change strongly manifests in his work. The same sentiment should be taught to current and prospective architects. Increasing awareness within the architecture community will increase the chances of practicing professionals taking on civic duty projects. Beginning with architecture schools, we should urge our fellow students, staff, and faculty to rethink our relationship with the homeless. Promoting a more accepting and empathetic mindset, perhaps we will emulate these values within own practices. Starting with small charrettes in architecture schools, we can generate multiple ideas for immediate shelter. The pedagogical exercise doubles as actual built shelter to be distributed to homeless individuals without cover.
As we think forward towards building permanent structures for low income housing, we must consider the costs and implications of adding new multimillion complexes to our urban fabric. How can we reduce our costs and emissions by maximizing existing structures? Using Michael Maltzan's Star Apartments as precedent, we can further the helpful potential of a building by using methods of prefabrication and reuse of existing structures without forgetting our impact on the environment. Unfortunately, these large housing projects are long term, and we also cannot build enough to accommodate all the homeless residents of Los Angeles. As we erect new gymnasiums, churches, and recreational spaces across the city, we should consider their programmatic flexibility. Because of their open plans and programs consisting of mostly day-time activities, many of these institutional spaces become places of refuge and community in times of natural disaster or crisis. Usually unused at night, these spaces can double as sleeping quarters after sun-down when homeless need shelter the most. Our city is currently in a crisis, one that does not affect the majority of us and is therefore largely unaddressed. By using Maltzan's method of "recycling" existing structures in a new way, we can adapt existing structures and plan for the optimized use of future ones.
In his "No More Play" Architectural League lecture in 2011, Michael Maltzan says Los Angeles has become a template for upcoming cities. The city leads in film, music, commerce, art, among many other facets of society. Its unprecedented rate of growth makes it no surprise that upcoming cities look to Los Angeles for instruction on development. In the thick of all that has been going well for the city, we forget our homeless crisis and the continual displacement of low income families and individuals. The grittier side of the city gets lost in its reputation for glamour, beauty, and health obsession. Some may argue otherwise, but each new coffee shop placed closer to a low income area proves we have chosen to ignore a growing problem in exchange for the instant gratification of an artisan latte or the convenience of a neighborhood Wholefoods. Without experiencing mental illness or homelessness ourselves, we can be easily misinformed. As (aspiring) architects, we struggle through competitive programs and internships with an idealistic faith in our ability to change the world. Yet, the real world and experience in the field harden us, some of our optimism fading with each year we continue to pursue our degrees or work in firms. Despite the difficulty of our field, I find constant reminder of architecture's ability to change policy and promote social change for the better. We belong to the most qualified and knowledgeable profession to solve the issue of homelessness. If we don't do it, who will?
References
(i) http://www.salon.com/2013/09/29/ronald_reagans_shameful_legacy_violence_the_homeless_mental_illness/
(ii) http://www.ladowntownnews.com/news/with-star-apartments-skid-row-gets-a-stunning-housing-complex/article_ec6922f8-a64e-11e3-95bf-0019bb2963f4.html
(iii) http://www.mmaltzan.com/projects/new-carver-apartments/
(iv) http://www.dailynews.com/social-affairs/20141117/homeless-children-increasing-in-southern-california
(v) http://www.inner-cityarts.org/who-we-are-campus.php
(vi) http://losangeles.cbslocal.com/2014/05/29/sun-valley-hospital-to-pay-500k-for-alleged-improper-patient-dumping/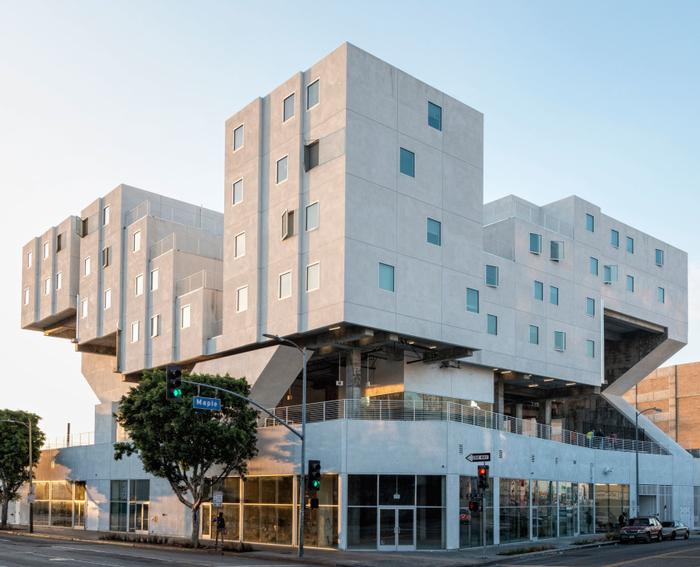 Star Apartments (source: michael maltzan architects)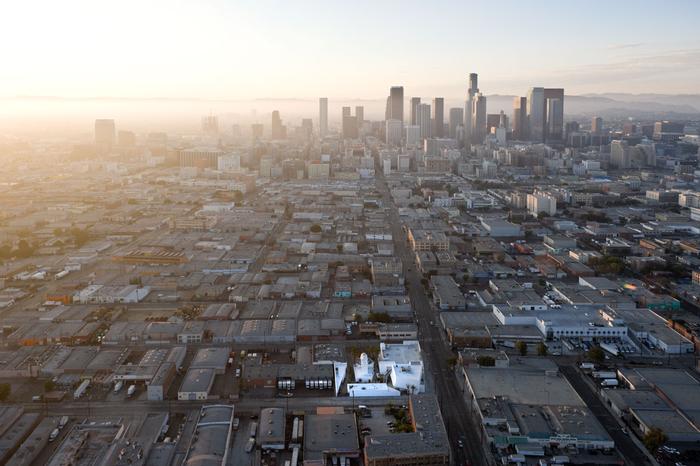 Inner City Arts (source: michael maltzan architects)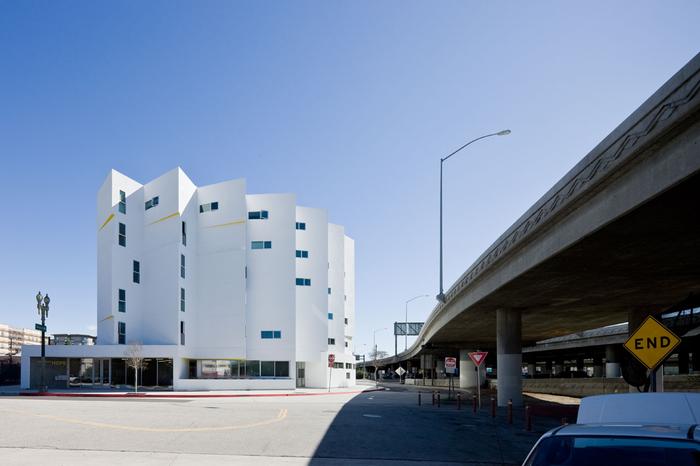 New Carver Apartments exterior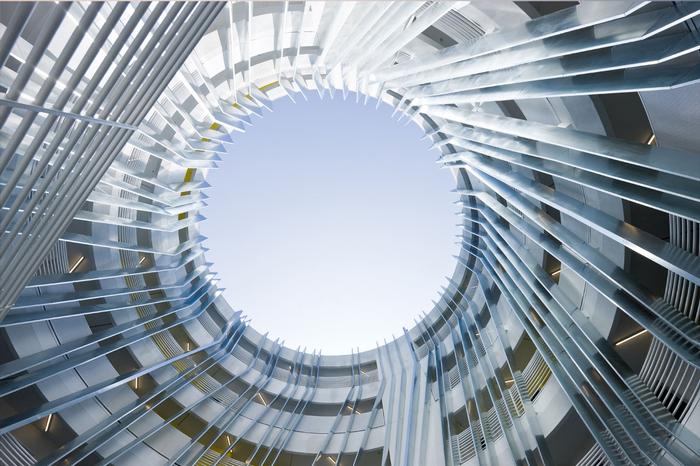 New Carver Apartments interior
If you would like to contact this author, please send a request to info@berkeleyprize.org.
---