[ID:1485] Enough Ripples and you change the Tide; Reshaping Palestinian refugee camps
Palestinian Territory, Occupied
Exploring this topic has been truly an odyssey of time and space, through which I have learned a lot about my Palestinian nation , its challenges and its struggles .This experience has enriched my knowledge as an architect and as a Palestinian.
Walking through the mazes and narrow alleys of Al Dheisheh Refugee camp in Bethlehem region, I could feel the air thickening, and sunlight fading away behind the concrete clusters. The space didn't have any clear definition of public or private. What was most shocking to me is how the entire camp seemed to be suspended from time's dimension, secluded from its surroundings and perfectly preserved in its drastic state. As I walked through those spaces I could tell there is so much to explore in there ,many stories to unfold and voices to be heard .
In order for me to understand the space more I needed at first a clear definition of it, but the tricky part about refugee camps is the ambiguity of their definition, for they cannot be considered as a public space since they are extraterritorial spaces that emerged suddenly due to an unexpected turn of events and no earlier planning and they are not private spaces, since the residents do not have any legal documents of ownership for what they live in. So the whole space tends to fall in between for what is known as public and private, and that's the case about Palestinian refugee camps.
The Palestinian refugee camps first emerged after 1948 Al Nakba, Arabic for "the Catastrophe". The camps at the time were an urgent temporary solution to the huge expulsion of Palestinians by Jewish militias. At the beginning the United Nations provided tents as accommodation for the Palestinian refugees. Yet with no upcoming political solution tents became an inadequate means to live a dignified life. For tents cannot withstand harsh winters and summers. Thus tents were then substituted with shelters. Each camp was divided into several shelter units congested with refugees, where every 5-7 refugee is fitted into a single room and each group of shelters shared a single bathroom which created many health problems and environmental concerns. During the 50s and 60s there was a dilemma whether to construct a roof or not , since constructing a roof may mean Palestinians are adjusting and adapting to the new reality forced on them , by that undermining the right of return . However building those roofs kept the right of return intact, for those roofs became part of the narration of the right of return and not against it, since a roofless place is no place of living for any human being.
Today there are about five million Palestinian refugees registered by the UNRWA in sixty camps in the middle east, living till today in shambles .However after more than sixty years in exile, refugees in Al Dheisheh camp or in other camps in the west bank have made a life for themselves, but kept the dream of returning back to their original home alive within them. Thus these spaces that were once simply a place for humanitarian interventions are becoming active independent social and political spaces that still embody and cherish the right of return.
Palestinian refugees have also created their own community, a community that has become not inside or outside its local settings but actually acts as a third space, a space secluded from its surroundings.
These issues and more were the reasons for Sandi Hilal, Alexandro Petti and Eyal Weizman to create the architectural studio of DAAR; Decolonizing Architecture Art Residency located in Beit Sahour, Palestine. Alexandro petti is an architect and a researcher specialized in urbanism and teaches in Al Quds University. Sandi Hilal is an architect, a consultant with UNRWA on the camp improvement program, and a visiting professor at Al Quds University and Eyal Weizman is an architect based in London. The architectural studio has been awarded the price clause prize and showed in various museums and biennales around the world.
Their major work focuses on the reuse and recycling of the present infrastructure of colonial occupation. They believe that colonialism is an act of design and decolonizing it must be an act of design as well. Their work with refugees and refugee camps mainly sheds the light on these marginalized urban areas. They address the dilemma of camps being separated from their surroundings, where individuals are shut out from their own community.
Their projects in refugee camps are numerous and each acts as a solution for a problem that the camp faces.In Al Fawwar refugee camp, southwest of Hebron city, they decided to create an open area to work as a public space to be used by the community of the camp, since the camp lacks areas for children to play at and the community to gather for events. At first the idea stirred some worries among the community of the camp. Women saw it as a place that will be dominated by men and they were afraid of the idea of being exposed to the outside, to the community. But after it was constructed, everyone uses it today in the camp; men, women and children. They see it as an opening of freedom. This space marks the first place for children to play in the camp. Another project was designing a girls school in Shu'fat refugee camp. Since all schools constructed by the UNRWA are the same when it comes to shape and form, Alexandro petti and Sandi Hillal sought a different approach and designed a school that emphasizes the use of natural lighting and open areas. But the most inspiring project they have been working on is called "Campus in Camps" along with Al-Quds University at the heart of Al Dheisheh Refugee camp. What they did in the camp is to create an unconventional kind of education, an education within the walls of the camp itself. It is an experimental educational system that aims to provide personal growth and intellectual maturity regarding camps and other issues.
The program is hosted by the Phoenix community centre in Al Dheisheh Refugee camp. Every year the program chooses fifteen young participants from the West Bank refugee camps, to explore together new methods and ways to represent camps and refugees. The main aim of the program is to provide an opportunity for driven young Palestinians to propose ideas and be able to translate those ideas into projects that benefit their community. The program is divided into two years. The first year is mainly about conducting numerous educational cycles with local as well as international academics, artists, architects and activists, where it is a group effort learning process of seminars and discussion groups. Also local and international guests are asked to interact with participants and form public presentations for project proposals that benefit the community, and by the end of the year after many discussions and debates the participants start working on their own project proposals along with a mentor.
One of the projects they worked on is located at Al Dheisheh refugee camp . Today the camp is made of two urban spaces; the old camp and the new camp. The old camp today is still inhabited and made of a large number of concrete clusters with various heights and forms and due to the increasing number of refugee population, refugees started expanding to a nearby land referring to it as the new camp. The new camp was funded by Doha city so it was named after its benefactor and became called as the refugee city of Doha. Every morning children had to cross a main street from Doha city to reach UNRWA schools located in the old camp, this endangered the lives of the children on a daily basis, so the community of the camp decided to construct a pedestrian bridge to connect the two camps together. The main challenge was that Oslo Accords prohibited the building of any bridge over roads in the West Bank. The Israeli Army threatened the camp community of building the bridge, yet against all odds the community managed to construct the bridge but had to enclose it with a roof. The bridge served its purpose for a while and became the connecting route between the old and the new, however in 2009 the bridge was closed due to lack of usage since people didn't connect with it very well and it became a place for smoking and throwing litter. For Campus in Camps and its participants the place marked as the perfect place to begin reclaiming the common spaces, they took the initiative to revive the bridge since there are no authoritarian parties taking responsibility of such a space. They began by cleaning the bridge as a team effort and in order to draw the attention towards it they removed the roofing of it and held an open market on it. People living in the old and the new camps began to reconnect with the bridge and see it as a multipurpose area where they can socialize and shop.
Another project was on focusing on the walls of the camp. During the first Intifada Arabic for "uprising" in 1987 writing on walls of camps and cities was one of the most powerful methods of expressing political opinions and resistance against oppression, after the occupation suppressed freedom and many writers and painters were imprisoned for their political views. Aysar Al Saifi and Murad Odeh both refugees and participants of the program held a youth initiation to bring to life the walls of Al Dheisheh Refugee camp by creating paintings and statements that express reality . To their surprise, the event became a social event, where many participated; some prepared coffee others discussed what to paint creating by that a communal event that brought many together. I could tell as I walked through the camp that each wall tells a story about the camp and its residents; their dreams, hopes and aspirations and how they perceive their reality. The walls did not only express political subjects but also social problems the camp faces. Another idea was collecting stories of the people of the camp as a way to document their lives and give them a voice to express their experiences through storytelling.
I understood the concept of the project more through the words and experiences of the participants themselves and how the program helped them understand the world around them. Aysar Al Saifi, a refugee and a participant of the program. He was waiting for a scholarship abroad but didn't work out. Aysar was hesitant at first to be part of Campus in camps project but soon after participating in numerous seminars and group discussions, he found his voice among them, the program helped him regain the strength he felt missing from him and refers to the project as "the place I was searching for … where I feel the strength to represent my opinion". For Neba Al 'Assi a participant of the program as well, the program represented a window of freedom to express herself. It was a place for her to discuss community, refugees and camps with ease and openness.
Another idea the participants worked on is creating a collective dictionary, where the participants of the program invited numerous members the community of the camp and talked about their experiences and then the participants conceptualized these experiences to come up with phrases well known among the community and redefine those phrases to create that they called as the collective dictionary.
The program also encouraged active participation within other camps. The participants conducted a cleaning activity at Arroub refugee camp and a cooking and participation day in Al Fawwar refugee camp, all in an attempt to unite all camps together and create a whole united community that shares the same struggles and challenges.
The project today is growing more and more and the participant's initiatives are spreading in the camps also many publications regarding the participant's achievements have been done. Recently in November Alexandro petti and Sandi Hillal gave a lecture at the New School for Social Research in New York City about Campus in Camps and their other projects in refugee camps.
The project has been much help to recognize the youth and give them a chance and an opportunity to express themselves in a non-biased environment that aims to help them grow with a clear vision and perspective of who they are and what they are capable of. What I admire the most about this project is its uniqueness in providing a non-authoritarian or institutional way of education that is allowing young Palestinian adults to mature with confidence and strength, armed with education and creative thinking.The participants through this program are reclaiming what they have and reshaping it into what can satisfy their needs and fulfill their aspirations, all in an attempt to change the tide and provide for themselves a better place to live and prosper.
If I ever get the chance to benefit my country with a similar project I would definitely follow their lead but I would focus more on a younger age, children who are growing in these camps incapable of truly understanding the situation they are forced to be part of. I think a younger generation is essential to work with, because this generation is being forced today to witness an amount of cruelty and is exposed to a lot of disturbing concepts of fanaticism that can only be faced with proper education.Our Palestinian children require a lot of attention to grow into a strong independent individuals capable of facing their adversary.
I truly believe that we Palestinians can transform our situation from victims to victors through knowledge and education. Education of conventional and unconventional methods. Our Palestinian youth have tremendous potential to attain greatness and successes if given the right space and opportunity. Also Palestinian refugees have gone through huge challenges and obstacles to reach what they have reached today, they deserve praise and appreciation for their ability to grow and progress while holding the promise of the right of return with stamina and patience.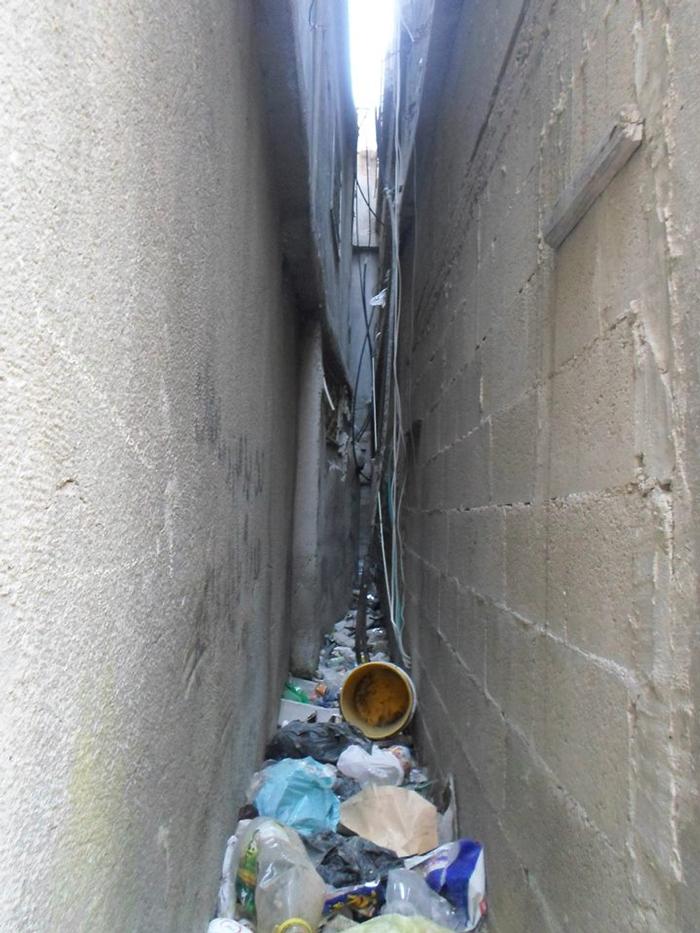 narrow alley in Al Dheisheh Refugee camp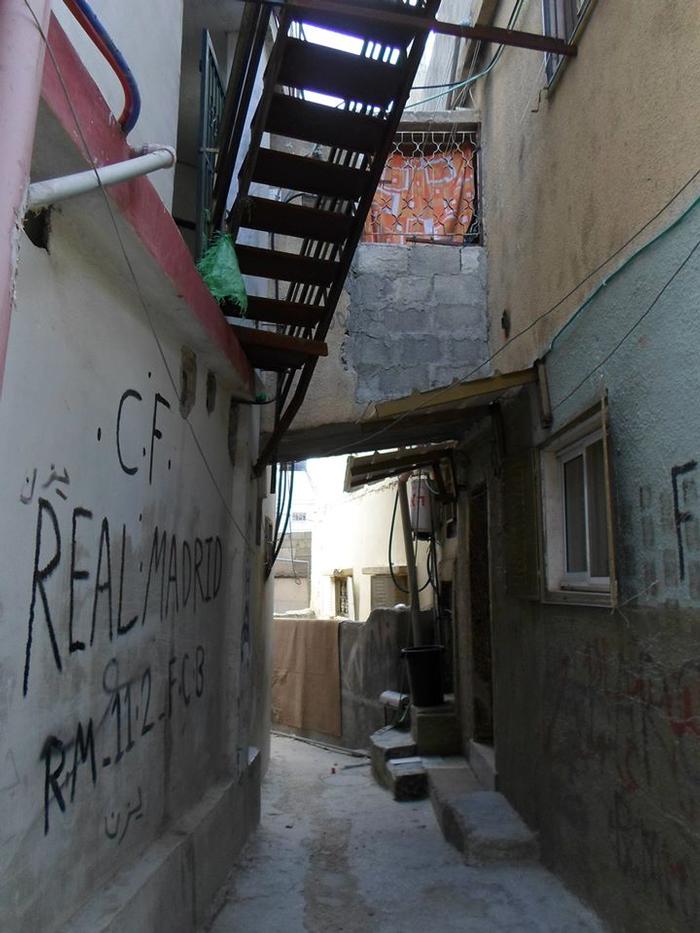 a path in Al Dheisheh Refugee camp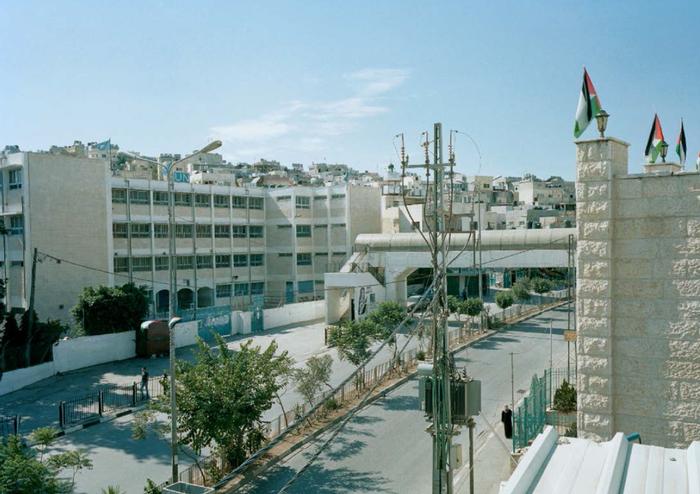 the bridge connecting the old camp with the new camp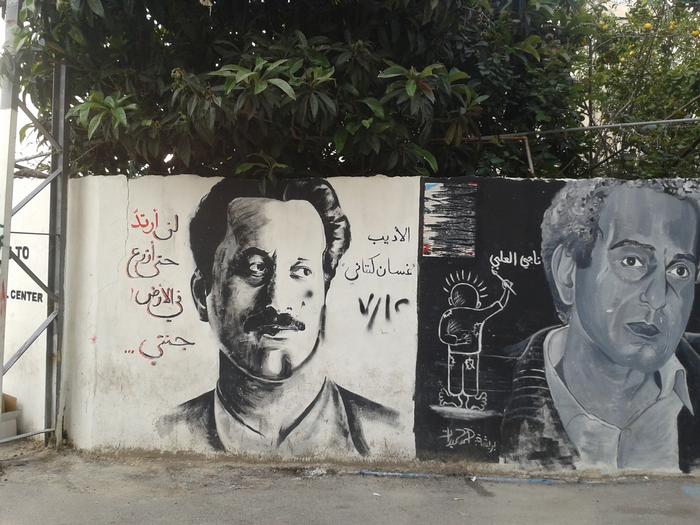 graffiti on the walls in Al Dheisheh Refugee camp
If you would like to contact this author, please send a request to info@berkeleyprize.org.
---