[ID:1444] Where Nobody Goes Away A Stranger
United States
Cecil Sykes had a vision; a place where anyone could have a cup of coffee, get warm and "where nobody goes away a stranger". He opened Sykes in downtown Kalispell, Montana as a market and meat counter in 1935. When Doug and Judy Wise purchased the market from Cecil in 1945, Sykes was 25 feet wide with a wood stove. They served fresh pie, a 10 cent cup of coffee and continued to live the slogan. Sykes became a meeting place where ranchers and farmers that helped shape Montana's pastures and fields would come into town to eat, talk and shop. Soon, Sykes became much more than a market and meat counter.
Doug and Judy expanded to include a restaurant that offered the freshest, locally sourced food in town. If someone needed a meal, they were fed, even if they couldn't pay for it. Every Thanksgiving, a free hot turkey dinner was served. In 1981, a pharmacy was added. It was run in the same way; the medications were affordable and customers were treated like family.
Doug himself opened Sykes at 5 a.m. every day to get coffee ready until 2008. Sykes was and still is only closed one day a year, on Christmas Day. Anyone who knew Doug and Judy would say they were heroes. They gave everything they had and were loved fiercely for it.
After 63 years, in 2008, when Doug was 90 years old and Judy was 78, they finally decided to sell. They were unsuccessful in finding the right buyer as most potential buyers wanted to demolish Sykes to build condominiums or other businesses. Rather than lose what they had worked their whole lives to build, the market and restaurant closed in 2009; only the pharmacy remained open. The Wise's held hope that somehow, the strong beat of the pharmacy would keep Sykes alive.
In 2010, local business owner and engineer, Ray Thompson purchased Sykes. Ray decided to purchase the building after he saw the line of people going into the pharmacy even when the rest of the building was dark. He says he knew then the place was special. Ray wanted to rebuild Sykes but to do so, he knew he needed to tear most of the building down. This was initially met with strong emotional opposition. The building had so much history. In reality though, it was no longer functional and no amount of remodeling could ever make it so. Ray Thompson, with the help of Dave Jolly, his project manager, Tobey Schule, the pharmacy owner, and Mark T. Johnson, the architect, led a team that brought the place back to life.
From the beginning, the rebuilding project was handled differently perhaps than other larger, corporate projects. Ray made it known that the local people were his true clients. The community was engaged and involved at all levels. A window from the new restaurant into the old market allowed everyone to see the construction as it happened. As construction began upstairs on the apartments, a webcam was installed. Most construction sites are walled off with chain link fences and the construction people are not readily willing to engage in conversation. On this project, all construction workers, the project manager, the architect, the pharmacy owner and Ray himself were at Sykes daily talking with and listening to the community Sykes had served in the past and wanted to serve again. This was an unprecedented act of transparency and a show of support for the community's interest.
Ray had a very aggressive timeline for the three phases of rebuilding. Phase one and top priority was to ensure the restaurant would be open in time for Thanksgiving. Then, the market would be rebuilt and pharmacy expanded as phase two. Finally, the apartments would be built as phase three. There were many who felt the restaurant could not possibly be open in time but a few short months after starting construction in September of 2010, their primary goal was met. The annual tradition of free Thanksgiving Dinner continued with serving the largest amount of meals to date to over 1,200 people.
Another primary goal of the rebuild was to improve the efficiency of the building while still retaining its character. Ray hired local architect Mark T. Johnson for his design capabilities but also for his ability to listen. Mark said his original designs were too modern to be accepted by the local people. He changed his design until the community felt it was right. The final design has a definitive Montana or Northwest style consisting of rough squared logs, natural wood, grey and brown earth tones, exposed beams and an abundance of daylight. It was clear the building wasn't designed by an outsider; it was local. The Sykes cowboy logo painted on the side of the original building was repainted on the new building. Sykes is not pretentious. It struck the perfect balance with the people that reinforced they were special but still belonged. The building feels like it was built to last for 100 years, giving a sense of security and continuity to the downtown overall.
While Mark was able to successfully implement the needs of the owner and the community into the design, he lamented that due to the tight initial construction time frame, the kitchen space in particular was not used as efficiently as possible. Perhaps this small inefficiency can be overlooked in light of a much greater efficiency gained by the installation of a three-part geothermal heating system. The heat generated from all of the refrigeration systems in the market and restaurant is recycled back into the geothermal pipes to heat the building. Other efficiencies and sustainable choices were made throughout the building with materials such as LED lighting and locally sourced fixtures, counter tops and cabinetry. All architects should have similar opportunities to be involved in their community projects.
The people of Kalispell agree the new Sykes feels much like it did before, only better. The building continues to remind them of the good and hard times of their lives and their heroes, Doug and Judy Wise. Over the years of getting up and down to greet customers, the linoleum underneath the chairs where Doug and Judy both sat in the back of the diner was worn down to the concrete. In the remodel, new linoleum was installed except for a square underneath their table. There the concrete still shows to remember and honor them.
Tom Jentz, Kalispell's city planner, says Sykes is an institution. He admits that Ray could have chosen to build anywhere in town. It would have been easier and less expensive to build elsewhere due in part, to less restrictive land regulations in the county, but emphasized it would not have been Sykes. A building anywhere else would not have been accessible by foot or bicycle to longtime customers, many of whom live in one of the four age restricted fixed income homes or group home within walking distance of Sykes. Meals are not provided at these homes (except one) nor is there a nurse on staff. If Sykes had not been rebuilt as before, the downtown residents of Kalispell would have had to get their next prescription from a commercial pharmacy two miles down the road. This is too far for most of them to walk and a delivery service (like Sykes has) is not offered. There are plenty of other places to eat in town, but none of them serve breakfast all day, still charge only 10 cents for a cup of coffee and offer their customers the opportunity to sit and talk with friends. There are other apartments in town, too. But often, they were built having given more thought to profit than to the incomes of the people that want or need to live in the downtown area. The apartments in Sykes were constructed with fixed-incomes in mind while still allowing for high-end finishes.
A conference room was added downstairs, which has provided a useful space for the community. The president of Kalispell Chamber of Commerce uses the conference room at Sykes almost weekly for various meetings. It is bright and comfortable and although it is further from his offices than where he used to hold his meetings, he believes it is worth walking the extra few blocks. Meeting attendees see the history of Sykes and learn how it is possible to make a similar difference for their own communities.
Sykes was recognized by the City of Kalispell Architectural Review Committee for Best Commercial - New Construction in 2012.
Walking into Sykes for the first time, one might feel they don't belong because of the strong sense of familiarity among the customers. But this sense of familiarity goes beyond being customers; many of the customers are also employees. A disabled gentleman sweeps the entryway and polices the parking lot for cigarette butts. He arrives on his bicycle or walks if it is icy, and when he isn't sweeping and policing the parking lot, he sits in the entry lobby between the two sliding doors and quietly greets people. Sykes has given him and others many ways to be independent.
The customers of Sykes typically include a large percentage of the disabled, poor, elderly and mentally ill. This is in part because the pharmacy specializes in low cost medications and has a special relationship with Flathead County Health Clinic where all health and dental care is provided on a sliding fee scale based on income. The doctors and the nurses at the Clinic have developed close relationships with Sykes Pharmacy. Customers of the pharmacy benefit from this cooperative relationship with the Clinic but have also fostered close relationships with their favorite Sykes pharmacist. If a customer comes in to talk with their preferred pharmacist on a rare day off, a call will be made so they can speak together over the phone. This is not resented as an intrusion; it is welcomed, expected. The mental health of many has improved because of these relationships.
Sykes has found a way to be inclusive, honest and straightforward. It has given the elderly, the poor and the mentally ill a place to go where their needs are met with kindness. This comes from a sense of generosity of spirit and the golden rule to treat others as you would wish to be treated. It will not take long for someone to feel comfortable among a larger diversity of people than they might be used to and the sense of familiarity will start to envelope them. Many people will likely start to wonder why other places aren't more like this, like home.
Sykes truly is like a family and it is family run. Many of the Wise's family worked there. I spoke with one family member, Ginger, who had worked at Sykes for fifty years and still plays bridge there with her lady friends every Monday. Ginger confided that the amount of time Doug and Judy gave to Sykes sometimes created problems for them as parents. Their children got tired of hanging around Sykes or used their parents frequent absences from home as a license to get into trouble. But mostly, their parents' sacrifice was something they participated in and grew to be proud of. Not surprising then, the pharmacy is also family run. Cynthia Schule, the pharmacy owner's wife, made twice weekly deliveries for more than five years after her retirement as a school teacher and still does the pharmacy finances. Travis Schule, their son, is not only a partner in the pharmacy but one of the most consulted pharmacists in the state for his expertise on mental health drugs. Tobey and Cynthia's daughter is also a licensed pharmacy technician and worked in the pharmacy before going back to university for a second degree.
Ray and Ray's wife, Ladine Thompson operate Sykes in much the same way as Doug and Judy did. Ladine plays the upright piano at lunch time most days. She often has a violinist, a guest instructor from the Flathead Valley Community College, play with her for a real treat. Ray eats breakfast every morning at Sykes with a different group of people, sometimes business, always pleasure. Their son, Steve handles all of Sykes finances. Their other son, Mike is Sykes manager. He can usually be found in one of three places, at church, hiking the trails of near-by Glacier Park with his family or at Sykes front desk.
Community connection, trust and loyalty is important in the success of Sykes. These qualities first given to the customers are now being given back to the owners. Sykes continues to grow. Downtown Kalispell continues to be revitalized. Businesses are moving into the Downtown area for the first time and businesses that moved away are now coming back. Sykes helped business and community leaders see that a strong downtown helps keep the whole community alive in a way that thriving strip malls cannot accomplish. The success of Sykes has given hope to many in Kalispell's community.
It is really hard to describe the heart and soul of the special relationship Sykes has created with the local people. It is rare these days when a business and a building have it all right, when the design and the purpose all go to serve the whole and the heart of the community so well. But more and more business leaders are understanding that the quick sale is just that, quick and fleeting. To have customers for life, they need to be treated like family, with heart and soul. Sykes has done that from the beginning. The Wise's found just the right patron unwilling to sacrifice his values or the values of the community he loves. A community that brought a team of like-minded individuals together, that listened to their needs and brought something back to life that might have been lost.
Ray, Dave, Mark and Tobey are reluctant to be at the center of attention. I have seen them eat with everyone, throw out a racist customer and give money out of their pockets to someone in need. They all worked to keep something in their community that was special. They do not want anyone to know this or how many hours of sweat equity they spent remodeling Sykes. They do not speak of profit. What they want is for the town and the people they love, to be able to live, talk, get healthy, get warm and have their bellies be full, all within walking distance of their homes. "It's the right thing to do," was their often repeated guiding principle during the rebuild when making difficult decisions.
Doug Wise passed away at the age of 93 in January of 2011 while Judy passed later that year. They were both alive to see their legacy pass into good hands. Sykes is still the place "where nobody goes away a stranger."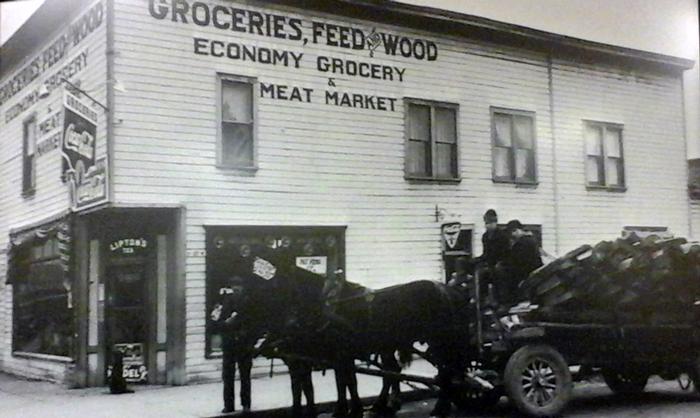 Sykes circa 1935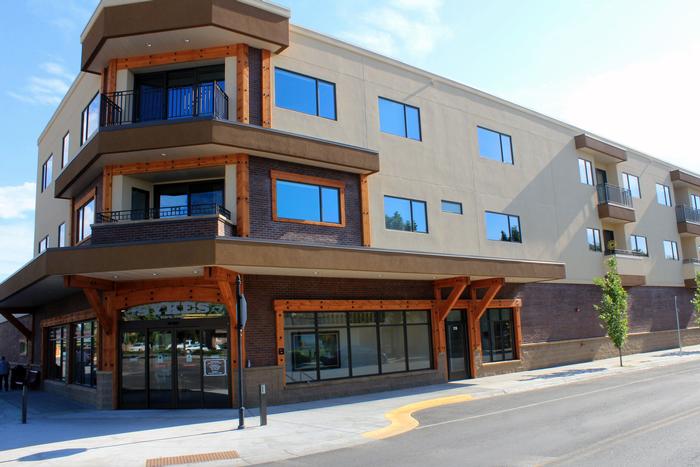 New Sykes, 2014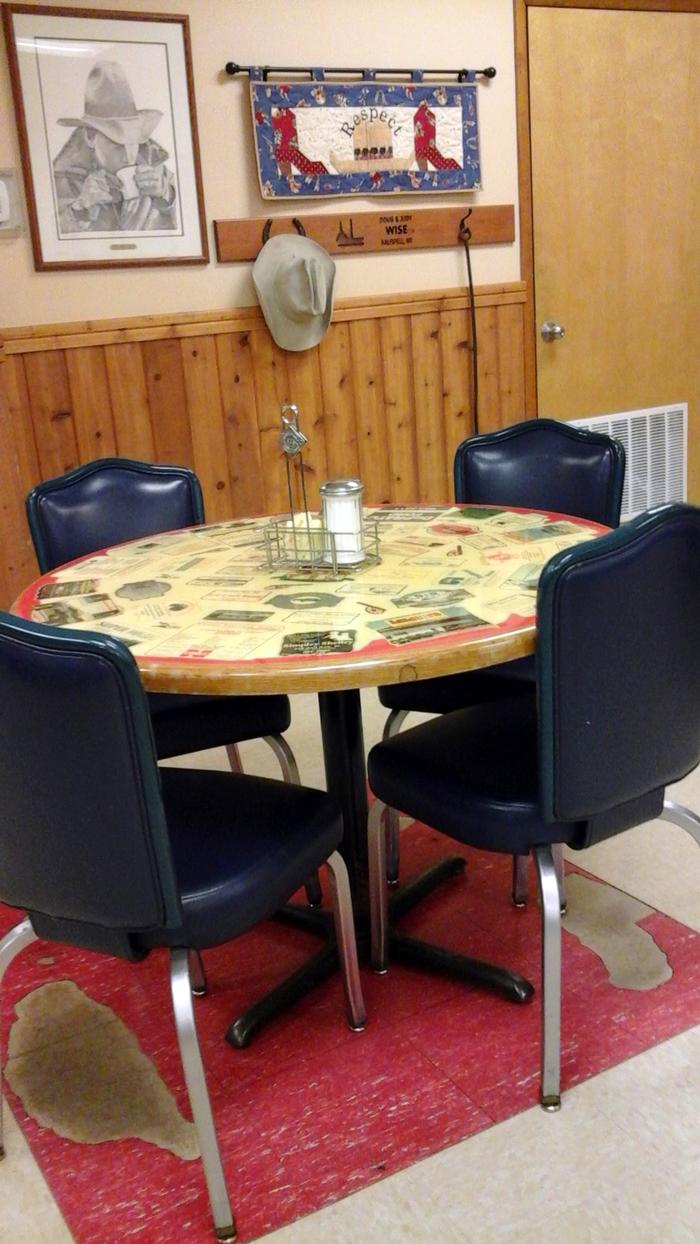 Doug and Judy Wise's old table, the lineolum worn to concrete. Respect on the wall behind.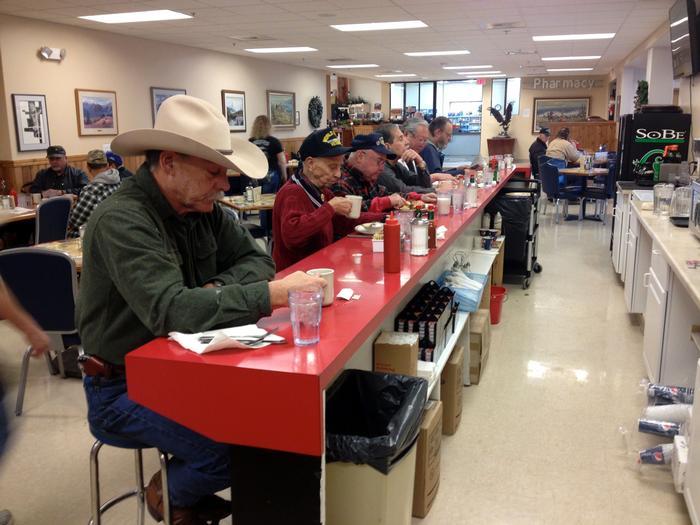 Sykes restaurant counter, 2015. Looks the same as it did in 1935.
If you would like to contact this author, please send a request to info@berkeleyprize.org.
---