[ID:1417] Embracing Poverty
Bangladesh
When a child is born, 'wonder' is the first emotion he experiences. Laughter and happiness are the attributes that come naturally to him. Even the pain of hunger is natural. But sadness, sorrow and fear are some 'unnatural' emotions he has to go through. The experiencing of these emotions at length can dictate what a child is going to grow into. In our country Bangladesh, where the fine line between the rich and poor is loudly pronounced, the evaluation of one's achievement is done on the basis of what he owns or where he stays. It is as though we can put prices for a boy's laughter or can buy the tears of joy of a mother looking at her new born child. We seem to know the prices of things and emotions but not the value. This also puts our sensible mind in question. But there are examples that inspire people to hold on to their hopes. Sometimes the presence of a helping hand, a compassionate gesture or a reliable shoulder and a new thought can heal the wounds that medicine cannot. Here, we speak of a person who ignited the hopes of many. He opted to live in the largest slum in Dhaka city.
Dhaka is the capital of Bangladesh. It is the 9th largest mega city in terms of population with more than an outstanding 15 million people living here. Extreme poverty, unemployment and natural calamities like soil erosion, flood and cyclones in villages make huge number of people migrate to the city every day. Eventually these people find their place in slums. Garbage, dirt, stench, noise, diseases, lack of drinkable water, electricity etc. are the common scenarios of slums in Dhaka. Here, they live in a very congested environment without most of the basic needs, let alone any space for kids to play or recreation for adults. Sometimes different individuals and organizations come with reliefs to help, but these attempts are merely droplets in a desert. Amid all these, we came to know about an architect- Hasibul Kabir, who thought differently. He seemed to have embraced poverty rather than confronting it.
'Karail', the biggest slum of Dhaka is like an island surrounded by Gulshan- Banani Lake. The lake shamelessly divides the slum from the posh area of Gulshan. Architect Kabir started living there from 2007 in a rented room of 600 Bangladeshi Taka (7 US Dollars). He is a landscape architect and a professor at BRAC University. To live nearby his campus, he searched for a place. Kabir spent his childhood in village and knew what it was like to live with the soil. When he looked for a place to live, he had one condition – it must be close to land with some space to grow plants. This was hard to find in Dhaka. He could easily have arranged a decent apartment in Gulshan but he thought of residing at the slum. But it was not easy to stay there. There were problems with electricity. The water was only available for about five minutes per person for a whole day. But Kabir managed well. With a few personal belongings, he lived there with simplicity. When he was asked if it didn't trouble him living in the crowded dirty slum where chaos and crime were regular, he answered with a different perspective,
'The slum is all that a city should be- except a few drawbacks. A city should have all the facilities preferably within a walking distance. It should have a vibe, cohesion, work space, bazaar, park, neighborhood, street etc. all these are present in the slum. But if we just cross the lake to Gulshan we will miss most of the things. We will surely get clean streets, full time electricity, water but the essence of life is not the same. The physical aspects may be there but the social treasures are missing. All that we aspire of making in cities is there in the slums. But all good things there happen in shadows'
About 42 people live in per acre land of New York City and about 831 people live in per acre land of Karail slum. It's a government land but the government hardly receives any tax. Corrupt and powerful people are the authorities here. The people are under constant threat of eviction with no alternate planning for relocation. With the fate at stake and confused about the future, the people scarcely expect fair acceptance in the partial society. In this context, Architect Kabir played his part in instilling the idea of acceptance among the slum dwellers. He didn't do anything extraordinary. He stayed at the slum, made a green garden for his work, arranged a library for the children and constructed a platform for children to play over the lake. These simple acts changed the views of many.
Confronting poverty doesn't necessarily mean eradicating poverty. It deals with a perspective. It is the idea and thought of poverty that has to be fought fiercely, for ignorance and neglect often do much more damage than poverty itself. A person may have little wealth; he might be poor as well. But when he is made to realize that he belongs to a low class every time, it makes his inner soul small. It demeans him, insults him and shatters his self esteem. This realization is a severe torture. A man can happily pass a day with a single piece of bread, but he cannot hold his head high if he is tortured like that. He feels unfortunate and alone. He is never happy.
Should poverty be the only decisive factor for happiness? Money is important of course, but can none be happy and successful with less of it? Of course they can. This can be explained with an example:
Economist Atiur Rahman of Bangladesh is the present governor of the Capital Bank of the country. He grew up in a village and was the son of a poor landless farmer. He was really poor but he didn't give up his dreams. He only had the good will and consent of his parents for support. He even had to quit school after grade III because of financial conditions. Although he had almost nothing, his will power and hard work brought him to this position today. There are many such examples.
On the other hand, most of the criminals of cities come from slums. Child labor, family unrest, unchecked adolescence make way for children to go astray. The eminent people of the city complain and blame the slum dwellers for the crimes but keep a safe distance from them. But we see that even the best of trees don't give fruit without proper nurturing. If the slum people are also nurtured, cared for and given a fair chance to show their worth, the country might get glorious gifts even from a slum. They just need to be accepted without discrimination. In this scenario, when a person of high qualification treats the slum people not as inferiors but as equals, it means a lot to them. Kabir implants this belief of self acceptance among the slum dwellers. When asked about the acceptance of slum people, he said,
'People are not slum. They are merely inhabitants. If these people just cross the lake to Gulshan and stay, they will be different. And there are many good things as well. The three 'R' of sustainability – Reduce, Reuse and Recycling are carried out efficiently in slums. Besides, there are problems everywhere, not just in the slums.'
Kabir, while living in the slum started growing plants around the tiniest leftover spaces he had. As Kabir studied landscape architecture in the University Of Sheffield, UK; he knew about the western plants. Now he wanted to experiment on oriental ones. He started with flower plants. Soon, bright colorful flowers littered his surroundings. The colorful flowers attracted the children. He started planting vegetables which would benefit his home- owner Mr. Forkan's family. Soon Forkan's wife and daughters were happy to receive fresh vegetables and participated in Kabir's effort. Children from the neighborhood started visiting their garden and took seeds from him. They started to throw the seeds playfully in the vacant grounds of the slum. They even threw mustard seeds all along the lake's bank from boats with great festivity. Soon the bank turned yellow. It brought about a beautiful change.
People in Karail had much to a busy life to show interest in trees and plants before. But when they learned about the flowers & fresh vegetables in Forkan's family, they also became interested.
As more children started to visit the garden, Kabir managed a few books and started a small library with the help of Forkan's daughter Tithi. He always took all the children with him to buy books and plants which created opportunity for great jubilation. However, this produced demand for a better space for children and so Kabir decided to build a platform for the children with the help of others. It was a floating deck-like structure over the lake made of reused bamboo and connected with a bridge. It was mainly open to sky with a portion covered with thatched roof.
Thirteen year old girl Tithi named it 'Ashar Macha' (platform of hope). Soon it became the most favorite space for children. They started to play, sing, gossip, read and do other fun stuffs here. Ashar Macha was surrounded by a lot of plants and trees which invited various types insects, flies and birds. The parents were also happy with the little green corner for their children and encouraged them to go there. It must have reminded themselves about their own childhood in the open green villages of Bangladesh. It was not a huge costly structure. It was just a bamboo platform that invited the slum children with love. The children also learned to value beauty and life of animals and insects. The children's laughter is precious. As Kabir curiously says,
'We can even learn so many things from a laughing child. How can a child living in such a place laugh so casually? How can he be so happy with so less while so many of us with so much cannot?'
Kabir's students and colleagues also started to go there, most of who had never been to a slum before. They brought chocolates and books for the kids, talked and played with them. This diminished the sense of schism between the students and slum dwellers. At evenings, people from the neighborhood gathered here and talked about their life, philosophy, politics & other interests. Sometimes Tithi would act as the host and the elders would speak on issues here. It even turned into an open movie theater! Kabir managed an old projector and the people used white bed sheet as the screen. People from the opposite side 'Gulshan' could also watch the festivities.
Kabir didn't take Karail as a project. He only went there to live. He wasn't much interested in publicity. He just created a scope of happiness for the children. For all that his home, garden, library and Ashar Macha got featured in a Bangladeshi news channel and also in some national and international architectural journals.
Grievously however, it's a matter of great despair that although Ashar Macha had become a beautiful and vibrant place with children, green plants and flowers, recently we came to know, it has been demolished by the government authorities. About two thousand people lost their homes as part of that eviction program. There were no relocation plans for them, neither were any prior notice. The slum dwellers, being the most powerless people in the city, lost their homes and no television or print media made any reports on the ill fated people. The people of Karail, accompanied by Kabir, protested against the onslaught. Although political violence and property damage is very common in the city, the people protested peacefully by road blockade, having lost almost everything. After two hours of peaceful protest, the demolition was stopped.
Even though Ashar Macha has been demolished, it spread hopes among the neighborhood people which can never be taken. The platform was a demonstration of what is also possible in a condition of constant adversity. As Tithi says,
'Because of Kabir mama (uncle), we are no more ashamed to be slum dwellers; rather we proudly introduce ourselves as slum girls.'
Tithi reveres Kabir and wants to be an architect as well. Kabir, with his presence has developed a sense among them that anyone can live with harmony and beauty even in a slum. As Mrs. Forkan says,
'Yes, I live under threat of eviction everyday but if I live for a day, I would like to live with beauty.'
This is a great realization indeed.
Kabir's presence in Karail slum made a great impact among the architects and architecture students of Bangladesh. It inspires people from all walks of life. Kabir largely gives importance to the active presence of people. He says,
'I went to live there, so there was one garden. If there were hundred architects, there would be hundred such gardens and if hundred slum children find themselves around such gardens, then can you imagine what a great thing would happen for them? '
Kabir is an architect and he thought about the living environment and houses. What if a doctor, a scientist, a writer, an artist or a political leader follows Kabir's steps?
Walking along the dirty, narrow roads of Karail, we found the presence of extremely playful, busy and spontaneous life. Architect Kabir pointed us how a small simple design can be so much efficient when it includes the participation of people. He showed that an architect can not only design beautiful structures but can also inspire people to hope and preach to pursue beauty. As Architect Louis I Kahn said,
'Design is not making beauty; beauty emerges from selection, affinities, integration and love.'
Considering Dhaka to be one of the toughest cities in the world, the challenge is not one of solving its endless crisis but in producing the idea of how one should live as part of a collective. Kabir has thus embraced poverty rather than planning to confront it from a safe distance. It was not about celebrating poverty, but celebrating life within poverty. He shares a perspective that living with slum duelers can also be comfortable and there is so much to learn from those who are living with so less. All in all, he imagined differently. We would like to conclude with a quote from Nobel Laureate economist from Bangladesh, Dr. Muhammad Yunus, who dreams to encase poverty in museums in future:
'To overcome poverty and the flaws of the economic crisis in our society, we need to envision our social life. We have to free our mind, imagine what has never happened before and write social fiction. We need to imagine things to make them happen. If you don't imagine, it will never happen.'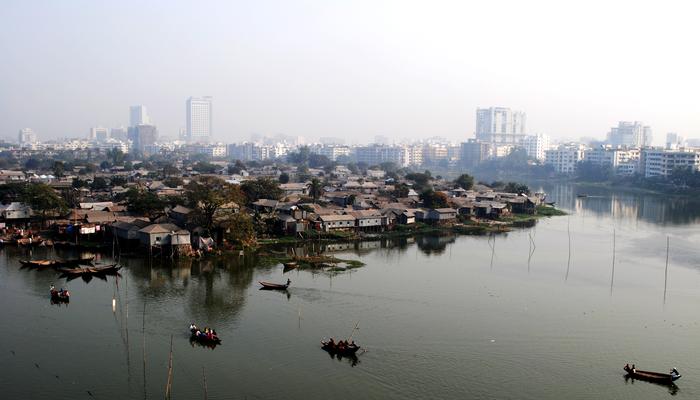 The lake separating Karail slum from Gulshan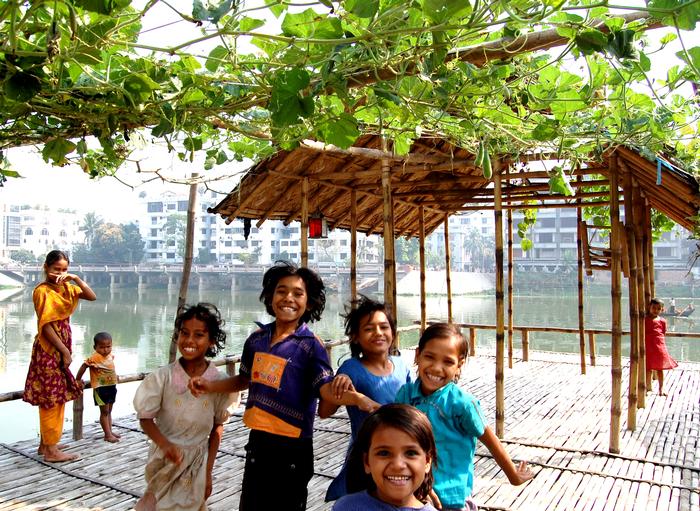 Children playing on the Ashar Macha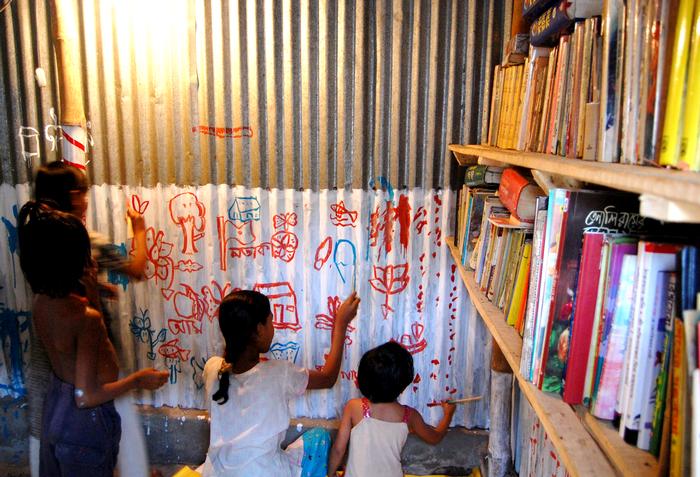 Children drawing on the library wall

Slum dwellers enjoing a movie in the Ashar Macha
If you would like to contact this author, please send a request to info@berkeleyprize.org.
---