[ID:1242] Milwaukee's Social Artery
United States
Sahee Chang, a resident of Milwaukee proudly described to me that the land she stood on was a "community public trail where everyone gathers safely to create community." This long stretch of public land that separates two Milwaukee neighborhoods is popularly called the ARTery, a clever play of words that suggests the power of art in reinvigorating neighborhoods and bringing people together. Project ARTery is an adaptive rehab of an old railroad corridor between two industrial neighborhoods, Harambee and Riverwest in the city of Milwaukee, Wisconsin. Developed by a local organization called BeIntween the old unused railroad tracks became a public space that would seek to facilitate social activity. Sahee visits this trail often, but the day I interviewed her, she was there in order to participate in a month long free performance and art event series along this trail that brought local residents and artists together. Artistic installations, performances, active recreation, and communal meals and gatherings all take place within the space. Within the Artery, there are specific spaces which serve as stages for each activity. Musical and theatrical performances bring community members together on an event basis and showcase talent in the area. Interactive artistic installations engage members and urge them to question the divisions between cultures in their communities. Community barbeques bring residents together over food and integrate and enhance cultural and social networks through shared experiences. Additionally, educational resources are offered in the form of a portable classroom that hosts after-school design workshops for youth in the area. The entire space is collectively owned and activated by both communities, operating on multiple levels of interaction.
Beintween's intervention has revolutionized this forgotten corridor over the last few years. Once thriving industrial neighborhoods with working class homes and large industrial buildings dotting this geography, Harambee and Riverwest saw difficult times when industries moved out and governmental apathy led to physical and demographic decline. By uniting the two, Beintween is attempting to create a support network through the establishment of a shared social space in order to foster social, cultural, and economic growth and eliminate social poverty in the area. Defined by designer Keith Hayes, "We see this as a creational trail, not a recreational trail. [And we ask] What sort of things can we create to stitch these communities together, which right now are terribly segregated? " (McDowel).
In 2013 Business Insider declared Milwaukee to be the country's most segregated metro area, a demographic pattern with a long history. In 1834 Milwaukee began as three segregated towns divided by competition for resources and land. The eventual unity of the three towns in 1846 opened the city to floods of German immigrants who then helped to establish a strong and thriving economy based on industrial and factory work. By the 1960s, when this industrial "rust belt" city fell victim to 'white flight', the loss of blue collar jobs, and increasing decentralization, racial and economic divisions became evident within neighborhoods. The result was intense segregation and the creation of economic deserts within the city.
Riverwest is located along the west bank of the Milwaukee River and is often seen as a transition neighborhood, bearing the physical characteristics of slight neglect and years of urban wear. Along its western border lies the neighborhood of Harambee. Demographically, Riverwest is predominately Caucasian and Harambee, African American (US Census, 2010). The division between the two is both racial and social, a cyclical problem that effectively limits interaction. Both neighborhoods share issues of poverty, homelessness, and crime, the results of segregated isolation brought on by economic downturn and the degradation of social systems.
The physical landscape played a big part in this social and spatial segregation. Railroad tracks (like the one where ARTery is located) and highways (Interstate 94 and Highway 43) divided the city into working class black neighborhoods and middle class mostly-white clusters. Today, the Milwaukee River draws a hard line between east and west Milwaukee and creates a physical divide between social and cultural continuity causing isolated pockets of social poverty and economic deterioration. Social and economic poverty have caused a lack of cultural cohesion among neighbors, and reduced the availability of creative outlets and familiar social networks that would allow residents and members of a neighborhood to rely on each other. Without a strong social network, segregated neighborhoods experience social and economic isolation from surrounding neighborhoods
In the summer of 2012, Beintween, a small group of dedicated volunteer architects, students, and local activists came together to explore how place and art have the potential for creative solutions to these social issues and the rebirth of cultural unity and economic prosperity in these neighborhoods.
When discussing the feasibility of the ARTery project with 2011 Marcus Prize winner Francis Kere, founder of Beintween, Keith Hayes, asked what level of community involvement would ensure the success of the project. Kere replies with, "It is a great idea. You deal with a recycled material and you want people to work with their hands. In a place like this [a first world country] people are looking for an idea like that. What [the ARTery] will allow them to do is engage themselves and be a part of something that really happened ." (Kere interview). The potential of the Artery is in its ability to engage the local community and create a space that is contextual to many social opportunities. Kere talks about creating a sense of ownership through investment in order to unite local residents around a common cultural space, encouraging interaction and fostering social unity and the growth of support systems. The end goal, as Kere puts it, is to get local residents invested in the space through physical interaction with the project. The Artery encourages that physical interaction through the creation and display of art and tries for Keres goal by involving local residents in the project and providing a natural environment for interaction.
The ARTery celebrated its 2nd year in 2014. The response from the community and volunteers has been overwhelmingly positive. UWM student and Beintween volunteer Hugh Stoward explained why this project succeeded, "The Artery is a place and idea built for and by the community in which it resides ." (Stoward interview) Stoward argues that ARTery's success lies in its unique location as a border and in-between zone shared by both neighborhoods and the creative reuse of this physical space for recreation and art practices is focused on the idea of social and cultural bonding. Resident Andrea Johnson points out that architectural and social programming in this common space had a part to play because " [the community can] gather together to experience different backgrounds and grow and learn about each other " (Johnson interview).
The successful creation and operation of the ARTery relies on the vested interest and communal ownership of the space as a public project by the community. Local residents view the space as an artistic outlet and a positive recreational asset and value the ability to gather as a community and share knowledge and talent. According to Aisha Coursen, a resident of the Harambee neighborhood this urban park is a "life source, a way to connect the neighborhood and provide it with nutrients " (Coursen interview). Aisha and her friends use this space for walks and recreation, and participate in the many art events and community barbeques held in this space.
In 2013 the ARTery organizers implemented a summer long series of competitive performance and art events where local residents and artists demonstrated their art through exhibits and performances. Three "stages" made of recycled materials and volunteer efforts were erected to hold these performances. Local residents directly engaged with the Artery value it as a safe learning space where they can "come to experience the freedom of art" says Jason, 39 and a resident who then goes on to explain the space as "a positive and independent art and cultural space for the community" (Personal interview). The aspect of the project that reuses old infrastructure to create a community center is the most compelling part of the Artery. It demonstrates that instances of community based design can be recreated in modular format to fit nearly any urban infrastructure. The ARTery is a prototype of new-age urban renewal projects and is successful as an asset to the community, acting as a blueprint for future iterations of this type of project. The project is a flagship for new processes of design theory and production and demonstrates a closer relationship between environment and inhabitant.
In order to achieve this relationship, the ARTery must operate on multiple levels. According to Keith Hayes, the ARTery is a place, process, and product. The physical space exists as a place or destination for local residents to find recreational and artistic outlets and a sense of communal ownership which encourages the growth in the frequency of social interactions. The Artery is also a process and an abstract idea that the creation and use of the space is a metaphor for the urban revival of the two communities. The act of developing spaces and activities over time helps to encourage the process of stitching together these two communities. The development of social networks and artistic communities is a process that lends itself to the creation of the Artery as a product, specifically the amenities. The term product refers to the various performance stages, the community table, recreation courts, and classroom. By these three definitions, place, process, and product, the Artery is defined by those that use it. All three perspectives lend themselves to one cohesive goal of creating cultural and social unity through the encouragement of social interaction.
Local business groups and neighborhood improvement organizations have acknowledged the ARTery as a beneficial addition of much needed community green space and an effective economic generator. Business groups such as Riverworks, a group dedicated to improving the economic opportunities in the Riverwest area, have worked with Beintween to host various community events at the ARTery, events including shared meals, art walks, and movie nights. The Greater Milwaukee Committee is fully committed to further involvement in the project in the future, allotting a $725,000 Kresge Foundation Grant to the development of the ARTery. "It will be used to grow the ARTery and do economic development in the area as well," says Julia Taylor, GMC president (Murphy), "Especially for the Harambee neighborhood, which is one of the most economically depressed areas in the city." The ARTery is a stepping stone in the economic revival of these communities, serving as a resource base and artistic outlet for the neighborhoods.
The ARTery project galvanized and attracted the attention of Milwaukee residents. Local newspapers and news channels have helped to bring attention to the project and encourage its success by showcasing events and highlighting the project as a new park. The local Fox 6 news covers various events at the Artery and the website Urban Milwaukee has featured numerous articles following the development and use of the project. The Artery has been recognized as a successful space for community art and recreation. It has also become a part of Milwaukee Mayor Tom Barretts "Walk 100 Miles in 100 Days" initiative to encourage Milwaukee families to lead more active lifestyles. The ARTery has become a part of a city-wide health initiative led by Barrett and the focus of a Healthy Neighborhoods Initiative in Harambee and Riverwest led by the Riverworks Development Corporation. Barretts "Walk 100 Miles in 100 Days" movement focuses on the health of individuals and families within the community and the Healthy Neighborhoods Initiative plans to engage residents of both neighborhoods in a dialog about the overall structure of their communities. The ARTery plays an important role in each project, encouraging healthy habits through physical activity in a naturalistic landscape and the development of social ties leading to economic innovation.
Project ARTery is an innovative application of a fast-growing movement of "public interest design". Public interest design, or social design, introduces a new way of thinking about design as an architectural and social process which is mindful of the role of the designer in society and the ability of design to bring about social change. The relevance of the ARTery lies in its response to divisive cultural and social issues through the development of an interactive landscape and urban design. This is a grassroots project with a unique program that allows for the flexibility necessary for social interactions and exists as a successful example of social and community based design. Collaboration between designer Keith Hayes and local volunteer and working groups, such as Riverworks and the Greater Milwaukee Committee, led to the development of an innovative social design project. This project closes a gap between social practice and architectural theory. As a result, the ARTery is a successful installation of collaborative design work and is now a place for two communities to converse over art, shared social resources, and economic potential.
According to this new school of thought, the ARTery can be labeled a work of social design. As an intervention in the social fabric of a community, the ARTery and its various architectural and landscape elements engage the communal, recreational, and economic potential of these neighborhoods. The space acts as a tool for the bonding of two communities, uniting cultures and races through interactive spaces and connective urban structure. As an act of design intended to bring about social change and the redevelopment of public space, the ARTery has introduced social design as a potential solution to the social and economic segregation in Milwaukee.
As the first project of this type in Milwaukee, the ARTery project is reliant on active interest from local residents, volunteer activity, and news coverage in order to be successful. The inclusion of multiple different perspectives and groups is a testament to the flexibility of design in the context of a public space. The ARTery as a product cannot be replicated, but as a process, the project is flexible and has the ability to redefine the constraints of 'design'. As a social process, the creation of a successful public space through cooperation by multiple voices and organizations, the ARTery is a testament to grass roots projects, and the ability of design to instigate social change. A project of this kind has global implications concerning the design of public space and begins to touch on the idea of community based design as a solution for growing social and cultural divisions world-wide.
As an architect, the Artery inspires a more flexible design process. Collaboration with users and other affected individuals has the potential to create projects similar to the ARTery, which act as positive social assets to the communities they influence. The ARTery is a successful example of these principles in action which have influenced my personal views on architecture as a process and product and represents a workable instance of community healing through design. The future potential of public space is to be able to function on multiple levels in order to facilitate social healing.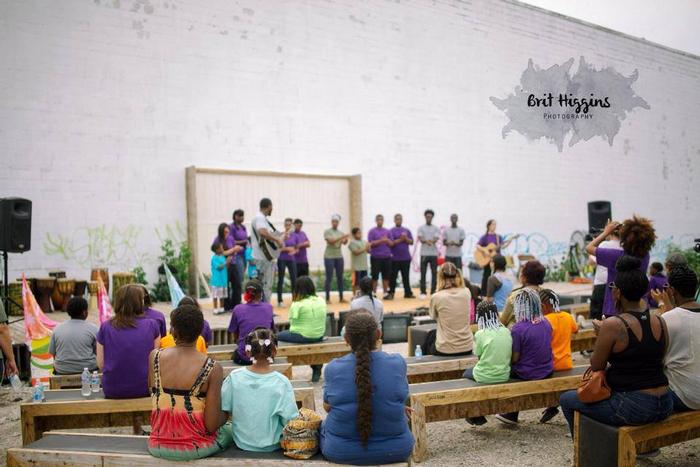 Center stage, Season 1 on the Artery, a local group performs a musical presentation at the center st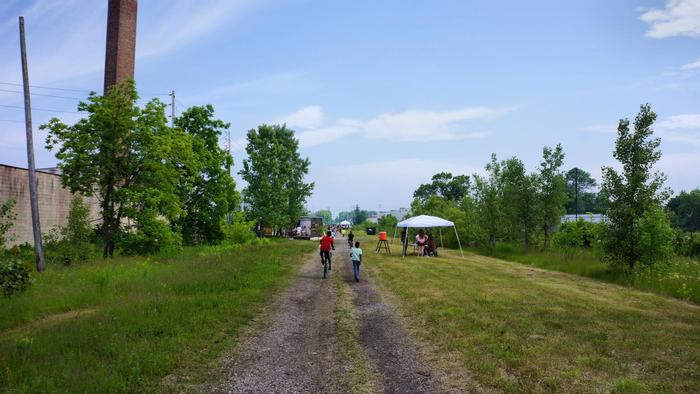 The Artery looking toward the ICan2 Lab. The gravel foot and bike path is reminiscent of the old rai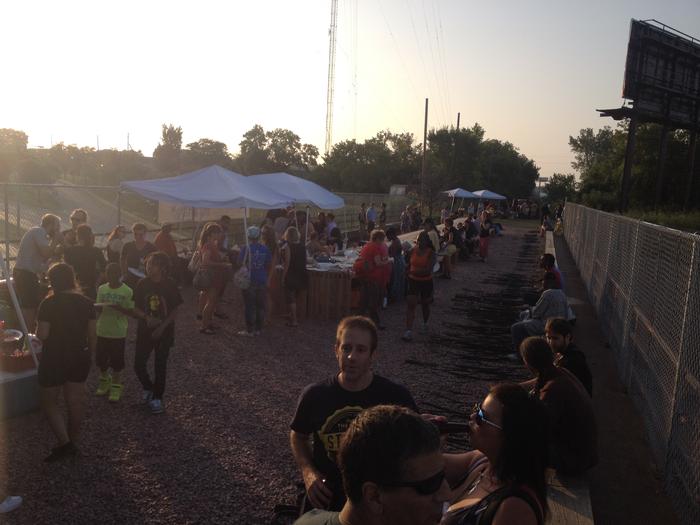 The community table on the ARTery serving at a 100' eating space for communal dinners and social gat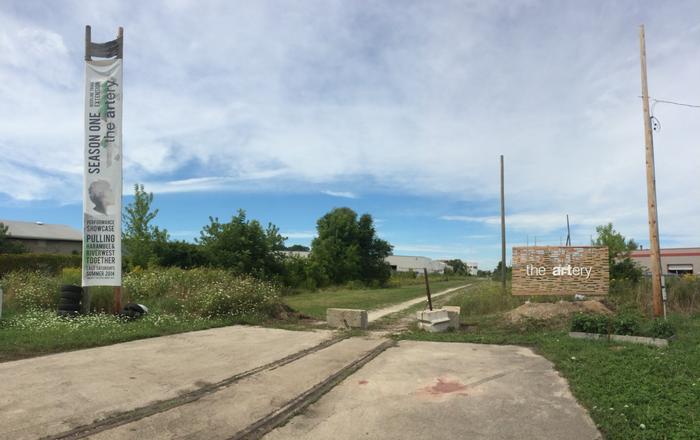 South entrance to the Artery. This image depicts the old rail road tracks and their existence now as
If you would like to contact this author, please send a request to info@berkeleyprize.org.
---