[ID:1053] How expensive is health in Mumbai?
India
Meandering about a harsh sun-lit road, I stopped below the awning of a corner-store, near a monumental office building. A couple of white collared, cigarette smoking, corporate workers, were taking their timely 'stretch break'. Another younger looking intern joined them and claimed to come down to get some "fresh air". The others laughed and exclaimed "Fresh air? In this concrete-glass jungle? Go back to your air-conditioned cubicle and enjoy the air. That's the freshest it gets"
This seemingly irrelevant conversation creates a lens through which the city maybe observed. A city that is being touted as the 'next big global city', a city which is a massive revenue generator for its state and country; my city, whose planners and bureaucrats are relentlessly maximizing the already 'maximum city'- the city of Mumbai.
Mumbai, from its days as 'Bombay', has been sought out as a commercial capital. Post independence, by the seventies, this "urbs prima Indiae"(1)was already being characterized as a city of high growth rate, rapid urbanization and high migration. Exodus from other cities in the country would land up in Mumbai, seeking livelihood and employment. Ushering under the premise of providing for these requirements, a new epoch of planning emerged. Housings migrants, creating more jobs and seeming more 'industrious', became primary concerns of the city's planners. However, these became the city's only concerns, to the exclusion of something far more essential and basic than growth.
Needless to say, with growing populace and staggering urbanization rates, environmental issues began to plague the city.
In a report published by Dr. Yedla, for the Institute of Global environmental strategy, Japan(2003) it was stated that through the years, Mumbai is said to fall into the "health-hazards due to rapid economic development" stage. Mumbai is seeing an endemic of thoughtlessly designed commercial buildings to create more avenue for revenue, but in that process, the city leaves behind a toxic-trail of ill-effects.
However, more often than seldom, people assume that in order to solve above mentioned problems, a choice must be made, a Hobson's choice- growth or no growth, and once 'growth' is chosen, aspects like health and a qualitative lifestyle must be abandoned.
Luckily, from as early as the 1900's, albeit in the European context, the problems of urban setups were recognized and amends were sought to be made. Sir Ebenezer Howard, a pioneer of 'green-planning', proposed a development method of what is called as "a garden city" to negate the ill-effects of urbanization. He created an intermediate town, which had the urbane qualities of a city and the clean, healthy environment of the country-side. His module became the key to planning many healthy-environments, which were reflected in the planning of the capital of independent India- Delhi.
So then when did this begin to crumble? With the population growing at uncontrollable paces and new cityscapes emerging , many began to deem Ebenezer's idea as a glorified "garden within a city" and began to focus on 'more pressing issues' .
The Bandra Kurla complex(BKC) in Mumbai can be said to exemplify that approach. The entire business district, located in the heart of the suburbs in Mumbai, was created with an intention to ease the pressure off of the central business district (CBD) in the island-section of Mumbai. Needless to say, a plethora of shiny glass boxes and wide roads to commute to said boxes were created. What about the environmental impact of this planning? To answer this, provisions for mandatory yet unplanned open spaces were made, only to be used as dumping grounds and parking later. In addition to that, a farcical cycling path was conceived, disregarding the harsh sunlight that would hit these riders. Mumbai being known for its virtually perpetual harsh-heat-or-torrential-rain duo, one would expect to see climatic devices upon this buildings. But BKC's facade is synonymous to 'flat-faceted and mirror-like', with almost no concerns spared for the climate. Trees are parsimoniously scattered about but more symbolically than for any solid purpose, for while walking that path, I bypassed the deserted cycling path, saw the open ground rattling with dust and the trees planted such, that one would have to leap from shade-to-shade to avail benefits. With an area of an astounding 20 hectares, housing 175,000 square meters of commercial offices, one would have assumed the health and well-being of the employees be the foremost.
It is in BKC precisely, where I heard the conversation stated in the beginning of the essay. Truly, the young intern would have to stagger his imagination to procure a place 'to breathe' within this steel-clad-aluminum jungle. It is not surprising,however, that this landmark CBD is not one of the healthiest work-spaces in Mumbai. BKC was built over reclaimed land, previously marshy bank region of the city's sole river, the Mithi; an area prone to water-pollution problems.
Unfortunately, even government authorities succumb to taking sides instead of demanding that growth and an healthy environment must co-exist.
"I am definitely not a no development minister. The environmentalists maybe angry but it is foolish romance to think that India can attain high growth rate with help of solar, wind, bio-gas and such other forms of energy. Growth comes with some costs" said the environmental and forest minster of India, 2013
With new CBDs surfacing every couple of years, one begins to question if in fact the above stated fallacy is now a certainty.
It is in this regard I chose the Nirlon Knowledge park (NKP)complex, as an antithesis in terms of its design to the BKC complex, to provide an example of a building which attempts to dispel the erroneous beliefs stated above. It also stands as an example of how well-planned spaces could favorably impact people .
The Nirlon knowledge park is an information technology and commercial activity hub, located in Goregoan, western suburbs of Mumbai. In the early 1950's, this site was a nylon manufacturing unit for nearly forty years. However, due to many economic factors, the manufacturing unit shut down and the owners, Nirlon, then began to envisage new uses for this 23 acre landholding.
The architects, Khandekar Stadsontwerp & Landschapsarchitectuur (a Dutch planning group) said that while visiting the site, they noticed a number of small defunct buildings, like cooling towers, an extinct chimney, some tanks and a temple dotted around. Thus emerged the concept of creating a palimpsest- the new juxtaposed with existing trees and older re-used buildings.
The words of the architect himself "Despite its intensely urban and metropolitan quality, Nirlon Knowledge Park has a green heart. The approximately 4 acre traffic free central park is characterized by its terraced landscape, elegantly sweeping curve, while the more than 250 meter long water feature combines with old trees, to give the location the quality of an urban oasis"(2)seem to sum up the design concept of the complex.
The heart of the master planning, lies in strategically placing the 'green' elements. The plan consists of concentric rings, the outermost being the parking and infrastructure ring, next the ring-road, after which is a 4 meter wide pedestrian pathway, followed by the quintessential penultimate band of office-buildings, finished by a large central park.
The buildings themselves are partly glass-clad, commercial blocks, housing over a total of 2 million square feet worth of office spaces; a density comparable to BKC. However, special care is taken to make the place healthy for its workers as well as be climatically and energy conscious. The architects pointedly mention the sun-path analysis that was conducted in order to place the offices in an optimum position to obtain natural light, at the same time avoid the sweltering heat of the noon .
How ever utopian the planning of this complex may seem, a glimpse into their company manifesto demonstrates that it stems from pragmatic roots, clearly understanding the relationship between commercial viability and the health of their workers.
The transcript states that the amount of cost spent on the salaries of people is a staggering seventy-two times the energy costs for an office premise. In other words, the healthier a work-space, the lesser the absenteeism which implies more people staying in their jobs, which in effect leads to monetary savings.
The following example substantiates the above inference :- The Internationale Nederlanden Bank headquarters in Amsterdam uses only 10% of the energy of its predecessor and has cut worker absenteeism by 15%. The combined savings equal 3 million dollars per year.
Therefore, the sheer economics of designing a healthier working environment is an incentive enough.
Philip Johnson had once said "architecture posses the ability to contain, cuddle, exalt, or stimulate the persons in that space". I had often wondered if the statement held its own in a builder-driven city like mine. Somewhere, while witnessing the following scene in NKP during lunch hour, it seemed like the quote could just be true :
A group of office-goers, sitting below a shade of rather large tree, chatting. Some eating on the benches below the pergolas coiled in a vines of sweet-smelling creepers. Some walking next to the trickling sound of a mini-stream, vociferously arguing and some enthusiastic younger ones were lying flat on the landscaped terraces, possibly sneaking in an afternoon siesta.
While the old ruin-akin temple, offering a tranquil space, flanks the northern end, the cooling-tower block, now transformed into a cafe and restaurant, marks the livelier southern end. The curved water body lends itself to that lively mood as it cascades over a mural by the cafe and it placidly moves along the rest of complex. Among the dense foliage are existing trees along with new specific species of trees, planted to help filter dust,sound and provide fragrance.
The primary objective of the designers was to provide a traffic-free environment for visitors and workers, where they could enjoy amenities like, open green spaces, daycare-facility and leisure spaces, within the office premise, which in a city like Mumbai seems like a luxury. Not only does this enhance the lifestyle of the working community, but it also boosts the real-estate potential of the buildings within NKP.
"Nirlon Knowledge Park offers the reassurance of order in a teeming metropolis... Technology and the natural world are not in conflict here but reconciled..." commented the head of an architectural practice, Venkatraman associates, Bangalore, on the event of the knowledge park winning the Asia Pacific award 2012-13, under the redevelopment category for its sustainable design approach.
With the advent of sustainable designs, the onslaught of thoughtless practice may seem less threatening. Unfortunately, if anything, it is the reverse. Designs like the knowledge park are more aberrant than the planning seen in BKC, which is more natural. The tragic bit in this tale, lies in the 'clients' of these designs. While NKP is a private company, BKC was planned by the MMRDA (Mumbai metropolitan Regional Development Authority) which is an government run body.
The government planning authorities often reject advice and propositions offered in favor of the environment, under the garb of development and/or tourism. In Mumbai's case, any plan which seems to waste even an square inch of land, is deemed criminal owing to the high land prices and the amount of revenue that can be generated by that it. Thus, every available plot is turned into a building, which probably earned the city its title of 'maximum'.
This reckless building activity is blind or chooses to be blind towards the ill-effects of bad or no planning. Neither is serious long-ranged thought put into planning, nor does it incorporate environment and health impact assessment, for the ill-effects of bad planning are seen as 'probabilities in the distant future', an 'exaggerated version of the truth which puts a spanner in the growth of the city' and 'an expensive affair with few benefits'. Implementations of schemes in favor of health and environment, always seem more expensive and in the recent future, seem to avail no great benefits. Even if it is so, a far-sighted plan which would clearly highlight the long term benefits of these schemes, are not conceived.
These follies can be attributed to the methodology adopted by planning authorities. Schemes by the government come backed with archaic techniques of top-down approach on planning, where a set of planners sit over a table, distant from ground realities, making decisions for the welfare of the public. It is here, that the role of designers/architects, makes a difference. By presenting specific case-studies, more studied realities and proposing smaller interventions to the government, this lacuna between the public and the planners could be filled.
Citing from an personal experience, the aim of our last semester's urban design project was to create an urban-manifesto, proposing alternatives to a tabula rasa plan for mass-housing along urban-fringe cities. Through these, we were able to bring to light, the local practices adopted to prevent stagnant water accumulation in order to prevent diseases from spreading during floods.
Another factor which will empower design with a larger scope, is increasing awareness among general public too. More often than not, clients demand that their office buildings 'look global'. The makers of Mumbai, now want it to become Shanghai-esque and in that endeavor, clad every inch of its facade with bright metals, not understanding its climatic or health-pertinent repercussions. Traditionally, architectural design in healthcare, connotes only hospital and acute-care design. However,when people begin understanding the intrinsic relationship between the built environment and our lifestyles, will they insist on better designed spaces themselves; be it homes or offices.
The Nirlon knowledge park, thus, stands as a testimony to two things. One, a building that is both economically and environmentally feasible, can exist in Mumbai and two, that the impact of architecture is far from merely visual.
With this I conclude that, within the milieu of a bustling metropolis of astonishing land prices and scarce availability, it is indeed possible and in fact, imperative, to make health and sustainable growth the primary concerns of planners. The world health organization states that "health is a state of complete physical, mental and social well-being, and not merely the absence of disease or infirmity".(3) Hospitals and infirmaries may continue to be built, in a hope to make the city 'healthier', however, in a city where one spends more time in the office than at home, where time/health/life everything is equated to money, it is utmost important to understand and imbibe this basic concept of total well-being. After all, a city's vibrancy is not just a matter of numbers like it is reduced to now, but also a reflection of the lives of its people.
-------------------
1:http://www.thegenteel.com/articles/design/mumbais-heritage-history (accessed on 2nd december)
2:Quote by Shyam Khandekar, Khandekar Stadsontwerp & Landschapsarchitectuur, http://www.nirlonltd.com/green_campus.html, as viewed on 10th january 2014.
3:http://www.who.int/about/resources_planning/draft_gpw_for_reg_commitees_2012_en.pdf (accessed on 12th January 2014)
Bibliography
a) Urban Environmental Evolution: The Case of Mumbai, Dr.Sudhakar Yedla, Indira Gandhi Institute of Development Research, Mumbai,India, 2003, commissioned by Institute for Global Environmental Strategy(IGES),Japan
b) When buildings don't work: Role of architecture in human health. Gary W. Evans and Janett Mitchell McCoy, Cornell university, Journal of Environmental Psychology(1998)18, 85–94,
c) http://www.bdp.com/Projects/By-Name/M-O/Nirlon-IT-Park/ (accessed on 2nd December 2013)
d) www.nirlonltd.com (accessed 2nd December 2013)
e)Environmental impact assessment report, prepared by Ultra tech, 2013, revised version.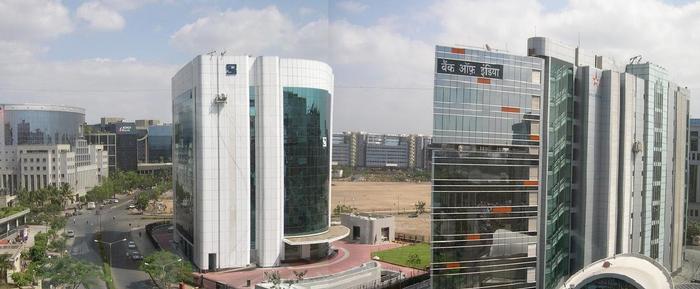 An overview of the BKC complex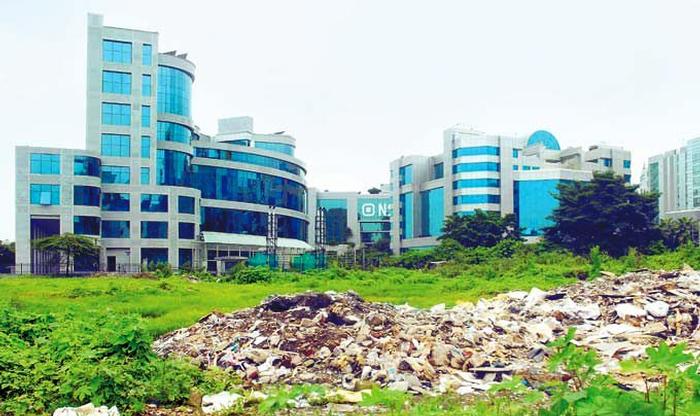 An unplanned open space turns into a dumping ground in BKC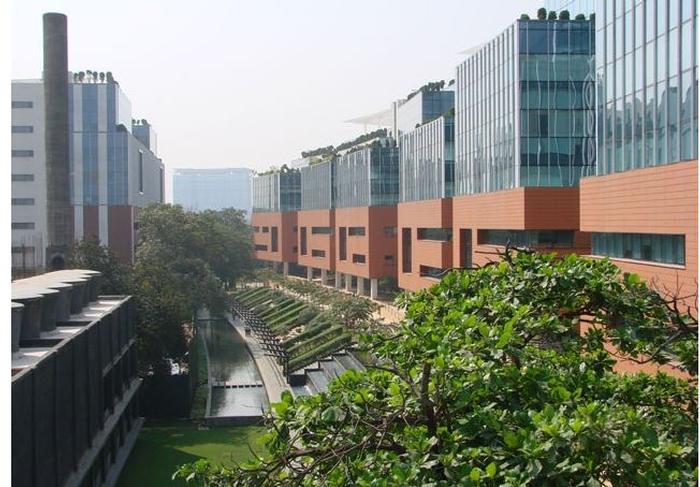 An overview of the NKP complex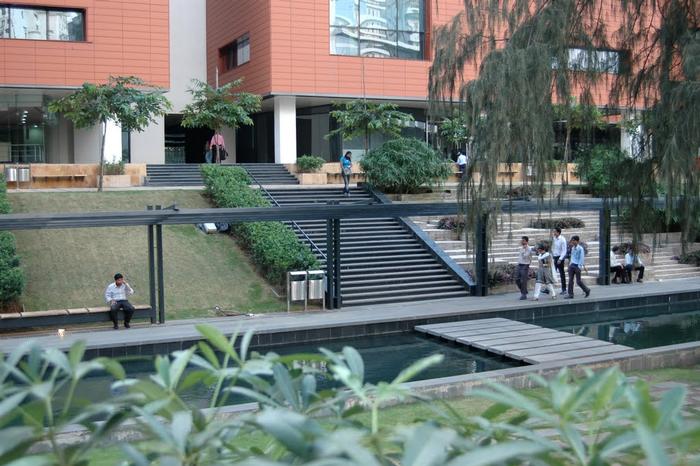 Lunch time at NKP
If you would like to contact this author, please send a request to info@berkeleyprize.org.
---