[ID:1022] For Kanaka.. and "namma" Chennai
India
Meet Kanaka. Her day starts at 5 am. She wakes up to the sound of buses, trucks, and the usual commotion of early morning Chennai. She immediately sets off for her daily kilometer long walk to the common sump to fetch water in two big plastic containers that she carries back. She then completes her morning routine of cleaning and cooking for her family of four, and packing her children off to school before she takes a long journey to her employer's house. Kanaka is a domestic help - she sweeps, dusts, washes, does laundry and cleans washrooms of homes owned by people who pay her at least a thousand rupees or $20, a month. Her husband is an alcoholic, who barely manages a few odd jobs during the day. She earns about five thousand rupees or $80 a month, with which she has to run her household. Poor income not only denies her access to a better quality of life, the living environment and city are impedances as well. She lives in a single-room house surrounded by a squalid environment, and when she steps out to engage with the city, she finds it equally hostile.
This essay looks at the personal spaces of people like Kanaka and locates it within the city's geography of difference. It looks at how healthful living and the social structure of the city needs to be integrated and is conceived as a platform to provide viable solutions that could potentially uplift the life of fellow Chennai-ites. It puts forth the idea that a healthful environment is one which does not exclude, facilitates a sense belonging, and is free of disease and disgust. One which allows for the peaceful expression and realization of individual as well as community identities, and making such a space a norm is a question of interest as much as one of investment.
Chennai, or Madras as it was earlier known, is a coastal town and the capital city of Tamil Nadu, as well as one of the four big metropolises of India. Established in 1639, this 375-year-old port city is a confluence of culture, education, business and industries. Home to about 4.7 million people belonging to diverse cultures, ethnicities, religions and backgrounds, Chennai may boast of amazing culture and a growing infrastructure, yet like any other Indian city, it is polluted, crowded and less friendly to the poor.
As Kanaka leaves her house, she is greeted by the stench of the common toilets, the dust and the gruesome heat. She makes her way through traffic, faintly annoyed by the persistent honking of vehicles, open drains and lack of a proper pedestrian pathway. Her first employer lives in a condominium, which is an ideal example of a healthful environment. She appreciates the community living her employers enjoy – with access to large gardens, health facilities and common meeting areas. No fight for survival here, or worry about power and water supply.
A walking tour of various parts of the city helped me gain a deeper understanding of the lives of people. I looked at the lives of corporates, rickshaw drivers, garbage pickers, bus conductors, waiters and celebrities. The stratification of Indian society is extremely complex (religious, economic, cultural); setting boundaries on the places you visit, the people you interact with, your profession, and your upbringing. There is no single definition or solution for a healthful environment that would be applicable to everyone in the society- the answer lies in being open to multiple definitions and constructing a model which does not fall prey to linearity but instead allows for multiplicity.
Thus, for a city like Chennai, a good beginning at the basic yet most essential level would be to ensure the supply of clean water, power and sanitation facilities to its residents. It is extremely elitist to say that healthful environments can be enjoyed only by those who can afford it. Can people like Kanaka only continue to dream of living in one?
As I walked the streets of Chennai, it struck me that even as simple and fundamental a thing such as walkways remain elusive. Sidewalks matter to all of us and most to a large number of poor who still commute by public transport, the pavements are critical. There are barely any pedestrian walkways in the city that are suitable for walking and even those which exist –are made inaccessible by obstacles in the form of encroachers, electricity junction boxes, parked vehicles, garbage bins, shops, & signboards. Nearly five hundred pedestrian deaths are reported every year. A good solution to this issue would be the creation of wide pathways, lined with trees, which would encourage people to walk and gain a healthier lifestyle.
The Corporation of Chennai, one of the oldest in the country, along with the Public Works Department is responsible for the basic infrastructure of the city. The creation of healthful environment on a larger scale is the responsibility of this local body. But there remain things that lie more in the scope of designers to make healthy life accessible & inclusive.
Realizing the institutional limitation of Corporation, the Chennai Architecture Foundation (CAF), a group of enthusiastic architects in the city, decided to partner with Chennai City Connect Foundation (CCCF) - a platform for individuals committed to city development, to redesign street sections, sidewalks, and create bicycle lanes and public spaces.
An internship with one of the architects connected with this project gave me a chance to work on the redesign of street edges, pavements and medians. I was excited to see these changes implemented in my city, understand concepts, and design processes at an urban scale. Typically, the space under any flyover in the city is home to many vehicles, animals, beggars and garbage. I had the opportunity to look at the redesign of these spaces, that would in the future house public restrooms, green spaces, seating, organized parking, spaces for traffic regulation and sometimes even gallery spaces. Such collaborations provide an opportunity for the architects to develop a good relationship with the governing welfare bodies, both working towards the creation of a cleaner, healthier society. More importantly, I feel that by investing in everyday spaces and uplifting them through design, these architects are trying to reassure people like Kanaka that Chennai cares for them and their welfare.
The poor road structure of the city is a sad excuse that denies accessibility, the story of the city's sanitation lies on the same page. Recently, Transparent Chennai, a non- profit organization aggregated, and mapped data of important civic issues in the city. Their goal is to enable residents, especially the poor, to have a greater voice in planning and city governance. Mapping of the city's public restrooms resulted in a startling finding- there are only 714 public toilets for a population on 46.81 lakh. The actual number of latrines that would be required for this population rounds off close to a shocking 6.7 lakh. Their survey also showed that many did not use existing public toilets due to poor maintenance, water shortage and insufficient lighting and ventilation . Many of these toilets were locked at night and did not have a cleaner/caretaker.
The CAF in association with the Public Works Department (PWD) is now working towards the redesigning public restrooms and community toilets, with students volunteering .The Ministry of Urban Development has allotted Rs.13 crore for city sanitation plans and this should help kick start the toilet redesign project. The focus of design is to create a bright, well-ventilated and well served toilet. A nominal charge for usage will also provide the resources for the maintenance of the toilets. I look forward to joining this team and continue with my role of an architect as a public health designer.
What may have seemed like a negative rant about the socio-economic conditions of Chennai was just a realistic insight into the city. On a positive note, Chennai is lucky to have a dense green cover in the middle of the city. The green space is further augmented by a network of open spaces containing forests, wetlands, canals, streams, and lakes that are set aside as natural areas along the city's periphery. Institutes, memorials and educational societies set amidst the forest provide an ideal healthful environment for the public. These green spaces break the monotony of the concrete cityscape, provide play spaces for children and meeting points for the retired. The Corporation is also working toward creating several public parks that would be breathing spaces. Chennai is also blessed with the second longest coastline in the world, and the beaches could be ideal healthful environments, if only they were well maintained.
The fact has to be stated without sounding offensive or demeaning - the civic sense of the average Indian is rather poor. The Indian social mentality is very different from that in most Western scenarios. Ownership of space is limited. An Indian will take great pains to maintain 'his space'; other public places like the streets are not his concern and hence, he feels no sense of responsibility towards it. Any attempt at change will require considerable resources, long term dedication, world class expertise, coalitions, networks and sustained engagement at various levels of governments.
Kanaka has to take a train to her employers' houses from the terribly maintained MRTS station. Poorly lit corridors make her feel insecure. She climbs two flights of stairs and waits for the train to arrive. The entire place feels like a furnace. The stations are badly designed masonry structures, supporting 2 tracks at a level of about 15 m from the ground. The empty first floor is home to several illegal activities. Kanaka is infuriated at the waste of space and unfriendly environment. While many like her are scrounging for space, large public areas such as the MRTS station remain underutilized.
Such spaces have the potential to be redeveloped into vibrant public spaces. In the future design of transportation hubs, a shaded public plaza could be designed beneath the tracks- the platform could be better accessible and escalators can be placed at regular intervals along with a centralized ticketing booth. The road level plaza could have been ideal for a market place- vegetable and fruit vendors, stalls for food joints and essentials. Such spaces are convenient for the users of this transportation network, and also allow for people like Kanaka to meet and find common ground. It is imperative to redevelop the existing stations- the ground floor could be redesigned to house several shops, small businesses, a small scale mall, gallery spaces, meeting spaces for women and self-help groups- a space with multiple uses in its fabric. The space is so vast, that it has the potential to function as a hub that can strengthen relationships and build communities. It also gives architects a great opportunity to use ecologically sensitive and recycled materials, making it more sustainable and economical. Reinterpreting these traditional spaces such as courtyards and otla's in the current day scenario, would prove to be more efficient as a public space. The creation of community pods, comprising of the infamous tea stalls, vendors, etc in the immediate vicinity of bus stops in the form of semi open squares leads to convenient and creative use of space, instead of it functioning solely as a bus shelter.
Irrespective of the scale, architects need to design spaces and structures that are contextual, create a conducive environment and do not upset the urban fabric of the city. In today's urban context, there is a severe constraint of space. Indian architects are aping the countries of the west- resulting in the creation of glass boxes in the hot, humid weather. Such structures are completely out of context in Chennai- glass and steel monstrosities for IT parks and offices may appear modernistic and provide aesthetically appealing facades, yet the energy (air conditioners) expended to make the internal environment habitable is not justified. The Chennai Metropolitan Development Authority must also be stricter in approving building plans- we need to overcome the extreme corruption in the governing bodies. Keeping in close connection with nature, any structure that is designed should have a green quotient to it.
Apartment design today has great potential to create ideal healthful environments. The houses should be oriented to maximize natural lighting and ventilation. Design ideas in terms of a variety of shading devices in the form of louvers and screens not only help the homes become cooler, but also add to the aesthetic appeal. The Corporation has made rainwater harvesting mandatory in every structure, both existing and those to be built in the city, making it a big advantage. Sustainable design or green building should be taken more seriously and as a way of life and not as a point for advertisement. Terraces of apartments across millions of apartments spread over the city are extremely under-utilized- the usable terrace space is far more in comparison to the space on the ground. I personally would redesign them as breathing and meeting spaces, fostering the formation of a community. They could be created to form pockets of landscape, adding to the insulation of the structure, additionally bringing down the carbon footprint and made green through the use of recycled materials such as plastics, broken tiles as mosaics etc. Interconnecting these terraces of the various blocks of lower income group housing, creates a roof garden and connected walkway. Ideas such as garbage segregation, composting and vegetable gardens could be implemented. On a neighborhood scale, once again, welfare organizations can be formed, who can consult with an architect on a regular basis about the upkeep of his society.
Sustainable design should also be extended at a primary education level, and the best way to do this is to design schools in such a manner that would make the child aware of every element in his surrounding environment, making him conscious about necessities of a clean, healthy environment. The role of an architect can also extend to one of an educator and mentor.
I was happy to explain to Kanaka about the various changes that were to be implemented in the city. She looked skeptical, but I could see a glimmer of hope in her eyes. She is hopeful that in a few years' time, her children would not have to lead lives like she does and she too in the future, can look forward to a much improved life and city.
The perfect balance must be struck between citizen involvement and government support, public participation and expert intervention. It is only when every stakeholder feels responsible for the space that it will be healthy and sustainable, making it a norm.
It is about making this geography of difference a web of inclusivity and growth.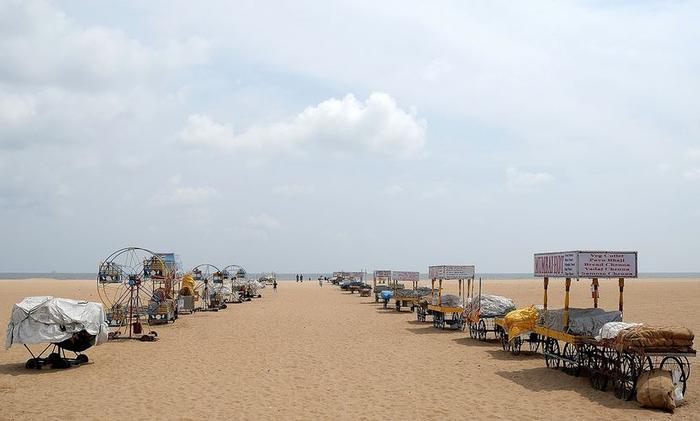 The serene beach in the afternoon. The stalls open in the evening, making the atmosphere lively.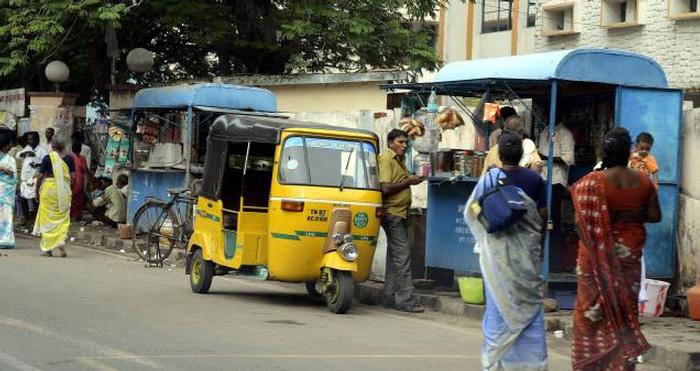 Pavements encroached by tea stalls., forcing pedestrians to walk on the main road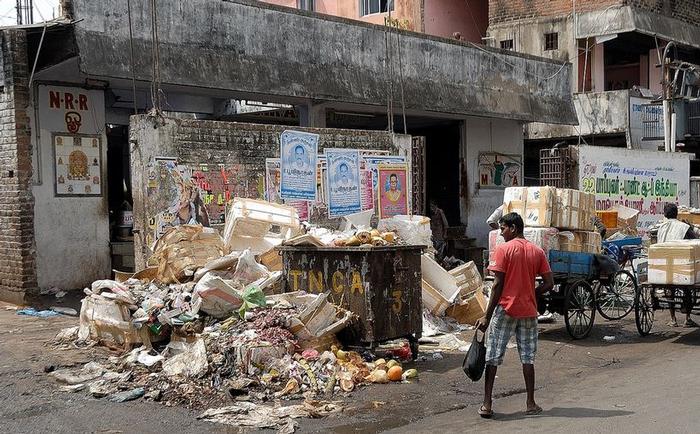 Piles of garbage are a common sight around the city- imagine lives in slums.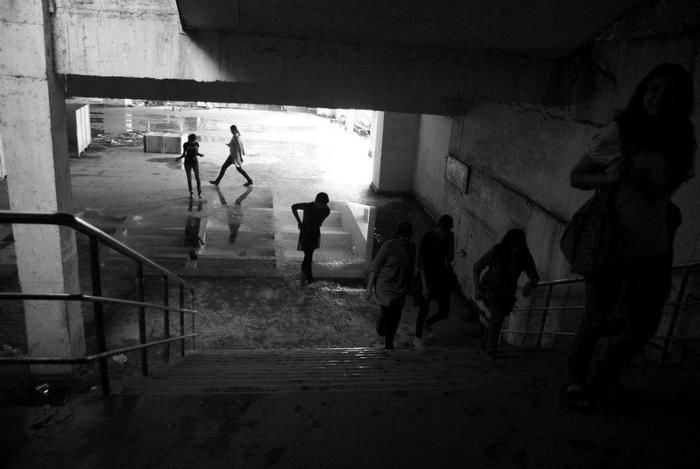 A desolate MRTS station after a rainy day. Half finished construction is a hazard to the public.
If you would like to contact this author, please send a request to info@berkeleyprize.org.
---