2018 Press Release
FOR IMMEDIATE RELEASE:
Berkeley, California, U.S.A.
19, April 2018
CONTACT:
Benjamin Clavan, Architect
Email: info@berkeleyprize.org
---
TWENTIETH ANNIVERSARY
WINNERS ANNOUNCED FOR THE ANNUAL INTERNATIONAL
2018 BERKELEY UNDERGRADUATE PRIZE FOR
ARCHITECTURAL DESIGN EXCELLENCE
---
Winners of the twentieth annual international BERKELEY PRIZE Competition for 2018 are announced today by Professor Raymond Lifchez, Chair of the BERKELEY UNDERGRADUATE PRIZE FOR ARCHITECTURAL DESIGN EXCELLENCE
Through two distinct competitions - the Essay Competition; and the Travel Fellowship Competition - the international BERKELEY PRIZE competition encourages undergraduate architecture students worldwide to go into their communities for the purpose of thinking and writing about issues central to the understanding of the social art of architecture.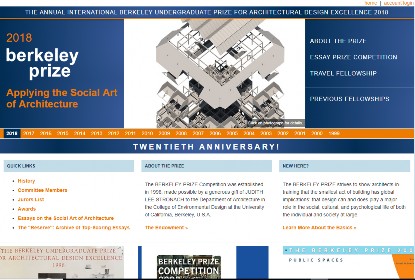 The 2018 BERKELEY PRIZE focuses on the topic: "APPLYING THE SOCIAL ART OF ARCHITECTURE."
216 undergraduate architecture students from 45 countries are participants in responding to this year's Question:
What is the social art of architecture?
In answering this question, go out into your local community and find two buildings that you feel best typify the social art of architecture, one of which is no more than 10 years old. Tell us what it is about these buildings that can act as a model for future architects in creating equally successful designs.
The twelve 2018 BERKELEY PRIZE recipients, sharing a total awards purse of 50,000(USD), are:
Essay Competition
First Place Prize
Mr. Wandisile Kona, Bachelor of Architectural Studies student in the Department of Engineering and Built Environment at the University of the Witwatersrand in Johannesburg, South Africa for: "A Cathartic Architectural Language in a Democratic South Africa." (7500USD)
(Author's illustrations for the essay.)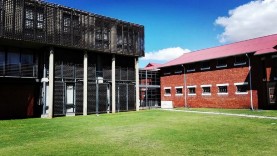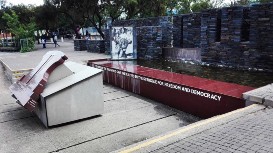 ---
Second Place Prize

Ms. Ghina Kanawati, Bachelor of Architecture student in the Faculty of Architecture – Design and Built Environment at the Beirut Arab University, Beirut, Lebanon for: "Reconciling a Wounded City: The Storytellers of Beirut." (6500USD)
---
Third Place Prize

Ms. Meriam Soltan, Bachelor of Architecture student in the Department of
Architecture and Design in the Maroun Semaan Faculty of Engineering and Architecture at the American University of Beirut in Beirut, Lebanon for: "Architectural Preservation in Beirut: A Search for the Future in a Past that Refuses to be Forgotten." (5500USD)
---
Fourth Place Prize (shared)

Mr. Theodor Reinhardt, Bachelor of Arts Joint Major in Architecture student in the Faculty of Architecture and Social Sciences at the Leipzig University of Applied Sciences in Leipzig, Germany for: "Redesigning Leipzig - How Urban Actions Solve Social Issues." (4150USD)
---
Fourth Place Prize (shared)

Ms. Raksha VH, Bachelor of Architecture student at the School of Architecture in the Ramaiah Institute of Technology in Bengaluru, India; and Ms. Swetha Manivannan, Bachelor of Architecture student at the Oxford School of Architecture, Bangaluru for their joint essay, "So-less to Solace: Solving issues across generations." (4150USD)
---
All of the winning essays, plus the next 10 top-scoring essays are now available
to be read on the website on the BERKELEY PRIZE "Reserve" page,
see: http://berkeleyprize.org/endowment/the-reserve/

IIIIIIIIIIIIIIIIIIIIIIIIIIIIIIII
The Jury
Utilizing the preliminary review work of 63 other Committee members from around the world (see "Background" below), this year's four, 20th Anniversary, Essay Jurors – all past PRIZE winners, and three of whom are Committee members themselves - are:
BENARD ACELLAM
Mr. Benard Acellam is an architect based in Kampala, Uganda. He currently teaches architecture at the International University of East Africa in Kampala and is also working with Technology Consults Ltd on the design and documentation of the Bibia-Elegu Cross-border market. Benard was a first prize group winner of the Tubes Architecture Challenge for the design and master planning of a polytechnic college in Uganda, and a recipient of the UN HABITAT Social Media and Blogging Award on the theme of Eco Mobility. He was also a winner at the first Indiafrica essay writing competition which focused on how India and Africa can compete, collaborate and co-create the future on environmental issues. In 2015 he received a commendation in the RIBA Norman Foster travelling scholarship competition.
As an undergraduate student, Benard received the BERKELEY PRIZE Travel Fellowship in 2011 through which he participated in Global Studio Bhopal and the international conference on Re-imagining Inclusive Urbanization. He later received a 2nd Place Essay Prize in the 2015 Berkeley Prize essay competition. Benard is a member of the BERKELEY PRIZE Committee.
---
NEELAKSHI JOSHI
Ms. Neelakshi Joshi is an architect and urban planner with a keen interest in the social dimension of sustainable development. She is currently a doctoral candidate at the Dresden Leibniz Graduate School, Germany. Her research focuses on the risks of rapid unplanned urbanization in the Himalayas. Neelakshi has worked at the Auroville Earth Institute, UNESCO chair for earth construction (2010-12), specializing in low cost and sustainable earth based construction to address the needs of a growing community. As a continuation of this work she travelled to the trans-Himalayan region of Ladakh and worked alongside local entrepreneurs to set up a solar-earth construction company.
Their residential project reviving the local rammed earth techniques and passive solar design was awarded the Terra Award 2016.
As a student of architecture in 2009, she was the First Place winner of the BERKELEY PRIZE Essay Competition and also was awarded that year's PRIZE Design Fellowship.
---
THOMAS-BERNARD KENNIFF
Dr. Thomas-Bernard Kenniff is Professor in the Environmental Design program at the École de design, Université du Québec à Montréal (UQAM) where he teaches
design studios, theory and criticism, and master's thesis preparation. He joined UQAM in 2015 after having taught in the architecture schools at Carleton University, Ottawa, Université de Montréal and Université Laval, Québec City. He completed his Ph.D. dissertation at the University College London Bartlett School of Architecture in 2013 and obtained a professional master's thesis in architecture from the University of Waterloo, Canada, where he also did undergraduate studies in architecture and mathematics.
He was the First Place winner in the 2002 PRIZE Essay Competition. Thomas-Bernard is a member of the BERKELEY PRIZE Committee.
---
PREETI TALWAI
Ms. Preeti Talwai is a User Experience Researcher at Google, leveraging qualitative design research to study the human experience of machine intelligence and other technologies to shape future consumer products. Previously, she was a researcher at X, the company's R&D lab, where her work helped vet early-stage projects in various domains through an understanding of human needs and behaviors. Prior to entering the tech industry, she worked in design research in workplace, retail, and healthcare. At X, Preeti was the only researcher with an architectural background. She is deeply invested in conducting physically contextualized research and investigating human- environment relationships, with a belief that all technologies must be understood within sociospatial ecosystems. The critical perspective, empathy and humanism, and conviction in socially engaged and purposeful design drives her work every day.
She was a 2011 Berkeley Prize Design Fellow, and a finalist in the 2011 BERKELEY PRIZE Essay Competition. Preeti is a member of the BERKELEY PRIZE Committee.
For more information about the Jurors, see:
http://berkeleyprize.org/competition/essay/2018/jury
IIIIIIIIIIIIIIIIIIIIIIIIIIIIIIIII
Travel Fellowship Competition
All of the students receive a $3700 cash stipend sufficient to cover round-trip airfare, daily expenses, and program costs for their travel plans or a specific portion of those plans.
This year's six, 20th Anniversary, winners are:
Ms. Yossra Aldulaei, a Bachelor of Architecture student from the Department of Architecture at Yemini Jordanian University in Sana'a, Yemen to travel to Kuala Lumpur, Malaysia for a self-guided architectural tour; and to Phoenix, U.S.A. to attend an Arcosanti workshop and to study the principals of Arcology.
For more information on the program, see: https://arcosanti.org/
---
Mr. Jordan Coffey, a Bachelor of Arts majoring in Architecture student from the Department of Architecture, College of Environmental Design at the University of California, Berkeley in Berkeley, U.S.A. to travel to Cairo, Egypt to attend the International Conference on Civil and Architectural Engineering (ICCAE) conference; to Vipingo, Kenya to participate in a Better Place International program that follows-up on a 3D printed housing project developed by a U.C. Berkeley architecture faculty member; and to Adwa, Ethiopia to participate in an evaluation of proposals to select a local company for an investment which will be used to design and build homes and access to clean water in Adwa in a review project developed by an economics faculty member at IE University (Spain), and to help start a summer English program.
For more information on these programs, see: http://iastem.org/Conference2018/Egypt/1/ICCAE/; https://ced.berkeley.edu/events-media/news/sub-saharan-studio-arch-129-takes-3d-printed-homes-to-kenya; http://ieinethiopia.com/
---
Ms. Jahnavi Kantamneni, a Bachelor of Architecture student from the School of Planning and Architecture, Bhopal, India to travel to Bath, England and to Amman, Jordan to participate in the "Healthy Housing for the Displaced" project initiated by the University of Bath, United Kingdom, specifically in the A Displaced-person-led Science of Shelter Design 'work package.' The program is a three-year Engineering and Physical Sciences Research Council/British Research Council-funded project led by researchers at the University of Bath, England in collaboration with Princess Sumaya University for Technology, Jordan; the German Jordanian University, Jordan; and Mersin University, Turkey.

For more information on the program, see: https://www.hhftd.net/
---
Ms. Ushna Raees, a Bachelor of Architecture student from the Indus School of Art and Architecture, Karachi, Pakistan to travel to the San Francisco Bay Area; and to Phoenix,
U.S.A. to attend a five-week Arcosanti hands-on construction workshop and to study the principal of Arcology as part of her student-initiated project on the environmental preservation of Manghopir, Karachi.
For more information on the program, see: https://arcosanti.org/
---
Mr. Gunraagh Singh Talwar, a Bachelor of Architecture student from the School of Planning and Architecture, Bhopal, India to travel to Kassi Kunda village in eastern Gambia to participate in a four-week, hands-on earth architecture workshop, "Build with Gambia," organized by the Nka Foundation for the purposes of building a unit of Kantora Arts Village, a residential vocational training center for unemployed rural youths.
For more information on the program, see: info@nkafoundation.org; www.facebook.com/buildwithgambia; and www.nkafoundation.org.
---
Ms. Sneha Varghese, a Bachelor of Architecture student from the Department of Architecture, National Institute of Technology Tiruchirappalli (NIT Trichy), Tiruchirappalli, India to travel to Barcelona, Spain to attend the CITY 2018 Conference organized by the International Academic Forum; and to Maseru, Lesotho to participate in a hands-on, "In- Loco Workshop" for the construction of an orphanage through RISE International.
For more information on the programs, see: https://city.iafor.org/; and https://riseint.org/wp- content/uploads/2017/09/In-loco-International-Students-Brochure.pdf.
The Travel Fellowship requires a written and illustrated report. These
will appear on the website with the launch of the 2019 BERKELEY PRIZE competition cycle.
IIIIIIIIIIIIIIIIIIIIIIIIIIIIIIIII
Watch for the announcement of the 2019 BERKELEY PRIZE
September 15, 2018
IIIIIIIIIIIIIIIIIIIIIIIIIIIIIIIII
BACKGROUND
The BERKELEY PRIZE - How it Works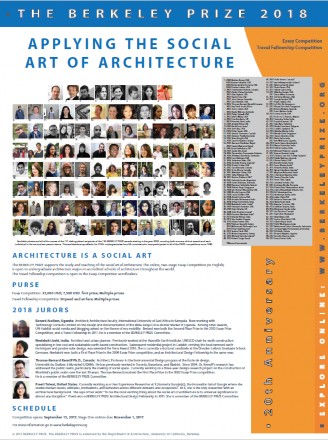 Each year, the BERKELEY PRIZE Committee poses a Question on the competition website. Students enrolled in any undergraduate architecture program throughout the world or those in collateral disciplines teamed with such students are invited to submit a 500-word essay proposal in English responding to the Question.
From this pool of essays, approximately 25-30 semifinalists are selected as particularly promising by the PRIZE Committee, a group of 66 international architects, architectural educators, social scientists, writers, and general thinkers. The semifinalists are then asked to submit a 2,500-word Essay expanding on their proposals.
The Committee then selects 8-9 of the best Essays and sends these finalists on to a jury of international architects and academics to select the winners. The BERKELEY PRIZE Essay Competition is announced, papers submitted, and reader- and jury-reviewed all online.
The Essay semifinalists are also offered the opportunity to participate in the BERKELEY PRIZE Travel Fellowship Competition. For the Travel Fellowship, students are asked to submit a proposal of how a given architectural travel opportunity will help them capitalize
on the research they did for their Essay and further their long-term academic and professional pursuits.
During the past twenty years, 2310 students have submitted essays and proposals, representing dozens of schools of architecture from 77 countries. In recognition of these efforts, the BERKELEY PRIZE is the recipient of the 2008 American Institute of Architects Collaborative Achievement Honor Award; and the 2002 American Institute of Architects' Education Honor Award.
The BERKELEY PRIZE has also garnered international acclaim, not the least reason for which is its complete embracing of digital technology. In partial recognition of this outreach, the 2003 BERKELEY PRIZE competition was named a special event of "World Heritage in the Digital Age," a virtual congress helping to commemorate the 30th anniversary of the UNESCO World Heritage Convention.
IIIIIIIIIIIIIIIIIIIIIIIIIIIIIIIII
Winners' biographies, photographs, and their full submittals; archives of past competitions;
information on Committee members; and links to other articles on the
social art of architecture are all posted at: